Get a Scholarship for a First-Generation College Student With DoNotPay's Help
Are you the first person in your family to attend college? Getting an education is hard as it is, but when you don't have any first-hand information from your parents or siblings about how it all works, it can be even tougher.
The main concern for most students is the cost and the coverage of the long list of expenses. Don't let the sky-high tuition put your dream of going to college at risk—get a scholarship for a first-generation college student.
Learn all about these special college scholarships that can help you finance your education.
Scholarships for First-Generation College Students—The Basics
Scholarships for first-generation college students are targeted aid for students who are the first in their families to get higher education. The purpose is to encourage them to break the barrier and pursue a degree.
First-generation students are the ones who meet the following criteria:
Parents don't have a bachelor's or associate's degree or above
Parents don't have college degrees or certificates
No immediate family member has ever been enrolled in or attended university or college
Besides being the first in your family to attend college, you will need to meet certain academic or need-based requirements. To receive a scholarship, students are usually asked to have above-average GPAs or to express financial need.
In terms of education level, you can apply for a scholarship as a high-school senior or undergraduate student. There are even some graduate school scholarships for first-generation students.
The funds for this financial aid can come from:
Government
Corporations
Philanthropists
Profit and non-profit organizations
Scholarships for First-Generation Students You Should Take Advantage Of
There are numerous scholarships for first-generation students. To help you locate some of the best ones, here are the two main categories:
School-specific scholarships
Other scholarships
School-Specific Scholarships for First-Generation Students
Certain universities and colleges have scholarship funds for first-generation students. Some of the schools that offer this opportunity and the scholarships they have are:
University of Chicago—Odyssey Scholarships
Saint Mary's University of Minnesota—First Generation Initiative Scholarship
Texas A&M—Regents' Scholarship
UC Berkeley—George A. Miller Scholars Program
University of Colorado Boulder—First Generation Grant
Grand Valley University—Frederik Meijer First Generation Honors Scholarship
Iowa State University—Benjamin and Patricia Allen Scholarship
McLennan Community College—First Generation Scholars
John Fisher College—Fannie & Sam Constantino First Generation Scholarship
Highpoint University—First Generation Scholarships
North Carolina Catawba College—First Family Scholarship
Frederik Meijer Honors College—First Generation Scholarships
Other Scholarships for First-Generation Students
Not all scholarships and grants are tied to a specific university. You can get financial help regardless of which school you go to, but you will need to meet some requirements—such as living in a certain region or belonging to a specific ethnic group.
The scholarships that fall into this category are:
J. Craig and Page T. Smith Scholarship Foundation
Florida Department of Education First Generation Matching Grant Program
Farash Foundation First in Family Scholarships
Cynthia E. Morgan Memorial Scholarship
I'm First! Scholarship
FirstGen Fellows
Fontana Transport Inc. Scholars Program
StudySoup First in Family Scholarship
Coca-Cola First Generation Scholarship
Sallie Mae and Hispanic College Fund First in My Family Scholarship
Smith Scholarship Foundation
Thurgood Marshall College Fund (TMCF) Walmart Foundation First Generation Scholarship
Where To Find Scholarships for First-Generation College Students
The research process is the biggest nuance for most students. When you don't know where to search for scholarships, you can overlook potential matches.
To find scholarships for first-generation college students, you will need to resort to the web and financial aid offices at the schools of your choice. Call or email staff at universities and colleges you send your admission application to, and they will give you more information.
Note that you shouldn't limit your search to first-in-family scholarships. You can also apply for the ones related to your gender, ethnicity, interest, or belief. Review the table below to see what your other options are:
| Gender-Specific Scholarships For: | |
| --- | --- |
| Ethnicity-Specific Scholarships For: | |
| Disability-Specific Scholarships For: | |
| Religion-Specific Scholarships For: | |
| Other Specific Scholarships For: | |
Do you want a faster way of finding all scholarships you are qualified for? Subscribe to DoNotPay! Our app will generate a full list of scholarships and grants based on your input. You will get an overview of every aid available to you in a couple of minutes.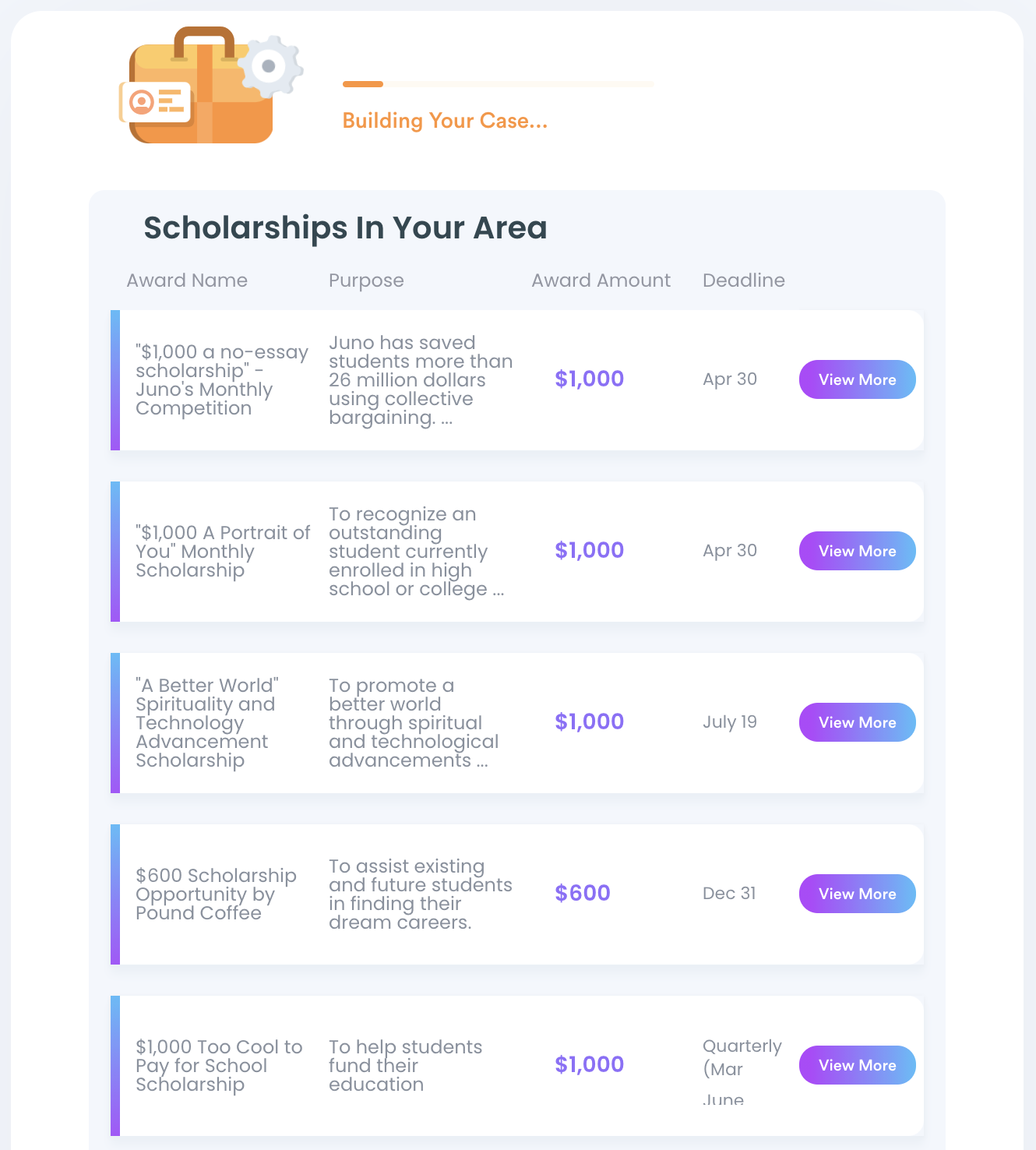 How Can You Apply for First-Generation College Student Scholarships?
There is no universal application for all scholarships. You will need to follow the instructions for each financial aid program you want to apply for.
For the majority of scholarships, you will need to complete the Free Application for Federal Student Aid (FAFSA) form first. Pay attention to other documents you need to submit and deadlines for the applications.
DoNotPay Will Help You Discover and Apply for Scholarships in No Time
DoNotPay is an AI-powered app that can get you personalized scholarship recommendations. We'll do the research in your stead so you have more time to focus on writing stellar scholarship essays and collecting letters of recommendation.
You will only need to do the following:
Type Scholarships in the search bar and select the Apply for Scholarships tool
Answer a few questions about your level of study, academic interests, the scholarship types you want, and similar
After you click Submit, expect to get a tailored list of scholarships in less than two minutes.
You can apply for all no-essay scholarships through our app! Select the scholarships you want, and we'll handle the application process.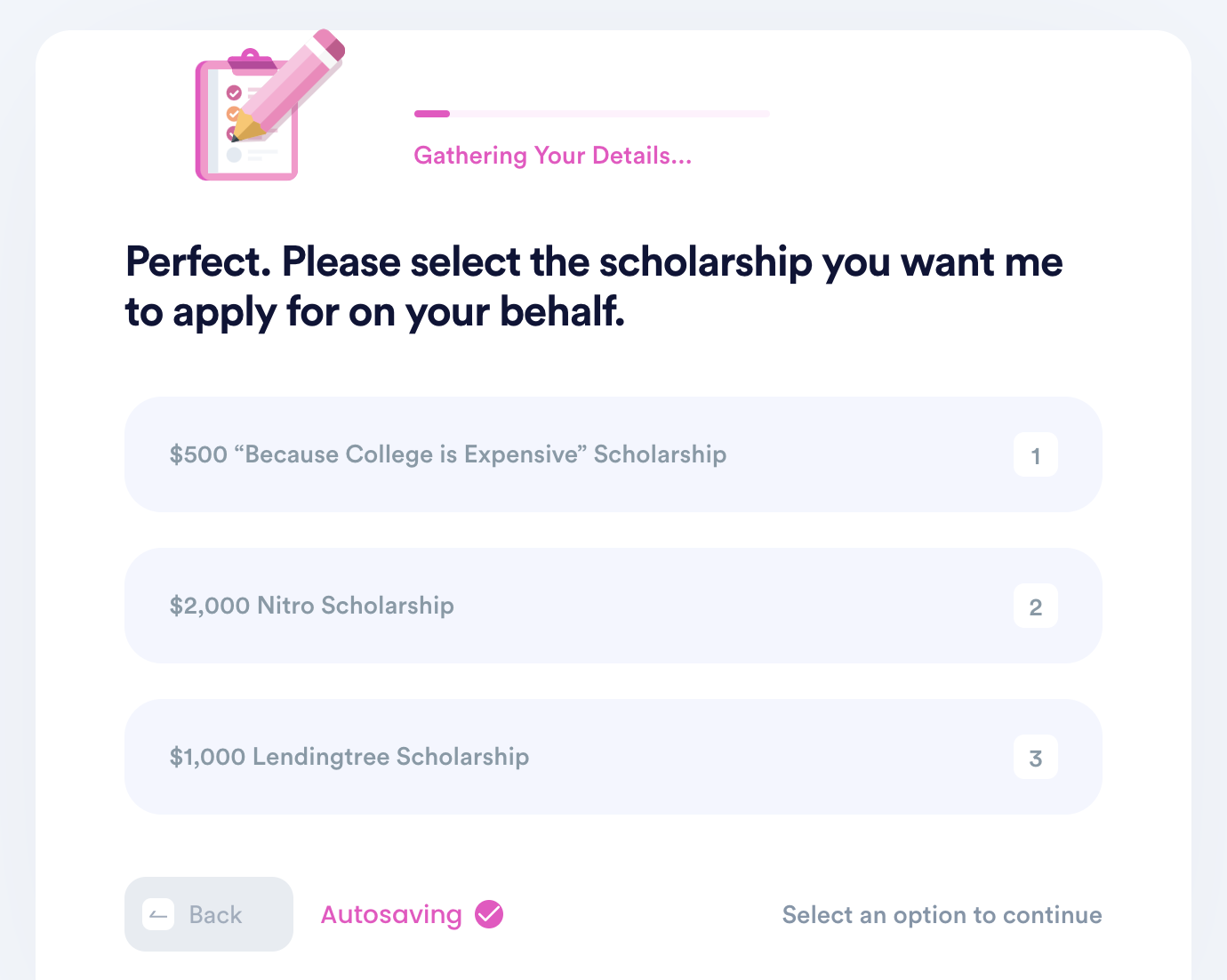 Managing Everyday Tasks With DoNotPay Is a Breeze
Completing mundane tasks doesn't have to be a nightmare! With our help, you can relax and finish them in a few taps! All you need to do is register for DoNotPay and let us help you with:
Have Your Documents Drafted and Notarized With Our Help!
If you need to draft a legal document, such as a divorce settlement agreement, power of attorney, or a child consent form, hiring a lawyer to assist you is probably the first thing that comes to mind. What if we told you that spending hundreds of dollars on legal services is unnecessary? Not only can DoNotPay draft contracts and agreements in a few minutes, but it is also your most affordable and effortless option!
The benefits our app provides don't stop there! After we generate your document, we'll connect you with a remote notary and show you how to get it notarized online without leaving the comfort of your home! You can even fax the document online and skip dealing with outdated fax machines.