How To Get a Full-Ride Scholarship—Explained
Affording higher education may seem like a luxury sometimes, but that's where college full-ride scholarships step in. Thanks to them, many promising students from low-income families get a chance to pursue a degree in their desired field without having to worry about finances.
If you want to find out how to get a full-ride scholarship, you're in the right place—this guide offers the best tips and tricks to do so! You will also learn how to find full-ride scholarships and apply for those you qualify for!
The Difference Between Full-Ride and Full-Tuition Academic Scholarships
If you're looking for a scholarship that pays for everything—a full-ride scholarship is your go-to. Receiving a full-ride college scholarship is every student's dream as it covers all potential study costs, including:
Tuition
Mandatory fees
Room and board
Book purchases or rentals
Personal expenses, such as:
On the other hand, if you're applying for full-tuition scholarships for high school students, you can only expect them to cover your annual tuition. That means you will have to figure out how to pay for all of the other expenses.
Who Offers Full-Ride Scholarships?
You can get a full-ride scholarship from various benefactors. Some of them are schools, private donors, organizations, and associations dedicated to helping particular groups of students, such as:
If you belong to any of the mentioned categories, DoNotPay can help you find the scholarships you're looking for! After you sign up and answer a few questions, our app will use the information you provide to create a list of the best awards you're eligible for!
Requirements for Full-Ride Scholarships
The answer to how to get a full-ride scholarship lies in the requirements of each scholarship you're applying for. Some of the most common requirements for full-ride scholarships are:
Academic merit
Financial need
Participation in extracurricular activities
Intent to graduate college
Supporting documentation
Required Academic Merit for Full-Ride Scholarships
Most scholarship committees require you to submit the following documents to learn about your academic merit:
Resume—a well-written resume showcases your academic and extracurricular accomplishments related to your field of study. You can also use it to mention some of the valuable skills you possess, such as leadership, commitment, and diligence
High school transcript—the scholarship committee requires this document to gain insight into your attendance record, grade point average (GPA), and standardized test scores, such as the ACT and SAT (or any of the available equivalents)
To learn more about the required GPA and test scores, take a look at the following table:
| Requirement | Minimum |
| --- | --- |
| GPA | 3.5 |
| SAT | 25 |
| ACT | 1200 |
Financial Need as a Requirement for Full-Ride Scholarships
Many schools award full-ride scholarships to academically brilliant students demonstrating financial need to:
Encourage them to pursue higher education they otherwise could not afford
Give them a chance to improve their family's financial situation after college (many full-ride scholarship recipients are the first in their family to go to college)
Participation in Extracurricular Activities for Full-Ride Scholarships
Extracurricular activities—such as working part-time in your field of study or playing high school sports—can land you a full-ride scholarship. You should participate in as many extracurricular activities as possible, provided they don't interfere with your academic progress.
Intent to Graduate College as a Requirement for Full-Ride Scholarships
Schools and benefactors offering full-ride scholarships and grants often require applicants to create an educational plan—a document that guarantees that they will use the award to graduate from college in time.
An educational plan usually contains information about the:
School you plan to attend
Degree and field of study you want to pursue
Classes you plan on taking during each semester in college
Class prerequisites
Satisfactory academic progress for each year
Supporting Documentation Required for Full-Ride Scholarships
You might have to submit additional paperwork to apply for some full-ride scholarships, such as:
Is There an Easier Way to Find a Full Ride Scholarship?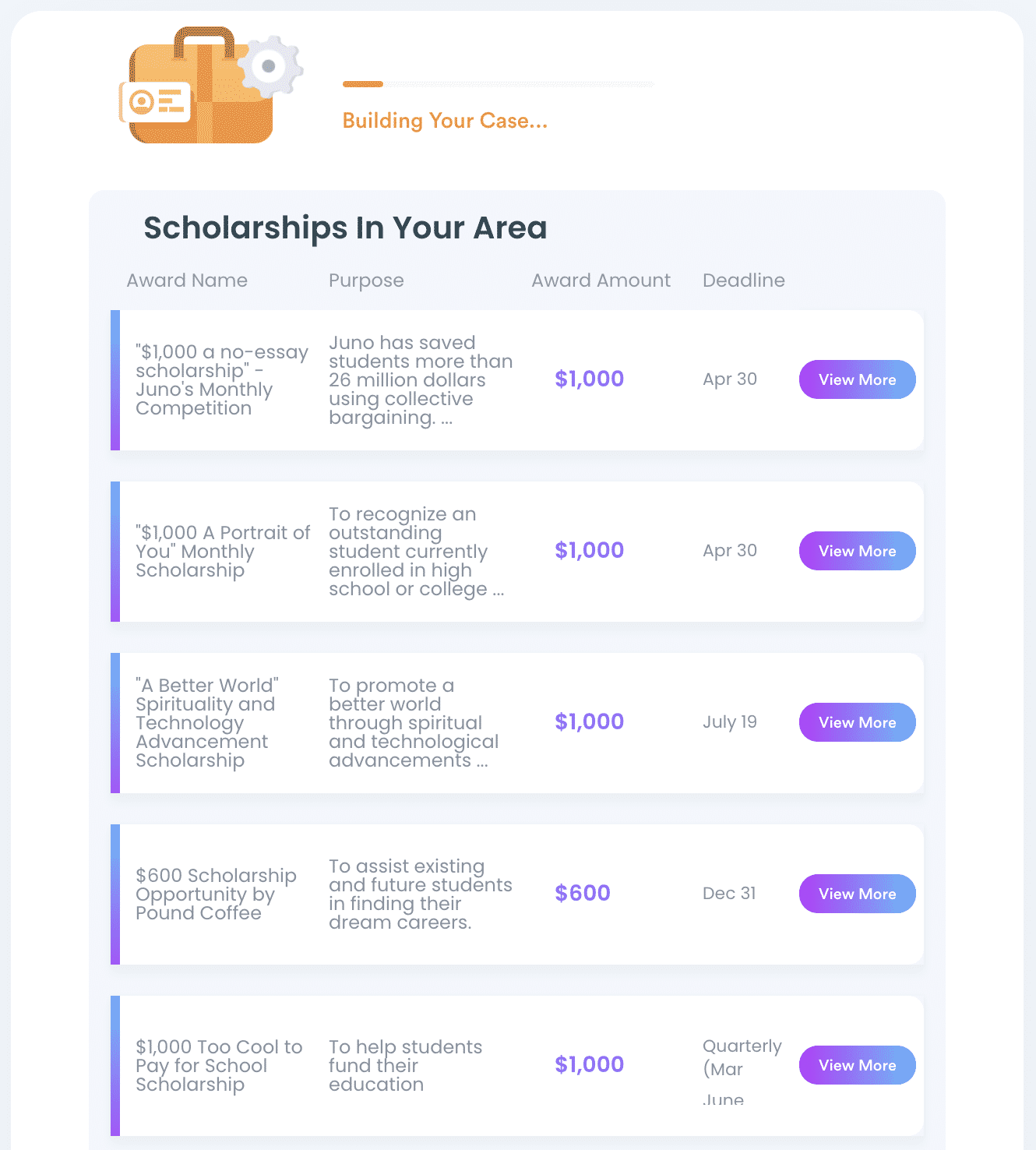 Whether you are preparing for college in your junior or senior year of high school or planning to enroll in a graduate school, DoNotPay can find the best full-ride scholarships for you!
You're only three steps away from getting a list of the best full-ride awards:
Find the Apply for Scholarships feature
Answer a few short questions
If you receive an unfortunate response from the scholarship committee, don't give up! Our app will find more opportunities for you and even apply for no-essay scholarships on your behalf!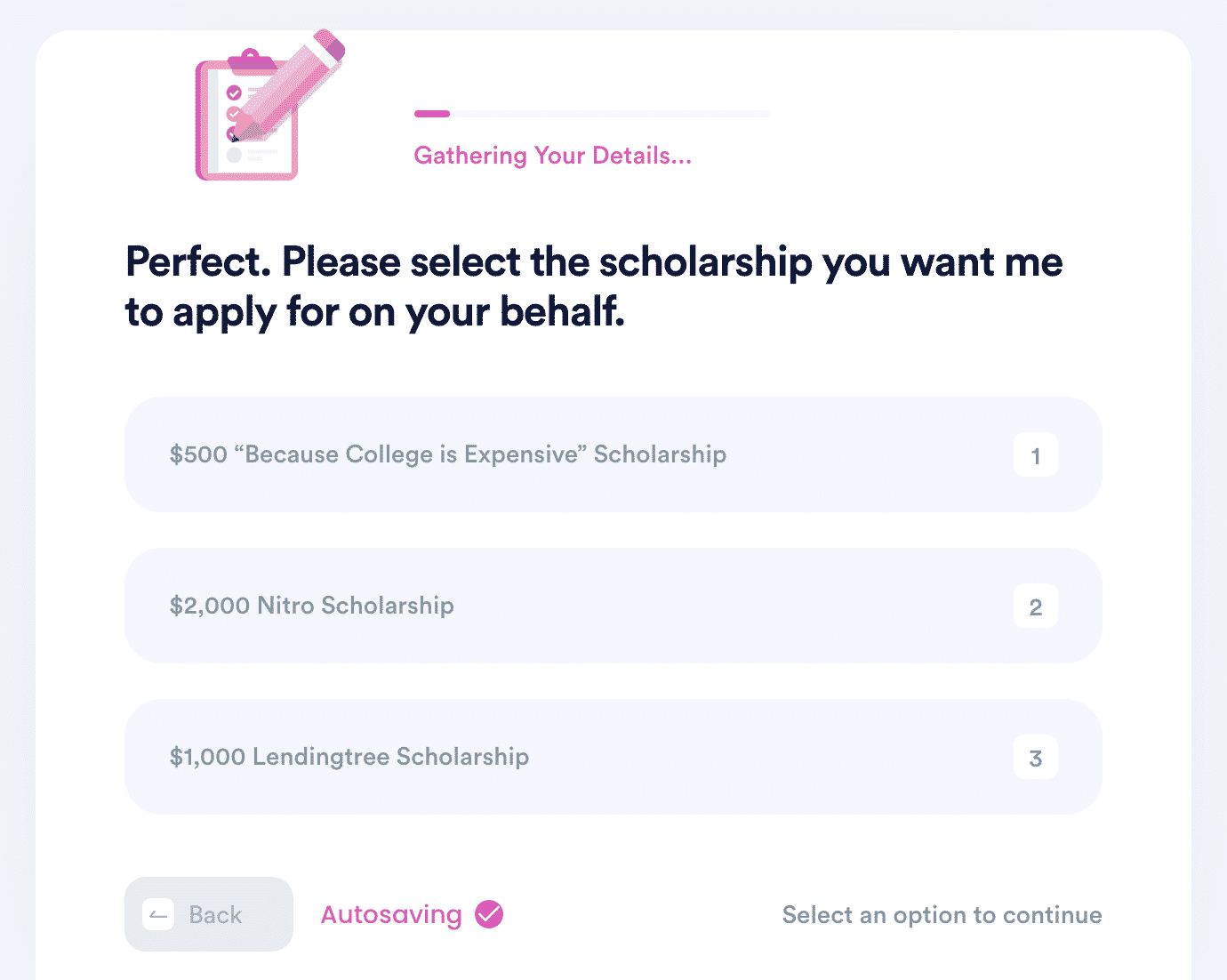 DoNotPay Offers Quick Solutions to Tedious Problems
Are you overwhelmed by your never-ending to-do list? We're happy to jump in with a perfect solution to deal with everyday tasks the easy way!
Once you subscribe to DoNotPay, you'll be able to schedule DMV appointments, lower your monthly bills, and contest parking tickets without breaking a sweat!
If you are looking for further assistance, our app will show you how to deal with the following tasks effortlessly:
What Else Can We Help You with?
If a company refuses to cooperate, use DoNotPay—the world's first robot lawyer—to sue it in small claims court! Getting the justice you deserve is only a few clicks away!
You can also use our app's various features to do the following: