How To Secure a Pharmacy School Scholarship
Estimates show that pharmacists in the United States have an average salary of slightly under $140,000, which places them in the upper-middle class. While that sounds great, getting to that paycheck requires a lot of money pharmacy students have to pay on their own.
Pharmacy schools have high tuition fees that have been on a steady rise in the past few years. Many students end up with debts ranging from $120,000 to $300,000, and they spend years repaying their loans. Luckily, they can rely on scholarships and grants for financial aid.
In this article, we'll show you how to secure a pharmacy school scholarship by explaining:
What different types exist
How to use DoNotPay to get a scholarship effortlessly
Types of Scholarships for Pharmacy Students
As there are many scholarships for pharmacy school students, most of them have a specific student profile in mind when they create the set of requirements. The following table contains some examples:
Aside from the student profile, there are other requirements scholarships consider—financial and academic standing. Award programs usually come in two different types:
Merit-based scholarships
Need-based grants
Merit-Based Pharmacy School Scholarships
Merit awards go to the students who show academic excellence. These awards offer more financial help than need-based programs, but they are more difficult to get. Most of them are competitive, meaning that meeting the minimum requirements probably won't be enough to secure an award.
Scholarship providers use several metrics to judge students and see which ones show more merit. These metrics include:
Some of the best merit-based scholarships for pharmacy students include:
American Association of Colleges of Pharmacy (AACP) Walmart Scholars Program
CVS Health Minority Scholarship for Pharmacy Students
American Pharmacists Association (APhA) Foundation Student Scholarship Program
The ACF Woodcock Family Education Scholarship Program
Catalyst $100K Healthcare Scholarship
Clarkston Scholars Program
Air Force Health Professions Scholarship
Need-Based Pharmacy Student Scholarships
Need-based programs are dedicated to students who struggle to keep up with the financial demands of becoming a pharmacist but don't have the required academic performance to apply for a merit-based scholarship.
To qualify, students need to demonstrate financial need by proving they (and their families) don't have a high enough income to sustain the expenses. They can do so by proving their Expected Family Contribution (EFC) is lower than the set limit, which depends on each program.
A prerequisite to applying for a need-based program is filling out the College Scholarship Service (CSS) Profile or the Free Application for Federal Student Aid (FAFSA) form.
Where Can You Find a Pharmacy School Scholarship?
The trickiest part about landing a pharmacy school scholarship is the first step—finding it. Researching financial aid programs is a time-consuming task, and it can take you weeks or months to look up various websites and find the program that suits your needs the most.
If you don't know where to begin or you're stuck, you can check out the following places for help:
With DoNotPay, you can skip the entire research process and get a list of all suiting scholarships in under five minutes. Sign up for our app and find out about all the scholarships you're eligible for only by answering a few questions.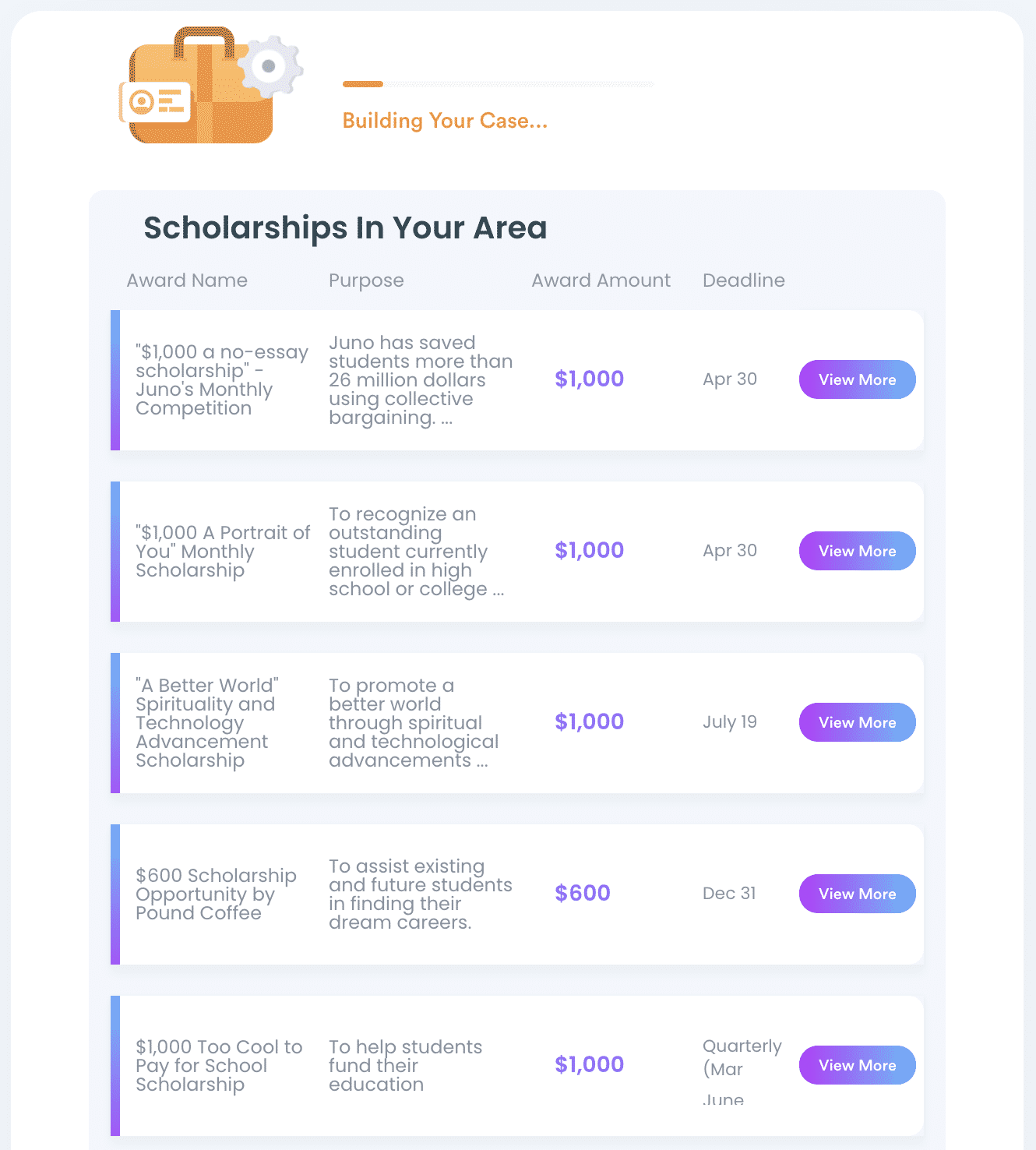 How To Apply for a Pharmacy School Scholarship
Each scholarship has its own set of rules and requirements—there's no uniform application process for all programs. Before you start going through the application form, make sure you do your research on the award's demands. To ensure your application gets a proper review, you should:
Check your eligibility
Respect the set deadline
Hand in all the necessary documents
Obtaining Pharmacy School Scholarships Using DoNotPay
A scholarship can help you finish your education without any financial strain. The troublesome part is finding and applying for one—that's where DoNotPay comes in!
DoNotPay can help you get a personalized list of all available scholarships for which you meet the requirements.
All you have to do is:
Sign up for DoNotPay via any browser
Select the Apply for Scholarships feature
Answer a few questions
Our chatbot will ask you about your financial standing and academic performance to come up with a list of awards. If the list contains a no-essay scholarship, you can apply for it directly within the app by instructing us to complete the entire process on your behalf.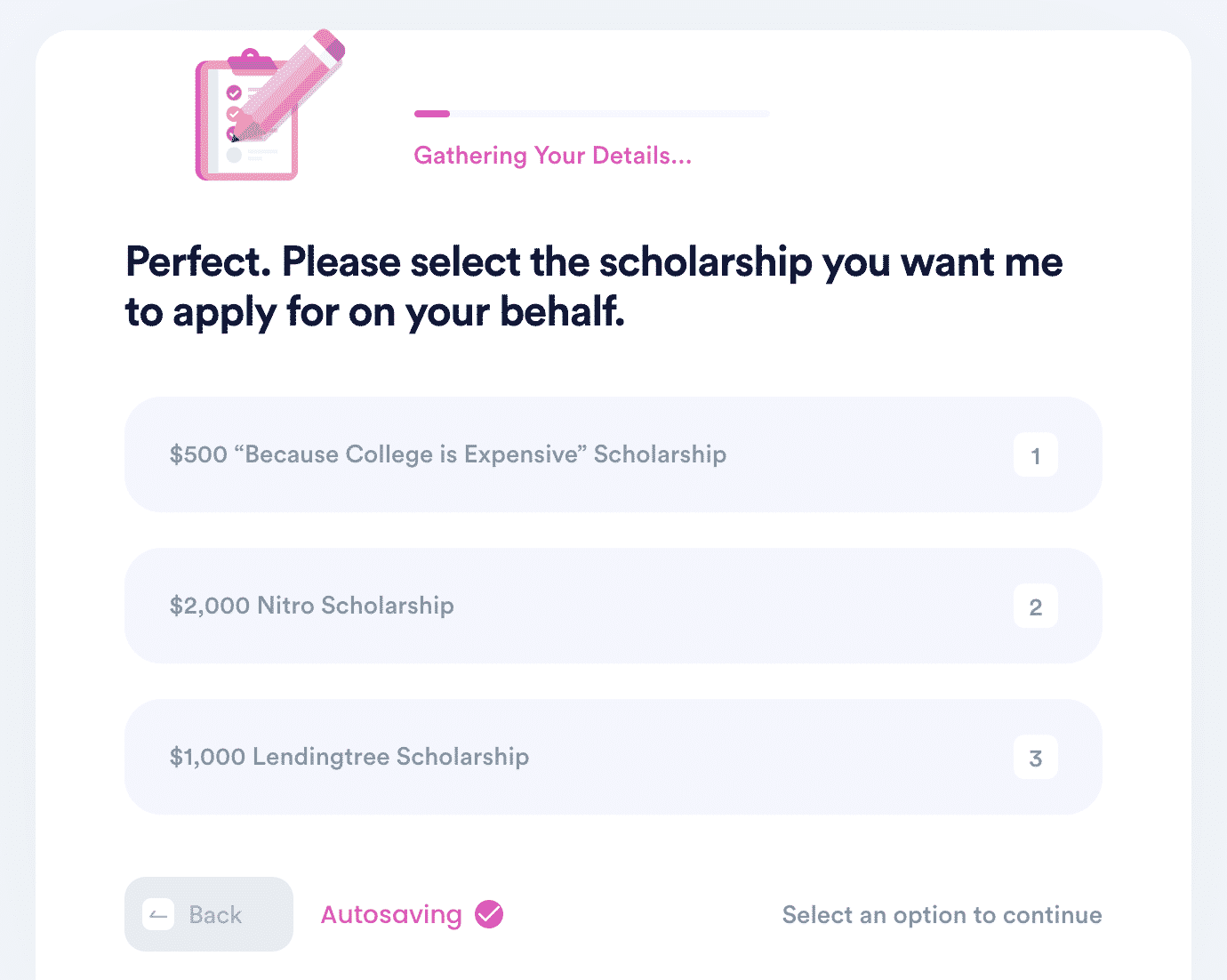 DoNotPay Turns Any Tiring Task Into a Piece of Cake
Are you tired of dealing with bureaucratic or legal matters on your own? You no longer have to—as soon as you subscribe to DoNotPay, we'll take any exhausting task off your plate.
Our app is capable of drawing up legal documents—including marital settlement agreements, child travel consent forms, powers of attorney, defamation demand letters, and affidavits to homeschool—getting them notarized remotely, filing complaints against companies, suing any individual or corporation in small claims court, sending FOIA requests, and so much more.
The World's First Robot Lawyer Offers So Much More
DoNotPay's capabilities don't end there—we can also: