Minority Nursing Scholarships—Explained
Finding and applying for scholarships is a challenging task. Many students want to obtain education in the healthcare field—especially nursing—but back out because of the financial burden it puts on them. Those who do pursue degrees in the field run the risk of graduating with a mountain of debt.
There are numerous scholarships out there that aim to help these students achieve their goals, many of which are minority nursing scholarships.
You can simplify your scholarship search by , get what you need, and focus on your studies!
Which Nursing Scholarships and Grants for Minorities Can You Apply For?
There are numerous scholarships and grants available for minorities seeking education. Some scholarships nursing students can apply for are:
| Scholarship | Amount Awarded | Description |
| --- | --- | --- |
| AAPINA Scholarship Program | $1,000 | Applicants must be Asian American or Pacific Islander students enrolled in undergraduate or graduate nursing programs |
| Alaska Native Tribal Health Consortium Scholarships | $5,000 | Applicants must be Alaskan Native or American Indian residents of Alaska and must be enrolled in a degree that allows them to work in the healthcare field |
| American Indian Nurse Scholarship Program | $1,500 | Students should be of American Indian descent |
| M. Elizabeth Carnegie African American Memorial Award | $2,000 | Applicants must be African American nursing students |
| NAANA Scholarships for Nursing Study | Varies | Applicants must be students of Arab descent, enrolled in any nursing program |
| NBNA Nursing Scholarships | $1,000-$6,000 | Applicants have to be African American nursing students and have at least 1 year of school left |
| Black Nurses Rock Scholarship | Varies | Candidates must be African American students with a minimum GPA of 3.0. Students with financial need will be prioritized |
| NAHN United Health Foundation Scholarship | $5,000 | Candidates have to be members of the National Association of Hispanic Nurses |
| Thomara Latimer Cancer Foundation Scholarship | Varies | Applicants must be African American nursing students under the age of 30. They should also maintain a minimum GPA of 3.0 upon receiving the scholarship |
| Udall Undergraduate Scholarship | Up to $7,000 | Recipients must be of Native American or Alaska Native descent. They must be studying in a healthcare field and be willing to work with native communities |
Are Scholarships for Minority Nursing Students Only Available to People of Color?
No, they aren't. Many financial aid opportunities aim to promote diversity in the field of healthcare. These scholarships cater to women, nursing students with disabilities, low-income students, and students from marginalized communities. Scholarships are available to a range of students, including high school seniors, college juniors, college sophomores, as well as doctoral candidates, and international students.
Some opportunities include:
Aetna Foundation Scholars Program
Barbara Rhomberg Nursing Scholarship
Ron Brown Scholar Fund
Bolton Scholars Program
Gustavus B. Capito Fund for Nursing Education
Mary T. Price Scholarship
David H. and Betty R. Bucher Nursing Scholarship
Can Undocumented Students Receive Nursing Scholarships for Minorities?
Many undocumented students in the USA aspire to work in healthcare but are unable to bear the costs of attending school. There are numerous grants and scholarships designated for undocumented nursing students, such as:
Jack Kent Cooke Foundation College Scholarship Program
Chicano Organizing and Research in Education Que Llueva Cafe
TheDream.US Scholarship
Esperanza Educational Fund Scholarship
Royal Prestige Scholarship
What Kind of Support Can You Receive as a Minority Nursing Student?
Here are a few societies you can reach out to if you want consolidated information about scholarships and aid:
National Alaska Native American Indian Nurses Association, Inc. (NANAINA)
American Association for Men in Nursing (AAMN)
Asian American/Pacific Islander Nurses Association, Inc. (AAPINA)
Black Nurses Rock (BNR)
National Association of Indian Nurses of America (NAINA)
National Association of Hispanic Nurses, Inc. (NAHN)
Philippine Nurses Association of America, Inc. (PNAA)
National Black Nurses Association (NBNA)
National Indian Nurse Practitioners Association of America (NINPAA)
How To Apply for Scholarships for Minorities in Nursing
Application processes differ depending on the type of scholarship you plan on applying for. There are a few documents that you might be required to submit, so it's best to be prepared accordingly. These documents are:
Scholarship essays

Test scores
Save Time by Using DoNotPay To Find the Best Scholarships
Filtering and finding the right scholarship can be frustrating. Where can you find easy scholarships? What if you want to combine multiple criteria (e.g., opportunities for veterans and students of biology)?
You can save a lot of time and simplify the whole process by using the DoNotPay app to find a tailor-made list of scholarships that fit your profile! If you choose the no-essay scholarships, you can even apply automatically through our app!
Follow these simple steps to get started:
Locate the Apply for Scholarships feature
Type in your current level of education and the kind of degree you would like to pursue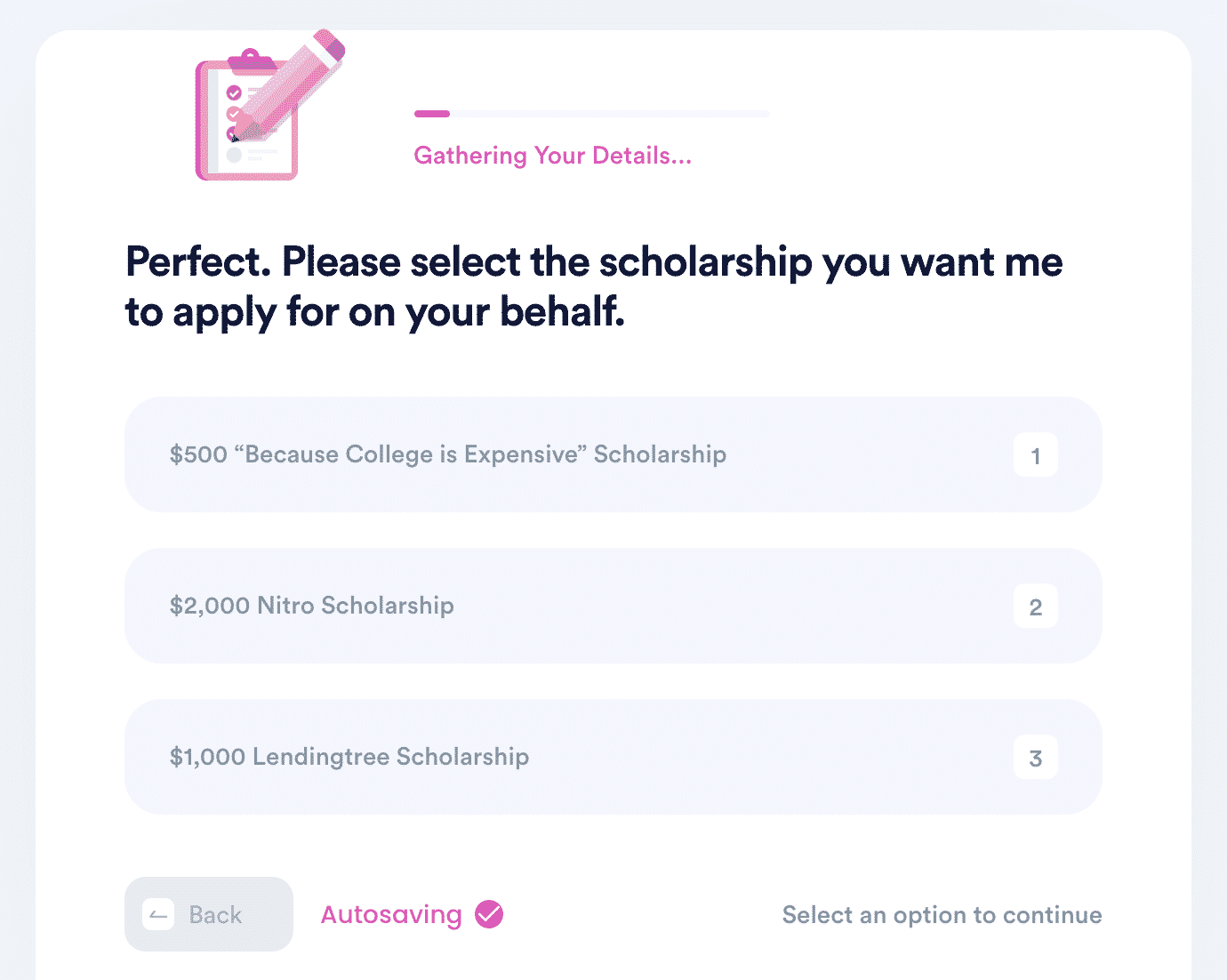 Don't Stop There—Check Out DoNotPay's Product Range
DoNotPay has many tricks up its sleeve—no matter the admin or legal issue at hand, our AI-enabled app can power through it in a split second. Look into our product range to find out how you can:
What Else Do You Need? DoNotPay Will Provide!
If you want to cancel a subscription before your free trial expires so that you don't get charged, you can count on our virtual credit card to do it in your stead! We can also make sure that you get what's rightfully yours—be it a refund, insurance, warranty, unclaimed money, flight refund, raffle ticket, or gift card cash back.
You no longer have to go through legal or administrative hurdles on your own—as soon as you sign up for DoNotPay, you'll get access to our app's assistance and will be able to use it to fight injustice.