Scholarships for Graduate Students in Counseling—A Complete Guide
A degree in counseling opens doors to many employment opportunities, for example:
School
Hospital
Mental health facility
Correctional facility
Private practice psychology office
Pursuing a career in this noble field can be difficult due to the significant expenses of getting a graduate degree. Luckily, students in graduate schools have numerous scholarship opportunities at their disposal to help them reduce some of the costs.
Learn all you need to know about scholarships for graduate students in counseling in this guide!
Where Can You Find Scholarships for Graduate Students in Counseling?
Check the table below to learn about the resources that can help you find scholarships for graduate students in counseling:
| Resource | Description |
| --- | --- |
| Federal, state, and private non-profit organizations | Organizations and associations that are—along with schools—typical benefactors of scholarships offer up-to-date information about their scholarship programs. You might have to become a member to access information and apply for awards |
| Schools | Psychology schools with counseling programs typically have at least one award dedicated to that field. Contact your school's financial aid department to ask about the available opportunities |
| Online search tools | Students who use online search engines to look for scholarships for graduate students in counseling will notice that those scholarships often overlap with awards for other psychology subdisciplines. Scholarship frauds are also not uncommon on some scholarship search websites |
Are you having trouble finding suitable scholarships with these resources? Try DoNotPay! Tell us about your field and level of study, and receive an extensive list of scholarships and grants catering to your educational and financial needs in a matter of moments!
Scholarships for Graduate Students in Counseling You Should Apply For
Depending on your qualifications and specialization, you can opt for the following types of scholarships for graduate students in counseling:
School counseling scholarships
Scholarships for female graduate students in counseling
Scholarships for mental health counseling programs
Holistic psychology school scholarships
General scholarships and fellowships for psychology graduates
School Counseling Scholarships
Graduate students specializing in school counseling can apply for the following scholarships:
The University of Texas at Austin—Bess Heflin Fellowship—Provides $30,000, health insurance, and a stipend equal to the cost of in-state tuition
Winston Churchill Foundation of the United States—Churchill Scholarship—Offers around $60,000 to students pursuing a graduate degree in one of the select 100+ colleges and universities
Scholarships for Female Graduate Students in Counseling
Women belonging to minority groups can apply for the Female Graduate Students in Counseling Scholarships and receive up to $2,500. Another option for female graduate students is to apply for more general psychology scholarships that reward students of various subdisciplines.
Scholarships for Mental Health Counseling Programs
Some of the most popular scholarships for graduate students attending mental health counseling programs include:
NBCFF Minority Fellowship Program
Services for Transition Age Youth Fellowship
Violet and Cyril Franks Scholarship
Melanie Merola O'Donnell Memorial Scholarship
David H. and Beverly A. Barlow Grant
Services for Transition Age Youth Fellowship
Holistic Psychology School Scholarships
The most famous holistic psychology school scholarship is the Institute of Transpersonal Psychology Scholarship. The scholarship provides $1,000 per quarter for a maximum of three quarters to students pursuing a career or conducting research on transpersonal psychology—a holistic approach to traditional psychotherapy.
General Scholarships for Psychology Graduates
Check out the table below to learn about scholarships for students focused on various subdisciplines of psychology:
Scholarship
Eligibility
Prize
Master's Degree Scholarship in Psychology and Counseling
Students must be pursuing a master's in:

Psychology
Counseling
Mental health counseling
Clinical psychology

$500
Pride Foundation Scholarship
Applicants must be part of the LGBTQ+ community
$10,000
Davis-Putter Scholarship Fund
Students must be active participants in social movements in the U.S.
Up to $15,000
How To Apply for Scholarships for Graduate Students in Counseling
Depending on the requirements of the particular scholarship you're competing for, you might have to take the following steps to apply for scholarships for graduate students in counseling:
Find Scholarships for Graduate Students in Counseling With DoNotPay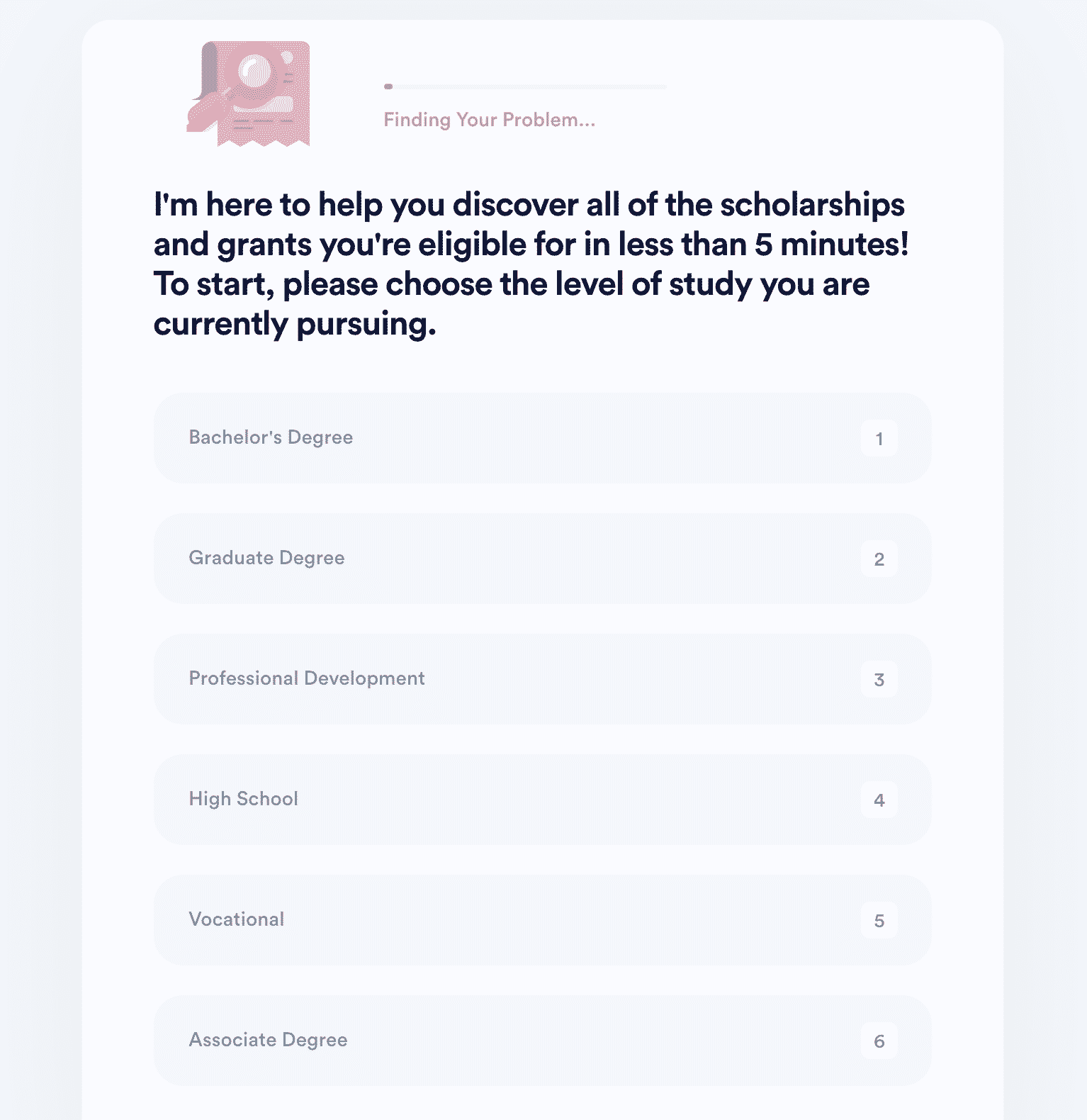 Whether you're a child, a high school senior starting college, or a graduate student in the final stages of education, DoNotPay can find opportunities to help you afford school.
It takes moments to get a list of all local awards for your field and level of study if you follow these steps:
Select the Apply for Scholarships product
Answer a few questions about the degree you're pursuing and any special qualifications you have—such as being a veteran or an international student
Our app also offers to apply for no-essay scholarships on your behalf automatically—that will leave you enough time to focus on your thesis and research projects.
What's Next?
Once you complete the task at hand, you don't have to stop there—we offer a myriad of products that can relieve you of the stress that comes with dealing with admin and legal hurdles.
DoNotPay can assist you in drawing up a divorce settlement agreement, child travel consent form, power of attorney, and other legal documents, contacting government representatives, getting tourist visas, fighting workplace discrimination, getting a burner number, appealing banned accounts, getting access to public records, scheduling a DMV appointment, and much more.
Tackle Any Energy-Draining Task With DoNotPay
With DoNotPay by your side, you don't have to worry about how you'll cover your utility bills at the end of the month—we'll provide swift assistance as soon as you sign up!
Wondering what else our app is capable of? Check out how we can: