Do Independent Students Get More Financial Aid? DoNotPay Reveals It All!
Once you start looking into financial aid options, you will realize there are a lot of requirements you need to meet. Your financial aid possibilities, the application process, and the final decision depend on many factors—including your dependency status.
Do independent students get more financial aid? DoNotPay has the answer!
Who Qualifies as an Independent Student?
To qualify for financial aid as an independent student, you need to meet certain criteria. Being financially independent or not being claimed by your parents on their tax forms isn't enough to change your dependent student status.
You will be considered a financially independent student for financial aid purposes if you:
Are 24 years old or older
Are married
Were a ward of the court or in foster care because your parents had deceased by the time you turned 13
Are working towards a master's degree or doctorate
Have dependents
Are an active member of the U.S. Armed Forces or a veteran
Have someone other than your parent or stepparent appointed as your legal guardian
Are emancipated
Are homeless or at risk of becoming homeless
Have children who receive half or more of their support from you
If you had been receiving aid as a dependent student but your status changed, you can skip the information about your parents the next time you apply.
Note that your dependency status for tax purposes doesn't equal the one for federal financial aid. You will need to provide information about your parents on the Free Application for Federal Student Aid (FAFSA) form if you don't meet at least one of the above-mentioned requirements.
Will I Get More Financial Aid as an Independent Student?
Yes, independent students get more financial aid.
Students who qualify as independent don't need to file their parents' financial data—only their own—which can work in their favor. They will have greater financial need and better financial aid eligibility.
The dependency status doesn't necessarily lead to more money, though. Some financial aid programs don't give it value.
You can review the average amount that undergraduate students get in financial aid in the table below:
Type of Aid
Dependent Student Gets

(Average Amount)

Independent Student Gets

(Average Amount)

Total Federal Student Aid
$13,120
$14,950
Total Federal Grants
$4,980
$4,980
Federal Direct Stafford Loan
$5,800
$7,630
Federal Pell Grant
$4,310
$4,310
Federal Work-Study
$2,340
$2,340
Scholarships are awarded based on academic achievements or other personal accomplishments, so the dependency status won't influence the amount you receive.
Can I Apply for Financial Aid Without My Parents?
While independent students don't need their parents' info, dependent ones do, and it can make it difficult if your mother or father refuses to provide the necessary data.
Don't worry, though—you can still apply for federal aid in certain circumstances.
Students can be granted a dependent override, which means that the college will change their status from dependent to independent.
A student is eligible for dependency override if:
The parents are incapacitated
The parents are incarcerated
A student left home because of an abusive relationship with a family member
The parents' whereabouts are unknown
The dependency override won't be granted if:
Parents don't want to provide financial help
Parents refuse to share their information for the FAFSA form
Student is self-sufficient
Parents don't claim the student as dependent on their tax income
Parents don't want to complete the FAFSA verification
If you fail to qualify for dependency override and you can't provide parental information, you should still file the FAFSA and contact the college's financial aid administrator.
In this case, you won't be eligible for:
Federal Pell Grant
Federal Supplemental Educational Opportunity Grant (FSEOG)
Perkins Loan
Direct Subsidized Loan
Federal Work-Study
The only federal student aid possibility that will be left is the Direct Unsubsidized Loan if the advisor allows it.
How To Apply for Financial Aid Without Parents
You might still be able to get financial aid if you follow these steps:
Complete the FAFSA form
Select I am unable to provide information about my parent(s)
Submit the form
Get in touch with a financial aid administrator at the college of your choice
Explain your situation to the administrator, and they will help you figure out how to go about it and what type of aid might still be available to you.
What if I Don't Get Sufficient Funds?
If your financial aid request gets accepted, you will receive an outline of your eligibility and the granted amount.
Are the offered funds not enough? You can submit an appeal! To do that, you need to write a letter that justifies your request.
If you applied for several types of aid from different colleges, you'll need to write letters to all of them. You don't need to do this on your own because DoNotPay can help you out as soon as you sign up!
DoNotPay Can Generate Your Customized Appeal Letters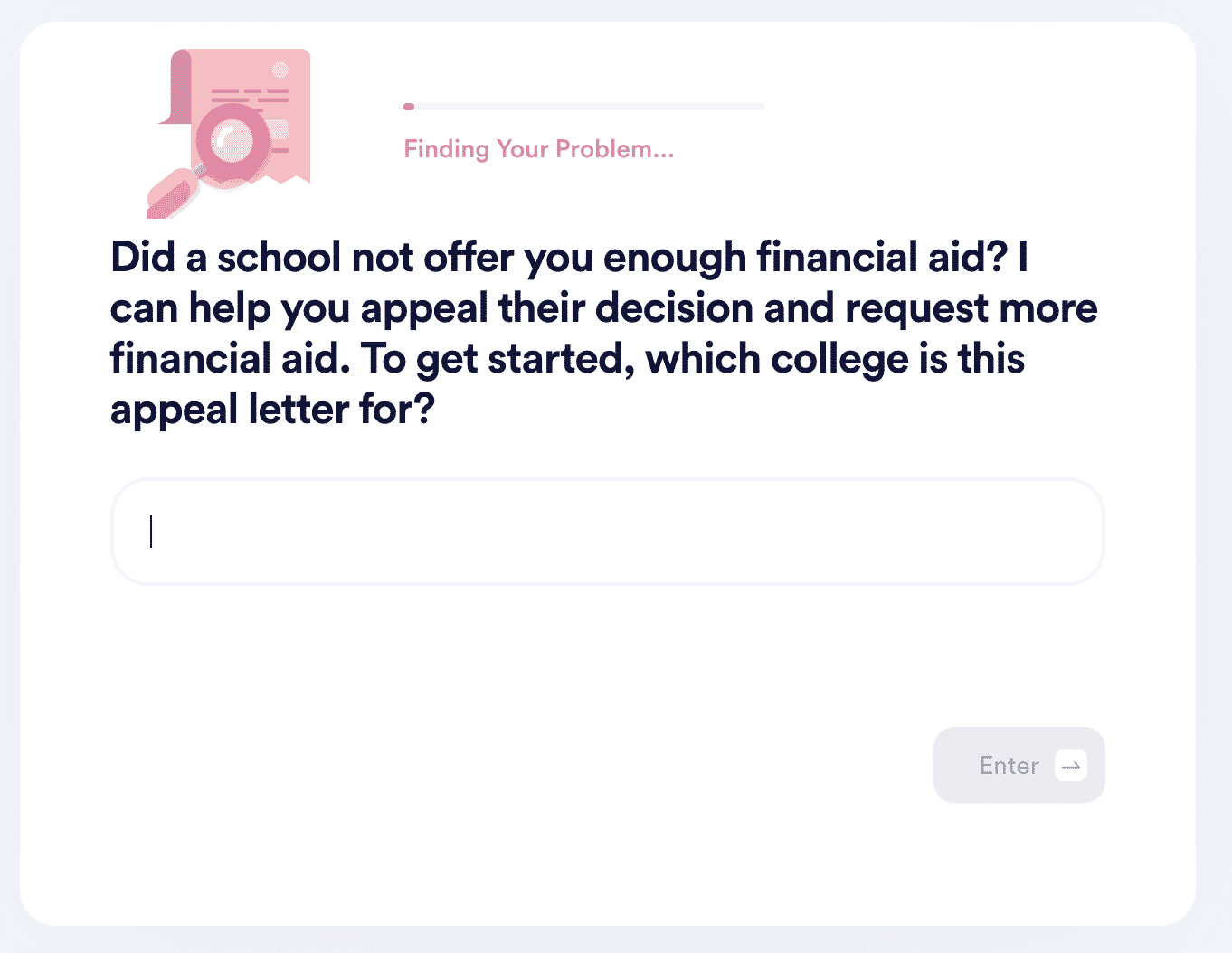 Our nifty app has a useful feature for students—Appeal for More Financial Aid. The tool will generate as many custom appeal letters as you need.
You only need to do the following:
Type Appeal for More Financial Aid in the search bar
Fill in the questionnaire about your reasons for the appeal
We will take over from here and send a customized letter to a school of your choice. If you want to mail the letter yourself, make sure you specify that when answering our chatbot's questions, and we'll send it to your email.
We can also assist if you are in graduate school and want to appeal the financial aid decision. Want to find out how many years you can receive the aid? Read our useful guide!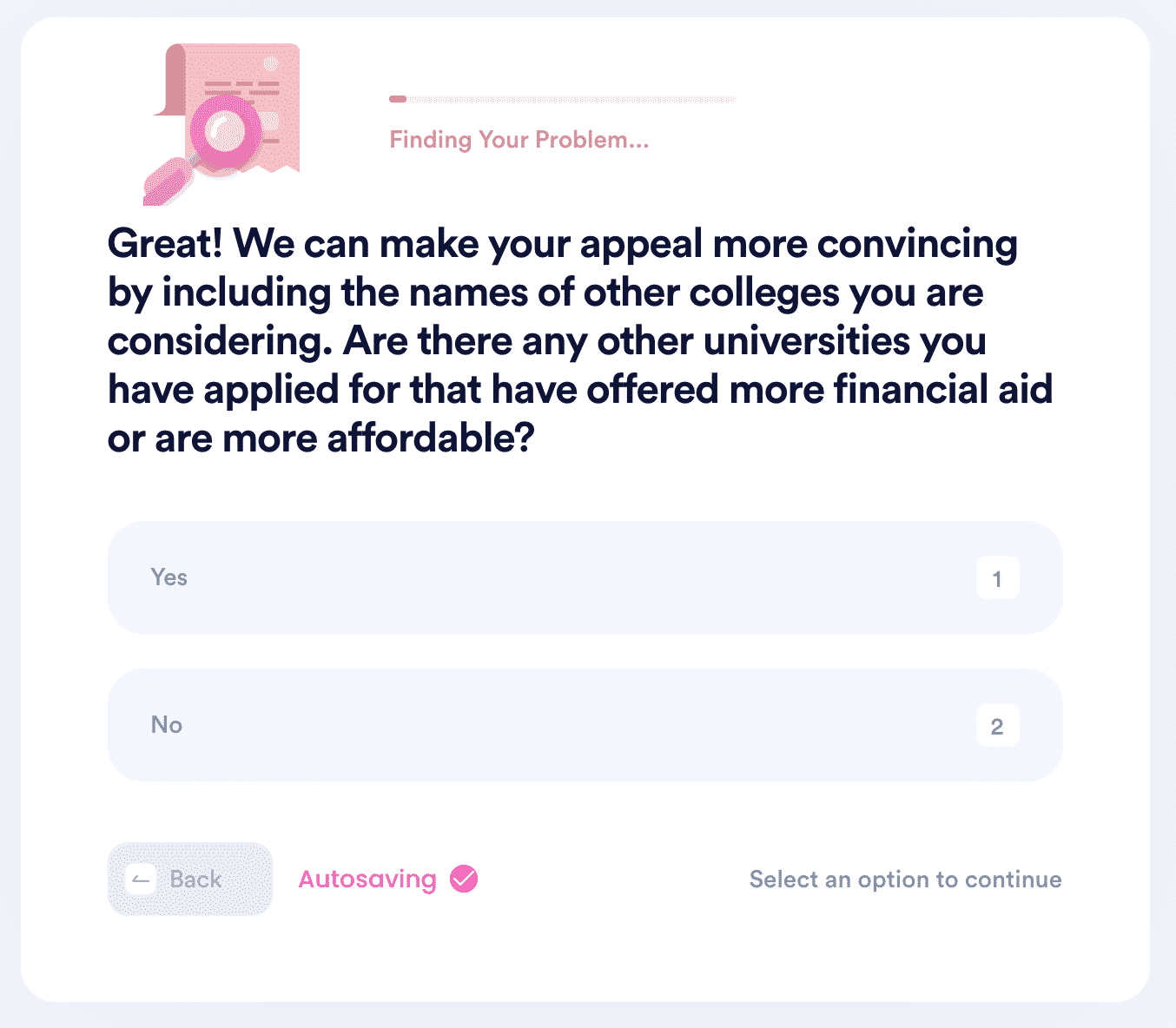 Our vast learning center consists of a plethora of guides on different universities' and colleges' financial aid options—check them out:
Let DoNotPay Be Your Virtual Assistant!
Why bother with deciphering legal terminology or figuring out how to write a legal document when you can let us do it for you? You don't have to waste your time any longer. Once you sign up for DoNotPay, we'll do much more than draft your legal documents or help get them notarized!
DoNotPay will show you how to perform a number of tasks with ease, including suing any company in small claims court, filing insurance claims, claiming warranties, creating passport photos, and sending your neighbor a complaint letter!
Should you need assistance with requesting a refund for a delayed flight or fighting workplace discrimination, our virtual assistant shows you how it's done.
There's More We Can Do!
Tired of dealing with mundane tasks and spending hours running dull errands? We offer the perfect solution!
DoNotPay can assist you in completing tedious tasks with ease! The best part is that you will spend significantly less time on them, and you can get them done from the comfort of your home!
Paying bills, getting a free trial, canceling subscriptions, getting revenge on robocalls, requesting refunds, or making a DMV appointment is only a few clicks away!