Get Your Ticket to the Good Life With Soccer Scholarships for College
Soccer is one of the top five most popular sports for high school students across the U.S. Playing it also helps students do better in academics. As per a high school survey, students who doubled up as athletes had higher GPAs than their non-athlete counterparts!
If you're struggling to fund your education, top-class soccer scholarships for college can be your ticket to debt-free student life! Such scholarships give you the best of both worlds with:
A real chance to network and pursue a glorious career in soccer
Complete access to high-end academic programs that lead you to great jobs
In this article, we will help you explore the existing soccer scholarship opportunities available to you!
Are Soccer College Scholarships Worth My Time?
If you have it in you to bend it like Beckham, you should apply for soccer scholarships without a shred of doubt!
Many high school senior year players overlook a soccer college scholarship even when they have roaring passion and talent for the sport. That's because they want to prioritize getting accepted at a college of their choice. While it's a practical decision, it can cause you to miss out on many lucrative opportunities.
The primary reason you should look for soccer scholarships is that they can help you get a full-ride scholarship to your favorite college!
Premier colleges want the best players on their team. If college coaches and recruiters like your skills on the field, they'll offer you a robust scholarship and invite you to join their soccer squad as a freshman! You'll also get unparalleled exposure to the world of professional soccer, so getting selected is a win-win deal!
College Soccer Scholarships—Who Offers Them?
College soccer scholarships and grants are offered by educational institutes affiliated with one of the following athletic bodies:
National Collegiate Athletic Association (NCAA)
National Association of Intercollegiate Athletics (NAIA)
National Junior College Athletic Association (NJCAA)
Colleges that belong to any of these associations must offer a certain number of sports scholarships—including soccer or football scholarships—every year.
A Rundown on the Scholarships Offered by National Sports Associations
Refer to the table below to understand how a college's affiliation to one of these organizations impacts the quality and quantity of scholarships offered:
College Is a Member Of
Details
NCAA
Schools and colleges offer soccer scholarships based on the NCAA division classification:

NCAA Division I—Colleges belonging to NCAA Division I are considered powerhouse colleges that offer 9.9 men and 14 women soccer scholarships each year for exceptional players only
NCAA Division II— These colleges offer nine and 9.9 scholarships to male and female soccer players, respectively
NCAA Division III—Are predominantly small private schools that do not offer soccer scholarships but still provide other financial aid options to promising players

The scholarships sponsored by NCAA colleges cover full tuition fees, boarding costs, and such

NAIA

NAIA members are usually public universities or large private schools
NAIA colleges usually offer 12 soccer scholarships each for men and women

NAIA schools are less likely to offer full-ride scholarships

NJCAA

If you are looking to study at a two-year community or junior college, apply to schools that are recognized by the NJCAA
Currently, NJCAA-affiliated schools offer 24 scholarships each for men and women soccer players
Colleges under NCAA, NAIA, or NJCAA also offer scholarships for other sports like volleyball, cheerleading, track, golf, rowing, and basketball. Certain NCAA-affiliated schools may offer scholarships to students with disabilities—physical or mental—like autism, hearing loss, anxiety, or any learning disability.
How To Find Scholarships for Soccer
If you are serious about getting a soccer scholarship, you need to start keeping track of colleges belonging to the NCAA, NAIA, and NJCAA from your sophomore or junior year. You should analyze your skills and make a list of the colleges you have a shot with. For example—some colleges prioritize soccer skills, while others demand high GPAs from their athlete scholars.
Checking out individual scholarship criteria for different schools can be a rough and time-sapping chore, especially for a busy student in a super intense learning or sporting environment. Keeping that in mind, DoNotPay offers you a nifty Apply for Scholarships tool that lets you keep tabs on all scholarships you're interested in!
All you need to do is enter your student details, such as grades, interests, hobbies, potential veteran background, and other qualifications, including being an international student. We will match your data with our latest scholarship database to give you a list of all scholarships you qualify for!
Sign up for our app to view your customized list within five minutes!
How To Get a Scholarship for Soccer—Players' Guide
Before you search for scholarships, know that soccer scholarships are always merit-based. If you want to increase your chances of winning them, abide by the following tips:
Develop a good mentor-mentee relationship with your high school coach—many college team recruiters rely on their verbal or written recommendation
Reach out to college coaches to assess what they want in potential players
Don't neglect your academics—many talented players have lost good scholarship offers due to slipping scores in science or math
Brush up on your writing skills as some colleges may also ask you to write a qualifying scholarship essay
If your current school soccer team isn't too skilled, consider joining off-season private clubs to improve your competitive performance
Keep in mind that many NCAA, NAIA, or NJCAA colleges divide their total scholarship fund to accommodate awarding more students. For example—a college allowed to issue $10,000 full-ride scholarships to nine players may choose to offer $5,000 partial scholarships to 18 players.
If you want better coverage for your tuition costs, use DoNotPay to search and apply for other scholarships.
Use DoNotPay To Find and Apply for the Best Scholarship Opportunities
As a soccer scholarship aspirant, you may have to wait for over a year to see if you're admitted to a college. Since your odds of winning a scholarship are up in the air, it's smarter to keep your eyes on multiple options at once.
If you think scholarship applications take time and energy—DoNotPay has a perfect solution for you! Our Apply for Scholarships tool not only lets you browse for scholarships but also helps you apply for them within seconds.
Here is what you need to do:
Find our Apply for Scholarships tool
Fill in the student questionnaire
Choose if you want to view scholarships or apply for them
If you choose to view, we will give you a list of all scholarships you are eligible for.
When you use our apply feature, we will curate a list of no-essay scholarships for you. You can select the ones you like, and we will apply for them on your behalf automatically! That way, you can ensure you're registered as an applicant for the maximum number of scholarships. As many scholarships are awarded based on a minority or ethnic background—you can earn them without moving a muscle!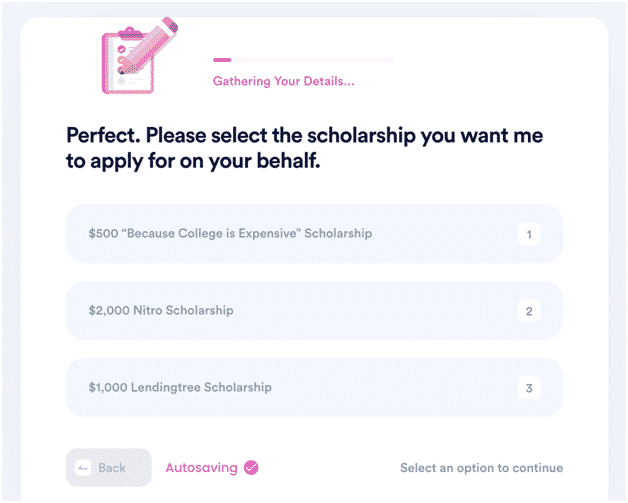 You can also use DoNotPay as a handy search engine if you're an adult or independent learner looking for grad school or doctoral scholarships!
Save Time With DoNotPay
DoNotPay is not done helping you! We offer you assistance in completing a variety of tasks quickly and efficiently, such as:
Canceling Subscriptions Has Never Been Easier!
If you keep getting charged a monthly subscription fee even though you no longer want to use a certain service, don't let your money go to waste! Some companies tend to renew your subscription automatically, but that doesn't mean you have to put up with it—use our app to terminate your membership or subscription in a few clicks!
Do you want to sign up for free trials and create a virtual credit card or a burner phone number to protect your sensitive info? Once you subscribe to DoNotPay, we will walk you through the process of doing all of the above in no time!
You can also count on our assistance if you need to get rid of spam or robocalls.