DoNotPay's Alerts Save At-Risk Kids From Female Teacher Sex Offenders
Female teacher sex offenders use nuanced manipulation and power dynamics to sexually exploit their victims—mostly minor adolescent males.
When confronted about illegal sexual conduct, these women almost always call the act consensual! No wonder getting embroiled in a controversy with a female teacher sex offender invites judgemental public scrutiny and scars the victim for life.
DoNotPay's Sex Offender Search feature can help you protect your child by scanning any address for known sex offenders. We'll help you watch over your kids—!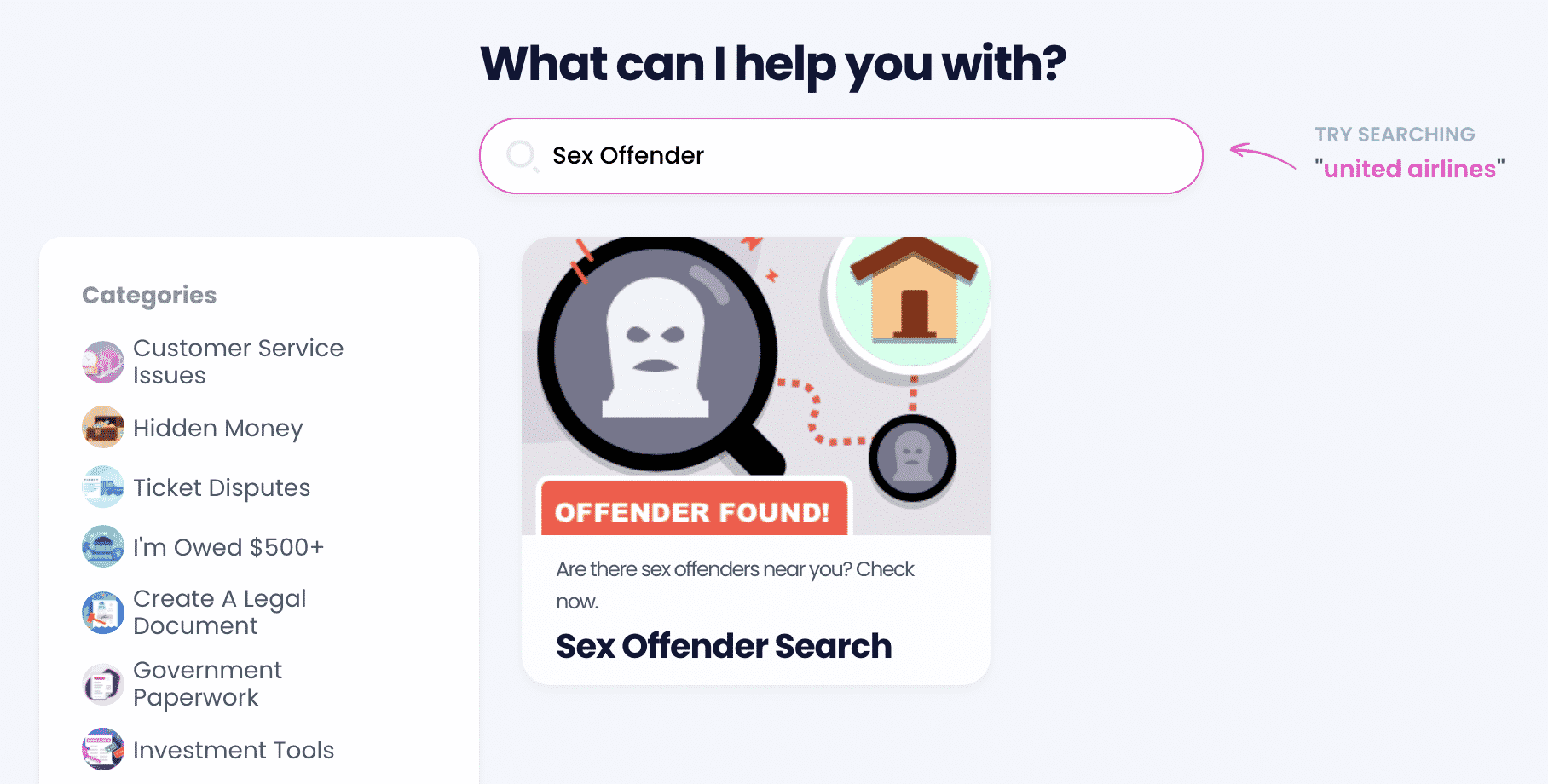 The Female Teacher Sex Offender—Who Does She Target?
A 2004 research conducted on teacher sexual misconduct revealed some terrifying statistics:
Almost 10% of the participants from grades 8–11 across 80,000 schools claimed to have been abused by an educator
18% of the school offenders were class teachers, many being females
A staggering 88% of the female teacher offenders were Caucasians
Most female teacher offenders fell under the Teacher/Lover typology
Another study from 2014 claimed that one-third of all prosecuted teacher sex offenders in the U.S. were females.
The findings suggest that female teacher offenders are not your regular predatory pedophiles as they largely target victims from late middle school or high school.
Teachers as Sex Offenders—How Are Females Different Than Males?
The list of teachers on public sex offender registries includes more males than females, but it's the female ones who largely fly under the radar. It is important to distinguish between male and female teacher sex offenders to promote better vigilance:
Basis
Male Teacher Sex Offender
Female Teacher Sex Offender
Age
Belong to an older age group—typically middle-aged or older
Are comparatively younger than their male counterparts—usually in their late twenties or thirties
Grooming tactics
Tend to overpower victims using force or coercion tactics, like proposing sex as a condition for good grades

Rarely use force but prefer to alienate the victim before abuse—both emotionally and physically
Misuse a teen victim's sexual curiosity or biological hormonal response to initiate a sexual relationship

Choice of victims
Have no fixed pattern of hunting victims
Are more likely to choose socially isolated victims who feel unloved and unappreciated—such victims are easier to control
Public perception
Are condemned by the community and rarely eroticized

Enjoy greater public tolerance as people often downplay the severity of a female preying on a male
The Teacher-Lover Trope Is a Hot Mess in Female Sex Offenders' Cases
Almost all the cases of female teachers preying on an adolescent revolve around the Teacher/Lover or the Heterosexual Nurturer angle. Such teachers take advantage of their caretaking or mentorship position to lure victims for future sexual abuse.
Female predators may come from mundane relationships or failing marriages and have poor self-esteem and emotional health. Sexually exploiting young males is their misdirected way to feel validated or empowered.
When it comes to legal consequences, female sex offenders get away with lighter sentences by using consent as a justification. These offenders may have a high rate of recidivism—i.e., reoffending—because society trivializes or even glorifies their crime.
School Teacher Sex Offenders—Impact on Victims
Sex offenses executed by school staff can go undetected for several reasons, like:
The unwillingness of victims to speak up due to social stigma
Blackmail or psychological abuse used by abusers to shush victims
The persuasion applied by offenders on impressionable victims to condition them into thinking that the abuse is okay
The victims of sexually abusive female teachers may experience severe Post-Traumatic Stress Disorder (PTSD) and display traits like:
Anxiety or depression
Suicidal tendencies or other forms of self-harm
Substance abuse
Increased promiscuity
Eating disorders
Frequent mood swings
How To Protect Vulnerable Youngsters From Female Sex Offender Teachers
As per Megan's Law, convicted female teacher sex offenders need to register in their state's public sex offender registry. They may be classified under a tier or level depending on the severity of their crime, and their location may be mapped by law enforcement and published on the registry as well.
How Does the Registry Keep Them in Check?
Depending on any state's registration laws, a female teacher sex offender may have to live with:
Employment restrictions
Internet or social media usage monitoring
Other limitations like staying away from minors
These prohibitions are not applicable for unregistered sex offenders.
A Teacher or a Predator? DoNotPay Has a Solution to Your Worries
You can browse through your state's public sex offender database to check the list of offenders near you. Keep in mind that registry searches are painfully complicated, time-consuming, and often unfruitful. The search parameters can be equally puzzling as most registries:
Don't let you filter out results for females or teachers
Overload the search results with thousands of irrelevant records
Accessing your local female sex offenders list to ensure your kid's wellbeing is no easy task. If the thought of your child's safety keeps you up at night, DoNotPay has a certified remedy that will restore your peace of mind!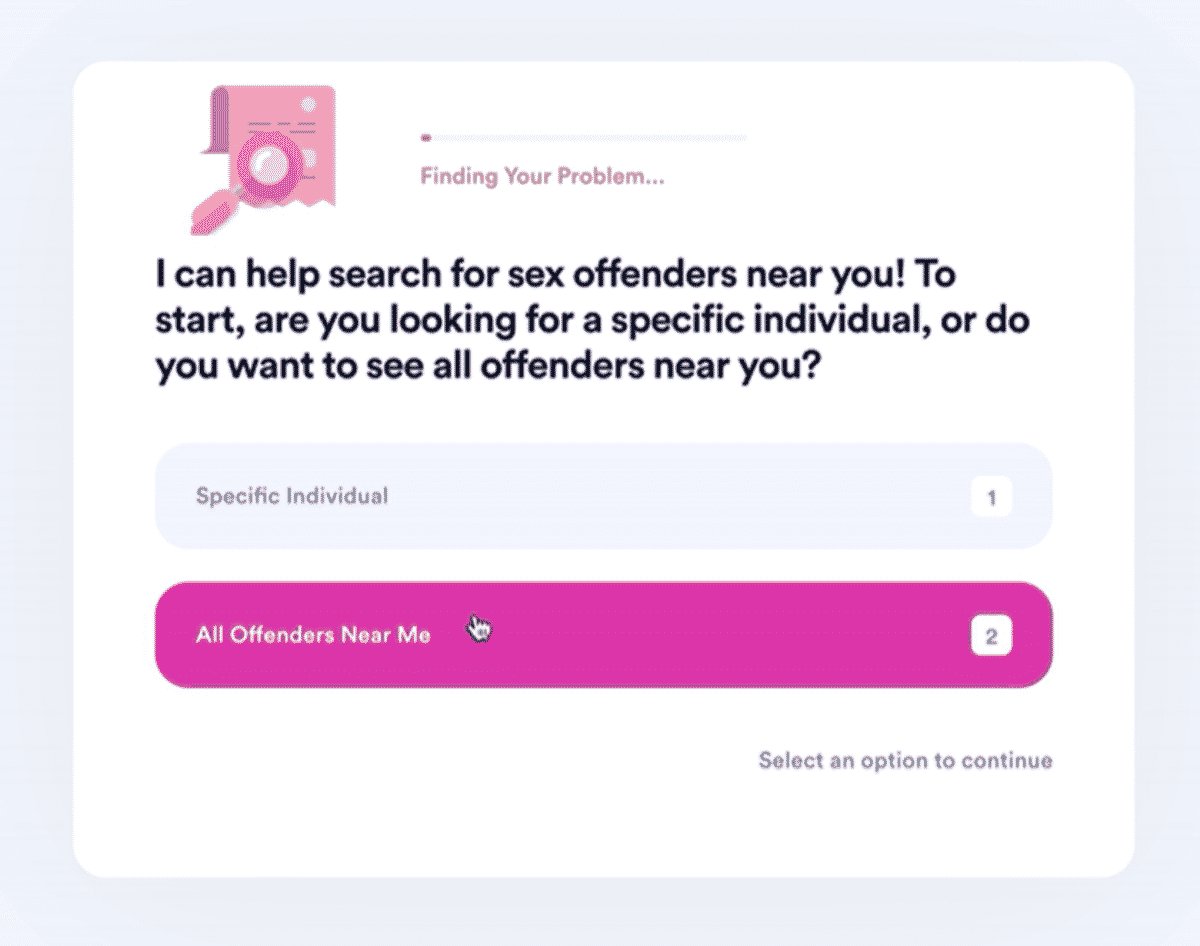 DoNotPay has a solution to finding details on all sex offenders in your neighborhood within seconds! If a predatory teacher lives or lurks near your child, you'll know.
Here's what you need to do:
and navigate to the Sex Offender Search tab
Select what you're looking for—info on a specific female teacher offender or a comprehensive list of offenders near you
Modify the proximity radius as per your preference
Opt for our weekly scan feature if you wish to automate this safety protocol
The generated report will contain the latest pictures and personal details of the sexual offenders within your search perimeter. We can refresh the search each week and send you automated alerts to keep you updated on any new sex offender wandering near your home or your child's school.
DoNotPay's AI Can Access the Sex Offender Registry for Any State
If you want support navigating any state's sex offender registry, browse through this table to use our handy state-specific guides:
The Teacher Sex Offenders Nightmare—Preventive Measures
Authorities believe that the availability of smartphones and discreet messaging services plays a big part in teacher-student-related sexual crimes. That's why many schools in Texas have banned singular messaging between teachers and students.
To prevent cases of female teacher sexual abuse, parents and educators can take the following measures:
Keep an eye on unnatural behavioral changes displayed by a child
Enlighten teens on sexual violence in schools so that the issue is no longer a taboo
Use DoNotPay To Resolve Administrative Tasks in Minutes!
Tired of brainstorming the easiest way to deal with administrative issues? We know how you feel, and we're here to take the burden off your back!
Once you subscribe to our app, you'll be able to resolve an abundance of bureaucratic issues with ease.
Taking a valid passport photo, reporting workplace discrimination, reducing property taxes, preparing for a government test, applying for a college fee waiver, and appealing a parking ticket are some of the many tasks we assist you with.
In case you need a quick way to draft a legal document, such as a power of attorney, divorce settlement agreement, or a child travel consent form, DoNotPay will do it for you!
Learn How To File Claims the Easy Way
Are you dissatisfied with a certain company and/or its products? You don't have to stay quiet! Use DoNotPay to file your insurance, warranty, or missing/late parcel claim effortlessly! We'll also show you how to request an item return in a few steps.
If you want to cancel a subscription or request a refund or chargeback, you can do it with our assistance without breaking a sweat. Use one app to deal with countless issues!