A Guide to Searching the Texas Sex Offender Registry Quickly
Are you looking for a way to protect yourself and your loved ones from sex offenders in Texas? Searching for registered sex offenders near you is the best course of action. Luckily, spending hours trying to figure out how to do it isn't necessary! Once you , you'll be able to search the Texas Sex Offender Registry in no time and even get weekly reports if you wish to stay updated!
Texas Sex Offender Registry Laws
Since there is an alarming number of registered sex offenders in Texas (around 97,386), getting acquainted with the sex offender registry laws and protocols would be wise. We'll break down the three main categories of registered sex offenders in Texas based on the severity of their offenses and the risk they pose:
Tier
Offense
Tier 1 (low-risk offenders)

Prostitution acts (consensual)
Indecent exposure

Tier 2 (moderate-risk offenders)

Aggravated sexual assault
Sexual acts involving a minor

Tier 3 (high-risk offenders)

Frequent violent sexual acts
Kidnapping or human trafficking
If sex offenders continue committing violent sexual acts frequently, they are labeled as sexually violent predators. They may be diagnosed with a behavior abnormality, and they would have to go to therapy while being under close law enforcement supervision.
Under Texas sex offender law, every person who commits a sexual offense needs to register with their county's authorities. The offenders have to provide personal information upon registering, such as names, aliases, addresses, and vehicle descriptions.
How Long Do Sex Offenders in Texas Have To Stay Registered?
Texas sex offenders must stay on the Registry for either ten years or for life, depending on their crimes. Check out the table below for details:
Offenders Registering for Ten Years
Offenders Registering for Life

Online solicitation of a minor
Indecent exposure, second offense
Indecency with a child
Prostitution (if the person solicited is younger than 18)

Continuous sexual abuse of a child
Indecency with a child by contact
Aggravated sexual assault
Possession or promotion of child pornography
Sexual assault
Aggravated kidnapping (if committed with the intent to abuse or violate the victim sexually)
Human trafficking
Prohibited sexual conduct
Compelling prostitution of a minor
Unlawful restraint or aggravated kidnapping
Obscenity
Texas Sex Offender Restrictions Explained
Registered sex offenders in Texas face certain travel and residential restrictions. Consult the list below for specifics:
Travel restrictions—If a registered sex offender wants to move or travel to another state, he or she has to register in that state upon arrival and inform the law enforcement in Texas about it
Residential restrictions—Certain sex offenders whose victims were minors at the time of the crime are not allowed to live within 500 feet of child safety zones, including schools, daycare facilities, parks, playgrounds, youth centers, and sports fields
Many sex offenders avoid registering because of the above-listed restrictions, which is considered a felony.
How To Search the Sex Offender Registry in Texas
Since the passing of Megan's Law, the info about registered sex offenders became public, which means that everyone can access it. To search the sex offender registry in TX, you can visit the Texas Department of Public Safety (TXDPS) website. You can use either a sex offenders' map or a registrant's name to start the search. Here's how it works:
Go to the TXDPS website
Enter the required info
Click on Search
After you complete the above-listed instructions, you will get the info about the registered sex offenders near you, including their name, birth date, sex, race, and address. The only issue is that the website doesn't get updated regularly. To help you stay on the safe side, we can provide weekly sex offender reports to help keep you informed and alert.
Use DoNotPay To Search the Texas Sex Offender Registry Quickly!
You don't have to worry about a sex offender moving to your neighborhood without you knowing! With our Sex Offender Search feature, you can find registered sex offenders near you in a snap and get updates about the newly registered ones weekly! All you need to do is:
and choose the Sex Offender Search tool
Pick whether you want to locate a specific sex offender or get a list of all the registered ones in your proximity
Say if you would like to get weekly reports from us
DoNotPay will conduct the search right away and inform you of all the details in no time!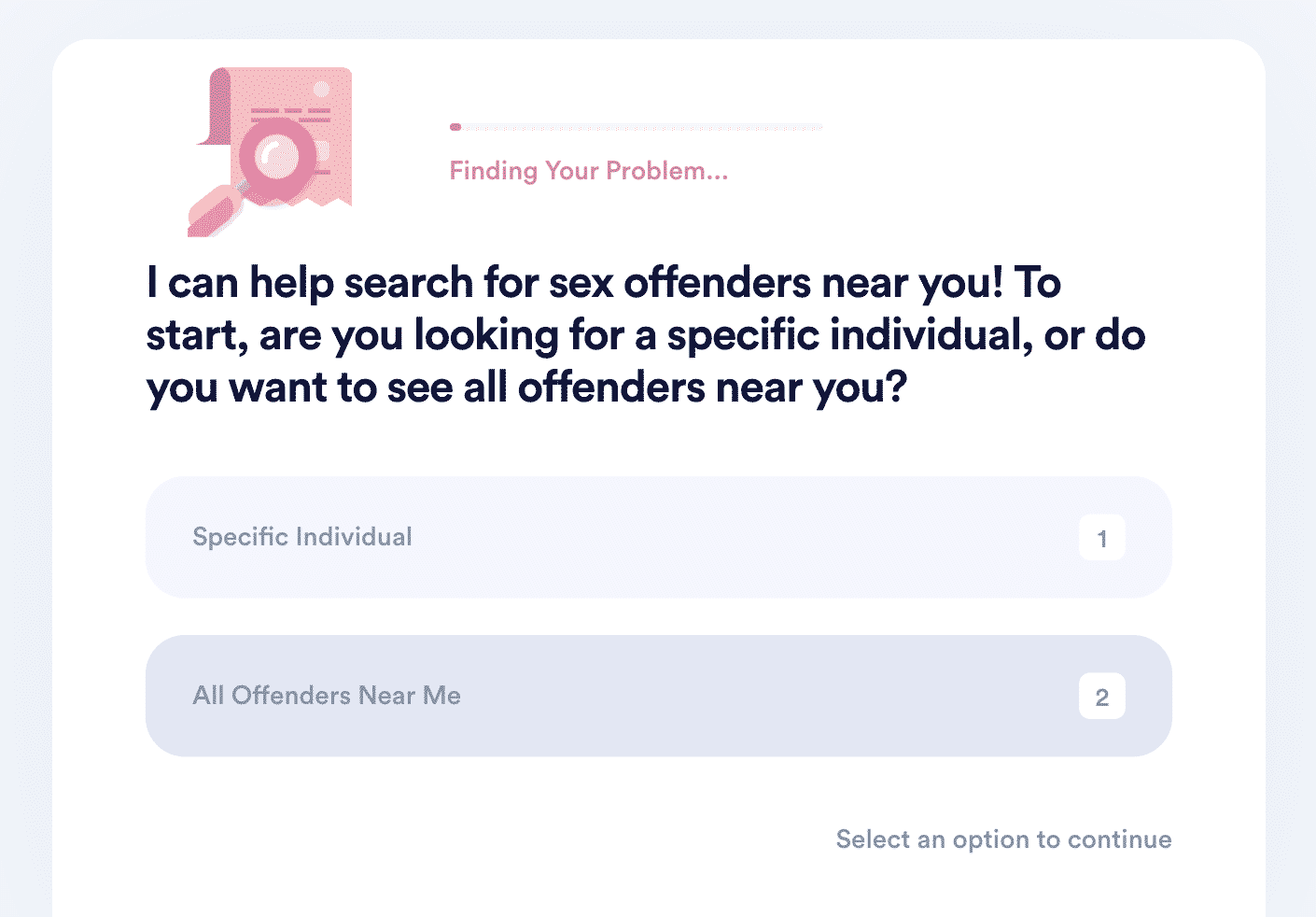 DoNotPay can help you find registered sex offenders in any Texas county, including:
How To Stay Safe From Sex Offenders in Texas
To keep yourself and your loved ones protected from registered sex offenders in Texas, you should:
Talk to your friends and family—Explaining the situation to your loved ones can help you have peace of mind and ensure they are aware of the offenders lurking nearby. That way, they can take precautions and know who to avoid
Contact the authorities—Calling the local authorities and voicing your concerns will also help you stay calm
Have an escape plan—Preparing a plan in advance can be especially useful if you run into a sex offender. If you already know what to do and where to go, you'll be able to act quickly
Want To Save Money on Lawyers? Use DoNotPay
Most people spend big bucks on expensive lawyers to overcome their bureaucratic obstacles. Don't waste your money on unnecessary fees—use DoNotPay and take care of any legal matter in a few easy clicks! Check out some of the issues the world's first robot lawyer can help you with:
DoNotPay Turns Your Everyday Hurdles Into a Piece of Cake
Did you receive a faulty or damaged item? Why not return it with your virtual assistant? We can also help you get a late delivery refund and jump the queue if the customer service phone keeps ringing to no avail. The list of handy DoNotPay features that make your everyday life easier goes on.
By subscribing to our platform, you won't have to worry about your tedious neighbors or parking tickets. We can do it all!