Learn How To Search the Sex Offender Registry of NJ
Living in a neighborhood with one or more sex offenders can be downright scary, especially if you have kids. If you live in New Jersey, a good safety precaution is to check the sex offender registry of NJ to see who is living in your vicinity.
Knowing where the offenders live or work is enough for you and your loved ones to know which areas to avoid.
The problem is that checking the registry daily can be a chore, and that's why DoNotPay created a better solution. Sign up for our weekly sex offender updates and keep your family safe with DoNotPay.
The New Jersey Sex Offender Registry Laws You Should Be Aware Of
According to the New Jersey sex offender registration law, criminals who were convicted of sexual offenses must register with local authorities as soon as they are released from prison.
Consult the table to find out for which crimes sex offenders need to register after being released from prison or on parole:
Sex Offense
Brief Description
Sex crimes against children

Child rape
Exploitation
Kidnapping
Molestation
Production, distribution, or possession of child pornography

Crimes against adults

Any sexual offense against unrelated adults, including sexual assault and rape

Sex trade

All prostitution and sex trade acts

Family offense

Sexual crimes committed against family members, which are usually incestual in nature

Crimes against nature

Beastiality
Public indecency
Frotteurism
Voyeurism
To register, offenders must provide personal info, including their names and home and work addresses. Information on certain sex offenders (mostly Tier 3) is publicly available under Megan's Law.
Many sex offenders avoid registering and face severe legal consequences if caught.
NJ Sex Offender Tiers Explained
Sex offenders are divided into tiers based on the chances of reoffending (recidivism) and the severity of their crimes, as follows:
Tier 1 offenders are least likely to reoffend, and their crimes are mostly against adults and are non-violent
Tier 2 offenders are usually those who committed nonviolent crimes against minors, and they present a moderate risk
Tier 3 sex offenders pose a high risk, as they were convicted of brutal crimes against children and adults. Offenders who committed Tier 1 and Tier 2 crimes multiple times are also considered Tier 3 offenders
Restrictions Imposed on Every NJ Registered Sex Offender
Most states have residential restrictions for sex offenders, but New Jersey is not one of them. Sex offenders in New Jersey are allowed to travel to other states, but they are not allowed to:
Avoid registration in the new state after moving from New Jersey
Delay registration after arriving in New Jersey if they are from another state. They have ten days to register
Change address without notifying the authorities
Avoid verifying the address yearly. Repeating offenders and those who served a sentence in the Adult Diagnostic and Treatment Center have to verify their address every 90 days
Skip alerting the authorities of their enrolment or employment in an educational institution in New Jersey
All of the restrictions and registration obligations are the same for juvenile sex offenders in New Jersey.
How To Search the NJ Sex Offender Registry
The online NJ sex offender registry can be searched by following the instructions below:
Open the registry website
Click on I Accept to accept the Terms and Conditions
Hit Send Anyway when warned about security risks
Confirm that you are not a robot
Press Search for Offenders in Your Area to use the sex offenders map search
Enter your address, city, state, and ZIP code
Hit Search
You can also use the Search by Name, Search by Internet Name/Email, and Search by City features by clicking on them and entering the required information.
The registry website is not difficult to navigate, but if you want to stay in the loop at all times, you have to check it daily. DoNotPay has a better solution—automated weekly updates that will alert you of all newly registered sex offenders in your neighborhood.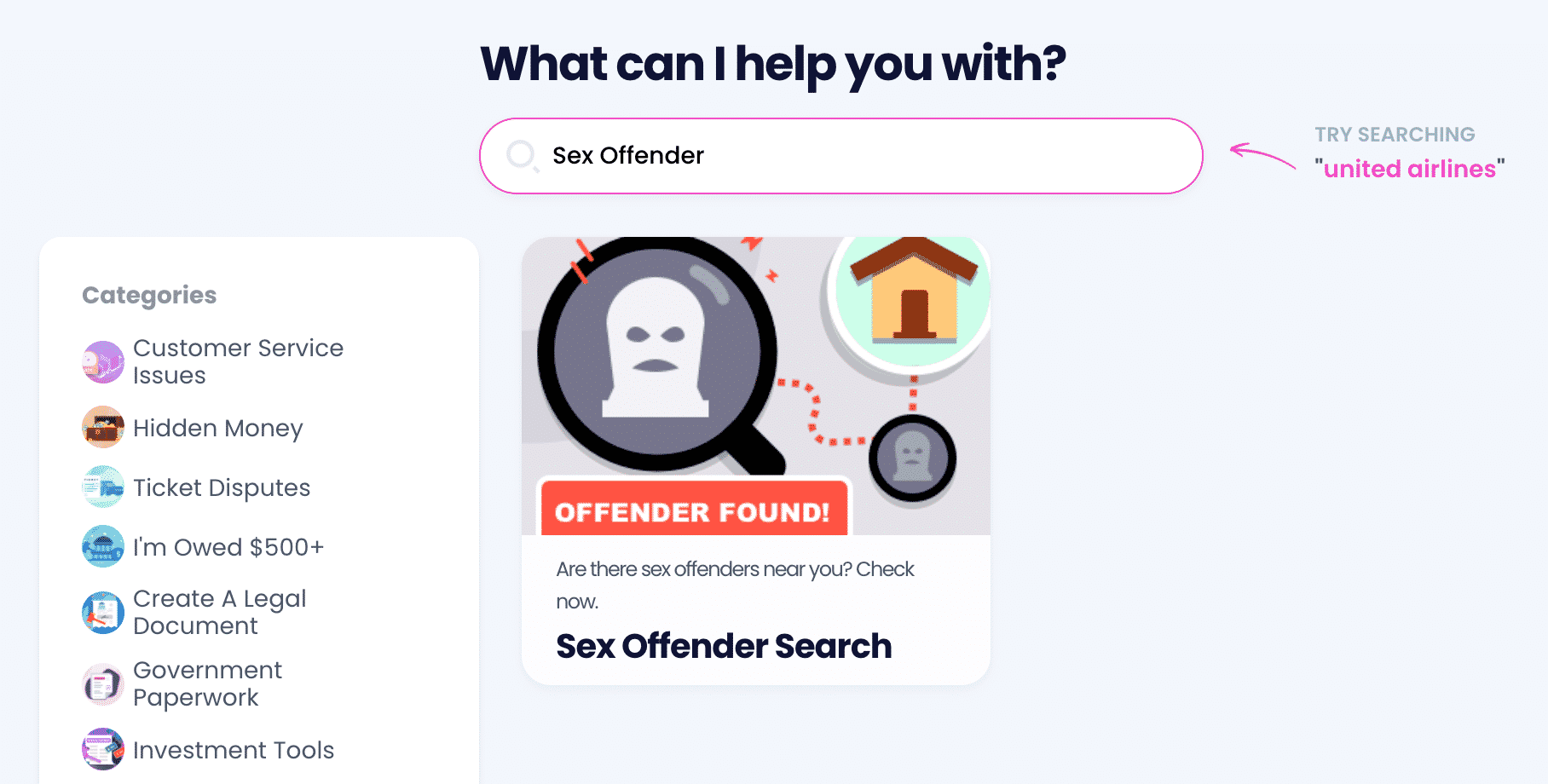 Use DoNotPay's Search To Stay Updated on New Jersey Sex Offenders Nearby
Knowing that there are sexual predators in your area is the first step to safety. DoNotPay can help you stay informed—whether you want to search for sex offenders once or enlist for our weekly updates.
Here's what you need to do to be in the know about sex offenders nearby:
Click on Sex Offender Search and input the search parameters
Choose between the once-off check or the weekly reports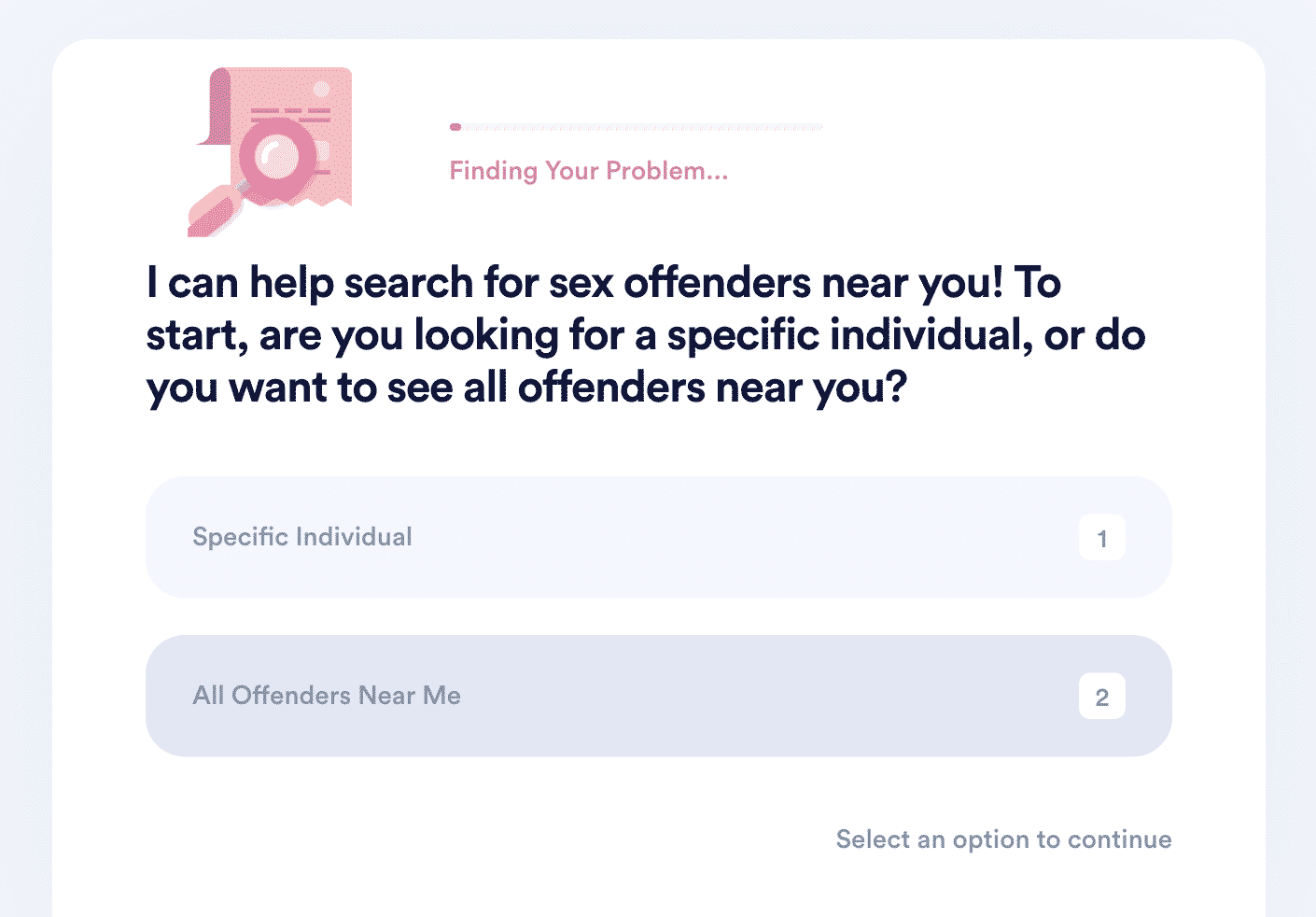 Can You Share the Info From the NJ Offender Registry?
You can share the info from the New Jersey sex offender registry with your loved ones to help keep them safe. The information found on the website shouldn't be used for intimidating, stalking, or threatening the offenders.
Offenders' names, personal details, whereabouts, and physical appearance are available solely for the protection of citizens and their families.
No More Wasting Money on Lawyers
Spending hundreds of dollars on lawyers seems like a waste, especially when you have a more convenient solution at your fingertips. We developed various neat features that make performing dull legal tasks feel like a breeze! The best part is that you can use them from the comfort of your home or office.
Consult the list below to see the tasks DoNotPay can help you with:
DoNotPay Offers Additional Helpful Tools
Legal tasks aren't the only ones DoNotPay can help you with! We can provide assistance for an abundance of different tasks—from stopping the pesky spam emails to contacting your incarcerated loved ones. Check out the table below and learn how to use our app to:
| Deal With Companies | Deal With Other Tasks |
| --- | --- |
| | |