Predatory Offender Getting Too Close? DoNotPay Can Look Out for You
The presence of a predatory offender in a neighborhood can cause its residents to panic. A predatory offender can be far more sinister and violence-driven towards their victim than your typical sex offender.
With more and more predatory offenders being released into the community, it is essential to keep track of the ones out and about in your vicinity.
If the fear of wayward predatory offenders paralyzes you, let DoNotPay watch over you. Our app has a fast and reliable Sex Offender Search option that will warn you of all the predatory offenders living near you. Stay empowered—!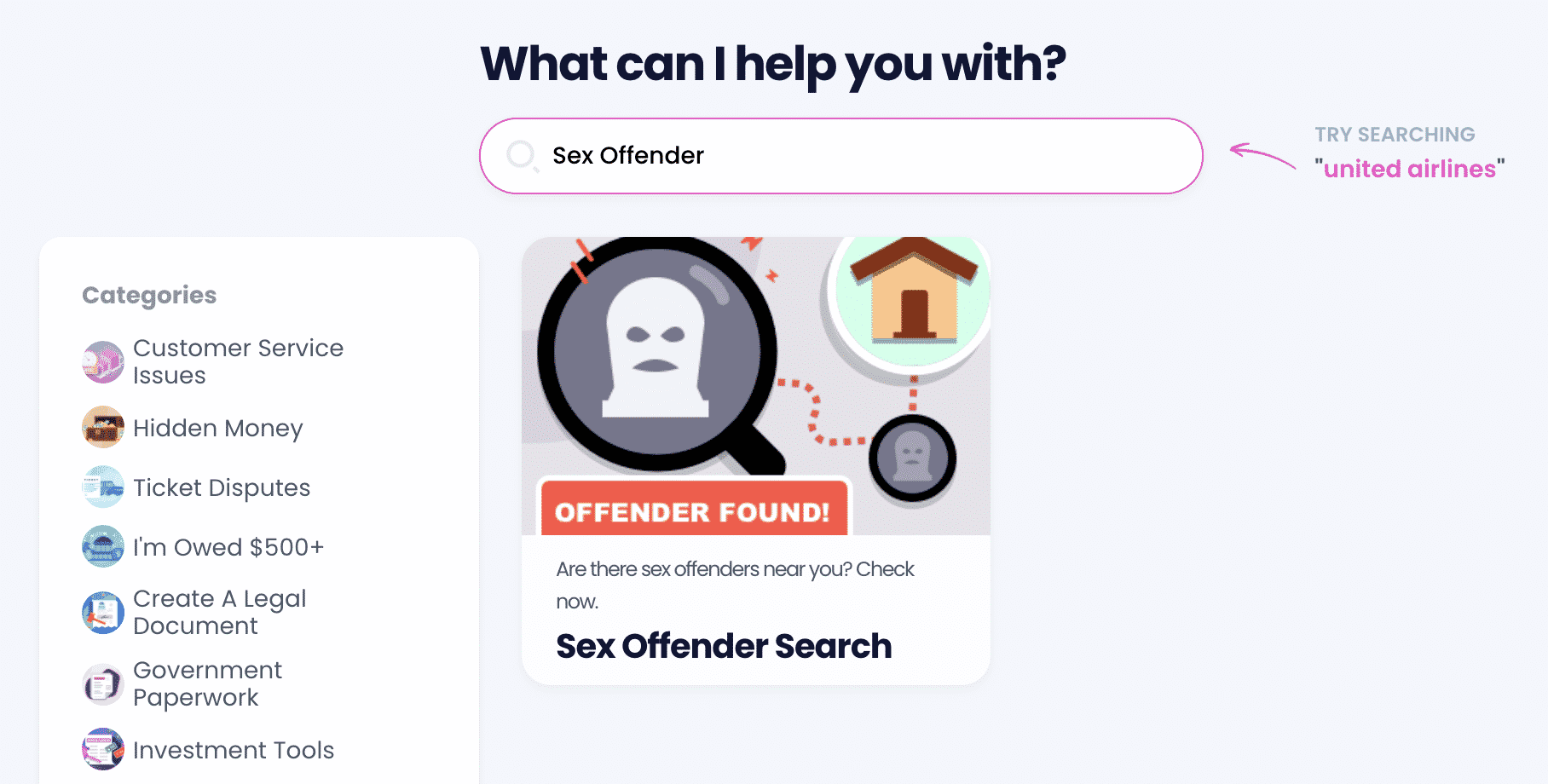 What Is a Predatory Offender, and How Are They Monitored?
Most states in the U.S. categorize different types of sex offenders on one of two grounds:
The severity of a sexual crime
The risk of recidivism—i.e., the likelihood of reoffending
A predatory offender is a sexual offender subtype based on the extremity of the underlying crime. Depending on the sex offender registration laws in different states, a predatory offender can be:
Convicted of a single or multiple first-degree felonies due to criminal sexual conduct
Prone to injuring their victims while committing the sexual crime
Exhibiting a tendency to restrain, kidnap, or threaten victims, often using weapons
Mentally ill or designated as sexually deviant and dangerous
Megan's Law made it compulsory for states to maintain public sex offender registries for all sex offenders, but predatory offenders may be monitored differently in every state in compliance with local statutes.
What Does Predatory Offender Mean for Different States?
Many states don't use the words predatory offender in their statutes but indirectly refer to them as Tier 3 or Level 3 sex offenders or even sexual predators.
Minnesota is one state that is particular with recognizing and restricting such high-risk offenders through its Predatory Offender Registry (POR). This Registry is maintained by the Minnesota Bureau of Criminal Apprehension (BCA), while the state's Department of Corrections hosts the general public offender registry.
More About the MN Predatory Offender Registry
The MN Predatory Offender Registry was launched on August 1, 1991. It acts as the core database for the predatory offenders who have been assigned a risk level by the court. The risk level determines whether the offender's information should be released to the public.
This table will help you see which predatory offenders form part of the public database in Minnesota's POR portal:
Predatory Offender Type
Information Status
Details
Level I—low risk
Not public
Their registration details may be notified to:

Law enforcement
Victims
Witnesses
Members of the offender's immediate household if they request disclosure

Level II—moderate risk
Not public
Their notification requirements are the same as Level I, but additional alerts must be made to establishments like schools and daycare centers
Level III—high risk
Public

Their registration details are hosted on the POR website
Law enforcement may use media or public meetings to deliver a predatory offender's movement updates

Non-compliant predatory offender
Public
Same as Level III predatory offender if they default for more than 30 days
Understand the Predatory Offender Registration Laws
Minnesota is the only state with separate predatory offender laws in the U.S.
The state asks such offenders to register for a period of a minimum of ten years. They may remain registered longer if their correctional probation period exceeds ten years.
They must provide the following data at the time of registration:
Primary and secondary addresses
Employment details
Vehicles owned or operated
The registrant must verify their personal and tracking data to their supervisor through periodical forms, or else they will be tagged as non-compliant.
Do Predatory Offenders Face Any Restrictions?
A predatory offender has to live with residential limitations and travel restrictions imposed by the law. Their probation agreement terms can also limit their privacy or liberty by other means like:
Ban from owning or using a firearm
No contact with minors
Internet or social media monitoring
Predatory Offenders—Are You Struggling To Access Data?
Minnesota blocks public access to all their predatory offender data that's under the low-risk or compliant category. You may face similar trouble while browsing the sex offender registries of other states that are either hard to navigate or slow and unproductive.
The lack of uniform predatory offender laws in the U.S. makes it hard for you to access relevant data. These frightening offenders can also roam freely as unregistered sex offenders in certain states with lax statutes.
DoNotPay's straightforward Sex Offender Search offers a convenient solution to all your safety woes.
DoNotPay Lets You Be in the Driver's Seat of Your Own Safety
If you feel powerless at the thought of crossing paths with a predatory offender, turn to DoNotPay. Our steadfast AI-enabled Sex Offender Search feature can access the source government registry and extract the data you need in under a minute!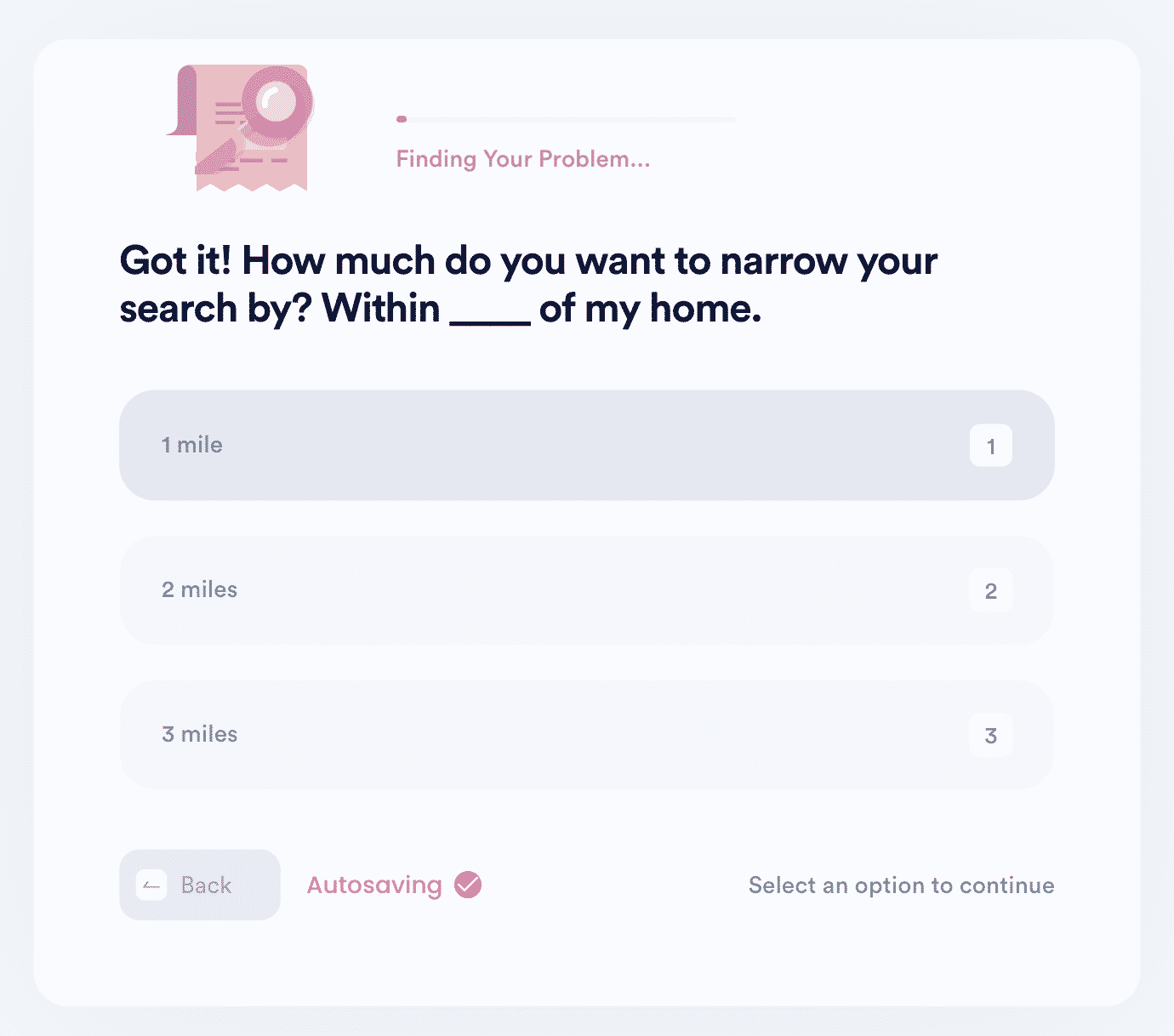 Follow these simple steps to get a comprehensive list of all registered sex offenders near any address:
and hit the app's Sex Offender Search option
Tell us what you want—details on a specific predator offender or a detailed list of all offenders in your area
Specify a radius between one and three miles to refine the search
Let us know if you want to opt for our weekly alerts
DoNotPay will let you view your customized report based on the latest registry updates by law enforcement. We will drop you weekly alerts after our app has run a routine search for your address to locate new predators.
You won't miss a thing when you have the registrants' details and pictures at your fingertips every week!
DoNotPay Can Help You Access Any Public Sex Offender Registry
Not from Minnesota? Use this table to find a customized sex offender registry guide for your state:
To Sue or Not To Sue?
Hiring a lawyer to help you sue a company can be helpful, but it can also cost you an arm and a leg. Luckily, you can avoid wasting hundreds of dollars and use our robot lawyer to sue any company in small claims court instead!
DoNotPay offers you a variety of other features you will find quite useful when dealing with bureaucratic issues. Check out the list below to see what else our app can help you with:
Creating standardized legal documents

Lowering property taxes
Shopping Without Dropping
Whoever said you should shop until you drop didn't have access to DoNotPay's various features. With our app, you can make your shopping experience smooth sailing and stress-free!
Here's a fragment of what you can accomplish by using our neat features: