Check Up on and Report an Unregistered Sex Offender
State and national sex offender registries are a powerful resource to check up on people in your area who have been convicted of a sexual offense.
The registries can only help with those offenders who have placed themselves there, though—some offenders try to slip through the net by not registering.
DoNotPay shows you what to do to protect yourself if you are worried about an unregistered sex offender in your neighborhood.
What Is a Sex Offender?
A sex offender is someone who has been convicted of an illegal sexual act.
Each state has specific laws governing sexual offenses, but they all classify the levels of offense similarly, as follows:
Tier or level I
Tier or level II
Tier or Level I
Tier I offenders have committed a sexual crime that does not involve violence or extremely underage victims and is the lowest level of a sexual offense.
Typical tier I crimes can include:
Simple possession of illegal pornography
Non-penetrative contact with a non-consenting victim
Acts of voyeurism or public indecency
Tier or Level II
Tier II crimes involve acts of coercion or manipulation or any acts perpetrated against older minors, such as:
Distributing or producing child pornography
Child trafficking or transportation for sexual purposes
Sexual acts with minors aged 12–15
Enticement of such minors to perform sexual acts
Tier or Level III
Tier III crimes are the most serious ones and usually involve violence or acts against pre-pubescent minors, including:
Using drugs or alcohol to incapacitate a victim
Threatening or using force
Committing sexual acts with minors under 12
What Is the Sex Offender Registry?
If someone is convicted of a sex crime of any level, they are required to place themselves on their state sex offender registry when they re-enter society.
This is a requirement of Megan's Law, which states that the public has a right to information on the names and whereabouts of convicted sex offenders.
Depending on the severity of their crime, they must remain on the registry for:
15 years for tier I crimes
25 years for tier II offenses
The rest of their life for tier III convictions
Each state's sex offender registry records the offender's:
Name
Likeness
Address
Conviction details
Some states go further and keep records of driver's licenses, car registrations, and employment status.
All the state registries are collated under a national database, and each registry is accessible by the public. This means that you can search for a known sex offender by name or check whether any sex offenders are living in your neighborhood.
What Is an Unregistered Sex Offender?
Anyone convicted of a sex crime has to place themselves on their state registry, but there may be sex offenders who slip through the net.
The most common reasons for an offender not being registered are:
| | |
| --- | --- |
| Reason for Being Unregistered | Explanation |
| Never registered after conviction | Some criminals do not register themselves after their conviction. Staffing constraints often mean that local law enforcement is unable to keep track of all the criminals who should be registered |
| Moved and didn't update their registration | A common occurrence is that offenders do not update their addresses on the registry when they move. After several moves, an offender will become impossible to trace |
| Convicted but put on probation | In isolated cases, an offender can be convicted of a sex crime but placed on probation—this may be due to the low level of the crime, the unwillingness of the victim to testify, or a plea bargain entered into during the trial. Criminals on probation do not always have to register |
Sex offenders are aware that their name on a registry can have wide-ranging implications on their life, including:
Difficulty securing employment
Inability to rent accommodation
Restrictions on their movement in certain areas
These factors mean that many convicted sex offenders may not appear on their state registry.
According to published national sex offender statistics, there were over 780,000 names on the 51 registries in May 2021, representing an increase of around 30,000 since 2019.
This can be compared with 98,213 reported cases of rape in 2019. With a clearance rate of around 33% for rape, the number of new registrations of sex offenders probably does not reflect the number of criminals convicted.
How To Report a Sex Offender
If you are worried that a sex offender may be in your neighborhood, you should act quickly—it's better to play safe when your and your family's safety may be at stake.
You can take the following action:
Report suspicious behavior to your local law enforcement
Contact local parole officers
Search your state sex offender registry
Searching your state sex offender registry can be a laborious process and will only give you information on sex offenders in your area on the day you search.
DoNotPay can help by and sending you automatic updates on sex offenders in your neighborhood so you can stay up to date!
How Can DoNotPay Help Protect Me From Sex Offenders?

DoNotPay values your safety and knows how important it is to keep up to date on the whereabouts of sex offenders.
We can keep you in the loop by sending you weekly reports on any registered sex offenders who have moved into your neighborhood or tracking the whereabouts of a sex offender you know.
Here's how to use this feature:
in your web browser
Click on our Sex Offender Search feature
Choose whether you want to search for

A particular person
Sex offenders in your vicinity
We will send you the information you need and keep you updated with regular reports on any changes.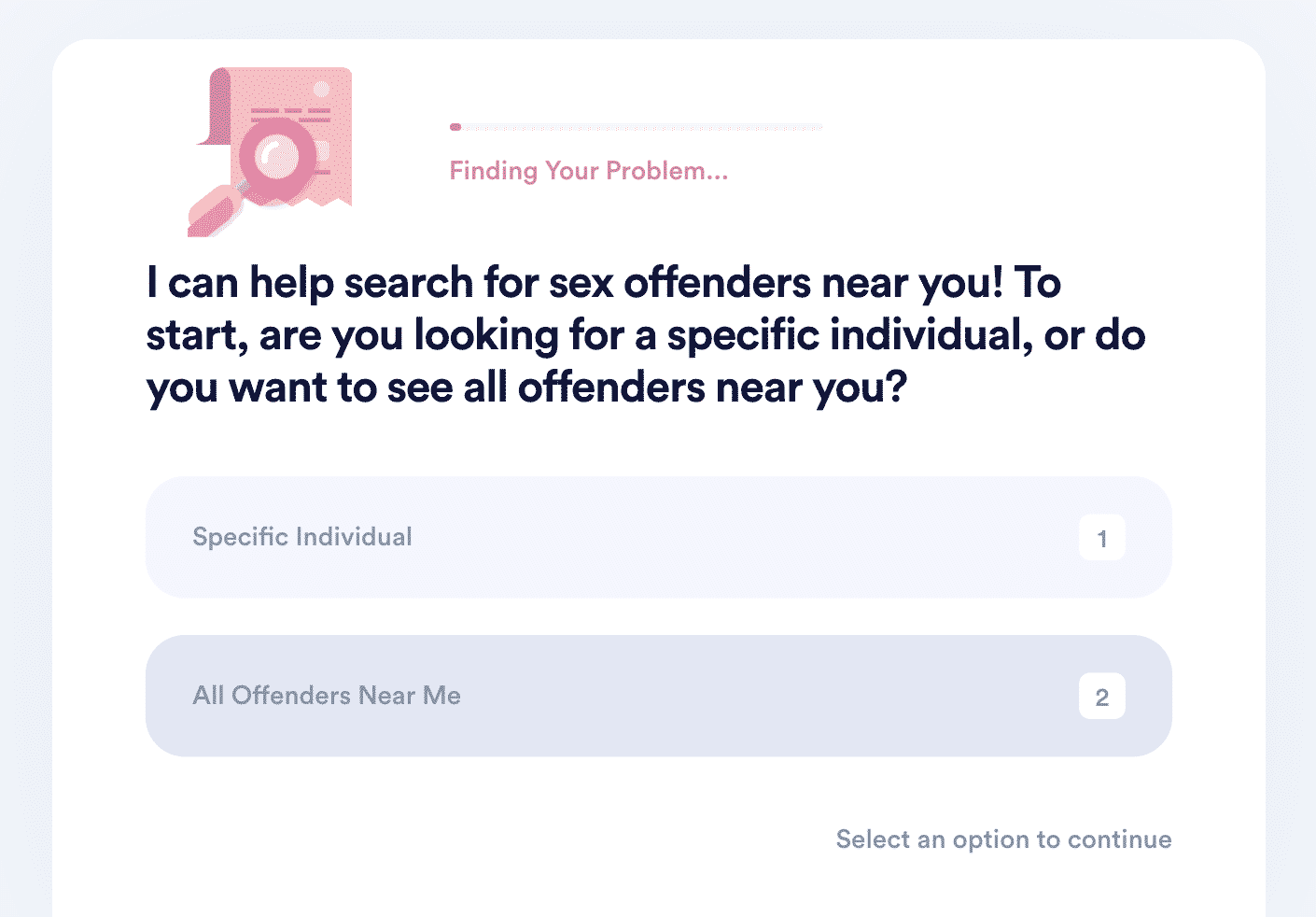 What About Registration Laws in Specific States?
If you are looking for information on the laws for sex offenders in a particular state, here are a few of the legislatures DoNotPay can help you with:
Why Waste Money on Lawyers When You Have DoNotPay?
Although certain tasks require you to get a lawyer's assistance, you don't have to spend hundreds of dollars for their service. With DoNotPay, you can avoid figuring out the legal jargon and have peace of mind dealing with bureaucratic tasks the easy way.
Need help preparing for a small claims court appearance or composing a neighbor's complaint letter? Looking for an easy but efficient way to draft a power of attorney or divorce settlement agreement? Use DoNotPay's features to draft legal documents, sue companies, request refunds, claim warranties, and file insurance claims while still saving a pretty penny!
Communication Is the Key
The best way to resolve issues is through clear communication, but companies don't always make it easy to do so. That's why DoNotPay came up with various features that help make communicating and solving problems a piece of cake. Sign up for our app and forget about waiting in lines for hours to speak to a customer service rep!
Here's what you can do with our app: