Use DoNotPay To Search the Sex Offender Registry in PA the Easy Way!
If you want to make sure you and your loved ones are safe, you should visit the sex offender registry in your state to find out whether you're living close to a sex offender. You don't have to waste hours searching the sex offender registry in PA, though! , and we can keep you posted on the regular!
What Crimes Can Put a Person on the PA Sex Offender Registry?
Sex offenders in PA are classified into three categories (or tiers) based on the severity of their crimes. Consult the table below for more details:
Tier
Crime
Tier 1

Unlawful restraint
False imprisonment
Interference with custody of children
Institutional sexual assault
Indecent assault
Corruption of minors

Tier 2

Statutory sexual assault
Prostitution and related offenses
Unlawful contact with minors
Sexual exploitation of children
Sex trafficking of children by force, fraud, or coercion
Sexual abuse of a minor or ward

Tier 3

Kidnapping
Rape
Sexual assault
Incest
Aggravated sexual abuse
Sexual abuse
What Are the Pennsylvania Sex Offender Registry Laws?
According to Pennsylvania sex offender registration law, offenders who committed sex crimes must register on the state's sex offender registry.
The time an offender stays on the registry depends on the severity of the crime they committed, as follows:
| | |
| --- | --- |
| Tier | How Long Offenders Stay on the Registry |
| Tier 1 | 15 years |
| Tier 2 | 25 years |
| Tier 3 | For life |
Penn Sex Offenders—Restrictions
Sex offenders face certain restrictions depending on the nature of their crimes, including:
Residential restrictions—If an offender is labeled a sexually violent predator, all the households and businesses within 250 feet of where he or she lives will be notified and receive a community notification flyer. Living or commuting near child safety zones, such as schools or playgrounds, are not allowed
Travel restrictions—PA offenders traveling to other states must follow the rules of the destination state. Sex offenders who are traveling to Pennsylvania have to register within five days of the arrival date
Employment restrictions—There are no strict employment restrictions for registered sex offenders in PA, but they might be prohibited from working in places that put them in contact with children
How To Search the PA Sex Offender Registry
Considering that there are around 20,900 registered sex offenders in PA, you should stay on the safe side by checking the current list of sex offenders in your area. Since the passing of Megan's Law, all the info on the official PA Sex Offender Registry is public, and everyone has access to it.
You can search for offenders close to you by visiting the PA Sex Offender Registry. Here's how it works:
Go to the PA Sex Offender Registry website
Type in your ZIP code
Click on Search Now
Verify you're not a robot to see the results
Once you conduct the search, you'll gain access to the following info about the offenders:
Name and any aliases
Birth year
The street address, city, county, and zip code of all residences, including the location where the offender is enrolled as a student or employed
A photograph of the offender, which should be updated annually
A description of the offense, which triggered registration
The date of conviction (if available)
A sex offender could move to your neighborhood at any time, and without checking the registry daily, you wouldn't be aware of it. Since performing the PA sex offender registry search every day is tedious and annoying, DoNotPay can jump in with a neat feature that updates you about sex offenders in your neighborhood weekly!
DoNotPay Makes Searching the Sex Offender Registry in PA Super Simple!
You don't have to bother trying to analyze the sex offender map and following confusing instructions! DoNotPay can cut your work in half and help you run the search effortlessly. We can even send you a comprehensive weekly report according to the parameters of your search! All you need to do is follow our quick guide to get started:
and choose the Sex Offender Search feature
State whether you're looking for a specific offender or a list of all the registered ones near you
Set the search proximity radius (one, two, or three miles) and tell us if you would like to enroll in the weekly check option
We'll automatically conduct a sex offender search to find the offenders near your address and provide you with a report promptly.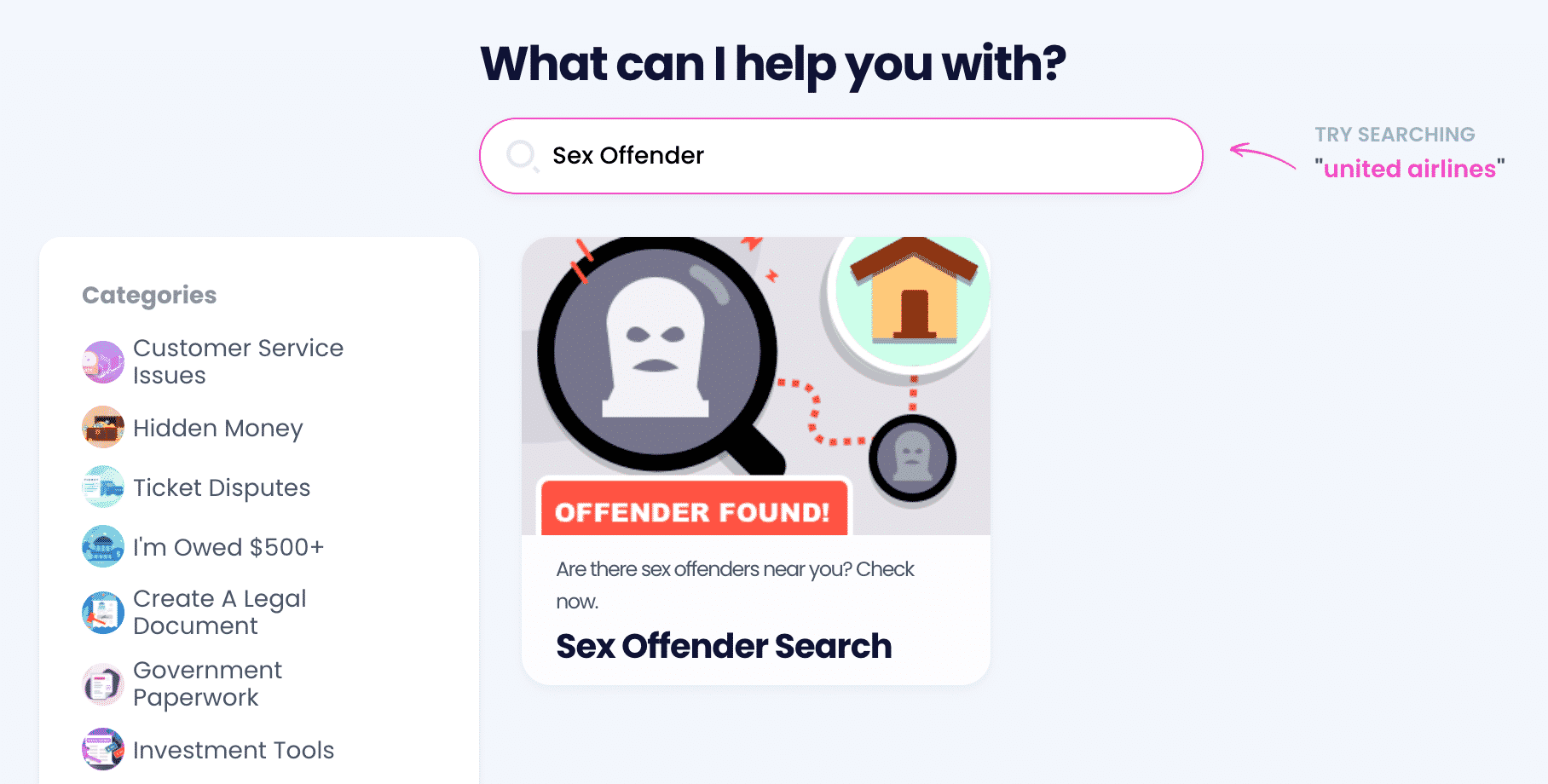 How To Stay Safe if There Is a PA Sex Offender Nearby
If you find out that there is a sex offender near you, don't panic. You can do the following to make sure you and your loved ones stay safe:
Talk to your friends and family—Trying to explain the situation to your friends and family and making sure they are aware and ready to take precautions when going out is helpful. That way, you'll have some peace of mind knowing they aren't unprepared if push comes to shove
Notify a police officer—Informing a police officer about feeling unsafe and sharing your concerns if you happen to encounter an offender doing a suspicious activity can help. Perhaps an unregistered sex offender is lurking around, and you can help stop them before they commit a crime
Make a safety plan—Having a safety plan can prove super beneficial in case you run into an offender. Think about what to do in such a scenario, and you won't panic if a situation like that occurs
Want To Save Money on Lawyers? Use DoNotPay
Most people spend big bucks on expensive lawyers to overcome their bureaucratic obstacles. Don't waste your money on unnecessary fees—use DoNotPay and take care of any legal matter in a few easy clicks! Check out some of the issues the world's first robot lawyer can help you with:
DoNotPay Turns Your Everyday Hurdles Into a Piece of Cake
Did you receive a faulty or damaged item? Why not return it with your virtual assistant? We can also help you get a late delivery refund and jump the queue if the customer service phone keeps ringing to no avail. The list of handy DoNotPay features that make your everyday life easier goes on.
By subscribing to our platform, you won't have to worry about your tedious neighbors or parking tickets. We can do it all!