Evil Personified—What Is a Sex Offender?
Typically preying on those weaker than themselves, sex offenders occupy a special place in society in that they are vilified long after they have served whatever sentence their crime has merited.
What is a sex offender? DoNotPay has the complete rundown, including how you can make sure you and your loved ones are protected!
What Makes Someone a Sex Offender?
In its simplest terms, a sex offender is someone who has been convicted of a crime involving sex—be it with a member of the opposite sex, the same sex, or a child.
Sex offender laws classify crimes according to their severity, as follows:
Sexual Offense Level
Explanation
Level or tier I
Tier I is the lowest classification of sex offenses and can involve:

Acts of public indecency
Non-violent sexual contact without penetration
Voyeurism

Level or tier II
Level or tier II includes offenses with pubescent minors, such as:

Sexual acts with minors aged 12–15
Distribution or production of child pornography
Sexual coercion or enticement of minors aged 12–15

Level or tier III
The most serious crimes are classified level or tier III and include cases involving violence or pre-pubescent minors. Such crimes can include:

Rape
Kidnapping for sexual purposes
Violent sexual abuse of a minor aged 12 or under
Without going into a sex offender's motivation, crimes involving sex typically incur harsh custodial sentences, particularly for repeat offenders.
What Are Typical Punishments for Sex Offenders?
Most sex offenses are tried at the state level, with only the most serious cases going to federal court. Most states agree that there are different types of sex offenses, as follows:
Adults—Crimes against adults involve any illegal act perpetrated against an unrelated adult
Relatives or family members—These crimes involve anything related to incest as defined by each state's laws
Children—Any crime involving children is regarded harshly, although distinctions are drawn between offenses against pre- and post-pubescent minors
Nature—Crimes involving animals, public indecency, or voyeurism are classified as sex offenses against nature. In some states, sodomy still counts in this category
Sex trade—Any form of prostitution is seen as an offense against sex trade laws
Punishments vary from state to state and according to the severity of the crime. All crimes involving children or violence are punished severely, with prison sentences ranging from a minimum of 15 years to life imprisonment.
What Happens to Sex Offenders After They Have Served Their Sentence?
Sex offenses are regarded differently from other types of crime.
In other criminal cases, a criminal is thought to be rehabilitated after they have completed their punishment.
Sex offenders are marked for much longer, and the law does not see them as capable of rehabilitation. After they are released back into society, sex offenders in every state must place themselves on a sex offender registry that ensures their identity is in the public domain. This is a consequence of the 1994 Megan's Law, which states that the public has a right to know who has committed a sex crime.
The aim of each state's—and the national—sex offender registry requirements is to provide a map of the whereabouts of sex offenders so that members of the public are aware of their identity and location.
The rules for sexual offenders also involve restrictions on areas of the criminal's life, such as:
What jobs they can perform
Sex offenders must update their data regularly, and their names and details remain on the registry for the following periods:
| | |
| --- | --- |
| Tier or Level | Time on Registry |
| Tier or level I | 15 years |
| Tier or level II | 25 years |
| Tier or level III | Until death |
In many cases, this condemns a sex offender to a lifetime of difficulty:
Finding jobs
Securing accommodation
Accessing credit
Many convicts attempt to sidestep the system by not updating their registration or by moving state and not registering in their new location. Such unregistered sex offenders—if caught—are dealt with even more severely.
How Can You Protect Yourself From Sex Offenders?
Your state's sex offender registry is accessible by the public, so if you want to check up on your neighborhood or a specific person, you can perform a registry search on the relevant state website.
While this is easy and convenient, it only gives you a snapshot of the current status.
A sex offender can change location overnight, so staying abreast of whether any are living in your neighborhood would involve frequent checks.
DoNotPay has the answer! We can perform a once-off search for you—either for a specific person or for all the sex offenders in your area—and we also give you the option of !
Keep Tabs on Sex Offenders With DoNotPay!

DoNotPay values your safety and peace of mind as much as you do!
With our Sex Offender Search product, you can track individuals by name, search your area for resident sex offenders, and even opt for weekly updates so you are aware of any changes.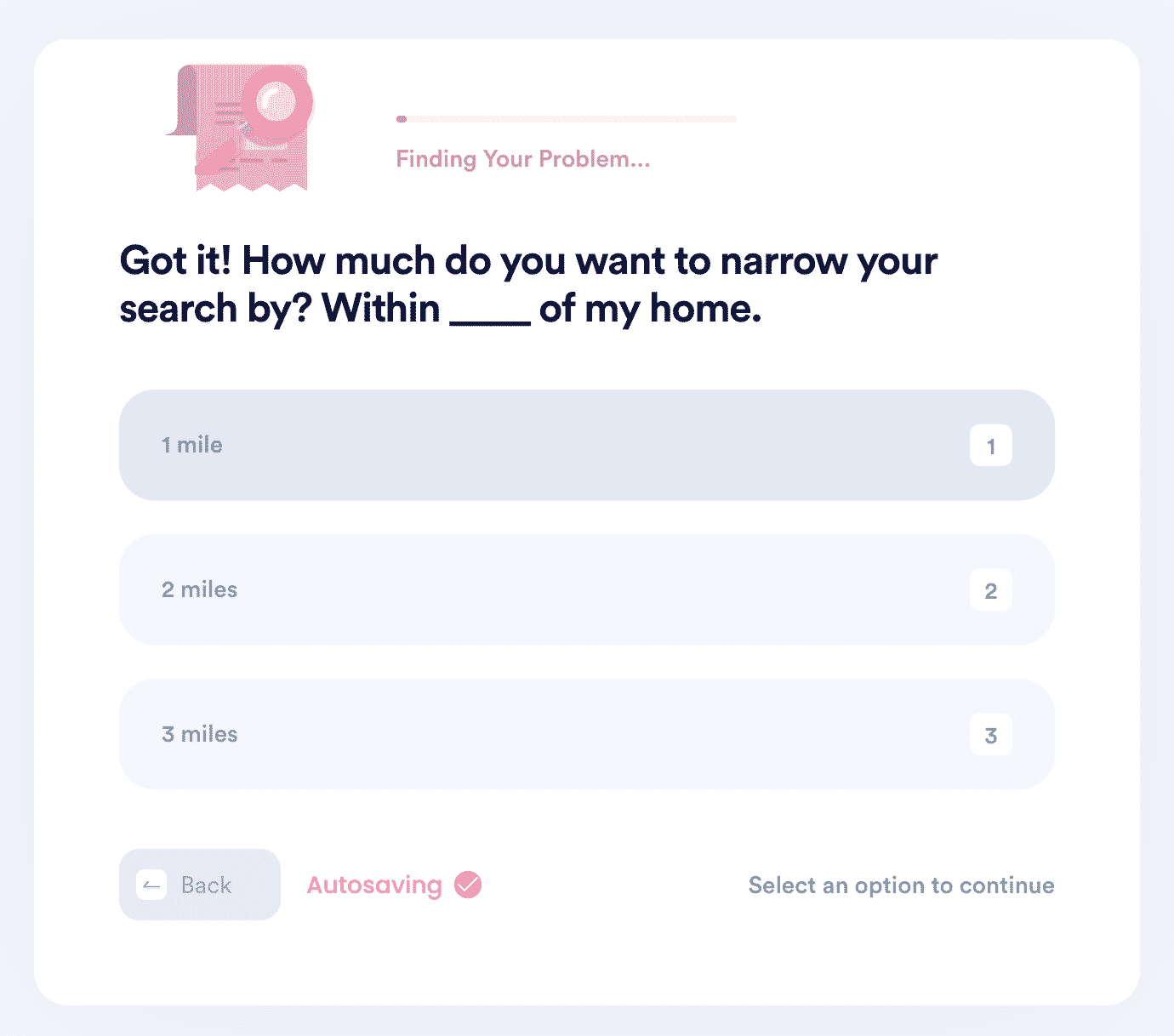 To use the feature, all you need to do is:
in your web browser
Click on our Sex Offender Search feature
Choose whether you want to search for

A particular person
Sex offenders in your vicinity
Once we have your search parameters, you will get your report in a flash.
State Registration Laws Clarified
DoNotPay can help if you need specific information on the sex offender registry laws in your state—here are a few of the states we cover:
DoNotPay Makes Administrative Hurdles a Piece of Cake
If you ever needed to deal with an administrative task, such as drafting a valid legal document or paying property taxes, you know that it's a struggle. The good news is—it doesn't have to be!
With a bit of assistance, you can draft a POA document and learn how to reduce your property taxes in a jiffy!
DoNotPay will also show you how to tackle any of the following tasks like a pro:
We Offer More Helpful Tools!
Helping you deal with bureaucratic hurdles isn't everything we got in store for you! DoNotPay boasts various other nifty tools that you can use to deal with everyday tasks. You can: