Megan's Law and Sexual Offenders Search—How To Stay Safe
Understanding Megan's Law and sexual offenders' risk levels is important to keep yourself and your loved ones safe, but not everyone knows where to find accurate and useful info. That's why we're here to help!
The best way to stay safe is to search for registered sex offenders so you can be aware of those in your neighborhood, and we'll show you how!
Once you , you'll be able to find registered sex offenders in your area in a matter of minutes!
Megan's Law and Sex Offenders Registration Laws
Since the passing of the Jacob Wetterling Crimes Against Children and the Sexually Violent Offender Registration Act, all convicted sex offenders must place their name and other info on their state's sex offender registry. The law prevents registered sex offenders from residing near schools and other places where children often gather and obligates the offenders to register when traveling to another state. Offenders must update their info every time they change their addresses, jobs, phone numbers, etc.
Although the law made registration mandatory for every offender, the information about the offenders was kept private. That all changed with the passing of Megan's Law in 1996, which was the result of a murder of a girl named Megan Kanka.
Megan's Law is a subsection of the Jacob Wetterling Crimes Against Children and Sexually Violent Offender Registration Act. Under this law, the info about sex offenders—such as their names, aliases, addresses, and photographs—has to be accessible to the public in hopes that allowing everyone to be informed could prevent future crimes and offenses.
Megan's Law—Sex Offenders Risk Levels
Registered sex offenders are usually divided into three categories based on the crimes they committed and the risk they pose. The table below contains the specifics:
Tier
Crimes
Tier 1 (low-risk offenders)

Video voyeurism
Receipt or possession of child pornography
Coercion to engage in prostitution

Tier 2 (moderate-risk offenders)

Use of minors in prostitution
Enticement of a minor to engage in criminal sexual activity
Sexual contact with a minor aged 13 or older
Production or distribution of child pornography

Tier 3 (high-risk offenders)

First- or second-degree rape
Non-parental kidnapping of a minor
A sexual act with another by force or threat
Sexual contact with a minor under 13 years of age
How To Conduct a Sex Offender Registry Search
The best way to keep yourself and your loved ones protected is to conduct a sex offender search. This will help you figure out how many registered sex offenders are near you and map their whereabouts. You can perform the sex offender search in two ways:
Online
With DoNotPay
Searching for Registered Sex Offenders Online
You can use various online registries to search for registered sex offenders near you, but not all of them are reliable. One of the most common websites people use to perform a sex offender registry search is the National Sex Offender Public Website.
To locate registered sex offenders near you online, follow the next steps:
Go to the National Sex Offender Public Website
Pick whether you want to search the offender by name or location
Enter the required details
Start the search
You'll gain access to information about registered sex offenders, but you should keep in mind that the info isn't updated regularly.
Megan's Law—Sexual Offenders Registry Search Is Easy With DoNotPay!
If you're looking for a convenient and undemanding way to do the sex offender registry search, DoNotPay is the answer. While our app boasts a neat feature that allows you to search for registered sex offenders near you, that's not all! We can also keep you in the loop about new sex offenders that move to your neighborhood with or weekly scans and reports.
The process requires almost no effort on your part, and you can rest assured you'll get all the details in the blink of an eye! Follow the instructions below and rely on us to find sex offenders in your vicinity:
Pick the Sex Offender Search feature
Choose if you want to look for a specific offender or get a list of all the registered ones near you
Set the search proximity radius (one, two, or three miles) and decide whether you want to get weekly reports from us
We'll provide you with a list of all the registered sex offenders near you in no time!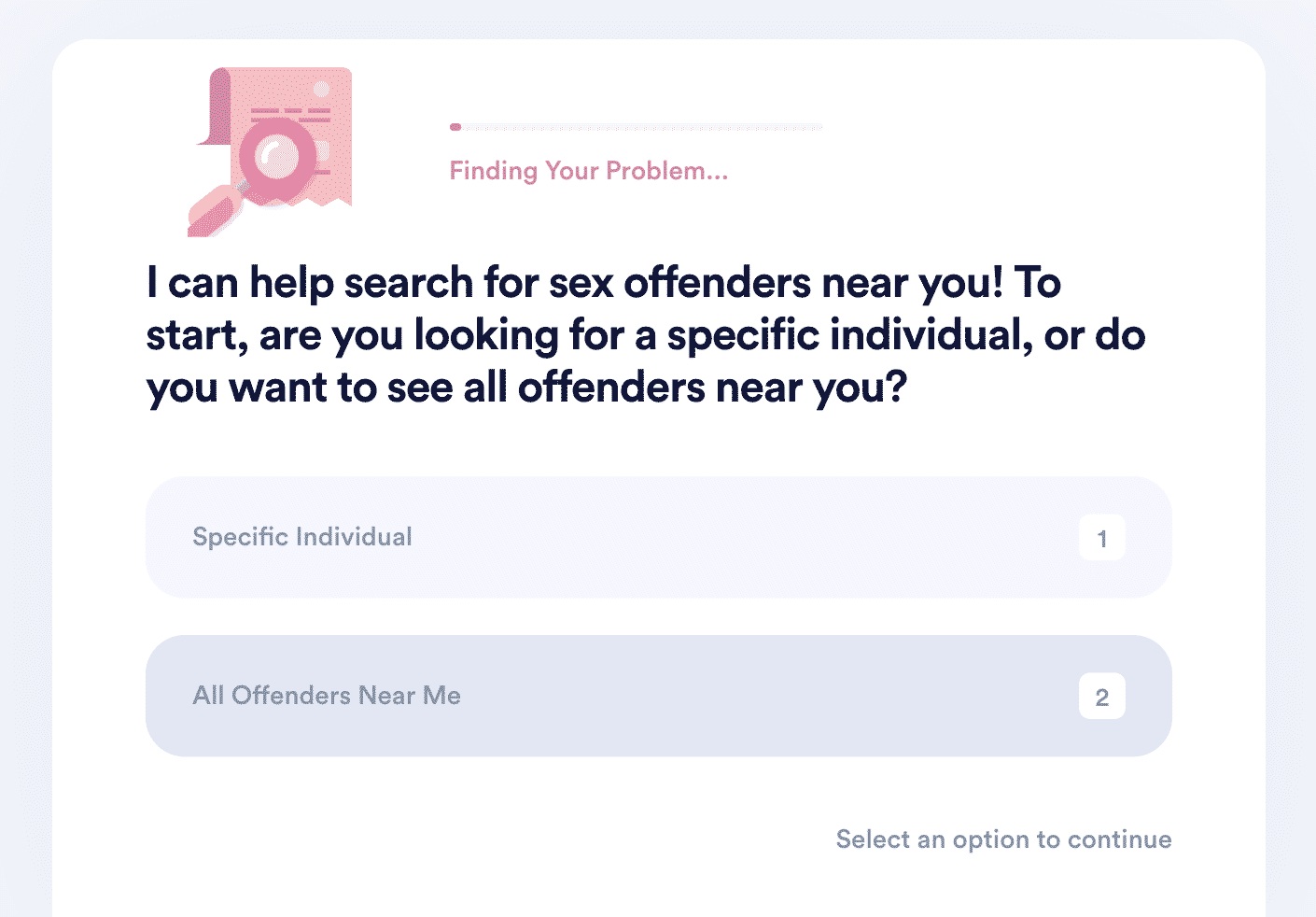 If you have additional questions about registered sex offenders, we'll provide you with answers! Check out the list below to see some of the common sex-offender-related dilemmas DoNotPay can help you solve:
Subscribe to Various Services Hassle-Free With DoNotPay
Did you ever get charged by a subscription service after using their free trial? DoNotPay can put a stop to that once and for all! We can get you a virtual credit card or a burner phone number, which you can then use to subscribe to any service stress-free! When you want to cancel a subscription, turn to your virtual assistant for help, and we'll do it for you in seconds!
If the company is giving you a headache, we'll hook you up with their customer support or even sue them in small claims court. Possibilities with DoNotPay are endless!
DoNotPay can also turn mailing into a piece of cake and save your inbox from email and text spam!
Solve All of Your Bureaucratic Issues With DoNotPay
Do you need to file an insurance or warranty claim? Need help with setting up DMV appointments or appealing parking tickets around the U.S.? Don't worry because your AI-based helper can step in!
We can help you get professional powers of attorney and divorce agreements, so you don't have to waste money on expensive lawyers! Once we draw up these documents for you, we'll set you up with an online notary, and you can get them notarized in no time!