Lost in Decoding Georgia Sex Offender Registry? We Got an Easy Way Out
As per statistics published in May 2021, Georgia ranks 11th on the list of states with the highest number of sex offenders in the U.S. With over 23,000 active entries in the Georgia Sex Offender Registry, the State has 222 sex offenders for every 100,000 residents.
Georgia's Sex Offender Registry has a limiting search tool that cripples your ability to tap into the database within a time-sensitive window. To make matters worse, you may need to visit individual county websites to extract worthwhile details on a particular offender.
DoNotPay understands the core reason behind Megan's Law—to make sex offender registries easily accessible to the public. We have designed an automated Sex Offender Search feature to help you keep predators at bay. today to get your weekly alerts!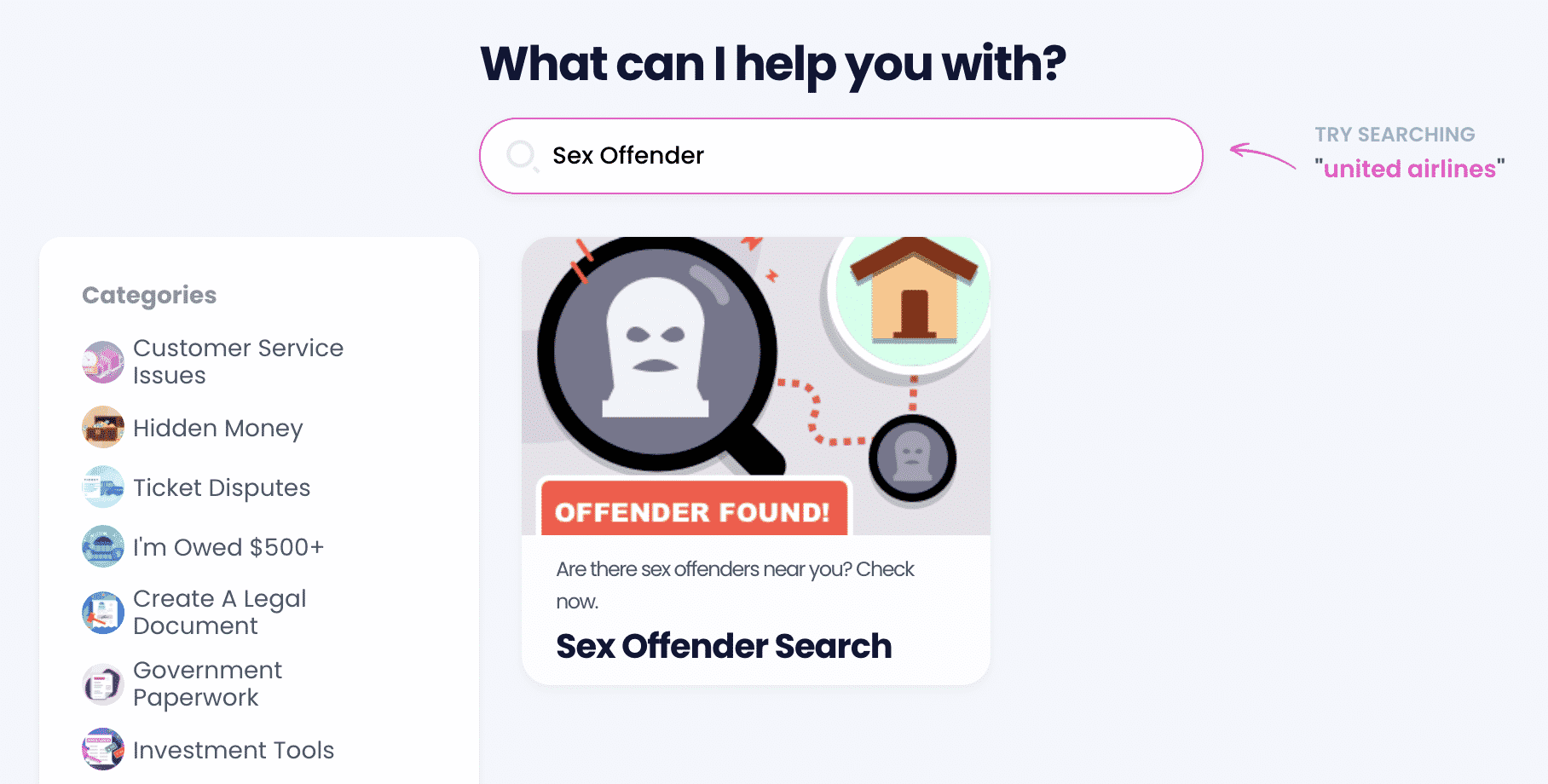 How To Conduct a Georgia Sex Offender Registry Search
The Georgia Sex Offender Registry runs a crude singular search interface that asks you to fill a bunch of complicated fields to get the information you seek. Depending on your search query, you will need all or some of the following details to access the database:
Name of the offense
Offender type
First or last name of the offender
County
Gender
Race
Incarceration status
Focal search address
You need to accept a user agreement and punch in an auto-generated security CAPTCHA code every time you perform a new search or visit a new tab on the website. This repetitive procedure is both annoying and a pitiable waste of your time.
Sex Offender Map GA—Website Does the Bare Minimum
Sex offenders in Georgia are monitored by law enforcement in their respective counties. Details about their residence and movement are collected and published as rudimentary bi-monthly sex offender maps, which may or may not show the real-time status of the offenders.
These maps only give you a consolidated picture of the number of sex offenders in each county with zero inputs on the status of non-compliant or level 3 offenders.
Georgia Sex Offenders List—Why Can't I Locate a Record?
Have you been trying to find a particular sex offender's record only to reach a frustrating dead end? The Georgia Bureau of Investigation (GBI)—who maintains the Georgia Sex Offender Registry—lists out the following possible reasons for an unavailable record:
You might be looking for an unregistered sex offender
The sex offender might be exempt from registration requirements
The missing entry could merely be an update lag for new registrants—the Registry is updated once every two business days
The sentencing court may have later discharged the person as innocent
The offender you are looking for is dead or absconding
The offender may have relocated to a new state
You may have entered incorrect search parameters
GA Sex Offender Registry—Registration Laws
All types of registered sex offenders in Georgia are bound by the state's registration laws.
We have answered some common questions about the local registration requirements for sex offenders in the table below:
Question
Registration Law
What crimes require registration?

A crime against a minor
A dangerous sexual offense

Who is exempt from registration laws?
Registration is exempt in two cases:

If the conviction is recognized as a misdemeanor
If the offender is tried in Georgia's juvenile court

What is the period of registration?
Anyone on the Registry has to follow registry laws for life—unless they are released from registration requirements subsequently
How are offenders registered and verified?

Offenders must get themselves registered within 72 hours of prison release, parole placement, or probation
Offenders verify their data and update their fingerprints and photographs with the sheriff once every year
They must communicate any change in their details within 72 hours

Are sex offenders traveling from another state required to register?

If they are permanently moving into Georgia—Yes
If they are visiting Georgia for employment purposes—They will need to register if their stay is longer than 14 consecutive days or if their total stay in a calendar year is more than 30 days

What are the consequences of non-compliance?
The offender will be guilty of a felony and will face a prison sentence of up to 30 years
GBI Sex Offender Registry—What Are the Restrictions Imposed?
Georgia's registered sex offenders are not entitled to freedom like normal citizens. Check out the kind of restrictions they must adhere to at all times:
Type
Restriction Rules
Residential restrictions
A sex offender cannot reside within 1,000 feet of any child care facility, church, school, or area where minors gather
Employment restrictions

A sex offender is banned from working at a child care facility, church, or school
Sex offenders will also be disqualified from working at any entity located within 1,000 feet of an area where minors gather

Other restrictions
An offender classified as a sexually dangerous predator must pay for and wear an electronic monitoring device for life
DoNotPay Can Run a GA Sex Offender Search in the Blink of an Eye
It's hard to breathe easier when you realize hundreds of abusers and pedophiles could be swarming your neighborhood. If you feel powerless due to substandard government-maintained registries, let DoNotPay lift your spirits!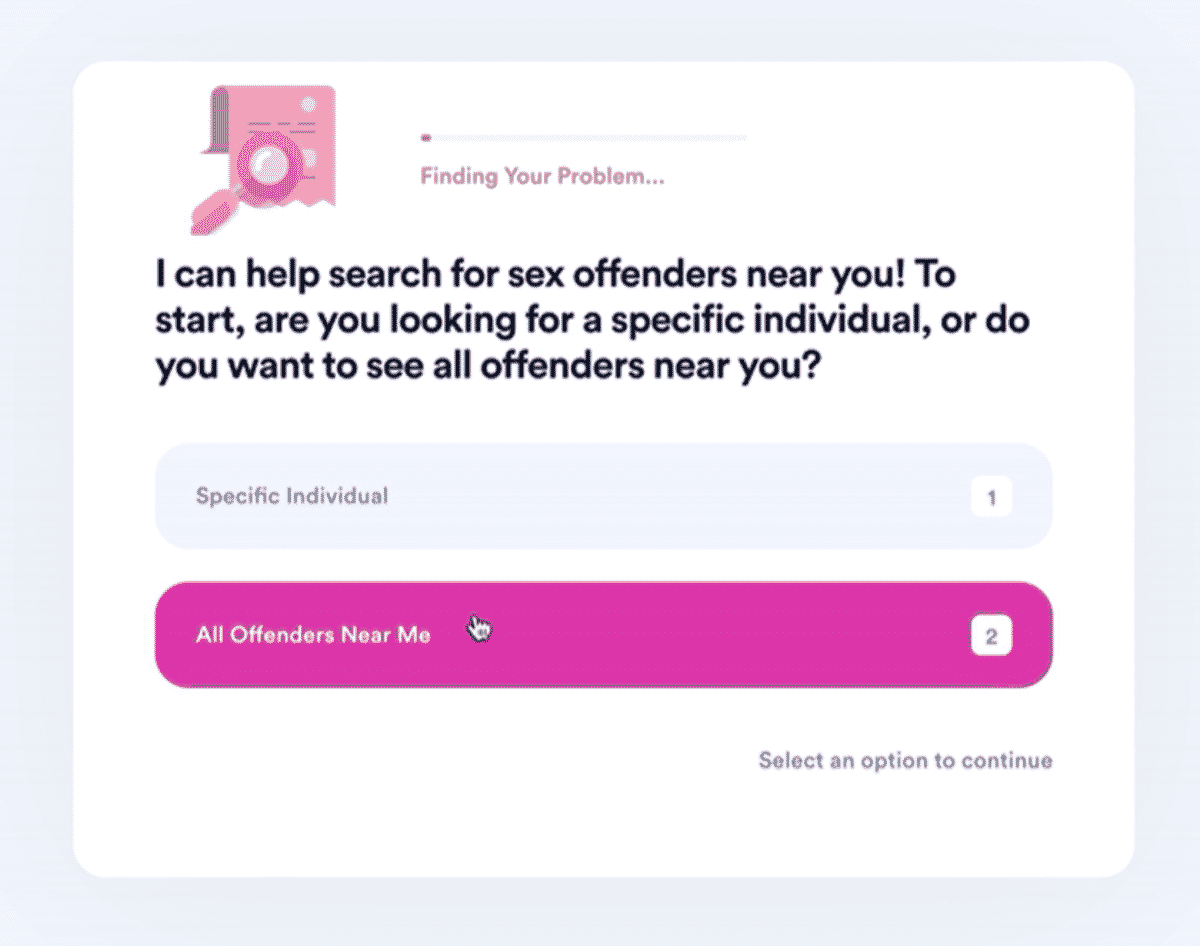 DoNotPay's extraordinary Sex Offender Search feature frees you from the neverending loop of user agreements and CAPTCHA codes. We can get you a customized sex offender report in under a minute if you follow these steps:
and find the Sex Offender Search feature
Choose if you want a specific individual search or a detailed list of offenders in your vicinity
Set a search proximity span between one and three miles
Give your response for an optional weekly scan feature as the final step
Our bot will quickly generate your comprehensive search report based on the updated Registry. You can browse through the offenders' latest mugshots and personal details and keep yourself informed and alert without breaking a sweat!
Let DoNotPay Be Your Infallible Shield Against Sex Offenders
You can carry on with your life while DoNotPay's perimeter scan works in the background every week. We will give you automated alerts based on your stored address to make sure you are aware of the critical changes in the Registry database that can potentially impact you.
Don't let rogue sex offenders invade your peace of mind—DoNotPay will always have your back!
To Sue or Not To Sue?
Hiring a lawyer to help you sue a company can be helpful, but it can also cost you an arm and a leg. Luckily, you can avoid wasting hundreds of dollars and use our robot lawyer to sue any company in small claims court instead!
DoNotPay offers you a variety of other features you will find quite useful when dealing with bureaucratic issues. Check out the list below to see what else our app can help you with:
Creating standardized legal documents

Lowering property taxes
Shopping Without Dropping
Whoever said you should shop until you drop didn't have access to DoNotPay's various features. With our app, you can make your shopping experience smooth sailing and stress-free!
Here's a fragment of what you can accomplish by using our neat features: