Wyoming Sex Offender Registry Can Tire You—Let DoNotPay Be on Patrol
Wyoming ranks eighth on the list of states with the highest sex offender density in the U.S. As per May 2021 records from the Wyoming Sex Offender Registry, the state has a whopping 421 sex offenders for every 100,000 residents!
Navigating through the Registry to check fresh additions to the ever-expanding list of sex offenders is one tough job. It's also exhausting to uphold your family's safety day in and day out when sloppy government sex offender registries start acting up.
DoNotPay's Sex Offender Search feature lets you access the list of sex offenders near any address in a time-efficient manner. Our rapid alerts can save you a lot of trouble— today for effortless vigilance!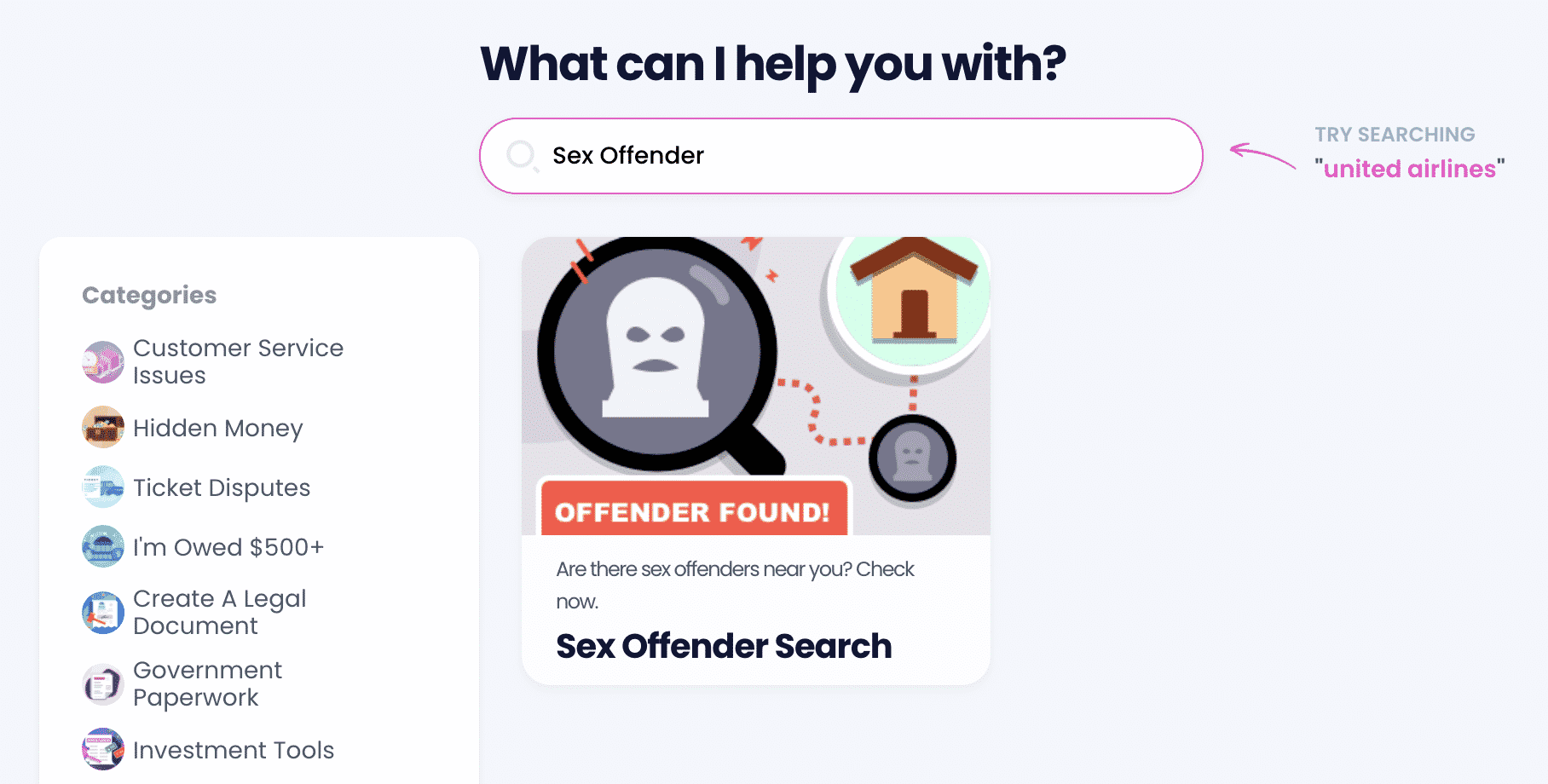 Wyoming Sexual Offenders List—Public Registry Search
The Wyoming Sex Offender Registry website lets you browse through its database via two standard search modes. Go over this table to understand the search options available:
Mode of Search
Details
Basic input-based search
This lets you view results for the following search inputs:

Last name
Address
City
County
ZIP code

Radius map search
Use this to check out the registered addresses of mappable sex offenders within a radius. Keep in mind that this is not a real-time location pointer
Will I Get a Detailed Wyoming Sex Offenders List Upon Search?
Megan's Law and Wyoming statutes dictate the terms of releasing the Registry information to the public. During registration, law enforcement adds the following to a sex offender's records:
Photograph
Fingerprint and palmprint
DNA sample
Personal details, like address, employment, and vehicles operated
Government IDs
Conviction info
Contact numbers and email addresses
Physical description pointers like race, weight, height, sex, and eye and hair color
Despite collecting abundant data, the authorities may choose to publish limited information on any offender that may or may not be of use to you.
Cannot Find a Record on the Sex Offender Registry of Wyoming? Here's Why
Wyoming's Division of Criminal Investigation—which maintains the Registry—has acknowledged that the public sex offender database may not be absolute at any given point in time.
If you cannot locate a particular record on the Registry, the reason could be:
Long delays in adding new registrants or updating the records of existing ones
Missing data on non-compliant or unregistered sex offenders who fly under the radar
Unacceptable or incoherent search inputs
Erased data due to a lawfully terminated registration
Underlying technical errors or malfunctioning issues with the website
Registered Sex Offenders Wyoming—Community Notifications
Many county sheriffs in Wyoming issue community notifications whenever a high-risk or Tier 3 sex offender moves into a new neighborhood. The type of notification is left at the discretion of law enforcement and can be anything from flyers to media announcements.
Depending on the county or jurisdiction, you can register on the local sheriff's website to receive an email alert whenever a particular offender moves into your neighborhood. This is what you need to do:
Visit the Registry website and go to the search window
Punch in the correct input to find the offender you want to track
Locate the Register to Track this Offender option and click on it
Enter your address and a valid email ID to get notified whenever the offender enters your neighborhood
Repeat this process and subscribe individually for each offender you want to track
Subscribing to multiple offender alerts one by one is a time-consuming process that can leave you drained through and through. After putting in so much work, the most upsetting part is that these alerts tend to get buried in your spam folder all the time.
Wyoming Sex Offender Laws Explained
Sex offender registration laws play a major part in monitoring offenders released back into society and preventing recidivism—i.e., the likelihood of reoffending.
We have compiled the most commonly asked questions about what an offender is or is not allowed to do in Wyoming:
Issue
Registry Rule
What is the registration period?
Sex offenders in Wyoming must register for life
Are juveniles asked to register?
Yes, but Wyoming statute restricts public access to the list of juvenile sex offenders. You must ask your local sheriff if you need such info
How often must offenders verify their details?
No fixed law—the jurisdiction's sheriff decides the verification frequency
Do registrants face residential restrictions?
Offenders are banned from living or loitering within 1,000 feet of a school or educational facility, with exceptions in some cases
How does inter-state travel affect registration?
Out-of-state offenders moving into Wyoming must register only if their crime requires registration as per Wyoming laws. If a Wyoming offender is relocating to another state, they must deregister by visiting the sheriff's office and providing their new address
Can sex offenders use the internet?
Yes, state statutes do not ban its registered offenders from using:

Internet chat rooms
Instant messaging

Are they free to work anywhere they please?
Yes, there is nothing in the state's laws that restricts their working rights
Wyoming Sex Offenders Listing—Removal Process
An offender can petition for the removal of their name from the Registry if they have maintained a clean record for:
Ten years—if their conviction was for a minor offense
25 years—if their underlying offense was a serious one as per local laws
The offender must defend the petition in court, and the judge may pardon or reject the registration based on the specifics of the case.
Don't Get Worked Up by Sex Offenders in WY—Rely on DoNotPay
Keeping tabs on Wyoming sex offenders means either relying on the Registry's erratic search mechanism or subscribing to the tedious community notifications. DoNotPay's Sex Offender Search is not only a time-saving fix to your woes but also a complete surveillance alternative!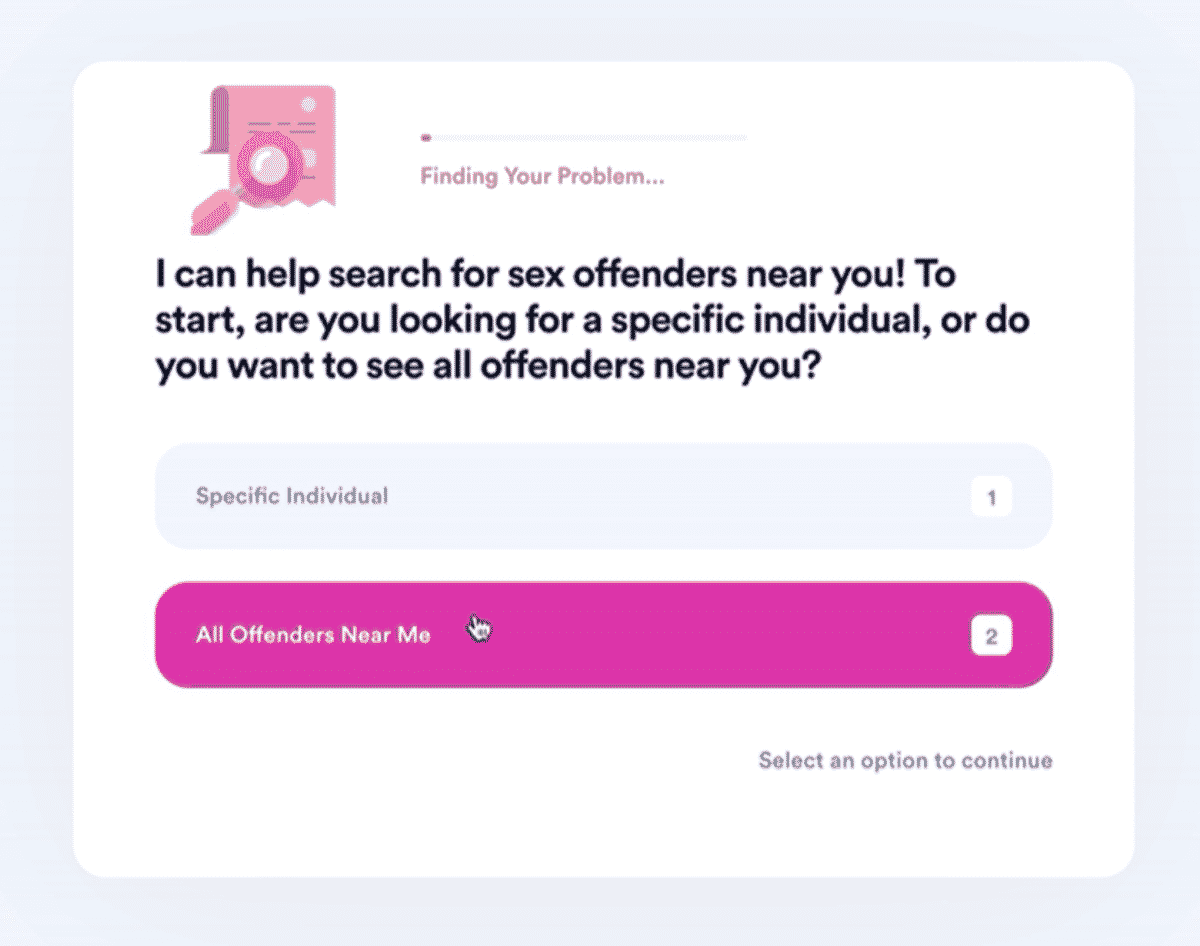 With DoNotPay, your vigilance task boils down to four simplified steps:
and select the Sex Offender Search tab
Pick a report type—a single-offender report or a descriptive compilation of all offenders near you
Set a proximity radius between one and three miles to refine the search
Opt for our weekly scan feature if you want routine safety checks
The app will immediately extract the records you want from the core registry and generate your report within seconds. You can browse through the latest mugshots and personal details of the offenders to make informed security decisions for your loved ones!
Our weekly scan automates the search protocol for your given address and drops you timely alerts about new sex offenders entering the area.
DoNotPay's security plan covers all the bases and helps you live without the fear of predators and child molesters being near your family!
Use DoNotPay To Resolve Administrative Tasks in Minutes!
Tired of brainstorming the easiest way to deal with administrative issues? We know how you feel, and we're here to take the burden off your back!
Once you subscribe to our app, you'll be able to resolve an abundance of bureaucratic issues with ease.
Taking a valid passport photo, reporting workplace discrimination, reducing property taxes, preparing for a government test, applying for a college fee waiver, and appealing a parking ticket are some of the many tasks we assist you with.
In case you need a quick way to draft a legal document, such as a power of attorney, divorce settlement agreement, or a child travel consent form, DoNotPay will do it for you!
Learn How To File Claims the Easy Way
Are you dissatisfied with a certain company and/or its products? You don't have to stay quiet! Use DoNotPay to file your insurance, warranty, or missing/late parcel claim effortlessly! We'll also show you how to request an item return in a few steps.
If you want to cancel a subscription or request a refund or chargeback, you can do it with our assistance without breaking a sweat. Use one app to deal with countless issues!