Protect Your Loved Ones—Stay Abreast With the Idaho Sex Offender Registry Rules
Idaho is one of the few states that doesn't classify sex offenders in levels or tiers. Although the official Idaho Sex Offender Registry exists, you cannot be sure which registrant poses a risk for you or your loved ones.
DoNotPay has prepared a guide to help you use the state registry to identify sex offenders and map out their whereabouts. We will also present our solution that helps you more quickly, efficiently, and conveniently.
What Are the Idaho Sex Offender Laws?
Sexual offenders in Idaho are classified into three categories:
Registered sex offender—every adult sex offender has to register
Violent sexual predator—a registered sex offender with a high likelihood of reoffending
Juvenile sex offender—only juveniles who have been convicted as adults have to register
Sex offenders are required to register with the state sex offender registry once they are released back into society. With Megan's Law, information about registered sex offenders became publically available to help protect citizens from further sex crimes. The registry gives the public access to the following information on the sex offender:
Name
Current photo
Address
City
County
ZIP code
Status—compliant or non-compliant
Mapped location
The following table answers common questions about the Idaho sex offender registration laws:
Question
Law in Idaho
When should a sex offender register after being released into society?
Sex offenders should register with the local sheriff´s department within two working days of their sentence or withheld judgment
What information do sex offenders need to register?
Sex offenders need to register the following:

Name
Address
Aliases
Date of birth
Physical description
Crime(s) of conviction
Places(s) of conviction
Violent sexual predator status
Registration status

What if the offender changes their address?
If changing residences, sex offenders need to update the registry within two working days
When should sex offenders update registration?
Sex offenders need to update their registration every year. The rules for those offenders who are classified as violent predators are stricter—they need to update their registration every three months
For how long do Idaho sex offenders need to register?
Sex offenders need to register for life. They can file for a petition to be released from the registry if they:

Complete their probation period without revocation
Do not have any pending criminal charges or felonies
Successfully completed a sexual offender treatment program
Have not committed a sex offense during the period in which they have registered

What about unregistered sex offenders?
Failure to register is a felony, and the sex offender will be subject to prosecution
What Are the Restrictions for Sex Offenders in Idaho?
Idaho registered sex offenders face several restrictions. These include:
Residency restrictions—Sex offenders cannot reside or loiter within 500 feet of a school or a daycare facility
Travel restrictions—If a sex offender is traveling to another state, he/she needs to register with the local authorities in Idaho within five working days and the state he/she is traveling to within ten working days
Workplace restrictions—Offenders cannot apply for or accept employment in a daycare center, group daycare facility, or family daycare home
How Do I Search for Registered Sex Offenders in Idaho?
To search the sex offender registry in Idaho, you can:
Go to the official Idaho State Police website
Agree to the terms and conditions
Open the Search drop-down menu to filter offenders by any of the following:
Name
City
County
ZIP code
Map
You can also check out the pre-made lists of violent and non-compliant sex offenders by clicking on the quick links for:
You can also subscribe to alerts every time a sex offender moves in or out of the area around the address you specify. To do this:
Select Subscribe in the menu
Type in your address of interest, including the city and ZIP code
Enter and confirm your email address
Enter the mile radius that you would like the search to cover (one, three, or five)
Hit the Submit button
Lawful Use of Information Obtained From the Idaho Sex Offenders Registry
You should know that the information about sex offenders is available to the public to help prevent further sex crimes and to alert the public of a potential threat. You can use the registry to keep yourself, your loved ones, and your community informed about who to watch out for.
Information from the registry should not be used to injure, harass, or perform any illegal acts towards sex offenders. Anyone who does so will be subject to criminal prosecution or civil liability.
Get Organized and Up-to-Date Sex Offender Searches With DoNotPay
Idaho has over 5,125 sex offenders in its database. It is only understandable that you want to be informed and have peace of mind about whether the area you live in is safe.
The trouble is that searching the official website is not the most convenient because the reports can be overwhelming. The registry gives rather disorganized reports on offenders across Idaho, and it often includes the non-compliant ones, which offers you little solace.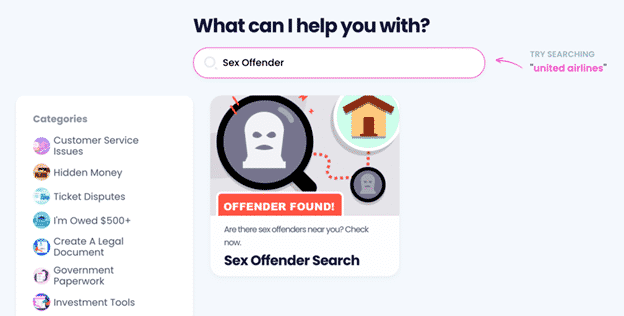 Fortunately, DoNotPay has a more convenient solution. Our Sex Offender Search feature is super easy to use and gives you the option to find the sex offenders close to your area of interest—your home or work address or your children's school or daycare center.
To use DoNotPay, here's what you should do:
using your web browser
Click Sex Offender Search
Choose whether you want to search for a sex offender by name or an address of interest
Select the weekly check option
Hit Submit
We will show you a comprehensive list of sex offenders in your area within seconds. You can also sign up for comprehensive weekly reports so you don't have to worry about searching for new sex offenders.
Only the Sky Is the Limit for DoNotPay

DoNotPay has an insane number of features that keeps growing. Our platform can help you:
Say Goodbye to Spam Mail With DoNotPay
DoNotPay has designed a feature that will put a stop to the flood of junk and spam mail into your inbox! We can help you join a class action against a spammer or take any person or company that's wronged you to small claims court!
Need a virtual credit card number or a fake phone number to protect yourself from scammers? We've got you covered! We can help you fight text spam or even assist you in sending mail without any chance of error.
Our users' safety is our number one concern, so we've developed a feature that will protect you from cyber stalking or harassment!