What Is a Level 3 Sex Offender and How Can You Ensure Your Safety?
Sex offenders come in all shapes and sizes and, at first glance, may seem exactly like anyone else in your neighborhood.
At worst, they have either used violence to get their way or have targeted a vulnerable child.
The more you know about such sex offenders, the better you will be able to protect yourself and your loved ones. DoNotPay answers the question, "What is a level 3 sex offender?" and helps you stay safe!
What Are the Different Levels of Sex Offenders?
Sex offense levels—known as tiers in some states—are used to classify the severity of a sex crime.
Once a court has established the type of crime that has been committed, the severity of the act is taken into account to determine:
Sentencing
Further sanctions
What Types of Sex Offenses Are There?
The types of sex offenses are generally as follows:
| | |
| --- | --- |
| Type of Sex Offence | Explanation |
| Crime against adults | These crimes are perpetrated against adults who are unconnected to the perpetrator |
| Crime against family | Crime against family involves any act committed against relatives or close family members |
| Crimes against children | Sexual acts or intent with minors fall under this type of offense |
| Crimes against nature | Acts of public indecency or unnatural acts such as bestiality are designated crimes against nature |
| Sex trade crimes | And acts of prostitution or illegal trade involving sex fall under this type of crime |
These types take no account of the severity of the crime committed. Offenses of each type must still be categorized as level 1, 2, or 3 before appropriate punishment can be meted out.
What Are the Sex Offender Levels?
The levels of sex offense designate how serious the crime is, as follows:
Level 1
Level 2
Level 3
Courts determine appropriate sentences for convicted sex offenders based on a combination of the type and level of their crime.
What Is a Level 1 Sex Offender?
Level 1 crimes do not involve:
Violence
Penetration
Minors
They can include any non-consensual sexual act as well as acts of public indecency or the simple possession of illegal pornography.
What Is a Level 2 Sex Offender?
The next level includes crimes with minors between the ages of 12 and 15, as well as the production or distribution of illegal porn.
Examples of level 2 sex offenses are:
Sexual acts with pubescent minors
Coercion or enticement of minors aged 12–15
Dissemination or sale of illegal porn
What Is a Level 3 Sex Offender?
The most serious level of sex offense includes any act that involves:
Violence
Prepubescent minors
Anyone convicted of a level 3 offense can expect a harsh sentence and the lifelong stigma of being labeled a sex offender.
How Are Level 3 Sex Offenders Punished?
As the most serious level of sex offenses, courts deal harshly with level 3 crimes.
Custodial sentences are common and can range from two to 15 years, with additional fines and compensation awards of up to $10,000 often being added.
The punishment doesn't end once the jail time has been served. Convicted sex offenders in every state are required to place themselves on a sex offender registry that maps their whereabouts and monitors their activities.
Under federal law, each state keeps records of every sex offender's:
Name
Home address
Work or schools address
Photo
Criminal record
Many states collect additional data, such as:
Driver's license details
Car ownership
Finger and palm prints
Social media accounts, aliases, and handles
Convicted sex offenders have to keep their information up-to-date and must remain on their state registry for the following periods:
| | |
| --- | --- |
| Level | Time on Registry |
| Level 1 | 15 years |
| Level 2 | 25 years |
| Level 3 | For life |
What Does Registration Mean for a Sex Offender?
Being on a state sex offender registry has vast implications for any sex offender.
As soon as criminals are registered, law enforcement officials notify local schools, public services, and authorities that a sex offender is in their area. Offenders face restrictions in their lives including:
Residential regulations—Offenders are not allowed to live within a specified distance of any area where children congregate
Employment limitations—Registered sex criminals may not perform any job that brings them into contact with children
Travel bans—Sex offenders may have to register at their destination if they travel interstate and could face entry restrictions to some international destinations
More importantly, under the 1996 Megan's Law, each state must make its registry accessible to the general public. This means that a level 3 sex offender's identity can soon become public knowledge in their neighborhood.
This often results in offenders becoming targets for aggression and usually finding it difficult to secure jobs and accommodation.
Some level 3 offenders attempt to circumvent the system by not updating their registration, thereby effectively becoming unregistered. Punishments for this can include up to 30 years of additional jail time.
How Can You Protect Yourself From a Level 3 Sex Offender?
Your most valuable weapon in the fight to protect yourself from a level 3 sex offender is your state registry.
You can search for sex offenders in your neighborhood in your state registry or check for a specific person on the national registry.
While this is a great help, a registry search only gives you a snapshot of today's situation. A sex offender can move into the apartment next door overnight, and you would only know if you performed another search.
DoNotPay has the solution. We can if you choose!
DoNotPay Offers You Protection From Level 3 Offenders!

We know how valuable your and your family's safety is. If you are living near a level 3 sex offender, or if a criminal you know moves into your area, you need to know about it!
DoNotPay's Sex Offender Search product is the perfect resource—we can search your neighborhood or look for the whereabouts of a specific person. If you want us to, we can even keep you in the loop with weekly updates!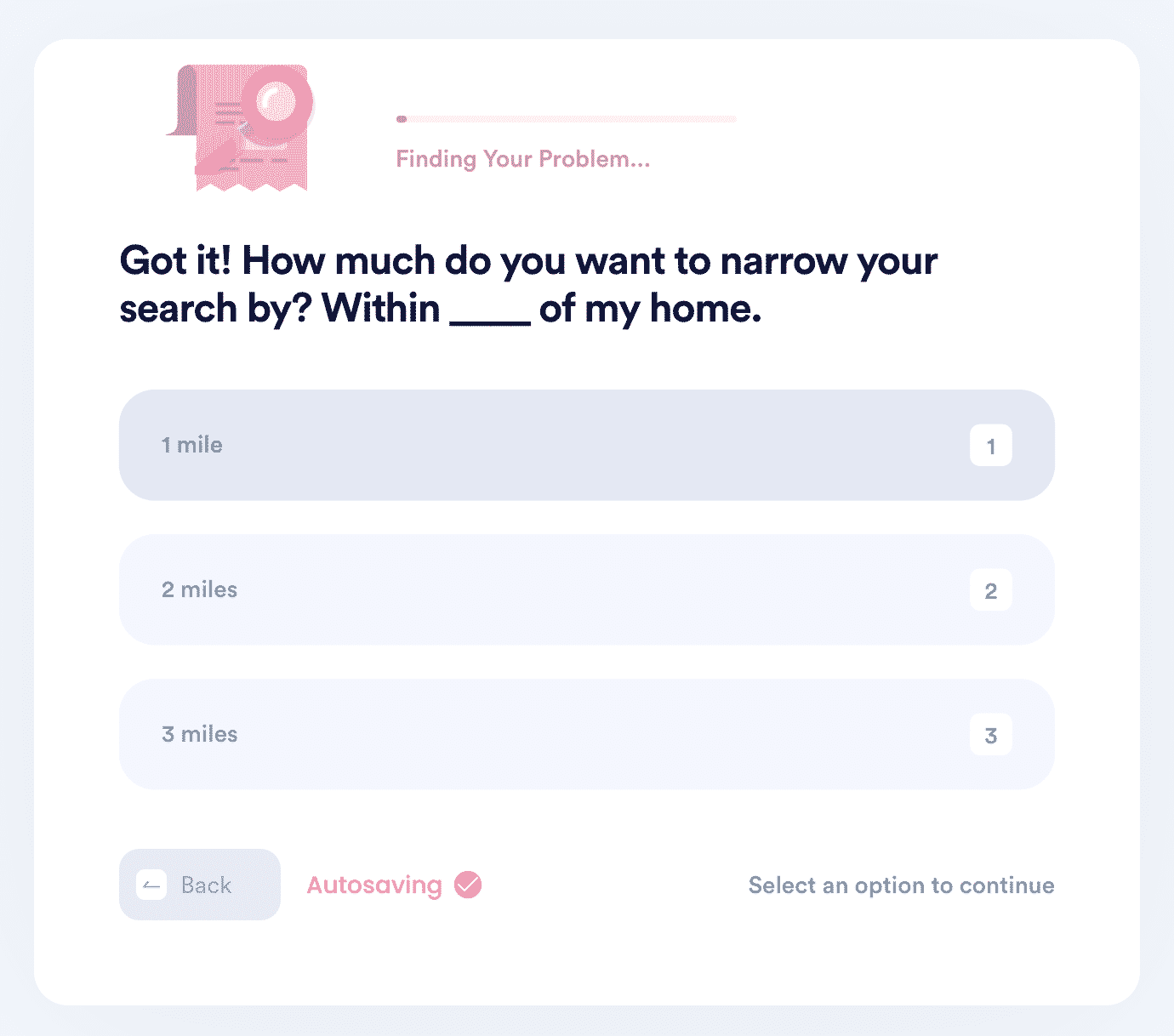 Here's what you need to do to stay safe:
in your web browser
Click on our Sex Offender Search feature
Choose whether you want to search for

A particular person
Sex offenders in your vicinity
You will get your report in a flash and weekly updates if you choose!
Specific State Registry Info From DoNotPay
If you are looking for information about the registry in your state, look no further!
Here are a few examples of state-specific information we can offer:
Why Waste Money on Lawyers When You Have DoNotPay?
Although certain tasks require you to get a lawyer's assistance, you don't have to spend hundreds of dollars for their service. With DoNotPay, you can avoid figuring out the legal jargon and have peace of mind dealing with bureaucratic tasks the easy way.
Need help preparing for a small claims court appearance or composing a neighbor's complaint letter? Looking for an easy but efficient way to draft a power of attorney or divorce settlement agreement? Use DoNotPay's features to draft legal documents, sue companies, request refunds, claim warranties, and file insurance claims while still saving a pretty penny!
Communication Is the Key
The best way to resolve issues is through clear communication, but companies don't always make it easy to do so. That's why DoNotPay came up with various features that help make communicating and solving problems a piece of cake. Sign up for our app and forget about waiting in lines for hours to speak to a customer service rep!
Here's what you can do with our app: