NYS Sex Offender Registry—DoNotPay's Hacks for a Safe and Peaceful Life
New York State Police has the right to decide whether and how to inform a community when a sex offender is moving in. You can easily be left out when the notification arrives.
This means that, to keep your family safe, you'll need to conduct regular searches of the NYS Sex Offender Registry.
Luckily, there's an easier way to stay up to date with all the movements of the sex offenders within your area. and receive regular reports straight to your phone!
New York State Sex Offender Registry—The Relevant Laws
Megan's Law became effective in 1996, and it requires all states to compile and make their sex offender registries available to the public.
The registration requirements differ slightly from state to state. When it comes to the NYS Sex Offender Registry, it lists only Level 2 and Level 3 offenders. The info about the Level 1 offenders is available only over the phone, at 800-262-3257.
This classification refers to the severity of the offenses and the possibility of a reoffense. The levels are assigned as follows:
Level 1—Low risk
Level 2—Medium risk
Level 3—High risk (these are the offenders who committed the worst crimes)
What Personal Details Do Sexual Offenders in NY Have To Submit?
The offenders' details are updated regularly to keep close track of each of them. The NYS Sex Offender Registry holds the following offender data:
Name and all known aliases
Photograph
All current addresses of residence
Workplace address
The crime for which they were convicted
Vehicle information
Conditions of supervision (whether they are on parole or probation)
New York State Sexual Offenders—Required Reporting
Offenders have several reporting duties once they leave prison.
Sex offenders of any level have to report:
Change of residence
Enrolling, attending classes, or working at a new school
Online usernames and email addresses
Check out the table for more details on specific levels:
Offender Level
Regular Reporting
Level 1 and 2

Have their picture taken by the local police authority every three years
Confirm their address every year

Level 3

Get photographed every year
Must confirm their address every 90 days
If an offender fails to comply with these requirements or remains unregistered, they are looking at strict penalties. The first omission is observed as a Class A misdemeanor. All following reporting omissions are considered a Class D felony. In some cases, non-compliance can be the reason for the revocation of parole.
The Restrictions the NYS Sex Offenders Face
States' laws differ when it comes to the restrictions that sex offenders need to follow.
People listed on the NYS Sex Offender Registry aren't allowed to work in any position related to ice cream trucks and their operation.
In case their victim was under 18, they are also prohibited from accessing any school property while they are on probation or parole. Unlike other states, NYS doesn't impose any residential or travel restrictions.
New York State Sex Offender Registry Search
You can obtain information from the NYS Sex Offender Registry in two ways:
Via manual search
By signing up for email notifications
Some states offer map searches of the offenders, but the New York State government website doesn't provide it.
Searching the New York State Sexual Offenders List Manually
The NYS Sex Offender Registry allows for searches based on three parameters:
Last name
County
ZIP code
You can also combine this data for your search.
Additional filtering can be done by checking one of the boxes:
Incarcerated
ICE custody
In custody
Signing Up for the State's Alert System
You can sign up for email notifications regarding new sex offenders in your area. This is done through NY Alert's website, which is dedicated to providing different warnings. It offers alerts on everything from traffic jams and bad weather to press releases and health hazards.
The range of information available on this site is extensive, but that can be a problem. Overload of information is not that great when you're looking to find out something specific.
New York Sex Offender Search Simplified—Use DoNotPay!
With 42,326 registered sex offenders, New York is the third state in the USA by the number of residing sex offenders. You need to be on the lookout now more than ever, especially when it comes to child molesters.
A manual search of the NYS Sex Offender Registry is out of the question. It can easily slip your mind to do the search, especially during a busy week.
You can use the State's email alerts, but setting them up is tricky, and you can get sidetracked by the abundance of information.
DoNotPay has shortened this whole process for you. This user-friendly tool has several advantages over the State Registry website search:
It is fast and automated
You can search specific people or canvas your area in the circle of one, two, or three miles
You can schedule weekly reports based on your customized parameters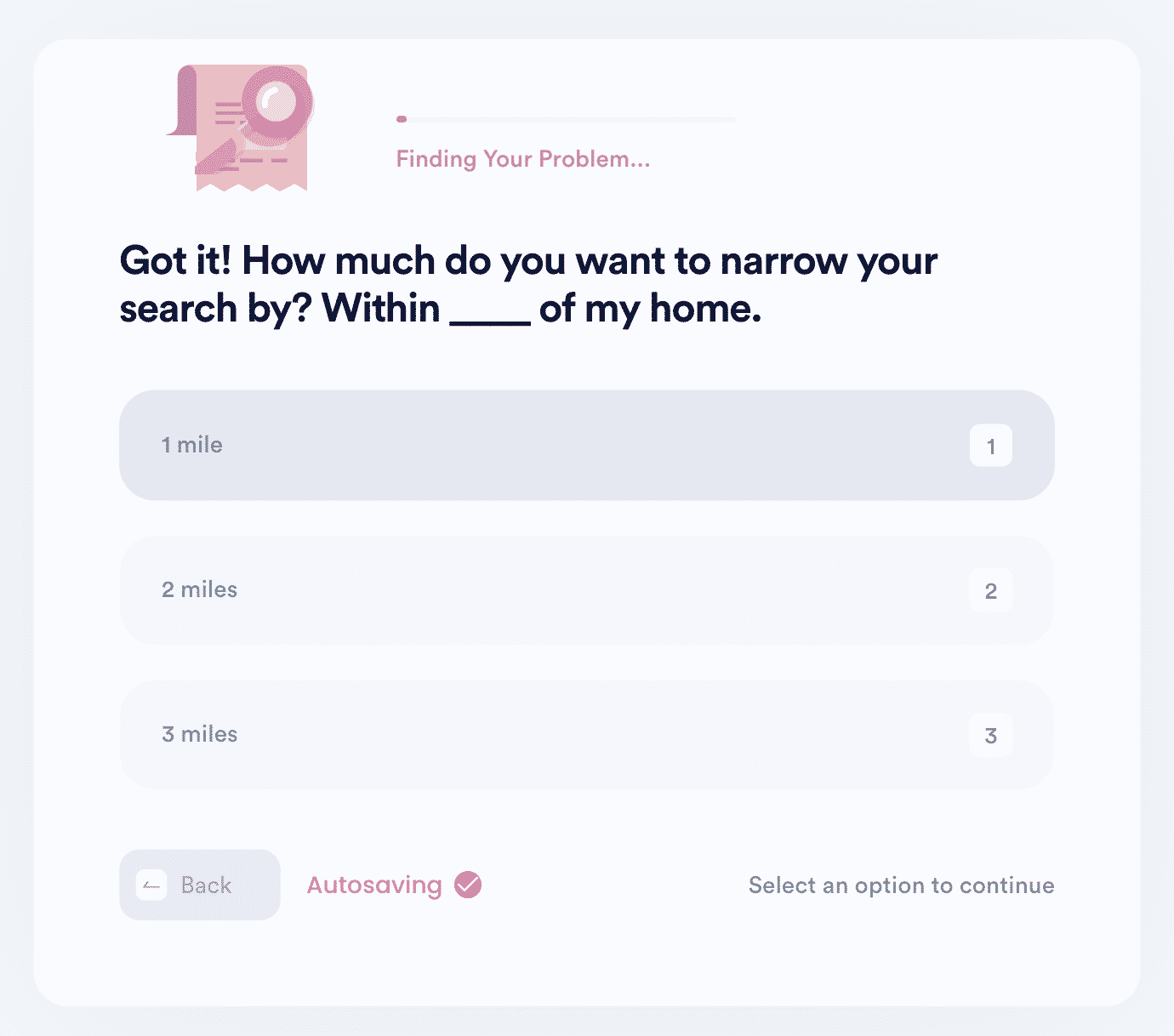 The search process has only a few steps:
Find the Sex Offender Search feature in your
Choose between the search by name or area
Set the radius for your search
Opt in or out of the weekly reports
Once you're done, you'll have your report in no time.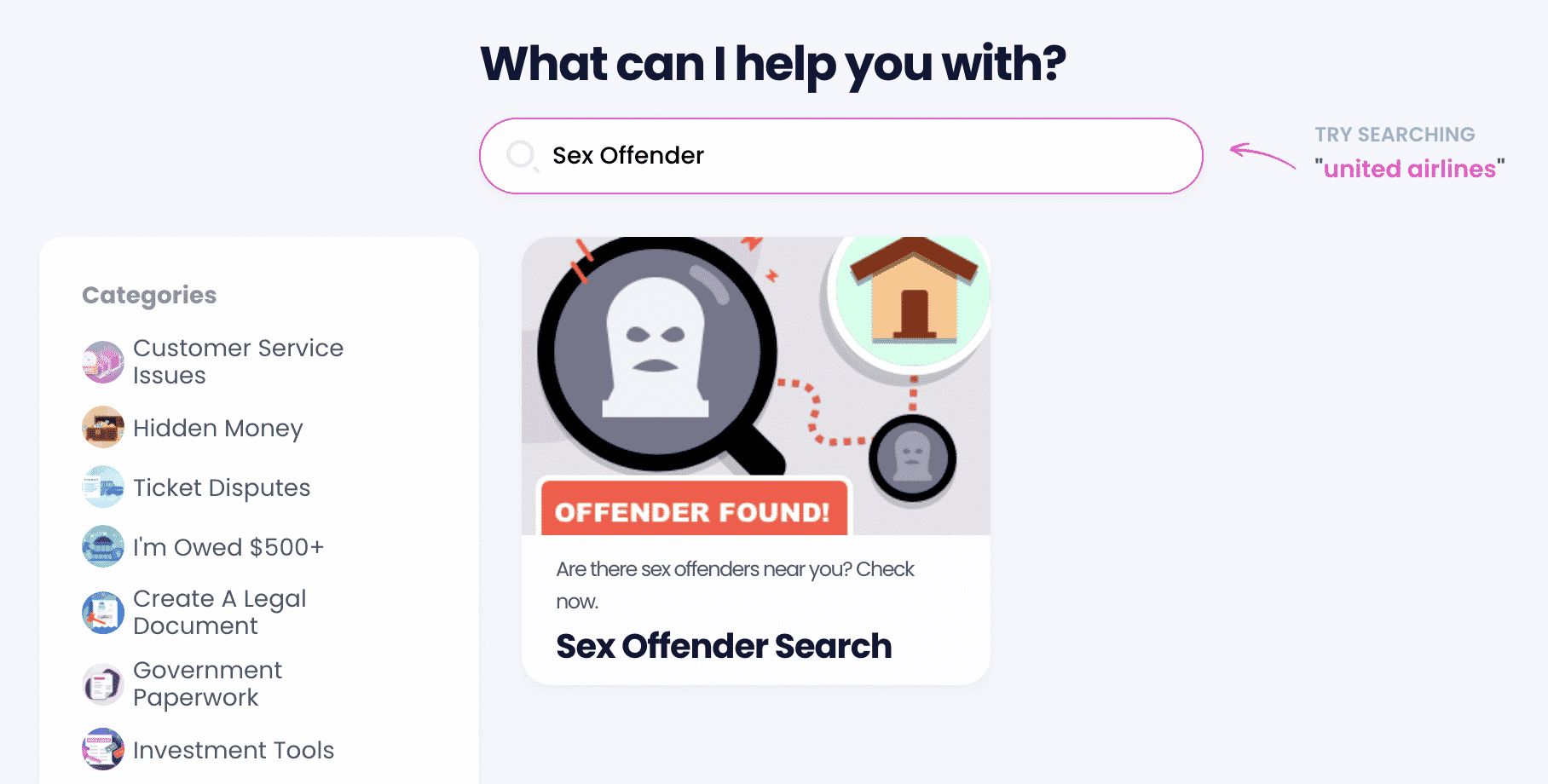 DoNotPay Makes Administrative Hurdles a Piece of Cake
If you ever needed to deal with an administrative task, such as drafting a valid legal document or paying property taxes, you know that it's a struggle. The good news is—it doesn't have to be!
With a bit of assistance, you can draft a POA document and learn how to reduce your property taxes in a jiffy!
DoNotPay will also show you how to tackle any of the following tasks like a pro:
We Offer More Helpful Tools!
Helping you deal with bureaucratic hurdles isn't everything we got in store for you! DoNotPay boasts various other nifty tools that you can use to deal with everyday tasks. You can: