Michigan Sex Offender Registry—Get Instant Warnings About the Changes That Affect You
One in ten children becomes a victim of sexual abuse before they reach their 18th birthday. Don't let your kids become a part of the statistics. Take action to protect all members of your family.
The first step is staying informed. Thanks to Megan's Law, everyone is allowed access to the information available in Michigan Sex Offender Registry and all other state registries.
DoNotPay automates this search for you. Become our subscriber, and you'll get weekly reports about the safety of your neighborhood delivered straight to your phone.
Searching the Michigan Sex Offender Registry
Michigan State Police Sex Offender Registry offers several ways of searching the database. You can search:
In your area—Based on your home or work address and within the desired radius
By offenders' names—Using any name, part of the name, or alias
In your city—Beware that the results may be a bit off because of the scale of the search
For non-compliant offenders—The offenders who aren't regularly reporting to the police
The Michigan Sex Offender Registry doesn't have a map search option.
Keeping Up With Changes in Michigan's Public Sex Offender Registry
To stay up to date, you'll need to visit the State of Michigan Sex Offender Registry on the regular. The other option is signing up for MSP Sex Offender Registry email alerts.
Both of these methods have flaws:
Manual search is tiring and time-consuming. No matter how careful and caring you are, you won't be able to keep it going. In the meantime, there may be significant updates regarding the area of your interest
Email notifications are a more convenient option, but they have flaws as well. You may miss important news because the State Registry emails often go to the spam folder
Michigan Sex Offender Registry Laws
In compliance with the Michigan sex offender laws, the Sex Offender Registry of this State contains the following information about the offenders:
Full name (together with known aliases)
Date of birth
Photo
Physical characteristics (scars, marks, and tattoos included)
Address
Vehicle information
Registration number
Registration details (registration time frame and the last verification date)
Offense information
How Come Some Offenders Get Removed from the Michigan Sex Offender Registry?
State laws about sex offender registries may allow for certain offenders to stay unregistered. Michigan's sex offender list, for example, will leave out those who were adjudicated when they were younger than 17. It even applies to Tier 3 juvenile offenders.
Other cases in which an offender may not appear on the list are:
They are dead
Their current place of residence is outside of Michigan
It is not required to register for the offense for which they were convicted
The conviction took place before the Act was in effect (October 1, 1995), and after this date, the person wasn't in the criminal justice system for the given offense
A judge ordered that the offender be removed from the PSOR
The required registration period for the crime in question has passed
Michigan Sex Offenders—Reporting to the Authorities
Sex offenders residing in Michigan have three business days to report the following transitions to the police:
Change of residence and temporary living addresses (if the temporary arrangement is longer than seven days)
New or terminated employment
Attending new education institutions
Legal name changes
Changes in vehicle ownership or usage
The internet address alterations
An intent to move to another state
Note that all offenders, except those who are homeless, must possess a valid ID or driver's license for easier identification.
Besides these obligations, the offenders are committed by law to respect certain prohibitions. These restrictions are primarily focused on their place of residence. They are allowed to move and travel as often as they wish, as long as they keep the authorities informed and avoid the prohibited areas.
To be on the safe side, you'll need an effective method of getting regular updates about offenders' movements.
Run a Fast Sex Offender Search for Your Area via DoNotPay
There's no denying that the sex crime statistics are frightening. To keep your children safe, you must always be on the lookout.
State sex offender registries are great, but they aren't as efficient as they need to be. One lost mail from Michigan Sex Offender Registry can make a huge difference in your child's safety.
DoNotPay can solve this issue for you. Our tool runs automatic searches and drives the results to where you'll see them—your phone.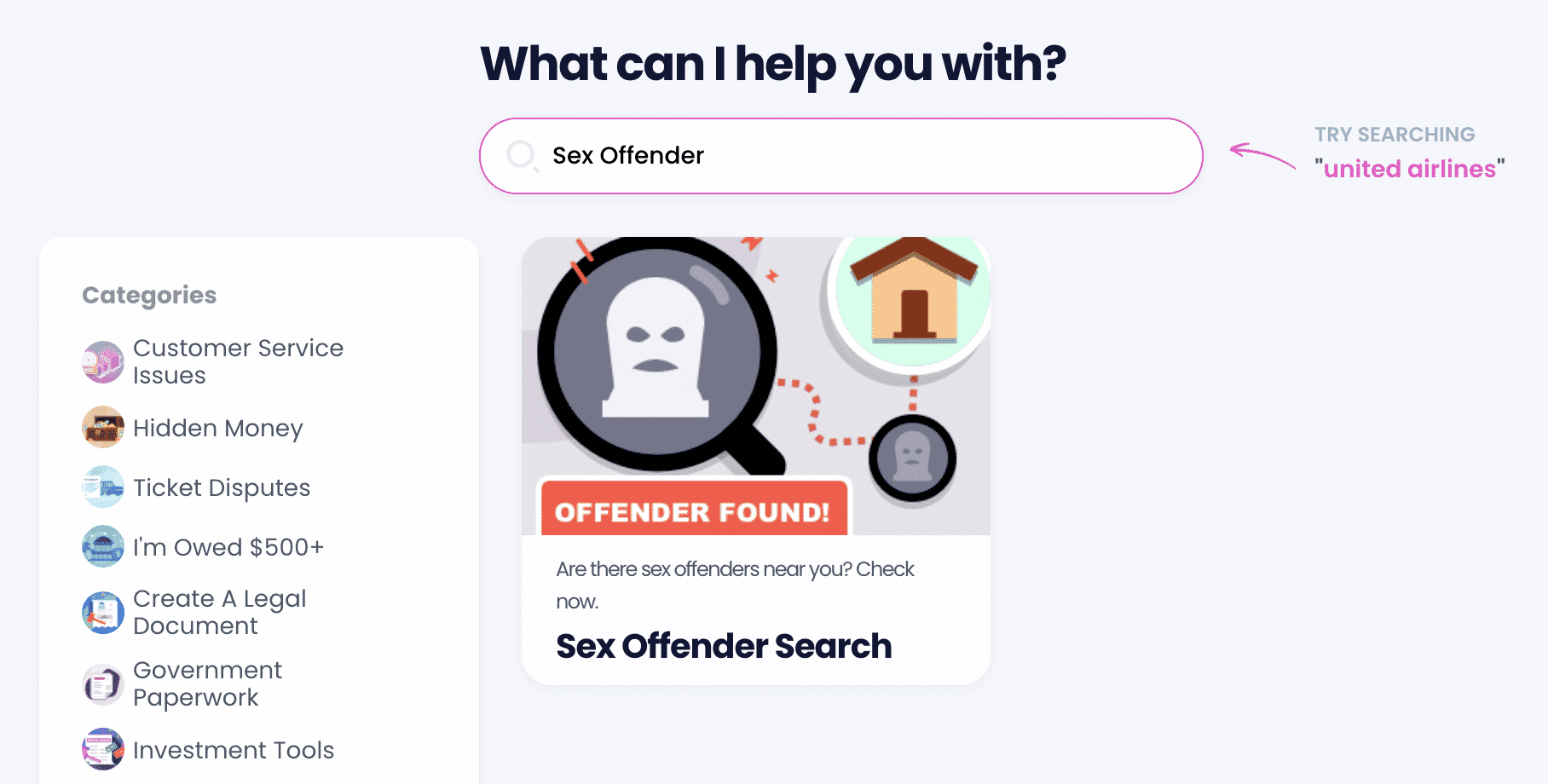 DoNotPay's upsides include:
Speed
Convenience
Reports that are detailed
Search parameters that are extensive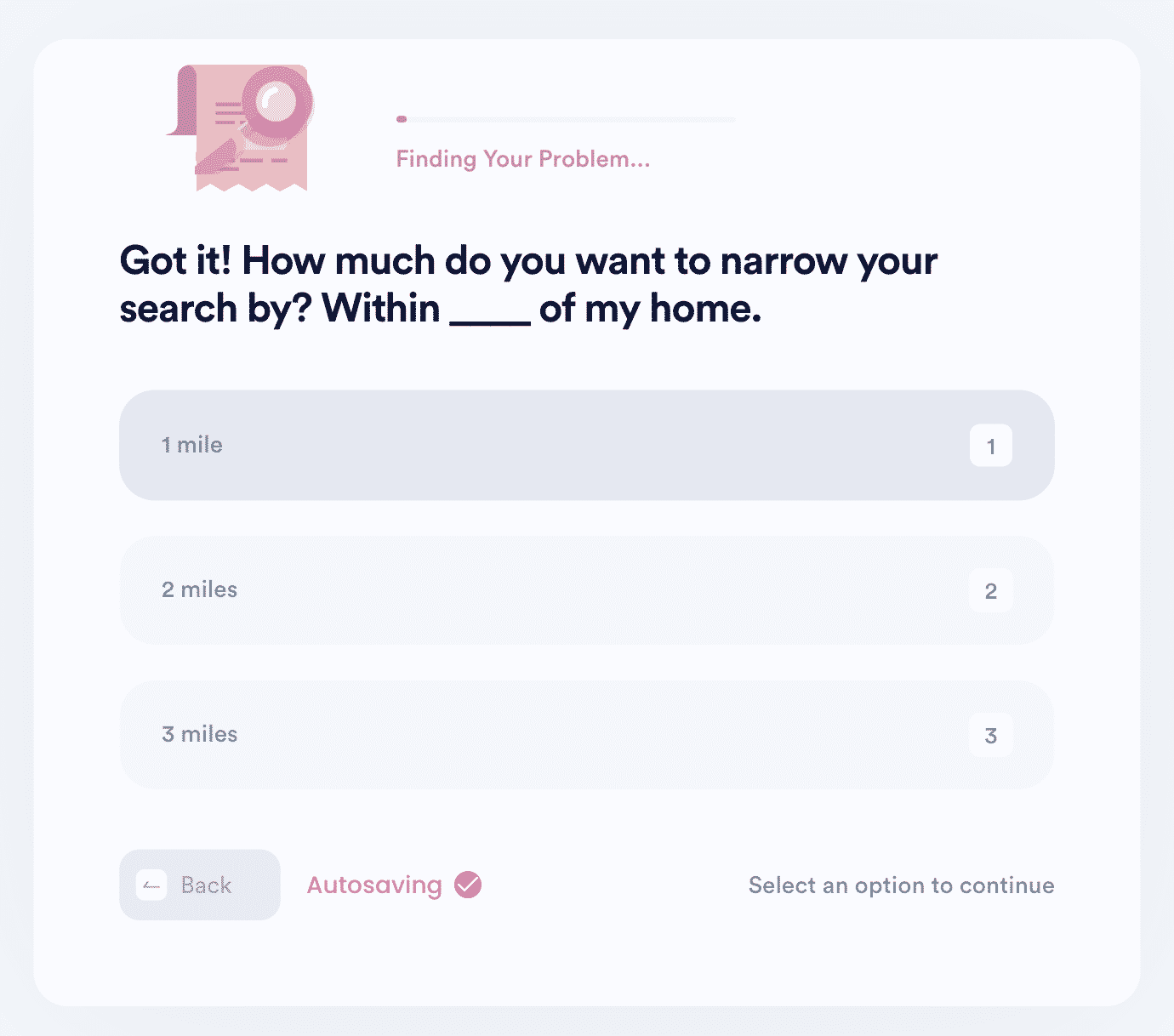 Setting up your alerts is easy. Here's how o do it:
Find Sex Offender Search through your DoNotPay account
Choose whether you're looking for a specific offender or you want to see all of the registered ones near you
Enter the proximity you want to check
Sign up for the weekly check option
Why Waste Money on Lawyers When You Have DoNotPay?
Although certain tasks require you to get a lawyer's assistance, you don't have to spend hundreds of dollars for their service. With DoNotPay, you can avoid figuring out the legal jargon and have peace of mind dealing with bureaucratic tasks the easy way.
Need help preparing for a small claims court appearance or composing a neighbor's complaint letter? Looking for an easy but efficient way to draft a power of attorney or divorce settlement agreement? Use DoNotPay's features to draft legal documents, sue companies, request refunds, claim warranties, and file insurance claims while still saving a pretty penny!
Communication Is the Key
The best way to resolve issues is through clear communication, but companies don't always make it easy to do so. That's why DoNotPay came up with various features that help make communicating and solving problems a piece of cake. Sign up for our app and forget about waiting in lines for hours to speak to a customer service rep!
Here's what you can do with our app: