The Crucial Rules and Regulations of the Sex Offender Registry in MA
The best way to keep yourself and your loved ones protected from sex offenders is by staying informed. You can search on Google for the Sex Offender Registry in MA to educate yourself about convicted sex offenders living or working in Massachusetts. The most reliable source of information regarding sex offenders in MA is the State's official Sex Offender Registry Board.
Statistics show that there are more than 4,300 registered sex offenders in Massachusetts. The Registry is updated regularly, and if you don't check it daily, you might miss crucial information.
If you don't want to put your family at risk, to stay one step ahead of possible predators lurking in your neighborhood!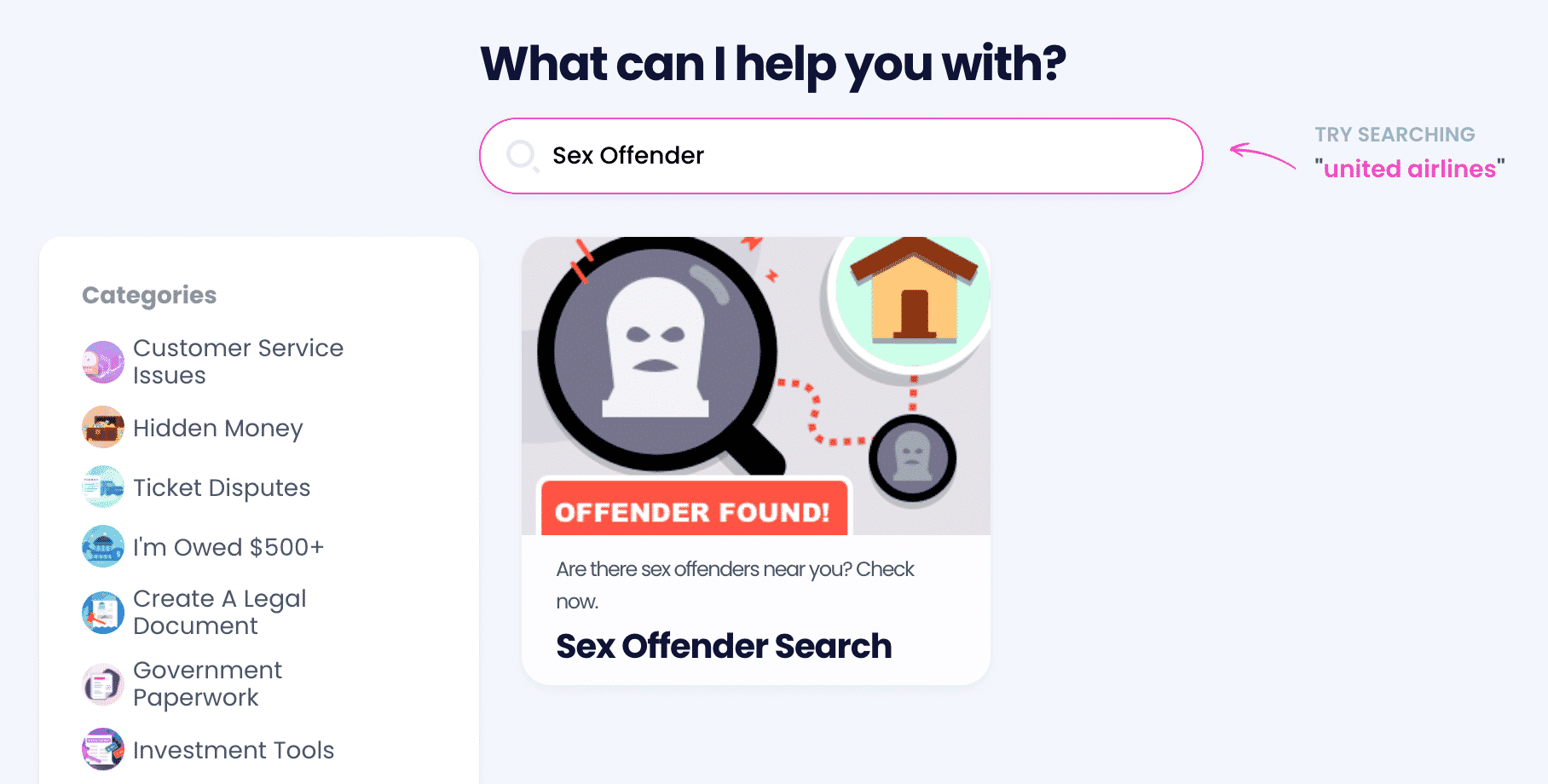 How To Search the Sex Offender Registry in MA
Thanks to Megan's Law, everyone can look up registered sex predators, which adds a dose of security and helps you keep yourself and your loved ones safe.
Depending on the severity of the crime in question, as well as the degree of danger and risk of the crime reoccurring, Massachusetts classifies offenders as:
Level 1 (low risk)
Level 2 (moderate risk)
Level 3 (high risk)
The Sex Offender Registry Board is authorized to publish information only about Level 2 and Level 3 sex offenders.
To search the Massachusetts Sex Offender Registry, you have to:
Click on Search for Sex Offenders
Use the fields to search by name, neighborhood, city, country, or ZIP code
Press Search
Note that you should enter information only in one field at a time instead of filling out every category. Be aware that the results are not absolute and, considering that 95% of new sex abuses are committed by offenders that are not registered, the person you want to look up might not be in the Registry yet. Even if the person gets convicted, the Massachusetts sex registry doesn't notify residents about newcomers. You won't receive any updates regarding the sex offender's status either.
Searching Massachusetts Sexual Offenders by Name
When searching for information by the offender's name, you should:
Enter the full or partial last name in the Offender Name field (if you're unsure of their exact name, you can also select Starts With, Ends With, or Contains from the dropdown menu and enter a certain letter)
Set the Registration Status to In Violation, Incarcerated, or Registered
Choose Level 2 or Level 3 sex offender
Searching the Massachusetts Sex Offenders List by City, County, and ZIP Code
You can also filter the results by city, county, and ZIP code to find what you're looking for.
Geographical/Neighborhood Search
To search your neighborhood for sex predators, you have to:
Enter the street name and number (both are required)
Select the city where you reside
Set the address radius to one, two, or three miles
Enter the ZIP code
SORB's sex offender map search is based on GIS map distance technology, which isn't perfect, so the results may not be complete. While this search does come in handy, it should be your last resort.
Sex Offender Registry in MA—Laws and Regulations
Under the Massachusetts code, all sex offenders must follow certain registration laws and restrictions. We will address the most common questions concerning the Massachusetts Sex Offense law in the table below:
Question
Massachusetts Law
What are the most common crimes requiring sex offender registration?
Battery, rape, indecent, assault, assault with intent to commit rape, kidnapping, drugging a person for sex, minor pornography, prostitution, and sex trafficking
Who must register as a Massachusetts sexual offender with the Massachusetts Registry?
Sex abusers that live, work, or attend school in the State
Do all Massachusetts sex offenders have to update their information?
Sex offenders that have a secondary address in the state, are moving to Massachusetts, lose their place of residence, get a job in the State, or live in another state but attend school in Massachusetts must constantly update their information
What information do sex offenders need to provide?
Their full legal name, aliases, home and work addresses, weight, height, eye and hair color, and any identifying marks. Level 3 sex offenders must provide fingerprints and photographs
Are juvenile offenders registered?
At the moment, sex offender registration is not mandatory for juvenile sex offenders
What are sex offenders not allowed to do?
The law prohibits them from living within a certain distance of schools, parks, and playgrounds, and they have certain workplace limitations
Are there any penalties for sex offenders that violate the law?
Yes, including:

Six months of imprisonment, two and a half years in jail, or five years in state prison
Fine
Fine and imprisonment
Term of community parole supervision for life in addition to any jail time or fine (applicable to Level 2 sex offenders)

Can sex offenders travel?
Yes, and they can move, too, but it's mandatory to notify the Sex Offender Registry Board at least ten days prior. If they're moving, they have to register as sex offenders in the state they're moving to
What if sex offenders repeat the sexual assault?
They will get a minimum of five years in state prison
Think You Have a Sex Offender Near You? Stay on Track With DoNotPay
Sex offenders live among us. Did you know that there are approximately half a million registered sex offenders in the United States, while research shows that most of them had committed more than one crime before they got arrested? The statistics are troubling, but you can address this issue by staying informed at all times.
Checking the Massachusetts Sex Offender Registry Board is a good start, but the system is flawed. You have to scrape the database manually, and you won't be notified if a sexual predator moves into your neighborhood.
With DoNotPay, there's no risk of missing crucial information. Our app performs regular sex offender checks and provides weekly alerts based on the parameters that you set. To stay updated at all times, all you have to do is:
Navigate to the Sex Offender Search product
Choose whether you'd like to get informed about a specific offender or would want to see all the registered ones in your area
Specify the proximity to be checked—one, two, or three miles from your home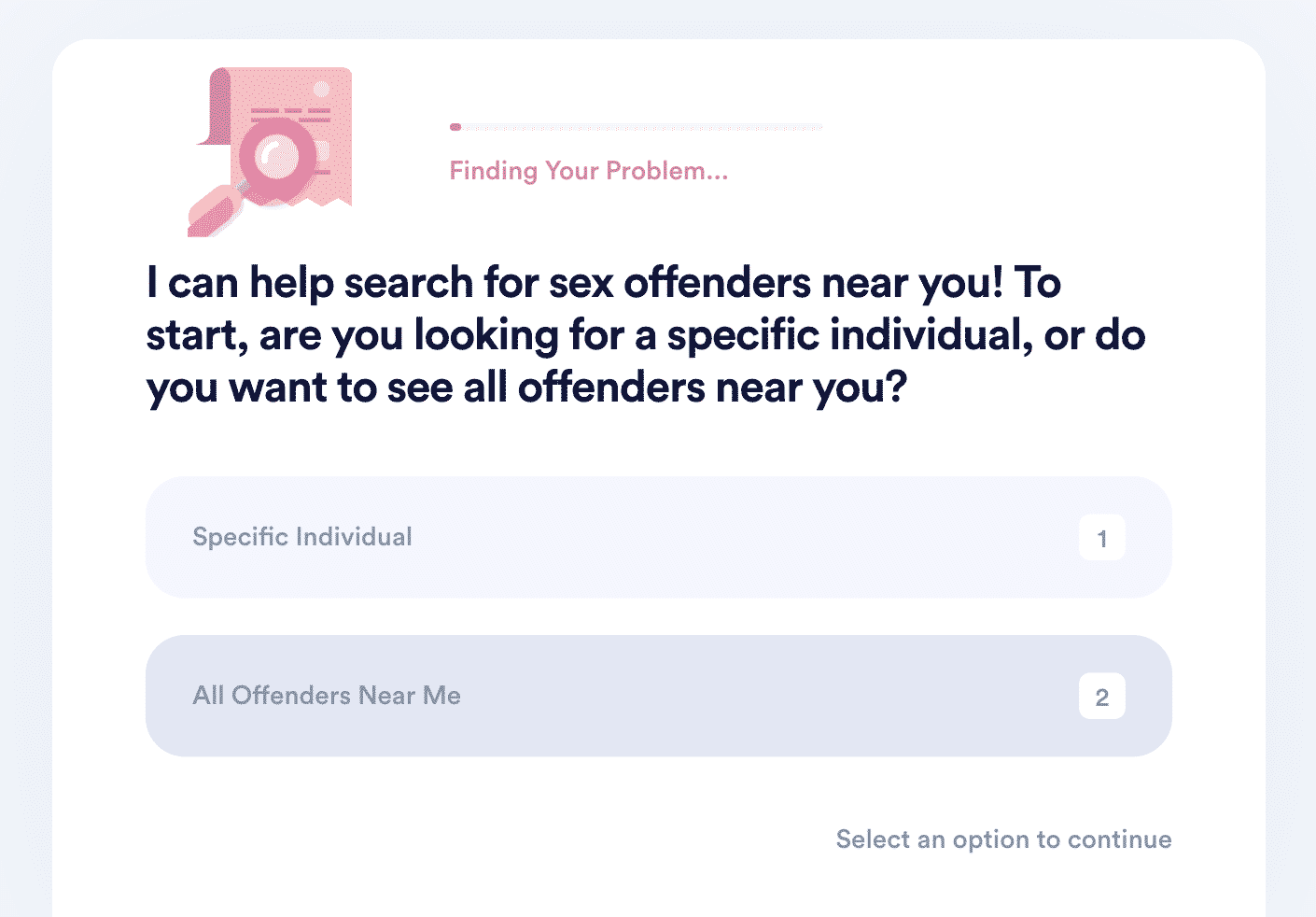 Almost instantly, our AI-powered app will generate an automated report based on your parameters and will keep you informed about newly registered sex offenders near you. Stay alert by subscribing to our app instantly!
DoNotPay Is an App for Everyone
Whether you need help with drafting paperwork, searching through government databases, or managing your bills, DoNotPay has a feature that'll make your life easier. The number of features keeps growing, and you can check out a table showcasing some of them:
| | | |
| --- | --- | --- |
| Solving Legal Issues | Saving Money | Protecting Privacy |
| | | |
Get More Done With Our Do-It-All Platform
DoNotPay can take care of any daily hurdle you come across. For a small yearly subscription fee, you get access to various features that you'll find handy on a daily basis. Besides everyday chores, signing up for DoNotPay will help get you:
The list could go on for days. You can even get in touch with an inmate or fight for discrimination at your workplace!