Want To Search the Tennessee Sex Offender Registry Fast? We Got You!
Staying safe from sex offenders isn't easy when you aren't aware of their whereabouts. That's why we can help you locate them and provide you with all the info about the Tennessee sex offender registry laws! , and search the TN sex offender registry without breaking a sweat!
TN Sex Offender Registry Law
Under Tennessee sexual offender registration laws, every person convicted of a sex crime needs to place themselves on a sex offender registry. They need to provide identifying info for their physical and online personas, including the following:
Names or aliases
Home, work, and school addresses
Email addresses
Phone numbers
In case any of the above-listed information changes, the offender is obliged to update their registration within 48 hours of the change.
Tennessee Sex Offenders—Risk Levels
Registered sex offenders in Tennessee are divided into three categories based on the threat they pose. The table below contains details about the categories (tiers) and the severity of offenders' crimes:
Tier
Crimes
Tier 1

False imprisonment of a minor
Receipt or possession of child pornography

Tier 2

Enticement of a minor to engage in sexual activity that is criminal
Sexual contact with minors aged 13 and older
Distribution and production of child pornography

Tier 3

Non-parental kidnapping of a minor
Violent sexual acts
How Long Do Sex Offenders Have To Stay on the Registry, and How Often Should They Register?
The rules for registering in TN are different for each tier. Check out the list below for details:
Tier 1 offenders need to register annually (seven days prior to or after their birthday)
Tier 2 offenders have to register every six months
Tier 3 offenders must report four times a year (in March, June, September, and December)
Violent sex offenders stay on the registry for life, while other sex offenders can file for termination of registration after ten years.
Restrictions Placed on Sex Offenders in Tennessee
Registered sex offenders can encounter various restrictions based on the severity of their crimes. That is why many offenders avoid registering.
Consult the table below to see what restrictions TN sex offenders face in detail:
How To Search the Sex Offender Registry in TN
So far, 21,024 people have been registered as sex offenders in Tennessee. Since the passing of Megan's Law, the information about registered sex offenders has been made public, and everyone has the right to search for sex offenders in their area.
You can search the sex offender registry in TN by doing the following:
Go to the TN Bureau of Investigation website
Click on Tennessee Sex Offender Registry Search
Choose whether you want to search by last name or do a secondary residential search
Provide the required info
Click on the Begin Offender Search/Begin Secondary Search
Once you get the search results, you'll be able to see the offender's name, addresses, photos, and a description of their offense.
DoNotPay Offers an Easier Way To Search the Sex Offender Registry in TN
Searching for sex offenders near you using the TN Bureau of Investigation website is a valid option, but you don't have to bother following confusing instructions!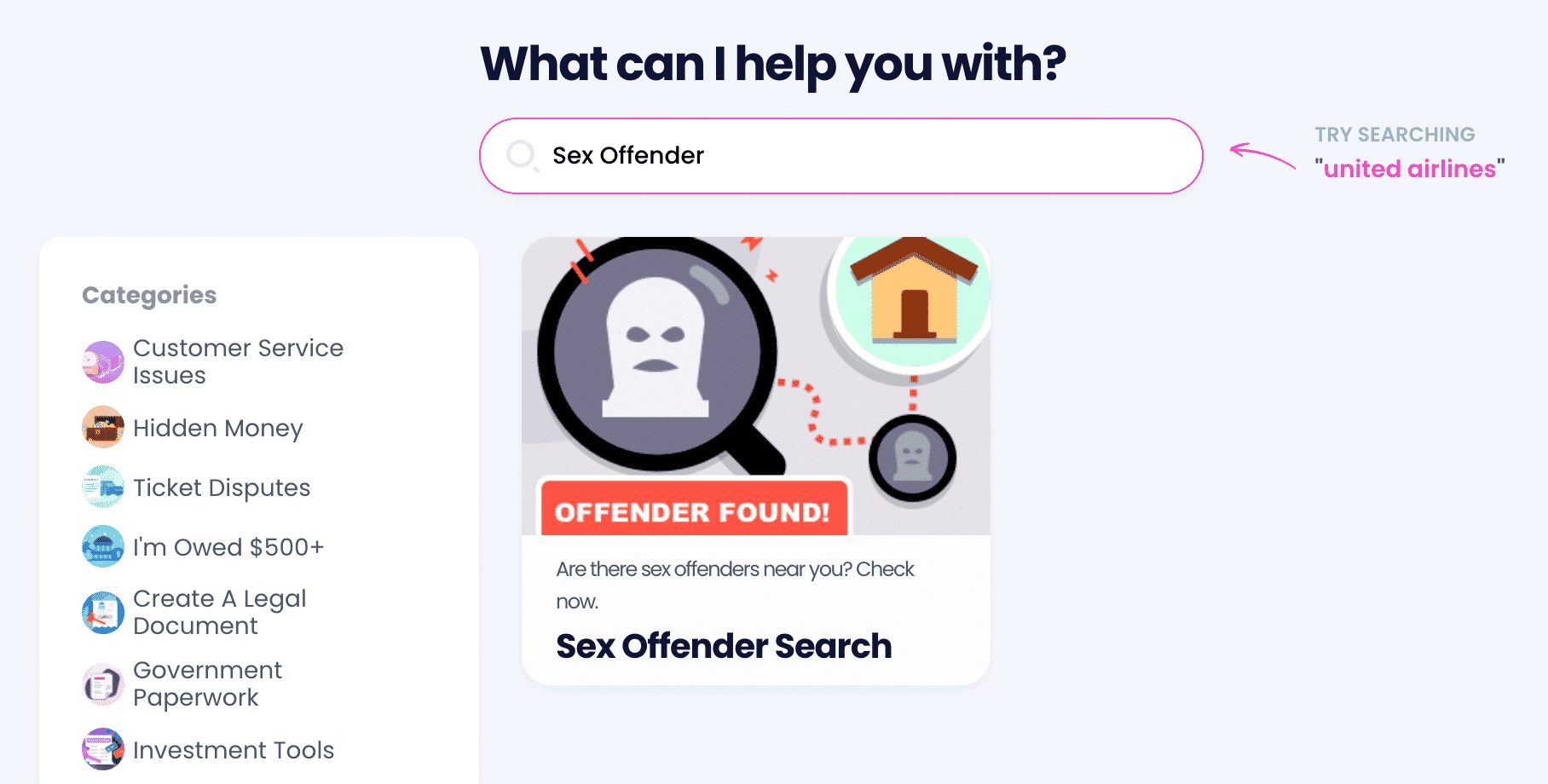 DoNotPay offers a perfect alternative that will get you a full sex offender report in no time! You can look up a specific person or search your area in a one, two, or three-mile radius for sex offenders located there. All you need to do to get started is:
Pick the Sex Offender Search feature
Say whether you're looking for a specific offender or a list of all the registered ones nearby
Enter the proximity you want to check, and tell us whether you want to enroll in the weekly check option
DoNotPay will conduct a sex offender search, find all the registered sex offenders near your address, and keep you in the loop with weekly reports.
Should I Share the Info I Find About the Registered Sex Offenders in TN?
You can share the information you find during your sex offender registry search, but you have to be careful how you share it.
You cannot inflict retribution or additional punishment on offenders. Acts like harassment, stalking, or threats against offenders or their family members are strictly prohibited and can violate Tennessee criminal and civil laws.
If you want to inform your loved ones about the offenders in an attempt to keep them safe, you can tell them what you've found. Make sure to inform them about the consequences of the above-listed prohibited acts as well.
Tips on Keeping Yourself and Your Family Safe if a Sex Offender Is Nearby
If you discovered that there is a registered sex offender in your vicinity, you're probably worried. The good news is that you can take precautions to keep yourself and your loved ones safe! Here are some helpful tips on what to do in such scenarios:
Have a safety plan in place—A well-thought-out plan can prove quite beneficial in case you run into a sex offender. Think about whom to call, where to find the nearest exit, and what to do in case the offender approaches you
Inform your family—Tell your loved ones about the sex offender and explain what precautions they could take in case they run into them
Voice your concerns to a police officer—It's important to inform the authorities if you notice any suspicious activity since it can help prevent future offenses
DoNotPay Helps You Deal With Any Administrative Issues Effortlessly
Tedious administrative tasks are always headache-inducing, but they don't have to be if you use DoNotPay. With our AI-powered app, you will be able to:
Solve Any Issues Like a Pro With DoNotPay
DoNotPay is an AI assistant that is able to solve almost all issues you're facing. Whether that be your noisy neighbors, the annoying text and email spam you're receiving, or the frustrating robocalls that won't leave you alone. We'll even cancel your unneeded subscriptions and get you a few extra bucks you've been cheated out of.
The world's first robot lawyer app can help you get: