Scrap the Missouri Sex Offender Registry—Use DoNotPay's Handy Auto-Alerts
The Missouri Sex Offender Registry is managed by the Missouri State Highway Patrol with the help of the state's county sheriffs. The registry stores over 16,000 records of sex offenders, but its history of manual errors and labeling inconsistencies compromises the database's reliability.
In 2018, authorities found data lapses for about 1,300 untraceable sex offenders in Missouri—all due to clumsy management. Such irregularities beat the purpose of Megan's Law, which made sex offender registries publicly available to protect U.S. citizens.
Sex offender registries may be hit-or-miss, but DoNotPay always delivers. Our dependable sex offender search and automated alerts will keep you vigilant against all odds!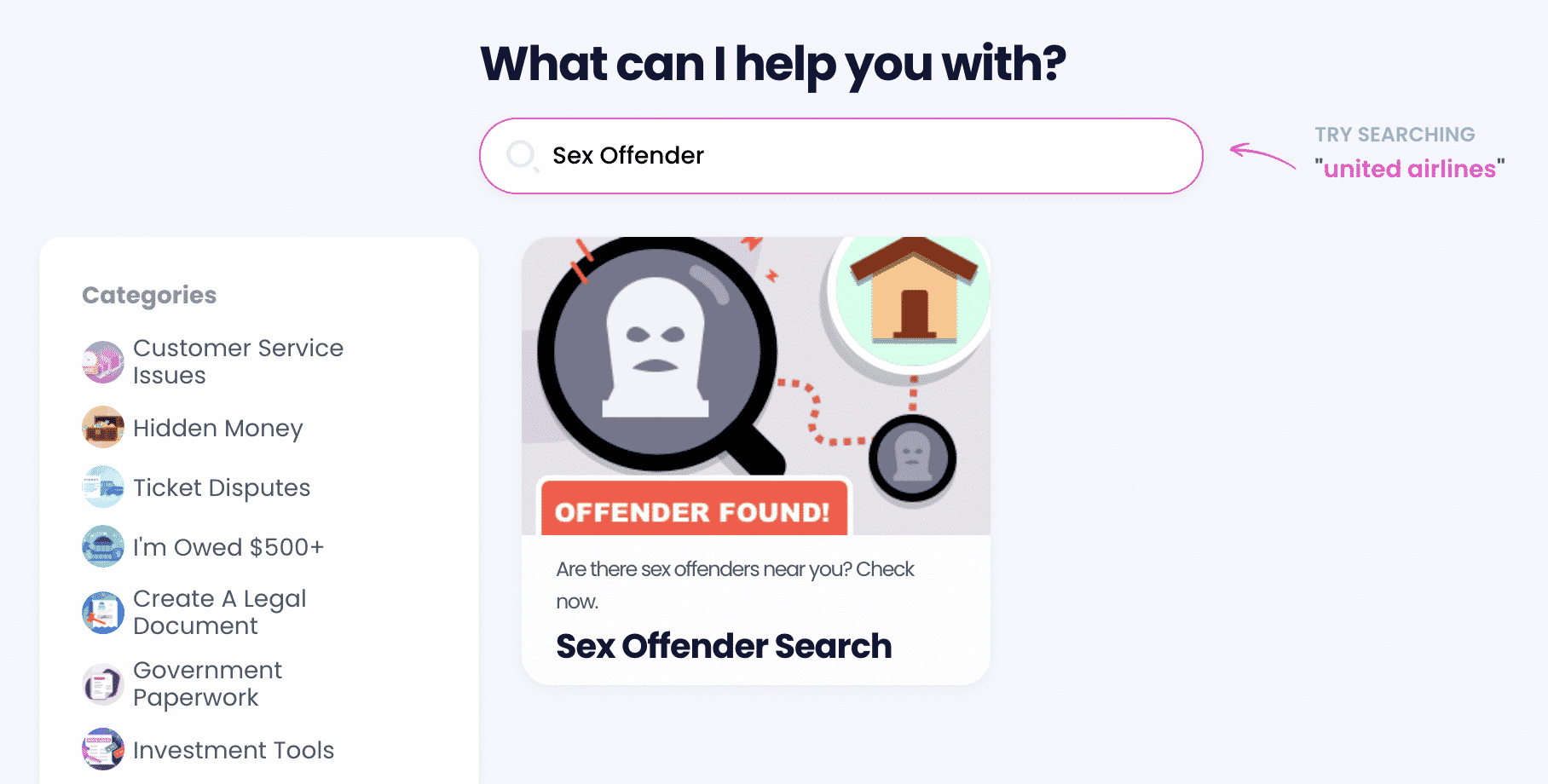 MO Sex Offender Registry—How To Run a Quick Search
You must accept a disclaimer agreement before accessing the records on Missouri Sex Offender Registry's website. We have summarized some of the major takeaways from the detailed agreement:
The authorities aim to update the registry daily, but they do not guarantee the entirety of its information to be accurate at any time
The registry only reflects the sexual offenses of the offenders, not their complete criminal history
The database seeks to inform, not warn, about a sex offender recommitting a crime
The area-wise search result can fail to list all offenders due to the lack of mapping data or software issues
Track Missouri Sex Offenders Through Different Search Modes
Depending on the end goal of your search, you can dive into the registry database via three search modes:
Search Modes
Description
Basic offender search

Use this to look for registered sex offenders who are incarcerated or have moved out of state
You can apply search parameters like first name, last name, address, tier level, and birth date

Interactive map search

This will help you find the offenders near a specific location
You must provide the address, ZIP code, and scanning radius to perform the search

Electronic address search

Choose this option if you want to identify email addresses or social media IDs of offenders
The website mentions that you may still need to contact your county sheriff to get these details
Missouri State Highway Patrol Sex Offender Registry—Are Public Alerts Available?
By default, no. The Missouri State Highway Patrol's Information Services Division offers you a Community Notification feature once you sign up on the registry website. They claim to give you email alerts based on address or offender, although the effectiveness of the alerts has not been verified.
Are All Sexual Offenders in Missouri on the Registry?
The Missouri Sex Offender Registry cannot give you a comprehensive list of all the sex offenders in Missouri for the following reasons:
Crafty unregistered sex offenders who are either absconding or in hiding cannot be tracked by the registry
Certain sex offenders are exempt from registration as per Missouri laws
Sex offenders get removed from the registry after completing the mandatory period of staying registered
Sex Offender Registry Missouri—What Else Do I Need To Know?
If you are curious about the general laws that bind Missouri's sex offenders, we can fill you in on all the primary rules and regulations of the registry.
Let's take a look at some common queries about Missouri's Sex Offender Registry laws:
Issue
Registry Law
How long will an offender remain registered?
Period of registration (POR) varies upon the severity of the offense:

TIER I—15-year POR with annual check-ins
TIER II—25-year POR with biannual check-ins
TIER III—Lifetime registration with 90-day check-ins

When should offenders register?
Are juvenile offenders on the registry?
Yes, they need to register as well
Can sex offenders use the internet or social media?
Yes, but the probation or parole officer can monitor their device
Restrictions for the Registered Sex Offenders of Missouri
Registered sex offenders in Missouri are required to live with a couple of restrictions.
Restriction Type
Requirements
Residency restrictions

Certain offenders are banned from residing within 1,000 feet of a school or daycare facility

Movement restrictions

Offenders known to be ex-child predators are forbidden from loitering within 500 feet of a school
Some offenders are also banned from loitering within 500 feet of any public park with a playground or public swimming pools

Employment restrictions

Certain sex offenders may be prohibited from serving as athletic coaches, managers, or trainers for teams that include minors
Don't Live in Constant Fear of Predators—DoNotPay Can Save the Day
Shady sex offenders don't walk with a name tag, which makes it easier for them to blend in any neighborhood. While public databases are accessible, it makes no sense to spend hours every week begging slow, uncoordinated registries to scan your vicinity. DoNotPay gives you a comfortable alternative to this hassle in the form of our convenient sex offender search feature.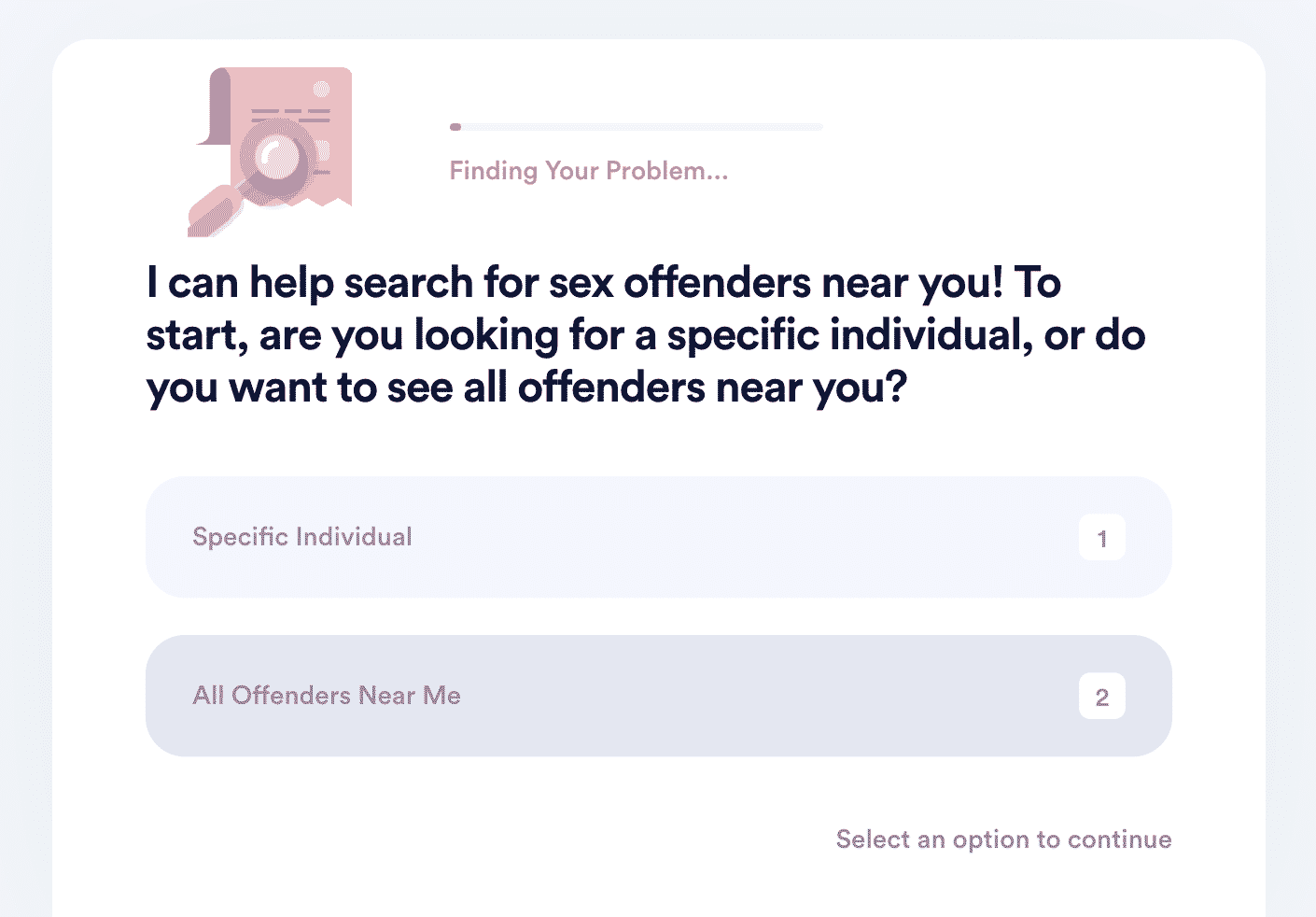 With DoNotPay, it hardly takes a few seconds to conduct a quick perimeter search for sex offenders. You are four steps away from reclaiming your peace of mind:
Sign in to DoNotPay and find the Sex Offender Search tab
Specify your intent—to get details on a specific offender or on all registered offenders near you
Enter the proximity you want to check—within one mile, two miles, or three miles of your address
Enroll for optional weekly scan, if desired
DoNotPay will instantly generate a report based on your criteria. You can browse through the mugshots and personal details of the offenders available as per the latest registry data. If you choose the weekly scan option, you will receive timely alerts after every automated routine search of your address.
DoNotPay Alerted Me About an Offender—What Do I Do?
If you get a sex offender alert or recognize someone from DoNotPay's report—stay calm. Here's what you can do:
Stay alert
Discuss the matter with friends and family
Inform possible at-risk targets
Reach out to the offender's parole or probation officer for security measures, if necessary
Make sure you don't stalk, harass, or threaten the offender—that can get you in trouble with the law
Need Legal Assistance? DoNotPay Got You Covered!
Forget about getting a migraine every time there is an administrative task to handle. DoNotPay makes it easy and stress-free to deal with any bureaucratic issue that comes your way.
Not only can we assist you in drafting a legal document and getting it notarized, but we also help you:
Finishing Your Daily Errands Has Never Been Easier!
Looking for help with running errands? You don't have to spend hours trying to make a DMV appointment or contacting a customer service rep! Completing your day-to-day tasks stops being a burden once DoNotPay gets involved.
There is no shortage of errands we'll help you run for a small subscription fee, including:
Sign up for DoNotPay and avoid spending hours on simple daily tasks that can be done in a jiffy!