Why DoNotPay's Automated Search Is Better Than the Manual Nebraska Sex Offender Registry One
If you want to be proactive when it comes to keeping your loved ones safe from sex predators, you have to be informed about their whereabouts. Thanks to Megan's Law, every state is obliged to have a sex offender registry that is public.
There are over 5,280 registered sex offenders in the Nebraska Sex Offender Registry, which is significantly lower than Mississippi's 9,000 entries but drastically higher than the 299 sex predators in the Maine Sex Offender Registry.
You can't afford to miss any information regarding sex offenders in Nebraska. While you can search the Nebraska sex offender list manually, we have a faster, simpler, and better solution— feature to receive thorough weekly reports and timely alerts without lifting a finger!
Which Crimes Can Put a Person on the Nebraska Sex Offenders List?
In general, the following crimes require registrations:
Kidnapping a minor (non-parental)
Detaining a minor unlawfully
Committing sexual assault
Sexually assaulting a child in the first, second, or third degree
Having an incestuous relationship with a minor or pandering or debauching a minor
Photographing or filming sexually explicit behavior of a child
Enticing or attempting to entice a child into sexual activity in person or by means of a computer
Attempting, soliciting, aiding or abetting, being an accessory, or conspiring to commit any of the above-mentioned crimes
As of January 1, 2010, the following crimes may also classify a person as a Nebraska sex offender:
Intruding upon a minor without their consent
Committing a first or second-degree sexual abuse of a detainee or parolee
Abusing a protected individual in a sexual way
Having an incestual relationship
Abusing children
Luring people into sexual intercourse by a device used for electronic communication
If ordered by a judge to register, these convictions will put a person on the Nebraska Sex Offender Registry as well:
First or second-degree murder
Manslaughter
First or second-degree assault
Stalking
Kidnapping
False imprisonment
Who Is Required To Register as a Nebraska Sex Offender?
When it comes to the Sex Offender Registry, Nebraska passed the Sex Offender Registration Act on January 1, 1997. According to it, any person that falls within one of the categories listed below has to register even if they don't reside in Nebraska but work, carry on a vocation, or attend school in the State.
The categories are as follows and are in regards to any person that:
Is guilty of any of the crimes that require registration
Is imprisoned in jail or a similar penal or correctional facility or is under probation or parole because they committed and were found guilty of a registerable sex offense before January 1, 1997
Has ever pled nolo contendere to, pled guilty to, or been found guilty of any offense that is not substantially similar to a registerable offense by any town, city, state, territory, village, commonwealth, or other jurisdiction of the United States by the United States Governor, by court-martial or another military tribunal, or by a foreign jurisdiction, notwithstanding a procedure comparable in effect to that described under section or any other procedure to nullify a conviction other than by pardon
Is

registered as a sex offender under the laws

of another state, town, city, village, commonwealth, territory, or other jurisdiction of the United States
Nebraska Registered Sex Offenders Classification
The Nebraska Sex Offender Registry used to be organized by a three-tier classification system based on the offender's risk to reoffend. Depending on the risk they imposed on the society, they belonged to one of the following categories:
Category
Risk Factor
Tier I

The risk of reoffense is low
Information regarding Tier I sex offenders is available only to law enforcement

Tier II

The risk of reoffense is medium
Information regarding Tier II sex offenders is available to law enforcement, schools, daycare centers, and religious and youth organizations

Tier III

The risk of reoffense is high
Information regarding Tier III sex offenders is available to all of the above and the whole public
The classification by risk levels is no longer used, and Nebraska embraced a new categorization approach based on the registration duration. Nebraska is now allowed to publish all registered sex offenders. The registration duration period varies depending on certain factors, as shown in the table below.
Registration Period
Explanation
15 years

Convicted of primarily misdemeanor offenses
Punished by imprisonment for less than one year

25 years

Convicted of primarily non-aggravated felony offenses including attempt and conspiracy
Punished by imprisonment for more than a year

Life

Convicted of primarily aggravated felony offenses, such as forcing, drugging, or disabling a victim younger than 13, including attempt, felony, conspiracy, or misdemeanor repeat offenders
Punished by imprisonment for more than one year and was convicted of an aggravated offense, had a prior sex offense conviction, or is determined to be a lifetime registrant in another state under the jurisdiction of the United States
Do Nebraska Sex Offenders Face Any Restrictions?
Nebraska sex offenders are allowed to travel to other states, and they have unlimited access to social media. If you're wondering what registered sex offenders aren't allowed to do or what their rights and restrictions are, we will answer the most common questions below.
Do Offenders Who Visit or Stay Temporarily in Nebraska Have To Register?
If they are staying for more than three business days, all offenders must register.
Are Juveniles Required To Register?
Juveniles remain unregistered offenders as long as they are not adjudicated in juvenile court.
Are Offenders That Are Convicted in Another State but That Moved to Nebraska Obligated To Register?
They are required to register in Nebraska if the crime they were convicted of is the same or equivalent to one that the Nebraska Sex Offender Registry would publish them for. They also have to register as sex offenders under the law of another state that's under the United States jurisdiction.
How Long Must Sex Offenders Register?
Depending on the severity of the crime they committed, sex offenders must register for:
15 years, and they must report every year in the month of their birth
25 years, and they must report every six months
Life, and they must report every three months
When Are Offenders Required To Register?
If the offenders were imprisoned, they have to register upon release from the sentencing court or prior to release from a city or county jail, state correctional facility, or private/public institution.
Those moving to or the ones who are temporarily staying in Nebraska must register within three working days of becoming subject to the act.
Offenders that work or attend schools in Nebraska but don't reside in the State must register within three working days of getting employed or enrolled at a school.
Where Can Nebraska Sex Offenders Live?
Nebraska doesn't have a statewide law that imposes living restrictions on offenders. Cities that wish to adopt a living restriction ordinance can.
How To Perform a Nebraska Sex Offender Registry Check
When searching the Nebraska Sex Offender Registry, you can see the offender's:
Name
Physical description
Address(es)
School(s)
Vehicle(s)
Photo
Registration duration
The offense(s) that got him or her on the list
To access this info, you can search by:
Name
Region
Location
If you're searching by name, you can provide the offender's:
First name
Last name
Full name
You can also check the Exact Only box if you know exactly who you're looking for. Otherwise, you can leave the box unchecked and see the records of other offenders with the same name.
If you're searching by region, you have to specify one of the following:
You can see all the mappable offenders in your vicinity by entering the following info:
Street address
City
ZIP code
If you opted for the location search, you should also set the search radius to one, two, or three miles from the address that you provided.
Although the Nebraska State Patrol used to notify select people and organizations working with and providing services to children by phone, fax, or email, they stopped sending out notices regarding sex offenders as of January 1, 2010. The only way to keep track of the registered sex offenders in Nebraska without having to check the Registry manually is by signing up for DoNotPay.
How DoNotPay Helps You Keep Your Family Safe

The thought of having a sex offender in your loved ones' proximity without even realizing it is nightmarish. You can stay up all night and search the Nebraska Sex Offender Registry on your own. If you don't, you'll toss and turn, worried about your family's safety. Either way, you won't get much sleep.
DoNotPay offers a better alternative—use our services, and we'll make sure to keep you up to date when it comes to sex offenders in your neighborhood. All you have to do before you hit the sheets is:
Locate our Sex Offender Search feature
Choose whether you'd like to receive a report on a specific or all sex offenders in your area
Set the radius for the scan
We'll take it from there, and you can call it a day!
In a split second, our AI-powered app will generate a thorough report according to the parameters you set. If you opt for that, we will send weekly reports and timely alerts as well!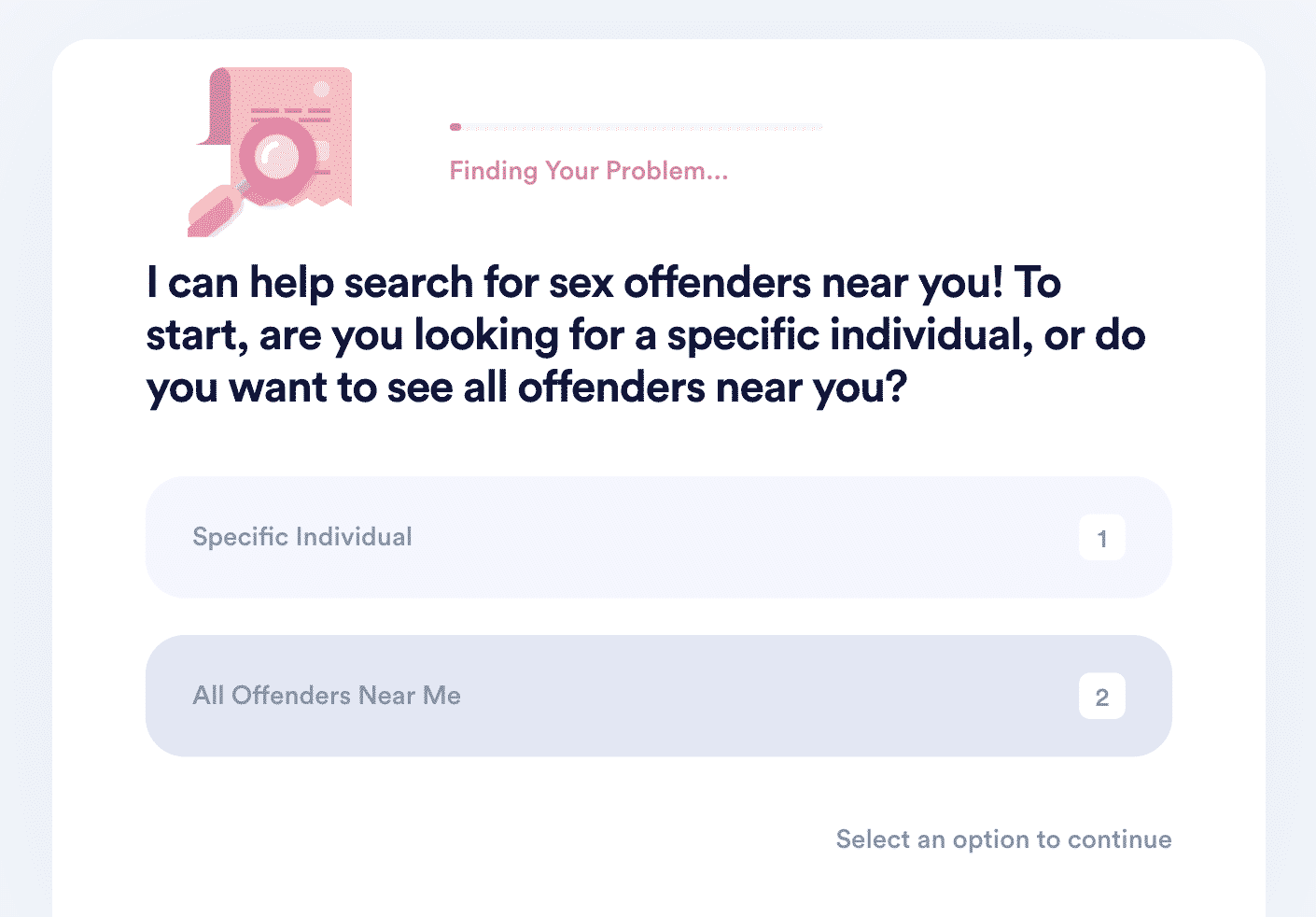 DoNotPay Makes Your Troubles Go Away
If you want an app that gets the job done, subscribe to DoNotPay! We have various features that can help you with almost anything—from canceling subscriptions and filing insurance claims to getting in touch with inmates!
It doesn't matter if you need help with bureaucracy issues or with everyday struggles because DoNotPay is your go-to app! We can help you:
Protect Your Customer Rights With DoNotPay
Have you been wronged by a company? Why not sue it in small claims court with our AI-based app? We can also help you claim any warranty or file an item return request in a few clicks! Trying to reach customer service representatives, but the phone keeps ringing? Your virtual assistant can help you jump the queue for any company in the blink of an eye!