Kansas Sex Offender Registry—Learn a More Effective Way To Search for Perpetrators
According to a report by Safehome.org, there are over 11,020 registered sex offenders in Kansas. Who are they? What do they look like? Have they reformed? So many questions may be going through your mind, but what's most important is knowing how to keep your family safe.
DoNotPay has done the work of breaking down the complicated Kansas sex offender laws in a simple Q&A format for your convenience. We will also show you how you can search the Kansas Sex Offender Registry and get quicker, hassle-free results with .
What Are the Kansas Sex Offender Laws?
According to Kansas sex offender registry law, sex offenders are required to register in their county or tribal land law enforcement agency. The offenders also have to follow several restrictions depending on their crime. The registration rules and restrictions for a Kansas registered sex offender are explained in the table below:
Questions
Kansas-specific answers
How long does a sex offender have to register?
After conviction or adjudication, a sex offender has three business days to register at the law enforcement agency of his/her residence, place of work, or school
How often does a sex offender have to register?
A sex offender needs to update the registration four times a year. The dates are predetermined depending on the month the offender was born in. The options given by the registry system are:

January, April, July, and October
February, May, August, and November
March, June, September, and December

For example, an offender born in May will need to update their registration in February, May, August, and November.

If the sex offender changes his/her address, he/she would need to update the registration within three business days

For how long should a sex offender register?
First-time offenders generally need to register for:

15 years—If they committed adultery with persons less than 18 years of age, murder, use and/or manufacture of a controlled substance, the statute may be amended and registration prolonged
25 years—For crimes involving a child
Life—If they committed a crime involving kidnapping, rape, or child trafficking

Second-time offenders need to register for life.

What information about the sex offender is available to the public?
The following information about the offender is available to the public:

Picture
Name
Date of birth
Sex
Physical description
Social Security number
Driver license number
Address
Type of offense

What if the sex offender fails to register?
An offender will be charged with level five felony for every 30 days he/she fails to register
What if a sex offender from another state is traveling to Kansas?
Sex offenders need to register with the registering law enforcement agency within three days of arrival every 30 days of his/her stay
Can sex offenders live near schools?
Currently, there are no laws that prohibit a sex offender from living next to a school in Kansas
How Do I Search for Sex Offenders in Kansas?
According to Megan's Law, information about sex offenders is available to the public. You can search for sex offenders in Kansas using the government website. Here is what you need to do:
Visit the Kansas Bureau of Investigation website
Read the Terms and Conditions and check Agree to proceed
Click on the Geographical Search tab
Enter your address
Chose the reporting compliance
Select Sex for the offender type and uncheck the rest of the boxes
Chose the search type—using either your address, ZIP code, or county
Hit Search
If you are searching for a specific offender, you have the option to search for him/her by name to find out the address and other relevant details.
You can also register to receive email notifications every time an offender registers a home, work, or school address that is near you. Here's how:
Select the Community Notifications tab
Enter your email address and the location you want to search
Chose the search type
Check the box that says I Agree
Hit Register
You will receive emails from CommunityNotification.ALERTS@kbi.state.ks.us, so make sure it is not blocked by your service provider.
Forget the Kansas Sex Offender Registry—Stay on Alert With DoNotPay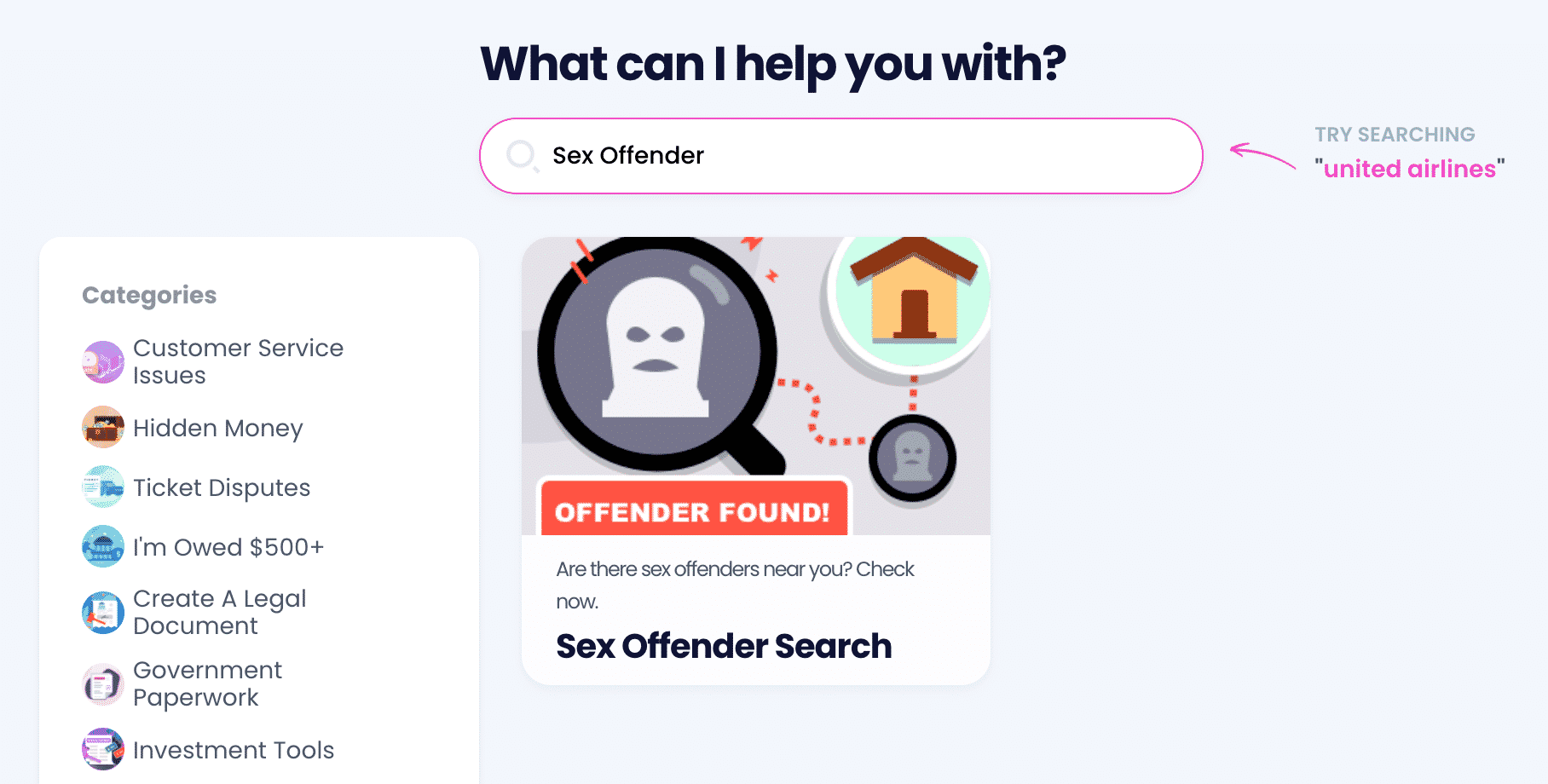 DoNotPay can run searches on sex offenders and provide results in microseconds. To use DoNotPay to search for Kansas sex offenders in your vicinity, here's what you need to do:
Key in Sex Offender in the search box
Type in your address and specify the mile range
Select the weekly check option
DoNotPay will automatically search for the sex offenders and generate a full report. You will also be set up to receive weekly updates with information on newly registered sex offenders near you.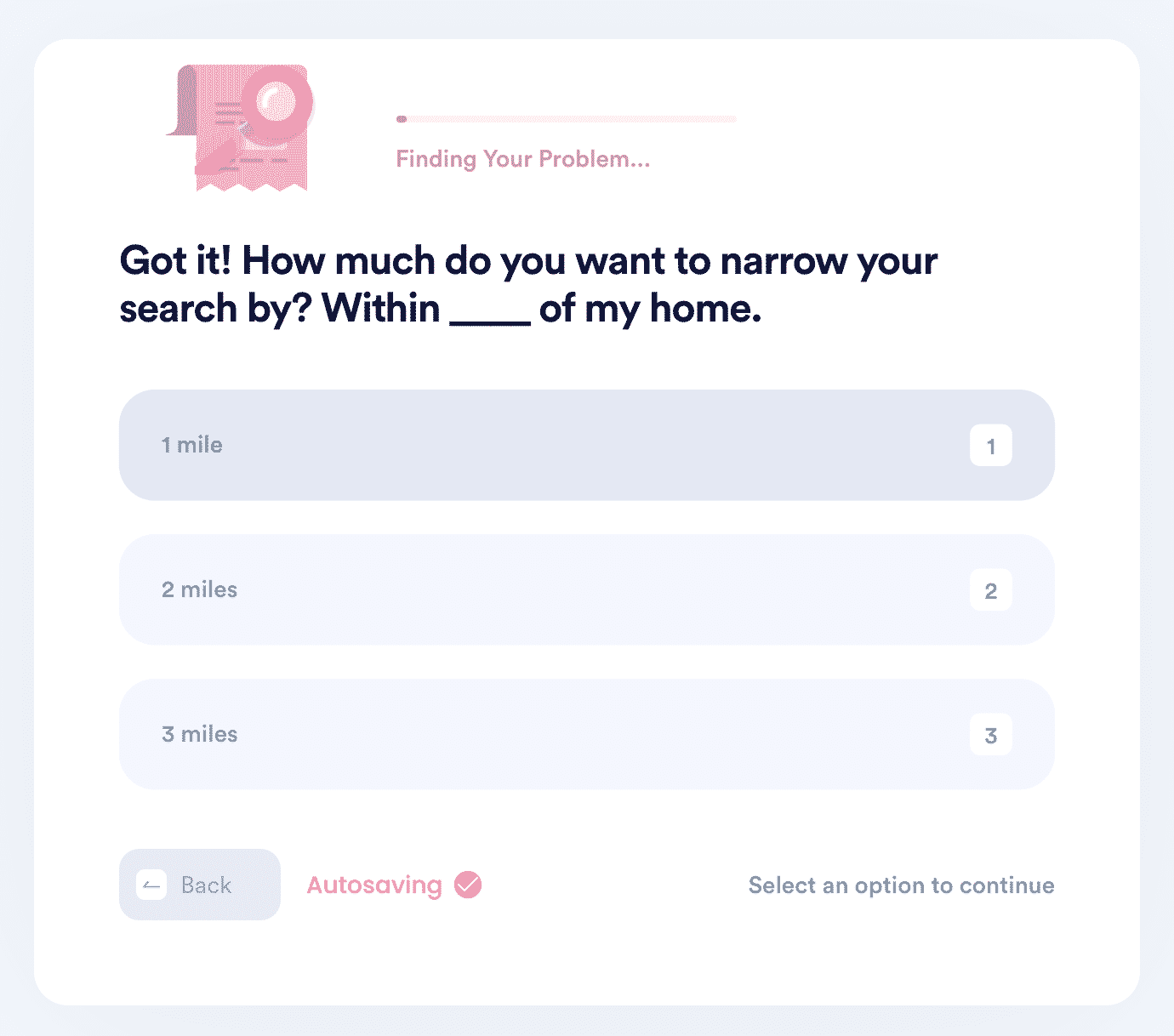 What To Do if You Find a Sex Offender Near Your Home
If you find a sex offender who lives close to your home, you can:
Talk to the sheriff and ask for any updated information
Notify your neighborhood watch team
Hold family meetings and give your children tips on how to stay safe
Hold community meetings and discuss safety measures
The important thing is not to panic. Remember that any unlawful behavior such as harassment or any act of violence against a sex offender is punishable by law.
Only the Sky Is the Limit for DoNotPay
DoNotPay has an insane number of features that keeps growing. Our platform can help you:
Say Goodbye to Spam Mail With DoNotPay
DoNotPay has designed a feature that will put a stop to the flood of junk and spam mail into your inbox! We can help you join a class action against a spammer or take any person or company that's wronged you to small claims court!
Need a virtual credit card number or a fake phone number to protect yourself from scammers? We've got you covered! We can help you fight text spam or even assist you in sending mail without any chance of error.
Our users' safety is our number one concern, so we've developed a feature that will protect you from cyber stalking or harassment!