Cowlitz County Sex Offenders—DoNotPay Warns You About Potential Threats on the Block
Keeping your children safe from sex predators requires serious research into the locations of Cowlitz County sex offenders.
Megan's Law allows you access to the local sex offender registry, and you should get familiar with this tool. The downside is that it works only for occasional searches, though.
If you want more frequent notifications, DoNotPay has a handy solution—our Sex Offender Search feature. and automate your updates on convicted predators for a foolproof family safety strategy.
Cowlitz County Sex Offender Registration Laws
The first Washington sex offender registration law was the Community Protection Act of 1990. It introduced the mandatory registration of all released sex offenders, including juveniles, so the authorities can track their location.
Cowlitz County Sex Offender Classification
Depending on the recidivism rate, all registrants are classified into three levels. The public Cowlitz County Sex Offender Registry created after the introduction of Megan's Law includes all Level 2 and Level 3 offenders.
Washington State sex offender laws also require all transient ex-convicts, as well as non-compliant and homeless Level 1 offenders, to appear on the public registry.
Compliant Level 1 offenders aren't listed publicly.
Here are the characteristics of each category and the methods of information dissemination the authorities use:
Level
Characteristics and Information Dissemination
Level 1

Low risk of reoffense
No community notification

Level 2

Moderate risk of reoffense
Fliers are distributed in the neighborhood where the offender will live
Schools, daycare centers, and other sensitive groups are notified

Level 3

High risk of reoffense
All notification methods used for Level 2
Information is also provided to the media
Legal Limitations for Cowlitz County Sex Offenders
Depending on the crime and the court ruling, some offenders can face stricter restrictions. These conditions apply only during the offender's probation period.
The sex offender rules and regulations valid for all registrants refer to:
Internet usage—Access to pornography must be disabled on offenders' devices
Changing the residence—Offenders can't move without informing the authorities
Traveling—Registrants must announce their travel plans to authorities
Handling and owning firearms—Sex offenders can't have access to firearms or ammunition
Do Non-Compliant Cowlitz County Sex Offenders Face Any Penalties?
Yes—these penalties primarily focus on an offender's failure to register but also cover other forms of non-compliant behavior.
Here is the division of penalties depending on the offender's criminal history and previous compliance practice:
| The Offender's Criminal and Non-Compliance History | The Type of Offense for Non-Compliance | The Potential Punishment |
| --- | --- | --- |
| Not convicted of a felony and didn't register | Gross misdemeanor | 364-day imprisonment and/or a $5,000 fine |
| A first-time offender who failed to register | Class C felony | Up to five years in prison and/or a $10,000 fine |
| Failed to comply more than once | Class B felony | Up to ten-year imprisonment and/or a $20,000 fine |
Searching the Cowlitz County Sex Offender Registry
Although you won't find compliant Level 1 offenders on the website, you can request their details via phone. If you live in Castle Rock, Kalama, Kelso, Longview, or Woodland, reach out to your city's police department. For all other unincorporated territories within Cowlitz County, call the Sheriff's office at 360-577-3092.
There are four search criteria you can use to browse the Cowlitz County Sex Offender Registry:
In your area—The search is based on your address. The results will appear as a list or a map
Name—The search based on the first and/or last name of an individual offender
City—The search for all offenders within the city limits
Non-compliant—This search option provides a list of non-compliant offenders within the county
You can also apply for email notifications for your area if you provide the following details:
Address
City
State
ZIP code
Email
Although it looks like a convenient way to receive news and updates, these notifications aren't reliable enough. The website states there is a possibility these emails can get lost within your Junk email inbox or rejected entirely.
Why take the risk when DoNotPay offers a better and more reliable way to stay in the loop with sex offender movements?
How To Get Direct Updates From Cowlitz County Sex Offender Registry—DoNotPay Is the Way!
Keeping up with sex offender locations and relocations can be tricky if you rely only on the state registry websites.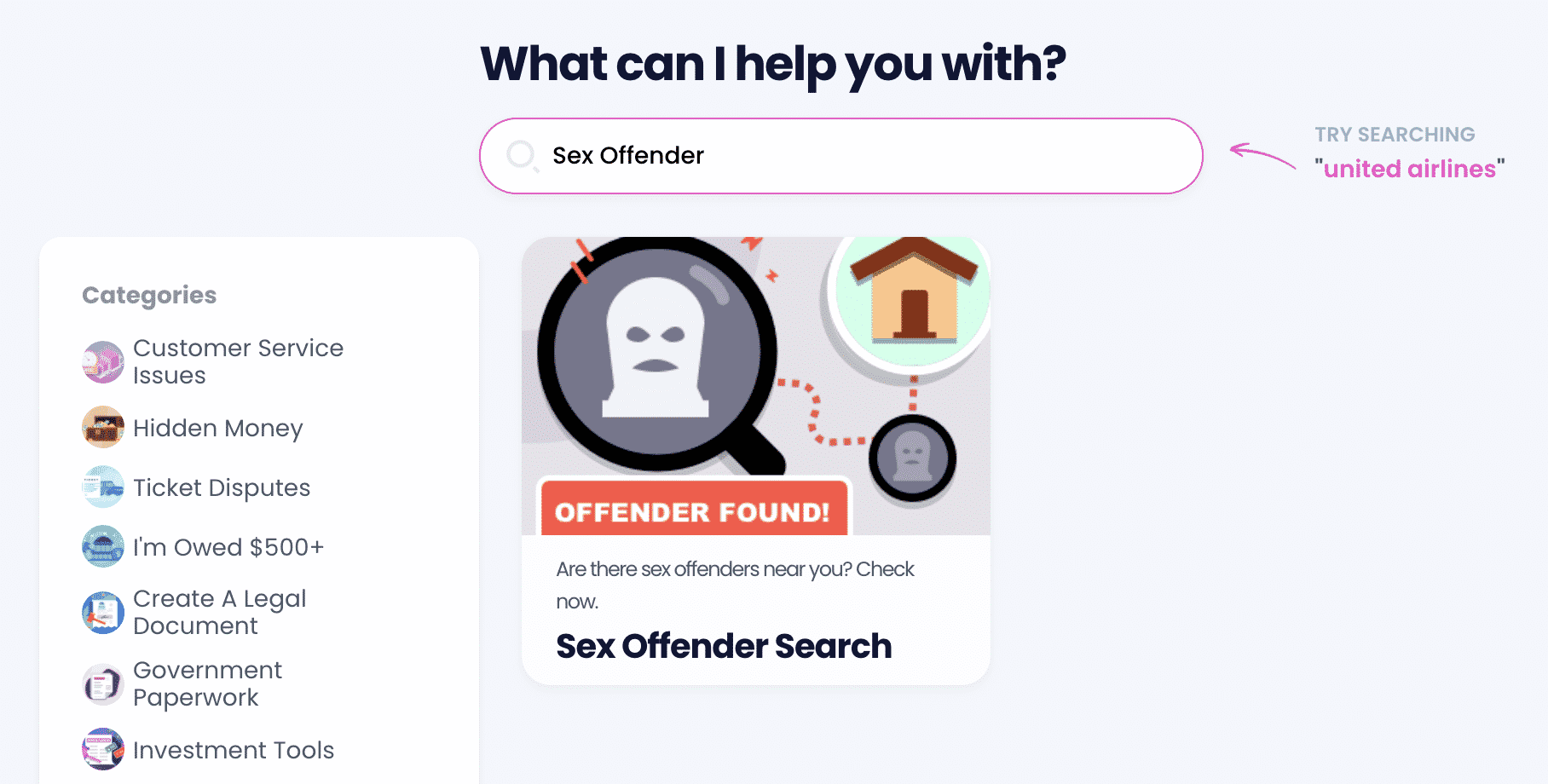 DoNotPay provides a constant flow of information from the sex offender registries straight to your inbox. Our Sex Offender Search is quick and handy. Here is how you can use it to your advantage:
and look up Sex Offender Search
Choose your search method—By name or address
Select the search perimeter—One-, two-, or three-mile radius
Set up your personalized weekly alerts for all offenders who move into your neighborhood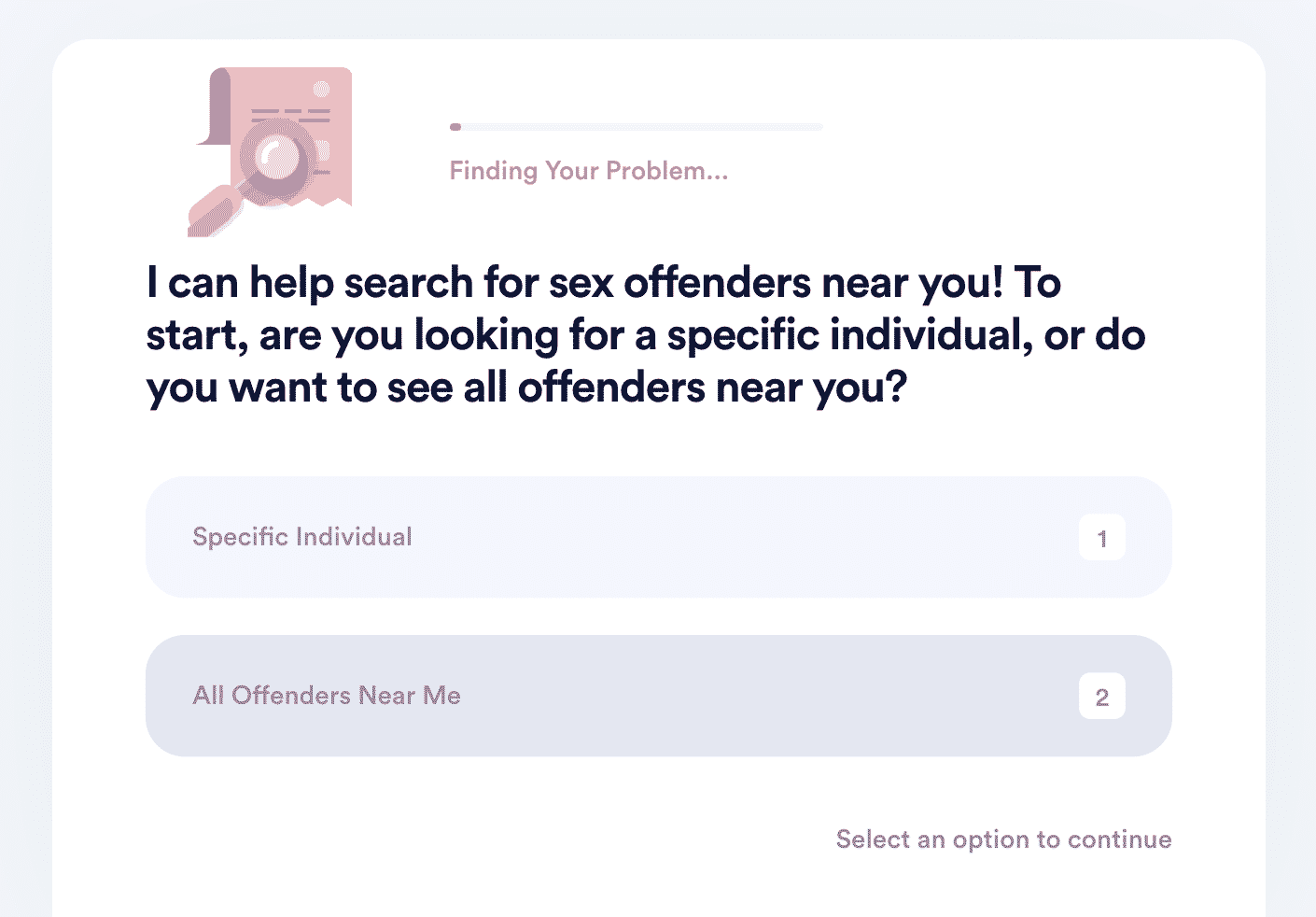 DoNotPay runs the search based on your parameters automatically and sends you the results regularly, so you don't have to waste time browsing the registry.
Why Waste Money on Lawyers When You Have DoNotPay?
Although certain tasks require you to get a lawyer's assistance, you don't have to spend hundreds of dollars for their service. With DoNotPay, you can avoid figuring out the legal jargon and have peace of mind dealing with bureaucratic tasks the easy way.
Need help preparing for a small claims court appearance or composing a neighbor's complaint letter? Looking for an easy but efficient way to draft a power of attorney or divorce settlement agreement? Use DoNotPay's features to draft legal documents, sue companies, request refunds, claim warranties, and file insurance claims while still saving a pretty penny!
Communication Is the Key
The best way to resolve issues is through clear communication, but companies don't always make it easy to do so. That's why DoNotPay came up with various features that help make communicating and solving problems a piece of cake. Sign up for our app and forget about waiting in lines for hours to speak to a customer service rep!
Here's what you can do with our app: