Learn All About U.S. Pedophile Statistics and DoNotPay's Quick Way of Pinpointing All the Offenders
Pedophile statistics show greater variability in the social and economic status of the perpetrators than the general public might think.
Don't let the sex and the age of your potential suspects fool you either—many boys have been abused by adult females, and roughly 40% of all sex offenders are juvenile offenders.
Make sure you know how to recognize the signs of a pedophile and subscribe to our service to receive weekly reports on the offenders from your state's sex offender registry. That way, you'll have the necessary info to keep your family safe from a potential predator!
The Behavior of a Pedophile—Statistics of the "Grooming"
In most cases, pedophiles can't be easily spotted. They create their reputation as upstanding and reliable citizens while they plan their crimes in the background. This image gives them access to alone time with children without raising suspicion among parents.
In front of the children, they make an effort to present themselves as trustworthy. Manipulating children's emotions is how predators succeed in luring their victims into an abusive relationship. Manipulation is also how the predators make their victims stay silent about the molestation and manage to escape with multiple crimes and no consequences.
Most child molesters get through to their victims by using the victim grooming process. Here is the overview of its stages:
The predator establishes a nonsexual relationship with the child
The victim's family gets tricked into trusting the pedophile and leaving the child alone with them
The relationship gradually becomes sexual in nature
The child remains silent and fulfills the predator's demands out of guilt
A typical pedophile offender will commit around 117 crimes, while serial predators can go well beyond that if they aren't discovered and arrested.
Why Do Abused Children Often Stay Quiet About What They Go Through?
The reasons for staying silent about the abuse depend on the victim's age. They range from feeling ashamed to not understanding what's happening.
The most frequent reasons pedophiles don't get reported is because the abused child:
Trusts the offender
Doesn't understand that they are being abused
Is not mature enough to explain the abuse
Failed at previous attempts to share the problem with the parents or guardians
Is scared of how the community would react
Is afraid that no one would trust them
Feels shame and guilt
Wants to spare the family's feelings
It's important to educate your child—explain who they should avoid and what falls under unacceptable adult behavior. Talk to your kids and listen carefully to what they say about the people surrounding them. Becoming more educated yourself will also help you spot the characteristics of a pedophile behind the image of a trustworthy friend.
Sex Offender Stats—How Close Are the Predators?
90% of the sexually abused children had known their abuser before the crime took place.
Check out the most frequent descriptions of pedophile predators in the table below:
| Offender | Details |
| --- | --- |
| People to whom the family trusts | Close family friends that parents rely on and with whom they frequently leave their child—including neighbors, school employees, priests or other clergymen, sports coaches, or people working in any other position or organization that promotes the children wellbeing |
| Family members | The younger the child, the possibility that the perpetrator is a family member is higher. In cases where the victim is six years old or younger, as many as 50% of the offenders were members of the family |
Adolescent Abusers—The Unexpected Danger
Significant number of child abusers are juvenile sex offenders. Some of these perpetrators are younger than 12.
This means that sexually abused children are often assaulted by older or physically stronger children. The offenses typically take place at school, and the offenders often attack in groups.
There is one piece of good news—juvenile sex offender stats tell us that they usually won't become adult sexual predators if they undergo rehabilitation treatment.
Keeping Up With Sex Offender Stats and Laws To Protect Your Family
29% of convicted sex offenders commit another sexual crime during the first year after they are released from prison.
The authorities work on restricting sex offenders through different rules and regulations:
Obligatory registration after release from custody
Data verification and reporting requirements, including announcing all traveling plans
Residential restrictions (often around school areas)
Penalties for unregistered and otherwise non-compliant offenders
The most helpful legislation is still Megan's Law. This and several other sex offender registration laws allow you access to local sex offender registries. These databases are available and searchable online and hold details on Tier/Level 2 and Tier/Level 3 offenders within a city, county, or state.
Learning the identity of these dangerous sex offenders enables you to protect your child from the danger lurking nearby.
Don't Let the Pedophile Statistics Frighten You! Stay Safe With DoNotPay!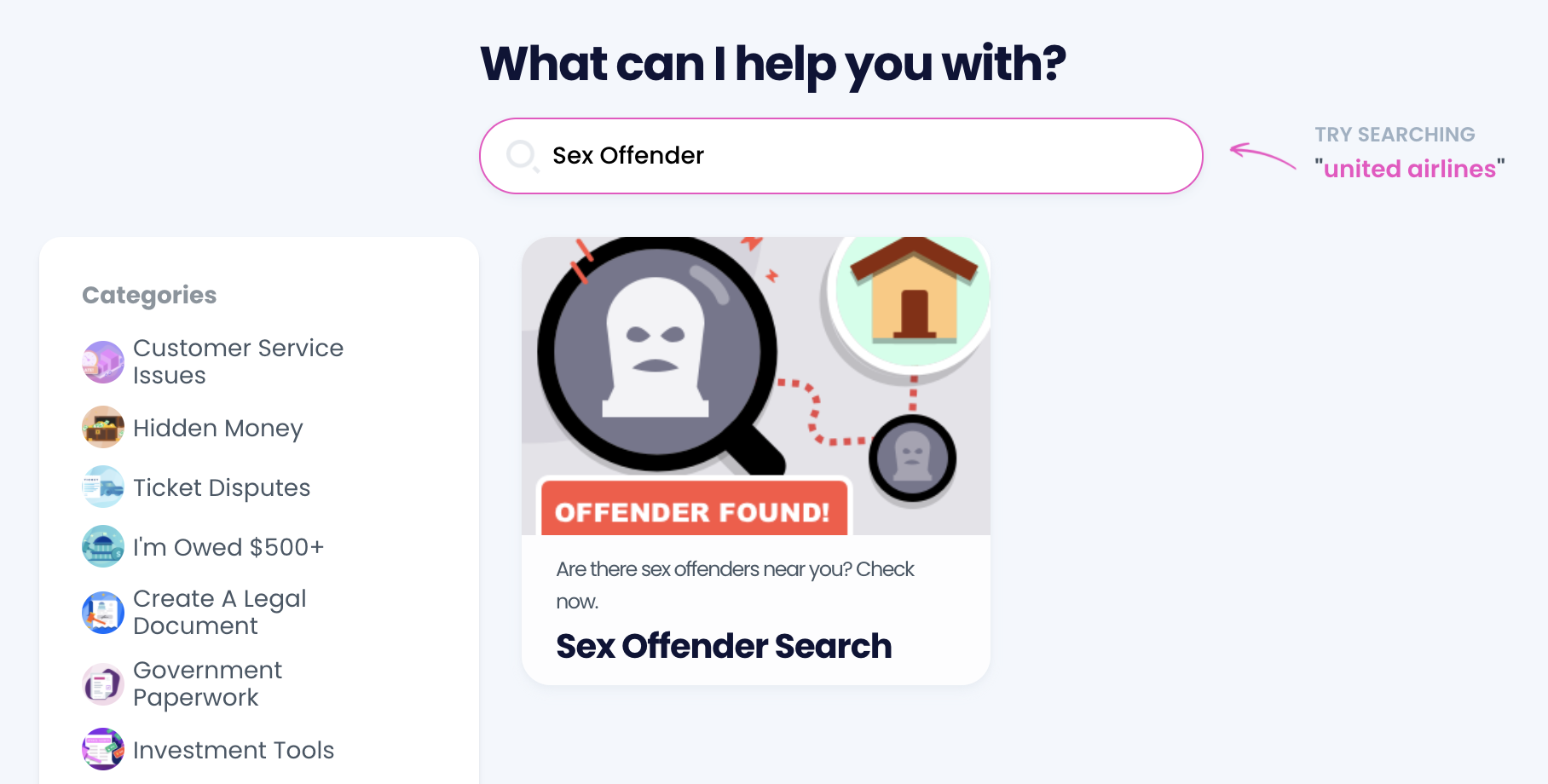 Browsing through public sex offender maps and lists can take up a lot of your time. Relying on email alerts from the official registry websites can be a poor decision because these emails can frequently fail to reach you.
DoNotPay has a better solution—our new Sex Offender Search tool that is reliable and easy to use. Here are all the setup steps:
Open your DoNotPay account and find Sex Offender Search
Select one of the search methods—search by an individual offender's name or request an area scan based on your address
Pick the desired search radius—one, two, or three miles
Sign up for weekly reports about the new sex offenders in your neighborhood
Our app runs automated searches and delivers regular notifications that you can access from any device.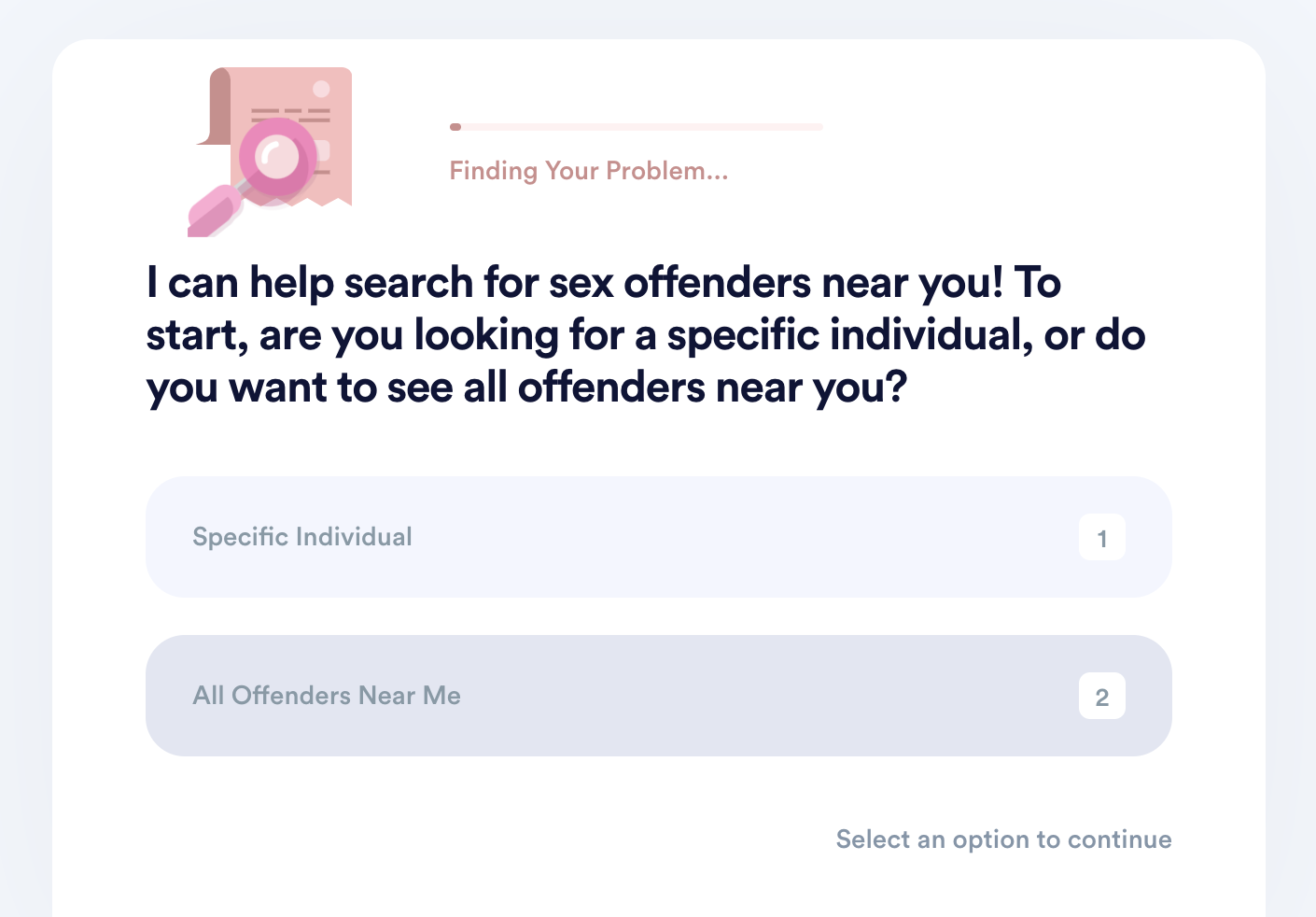 DoNotPay Makes Administrative Hurdles a Piece of Cake
If you ever needed to deal with an administrative task, such as drafting a valid legal document or paying property taxes, you know that it's a struggle. The good news is—it doesn't have to be!
With a bit of assistance, you can draft a POA document and learn how to reduce your property taxes in a jiffy!
DoNotPay will also show you how to tackle any of the following tasks like a pro:
We Offer More Helpful Tools!
Helping you deal with bureaucratic hurdles isn't everything we got in store for you! DoNotPay boasts various other nifty tools that you can use to deal with everyday tasks. You can: