Everything You Need To Know About the Louisiana Sex Offender Registry
Louisiana has more than 13,000 registered sex offenders. The number of unregistered ones is up for speculation. This article will focus on the registered sex offenders, the restrictions they face, and their classification.
Read our guide and learn how to use the Louisiana sex offender registry to locate the offenders in your neighborhood. Note that the official online registries can have a slow response, unintuitive page design, and server downtime.
DoNotPay has a better alternative— to receive automated weekly updates, and rest assured that no registered sex offenders in the area will go undetected.
Louisiana Sex Offenders Registry Laws Every Concerned Resident Should Be Aware Of
All U.S. states, including Louisiana, have a list of registered sex offenders, which was made publicly available thanks to Megan's Law. Louisiana sexual offender registration laws state that offenders have to register with the sheriff's office in their county if they committed one of the following crimes:
Kidnapping of children
Child trafficking
Molestation
Rape and aggravated rape
Sexual battery
Even juvenile sex offenders need to register if they:
Are 14 years old or older, and they committed the following crimes:

Rape
Aggravated kidnapping
Other sexual misconduct to individuals younger than 13

Pled guilty to or have been convicted of certain sex offenses or second-degree kidnapping
Sex offenders can get fined and face up to 20 years in prison with hard labor if they don't follow the registration laws.
Sex Offender Tiers in Louisiana Explained
Not all sex crimes are the same, which is why sex offenders in Louisiana are categorized based on the severity of the offense and the risk of reoffending, as follows:
| | | |
| --- | --- | --- |
| Sex Offender Tier | Crime Committed | Registration Period |
| Tier 1 (low risk) | Non-aggravated sex crimes against adults | 15 years |
| Tier 2 (moderate risk) | Sex crimes against minors | 25 years |
| Tier 3 (high risk) | Aggravated sex offenses against adults and children | Lifetime registration |
What Restrictions Do Sex Offenders in Louisiana Face?
Sex offenders in Louisiana face residential, occupational, travel, and other restrictions, as follows:
Offenders are not allowed to:

Use parts of the public libraries in Louisiana frequented by minors
Visit the areas designated for children
Get limo, taxi, or bus driving jobs

Lousiana sex offenders must live within at least 1,000 feet of any area frequented by children
Offenders can travel to other states and even leave the U.S. if they follow the registration rules of their destination state or country
How To Search the Louisiana Sex Offender Registry
Follow the instructions below to search the official Louisiana sex offender registry:
Open the Louisiana State Police website
Click on Begin Searching for Offenders
Read the Conditions of Use
Select I Agree and hit Submit
Select your parish on the sex offenders map
Tap on Click Here To Search for Offenders in Your Area
Enter all the necessary details in the In Your Area tab
Click on Search
Using this method, you will receive the info on sex offenders in the specified radius.
You can also use the City, Email, Name, Non-Compliant, and Phone Number search tabs by entering the respective information and pressing Search. While these search results are more specific, the area sweep is the best for keeping tabs on your neighborhood safety.
Searching Louisiana's official sex offender registry on your own can be overly complicated and time-consuming. DoNotPay has a better alternative that will give you peace of mind and save a lot of time!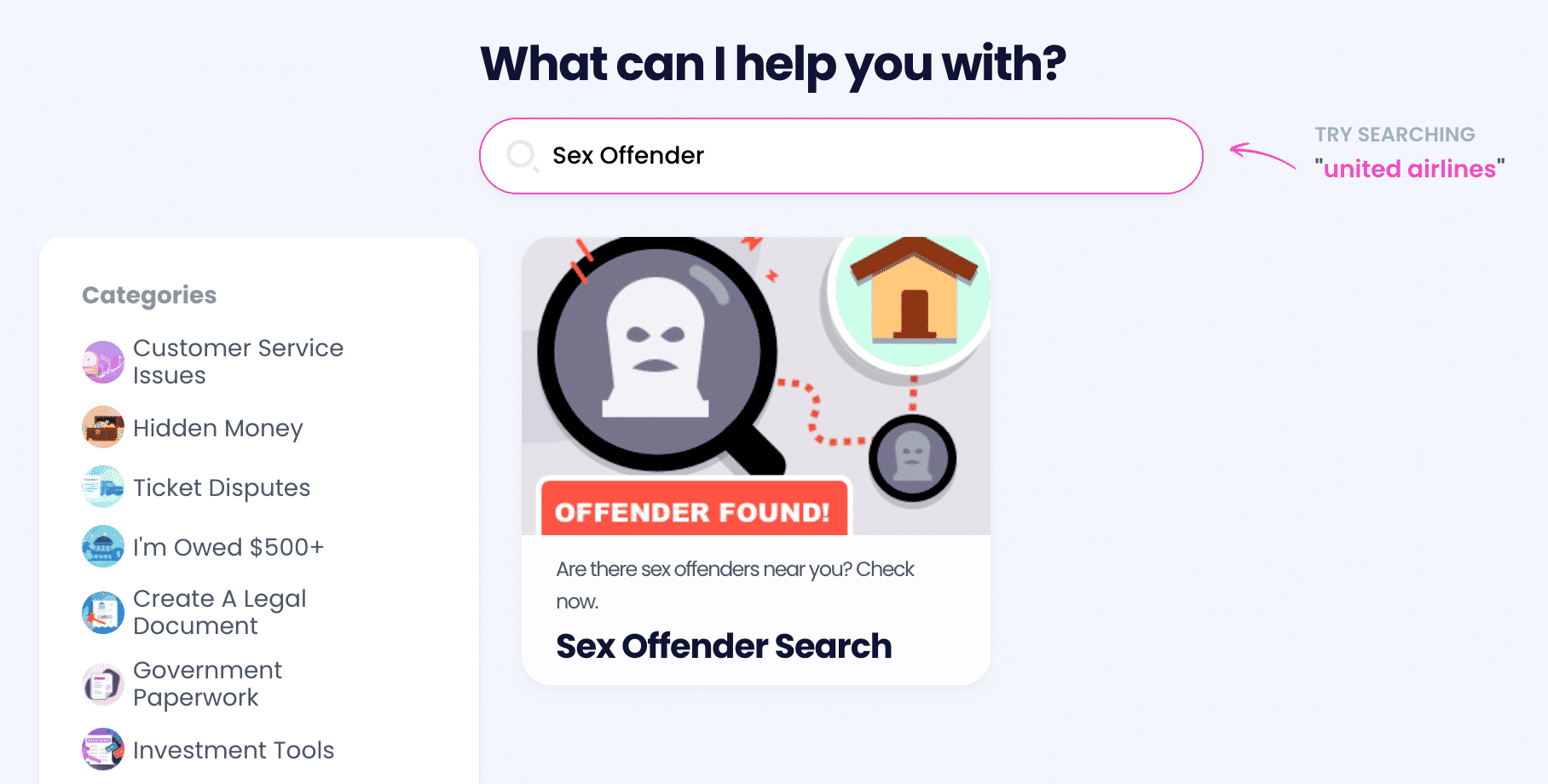 Use DoNotPay To Perform a Sex Offender Search for Your Area
Sifting through the sex offender registry can be exhausting, and it's unnecessarily difficult. DoNotPay has a better option for you! We can send you weekly updates or help you perform one-time searches on local sex offenders in a few clicks. Here's what you need to do to start your search:
using any web browser
Set the parameters for the search
Select between the one-time check or the weekly check-in option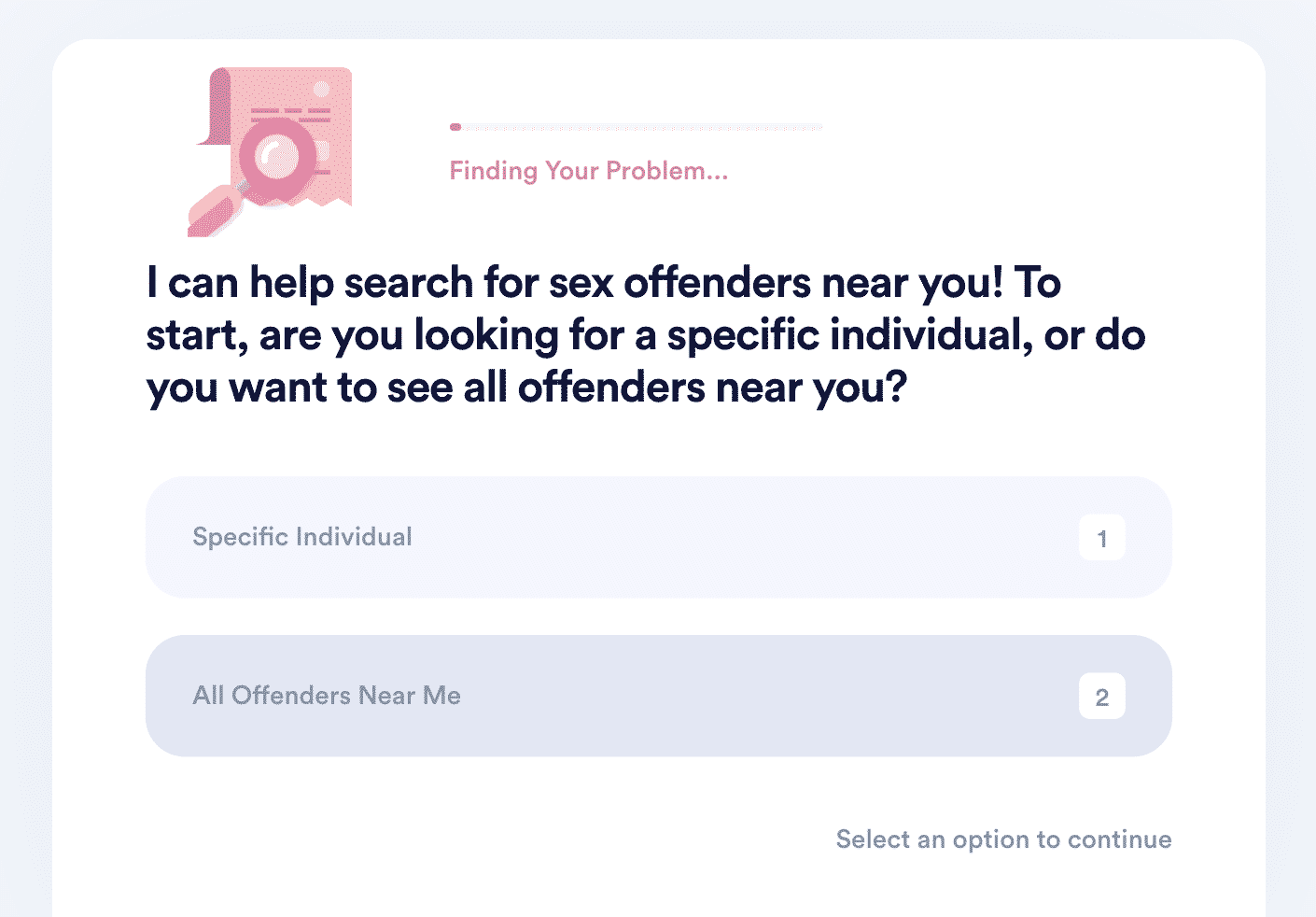 DoNotPay will perform an automatic and comprehensive scan of all sex offenders in your area or find a specific person you're looking for. We will report the results back to you as soon as possible.
Are Sexual Offenders in Louisiana Allowed To Use Social Media?
Louisiana has strict laws that keep sex offenders in line. The law prevents sex offenders from using all social media websites, chat rooms, peer-to-peer networks, and apps if they were convicted of:
Video voyeurism
Indecent behavior with juveniles
Juvenile pornography collection, distribution, or production
Electronic solicitation of minors
Other sex offenses involving minors
Sex offenders can't regain permission to use social media—Facebook, for example. The fines for disobeying this law go up to $20,000, and the corresponding potential jail sentences can be as long as 20 years.
Tackle Any Legal Task With Our Lawyer App Like a Pro!
Why bother with tedious legal tasks on your own when you can let DoNotPay cut your work in half? No more worrying about how to draft legal documents or sue a company in small claims court—we'll guide you through it effortlessly!
There is no shortage of tasks our Al-powered app can help you with. Once you sign up, you'll learn how to:
Fight Scammers in a Few Clicks!
Is your phone buzzing incessantly, and you can't take it any longer? Use DoNotPay to stop annoying robocalls and fight scammers with ease!
Having a company spam you with unwanted emails about their products isn't uncommon, but that doesn't mean you have to put up with it. DoNotPay helps you create a burner phone number, fight email spam, and stop spam text messages in a snap!
You can also find our features super useful when requesting a refund, filing insurance claims, and locating your missing USPS, UPS, or other parcels.