New Mexico Sex Offender Registry—Laws, Search Options, and Restrictions Guide
The number of registered sex offenders in New Mexico in 2021 is close to 4,000. Some neighborhoods have more registered offenders than others, but thanks to Megan's Law on sexual offenders, you can find exactly how many of them live in your area.
The New Mexico sex offender registry is publicly available to everyone, and you can use it to check on specific persons (except for unregistered offenders) or do an entire area sweep. Since manual check-ups are outdated and slow, DoNotPay offers weekly automated sex offender alerts. and stay alert, hassle-free!
Sex Offender Registry NM—Essential Rules
Sex offenders registration law in New Mexico made registration mandatory on July 1, 1995. The convicted offenders must register with the Department of Public Safety of New Mexico immediately after leaving jail. The same goes for offenders on probation and parole.
When the info changes, such as an address or their place of work, the registrants must report the change within five business days. Sex offenders from other states moving to New Mexico have ten workings days to register.
Every sex offender must disclose the following details:
Legal names and aliases
Social Security number
Current residing address
Employment location
Date of birth
Sex offenses they were convicted of
Date and place of their conviction
Sex Crimes Requiring Registration on the NM Sex Offender Registry
The following crimes would put a convicted criminal on the state sex offender registry:
Kidnapping and false imprisonment of a minor, unless the offender is the parent of the victim
Aggravated indecent exposure
Enticement of a minor
Incest if the victim is a minor
Solicitation of criminal sexual contact with a minor
Prostitution of a child
Sexual exploitation of a child
Criminal sexual penetration and contact with a child or adult
Juvenile sex offenders found guilty of the above-mentioned crimes also need to register in New Mexico, but their information is not publicly available unless they present a danger to society.
New Mexico Sex Offender Tiers Explained
The types of sex offenders are classified according to the nature of their crime, which also determines the registration requirements. The U.S. has a general tier system for ranking sex offenders from less to the most dangerous. Refer to the table below for details about the sex offender levels:
| | | |
| --- | --- | --- |
| Sex Offender Tier | Registration Time and Frequency | Crimes Committed |
| Tier I | For 15 years (verified every year) | Voyeurism, public indecency, illegal pornography possession, non-violent sexual contact |
| Tier II | For 25 years (verified every six months) | Sexual enticement, production, or distribution of child pornography |
| Tier III | For a lifetime (verified every three months) | Child trafficking for sexual purposes, sexual abuse or assault, kidnapping, and rape |
The New Mexico sex offender registration rules deviate from the tier system in case the offender was convicted:
Between July 1, 1995, and July 1, 2005—The severity of the crime will determine if they register for 10 or 20 years. If not incarcerated, on parole, or probation, they don't need to verify the registration
Between July 1, 2005, and July 1, 2013—The offenders are required to register for 10 years every year or the entirety of their life every 90 days based on the crimes they committed
After July 1, 2013—Based on the severity of their crimes, they are required to register for 10 years every six months or for life every 90 days
Restrictions Faced by Registered New Mexico Sex Offenders
Sex offender residential restrictions by state can be strict, but New Mexico is pretty lenient with limitations. NM sex offenders can freely travel to other states if they follow the visiting state's registry laws.
Convicted sex offenders are not allowed to disobey registry laws. The non-compliance penalties are fines of up to $1,000 and imprisonment for up to a year.
These measures should lower the recidivism rate of sex offenders, which is rather high—between 11.1% and 17.5%, depending on the treatment.
How To Search the New Mexico Sex Offender Registry
Everyone can use the New Mexico sex offender registry by following the instructions below:
Open the Department of Public Safety website
Read and agree to the terms and conditions of use
Click on Continue
Confirm that you are not a robot
Tap the Click Here to Search for Offenders in Your Area button
Enter the parameters for the sex offender map
Hit Search
If you prefer, you may use the Name, City, Non-Compliant, Phone Number, or Internet Name search options by clicking on their corresponding tabs and repeating the steps.
Use DoNotPay's Efficient Sex Offender Search for Your Area
Even though the official means of checking the New Mexico sex offender registry provide temporary relief, they are not ideal for dealing with sexual predators in your neighborhood. For example, a predatory offender might change residence, and you wouldn't be automatically informed.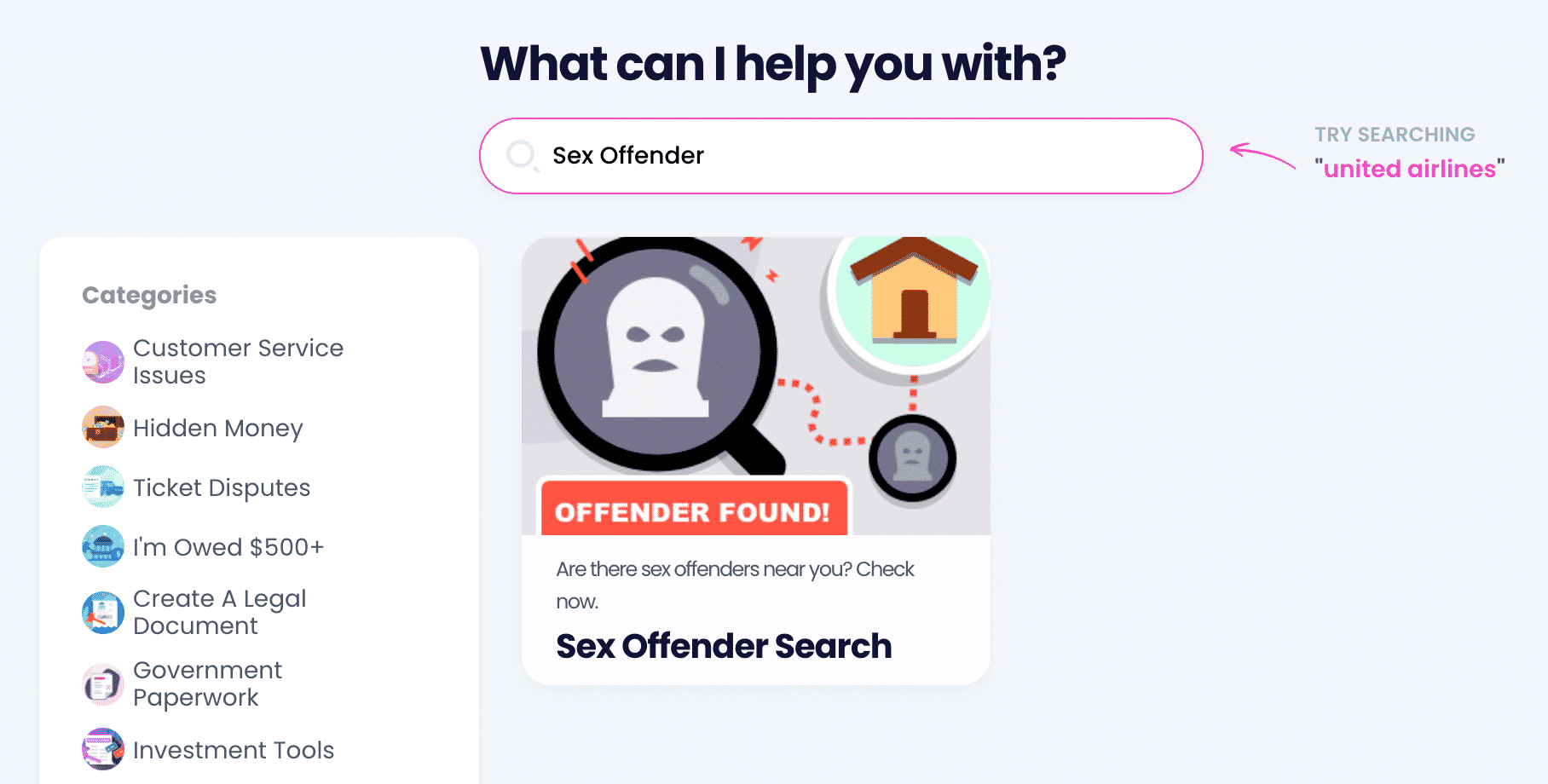 DoNotPay's Sex Offender Search tool sends you weekly reports and updates on sex offenders in your area. All you need to do to use it is:
Choose between the area and name search options
Enter the search parameters
Select the weekly scan feature (optional)
We will act as your ever-vigilant neighborhood watch and provide the latest info on potential threats near you!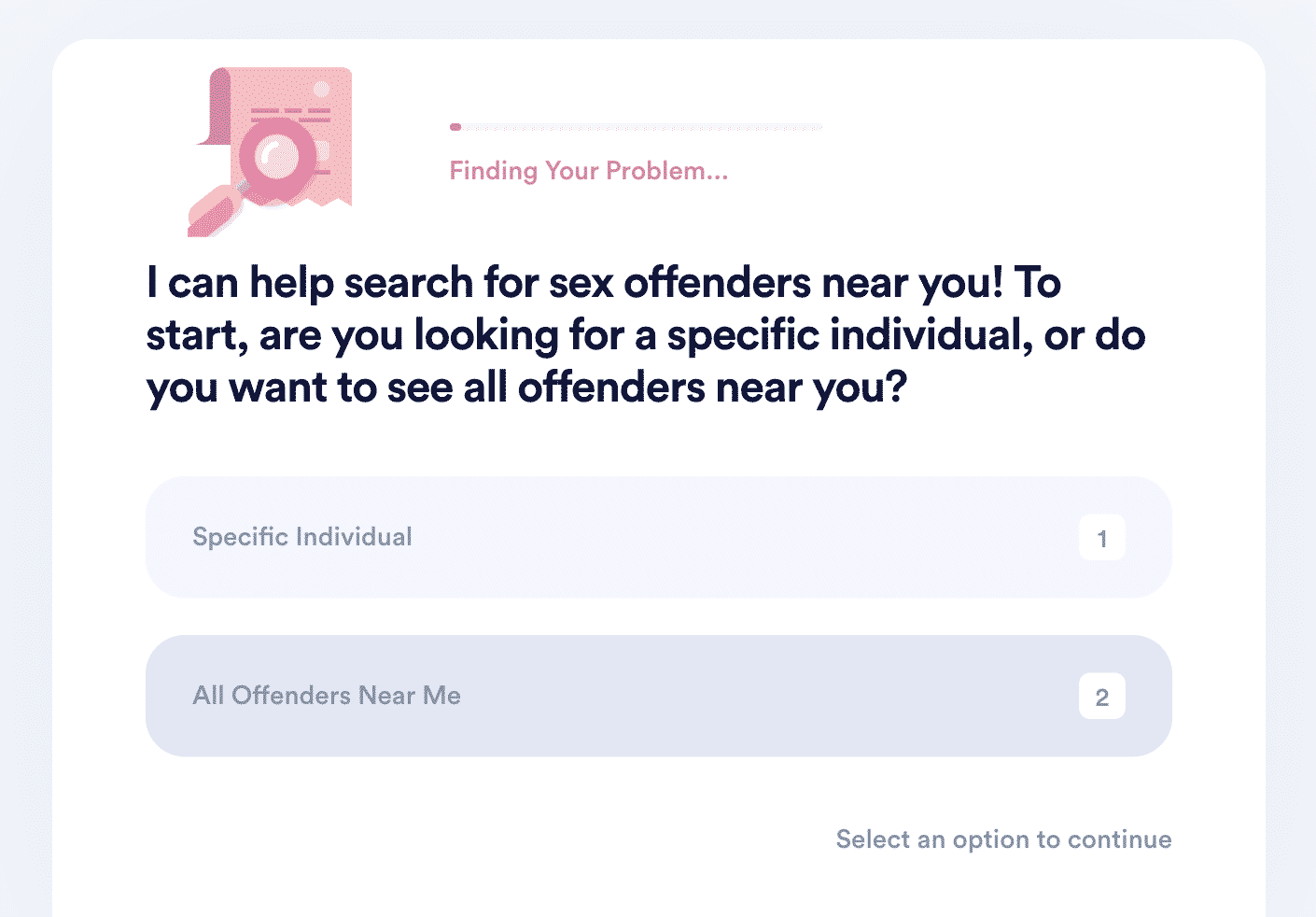 No More Wasting Money on Lawyers
Spending hundreds of dollars on lawyers seems like a waste, especially when you have a more convenient solution at your fingertips. We developed various neat features that make performing dull legal tasks feel like a breeze! The best part is that you can use them from the comfort of your home or office.
Consult the list below to see the tasks DoNotPay can help you with:
DoNotPay Offers Additional Helpful Tools
Legal tasks aren't the only ones DoNotPay can help you with! We can provide assistance for an abundance of different tasks—from stopping the pesky spam emails to contacting your incarcerated loved ones. Check out the table below and learn how to use our app to:
| | |
| --- | --- |
| Deal With Companies | Deal With Other Tasks |
| | |