Oregon Offender Search—How To Look Up Imprisoned Sex Offenders
There are more than 750,000 entries in the sex offender registries across the U.S., with over 1,472 residing in Oregon. Note that there are many others who are unregistered as they are still serving their sentence. To look up imprisoned sex offenders, you can use the Oregon Offender Search system, and we will show you how to do it.
To add another layer of protection and not miss out on crucial information when they get out of jail, you can and receive weekly reports and timely alerts regarding sex offenders that are fresh out of prison. We also went through the laws and restrictions sex offenders are subject to so you can stay in the loop!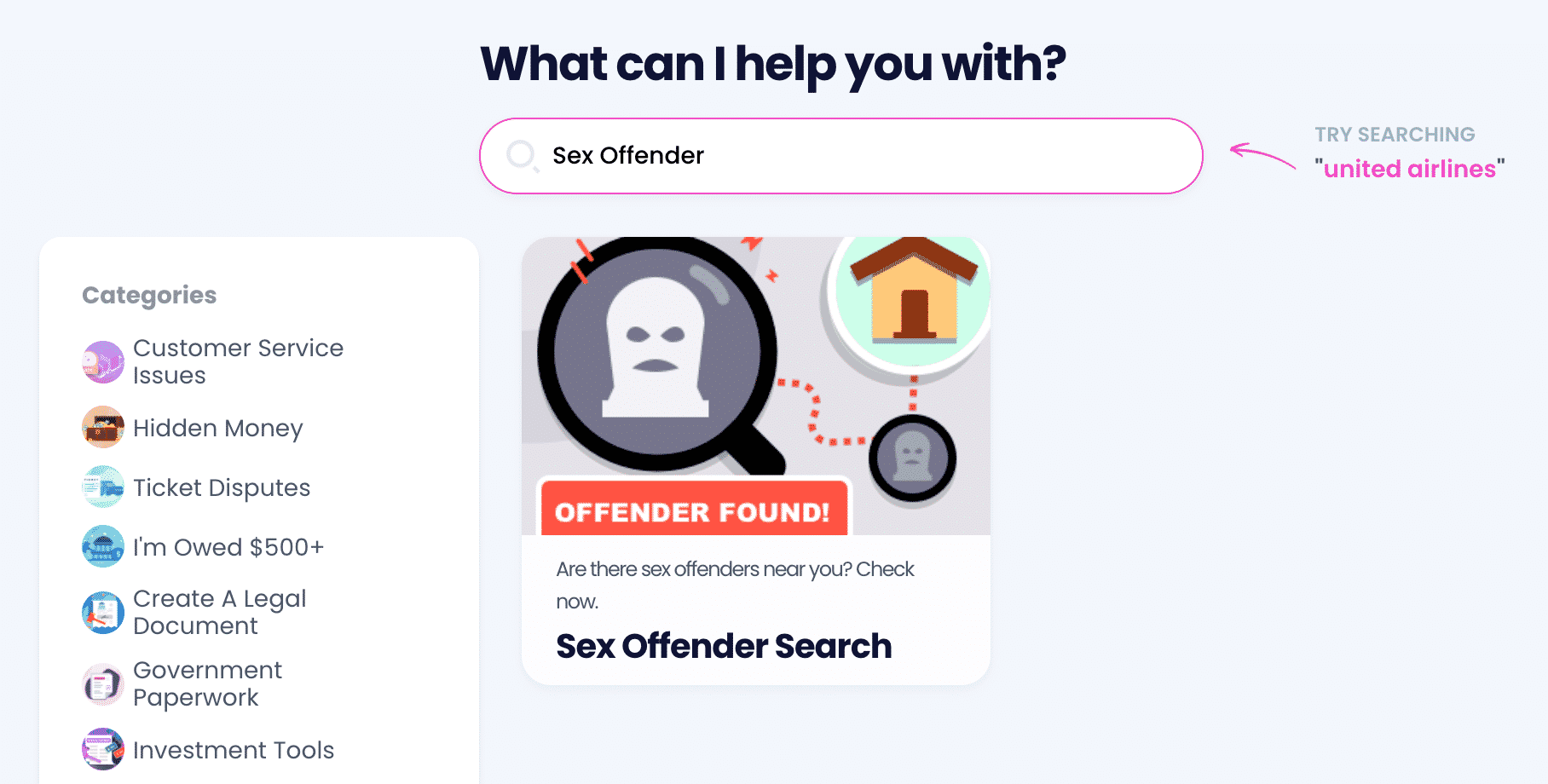 The Oregon Offender Search System vs. The Oregon Sex Offender Registry
In an effort to provide accurate information, the State of Oregon introduced two systems for searching registered sex offenders—the Oregon Offender Search (OOS) and the Oregon Sex Offender Registry.
The main difference between the two is that the Oregon Offender Search system grants access to information about offenders that are in the custody of the Oregon Department of Corrections or a local Community Corrections office. It is under the jurisdiction of the Oregon Department of Corrections (ODOC).
The Oregon Sex Offender Registry is administered by the Oregon State Police, and it shows information about all registered sex offenders that are no longer in custody.
Oregon Department of Corrections Offender Search Explained
The ODOC offender look-up process is simple but also limited. Before accessing the information, you have to agree to the ODOC disclaimer notice explaining that:
The ODOC doesn't guarantee accuracy, nor does it make any warranties regarding the validity of the information
The Department doesn't assume any liability or responsibility when it comes to the accuracy or completeness of the information provided
The information is updated periodically and may change
The information shouldn't be considered an official record by any law enforcement agency or the general public
How To Use the Oregon DOC Offender Search
Once you accept the disclaimer notice, you will be redirected to the search page. While sex offender registries support multiple search methods, such as browsing by ZIP code or email address or through map search, you can filter the results in the Oregon Offender Search system only by name.
Here's what you need to do:
Enter the offender's first, middle, and last name
Enter their State Identification (SID) number
The information in every field is combined, and you'll see results that match all of the data you provided. If you don't know all the details, fill out only the fields you're certain about, leaving the other ones empty.
The Oregon Offender Search system also accepts partial searches using an asterisk (*), known as Wild Card. For example, if you know that the offender's name starts with Rob but you're not sure whether his full name is Robert or Roberto, you can enter Rob* in the field, and the system will return all records containing the word Rob.
You can see the convict's:
Full name
Gender
Height
Weight
Date of birth
Race
Hair and eye color
Custody institution
Status
Institution admission date
Earliest release date
Which Sex Crimes Are Considered Registerable?
There are many crimes that can cause an offender to end up on the Oregon Sex Offender Registry, including:
Rape
Sodomy
Incest
Unlawful sexual penetration
Using a child displaying sexually explicit conduct
Encouraging child sexual abuse
Contributing to the sexual delinquency of a minor
Distributing child pornography
Paying to see a child's sexually explicit conduct
Sexual corruption of a child
Using child pornography to induce a minor to engage in sexually explicit conduct
Any type of sexual misconduct if the offender is 18 or older
Compelling or promoting prostitution
Sexual assault of an animal
Indecency if the offender has a prior sex crime conviction
Human trafficking
Kidnapping a person under 18 years for sex
According to Oregon laws, convicts must register after being released from prison. Depending on the risk they present for society, they are classified as:
| | |
| --- | --- |
| Category | Risk Level |
| Level I | Lowest risk of reoffending and require minimal notification |
| Level II | Moderate risk of reoffending and require moderate notification |
| Level III | High risk of reoffending and require high notification |
All offenders must report in person to law enforcement agencies in their counties within ten days of being released from prison. Thanks to Megan's Law, the information they provide is available to the general public in Oregon's Sex Offender Registry.
How Can I Keep Track of Sex Offenders That Were Released From Prison?
Once the perpetrator is out of prison, they may move into your neighborhood. They are allowed to travel freely and reside anywhere they want.
To ensure your family's safety, you need to be aware of the sex offenders' whereabouts at all times. While you can check the Oregon Sex Offender Registry on your own, we offer to do it in your stead and notify you about sex predators in your proximity.
All you need to do is:
and navigate to our Sex Offender Search feature
Narrow down the search by selecting to look for a specific offender or all the offenders in your area
Enter the proximity you wish to have checked—one, two, or three miles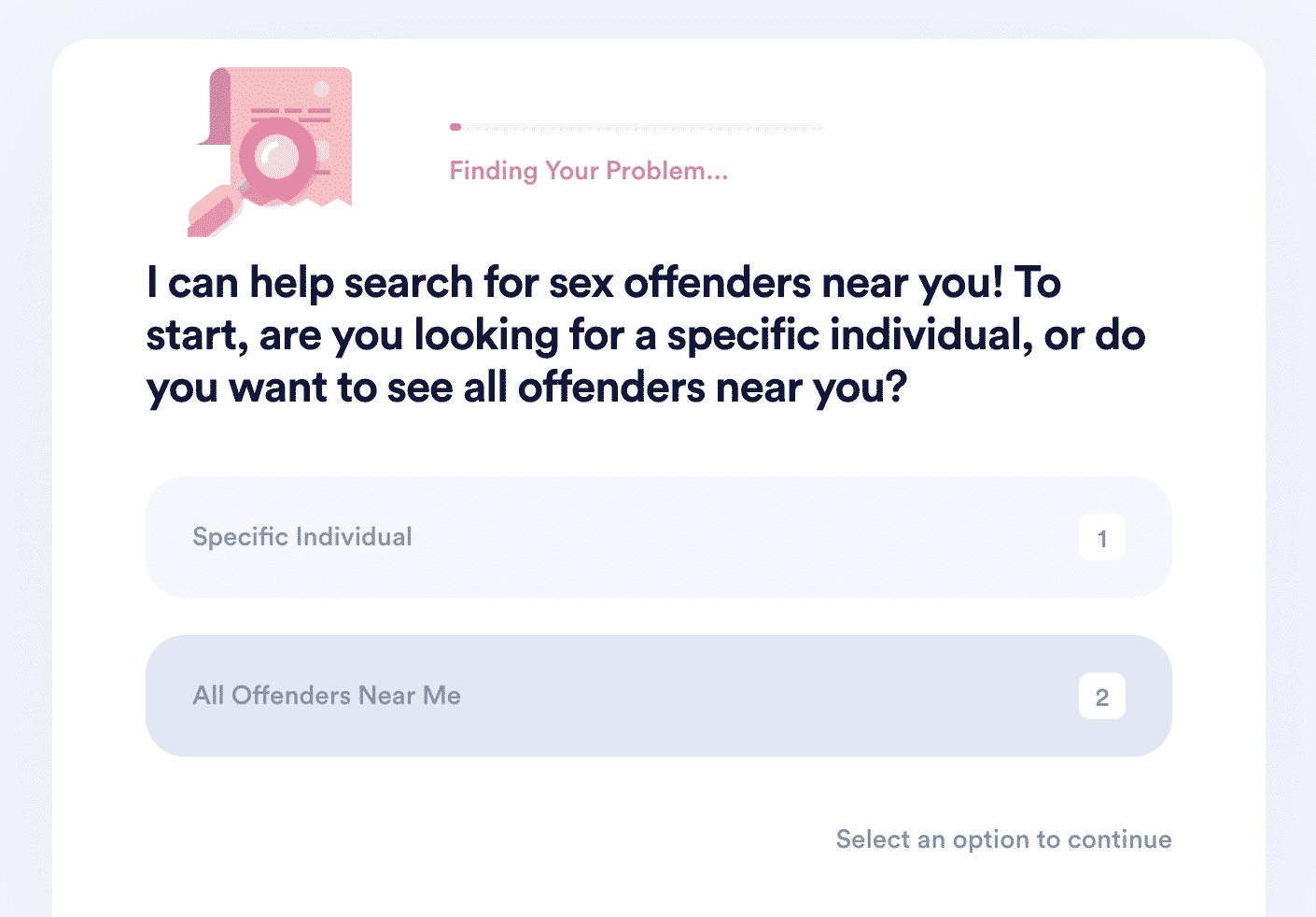 Rely on our Oregon Sex Offender Registry guide if you want to learn how to search it. In case you want to know what sex offenders are not allowed to do or you're curious about their rights, we can help you out with that as well!
Get an Extra Buck or Two With DoNotPay
Besides being able to assist you with almost any legal issue, DoNotPay can also help you get some extra money! We can cancel any unused memberships and prevent you from being charged after free trial periods are over with our virtual credit card.
Can't claim a warranty or get cash back for a gift card? Subscribe for DoNotPay and consider it done! We can also help you return items to almost any company or even help you get a refund in a few clicks!
Helping you jump the customer service queues is also not a biggie for us, as well as taking the company that wronged you to small claims court!
No Problem Is Unsolvable for DoNotPay
By subscribing to our platform, you get access to a plethora of handy features that can help you with: