DoNotPay Makes Searching for El Paso Sex Offenders a Piece of Cake!
Mapping the whereabouts of registered sex offenders in your area can be difficult, especially if your state's registry website isn't user-friendly. That's why we're here—to present you with a super easy and convenient way to search the El Paso sex offender registry!
Once you subscribe to DoNotPay, you'll be able to find registered sex offenders in minutes and get weekly reports on sex offenders in your neighborhood.
El Paso Sex Offender Laws
Texas sex offender law states that every person who commits a sexual offense has to register with local authorities. Upon registering, sex offenders have to provide personal information, such as their names, aliases, addresses, and photographs. All this info is then released and can be found while searching sex offender registries. The information about registered sex offenders is available to the general public thanks to Megan's Law.
By law, registered sex offenders are classified into three categories based on the risk they pose and the offenses they've committed, as follows:
Category
Crime
Tier I (low-risk)

Acts of prostitution (consensual)
Indecent exposure

Tier II (moderate-risk)

Aggravated sexual assault
Sexual acts involving a minor

Tier III (high-risk)

Human trafficking
Prohibited sexual conduct
Compelling prostitution of a minor
Unlawful restraint or aggravated kidnapping
An offender who commits violent sexual offenses repeatedly is labeled as a sexually violent predator and is required to go to therapy under the supervision of law enforcement. Sexually violent predators fall under the tier III sex offender category and are considered some of the most dangerous offenders.
How Long Do El Paso Sex Offenders Stay Registered?
El Paso sex offenders have to stay registered either for ten years or life, depending on the severity of their crimes. Check out the list below for more details:
El Paso Sex Offenders—Restrictions
Sex offenders in El Paso, Texas, face a number of restrictions, including:
Residential restrictions—Residing near schools, public playgrounds, and other places where children often gather is forbidden for sex offenders in Texas. Offenders whose offenses involved a minor have to live at least 500 feet away from previously mentioned places
Travel restrictions—Traveling to another state isn't off the table for registered sex offenders in El Paso, but they have to register with that state upon arrival and notify the law enforcement of their state of residence about traveling
Employment restrictions—Getting a job that involves caring for or supervising children isn't allowed for registered sex offenders in TX
Some offenders will try to remain unregistered to avoid the above-listed restrictions, which leads to them getting fined or even incarcerated.
How To Search for Registered Sex Offenders in El Paso, TX
The best way to keep yourself and your loved ones safe from registered sex offenders in El Paso, Texas, is to locate those near you. You can search the sex offender registry by visiting the Texas Department of Public Safety (TXDPS) website. You'll be presented with two ways of searching—by using a sex offenders' map or a registrant's name. Follow the steps below to get started:
Go to the TXDPS website
Provide the necessary information
Select Search
After you complete the above-listed steps, you'll gain access to offenders' personal info, including their names and addresses. Bear in mind that the TXDPS website isn't updated daily. If you're looking for a way to stay informed at all times, DoNotPay is your safest bet.
DoNotPay Finds El Paso Sex Offenders and Keeps You Updated About Them!
Why would you worry if a sex offender moved to your area without your knowledge when you can stay in the loop with DoNotPay? Forget about being in the dark and use our app's neat feature to locate sex offenders and get weekly reports about them! Here's how:
Register with DoNotPay and pick our Sex Offender Search tool
Tell us whether you want to find a specific sex offender or get a list of all the registered ones near you
State whether you want to get weekly alerts from us
That's it! DoNotPay conducts the sex offender registry search and provides you with all the details in no time!
If you choose to get weekly alerts from us, we'll make sure to keep you in the loop about newly registered sex offenders and send you updated reports every week.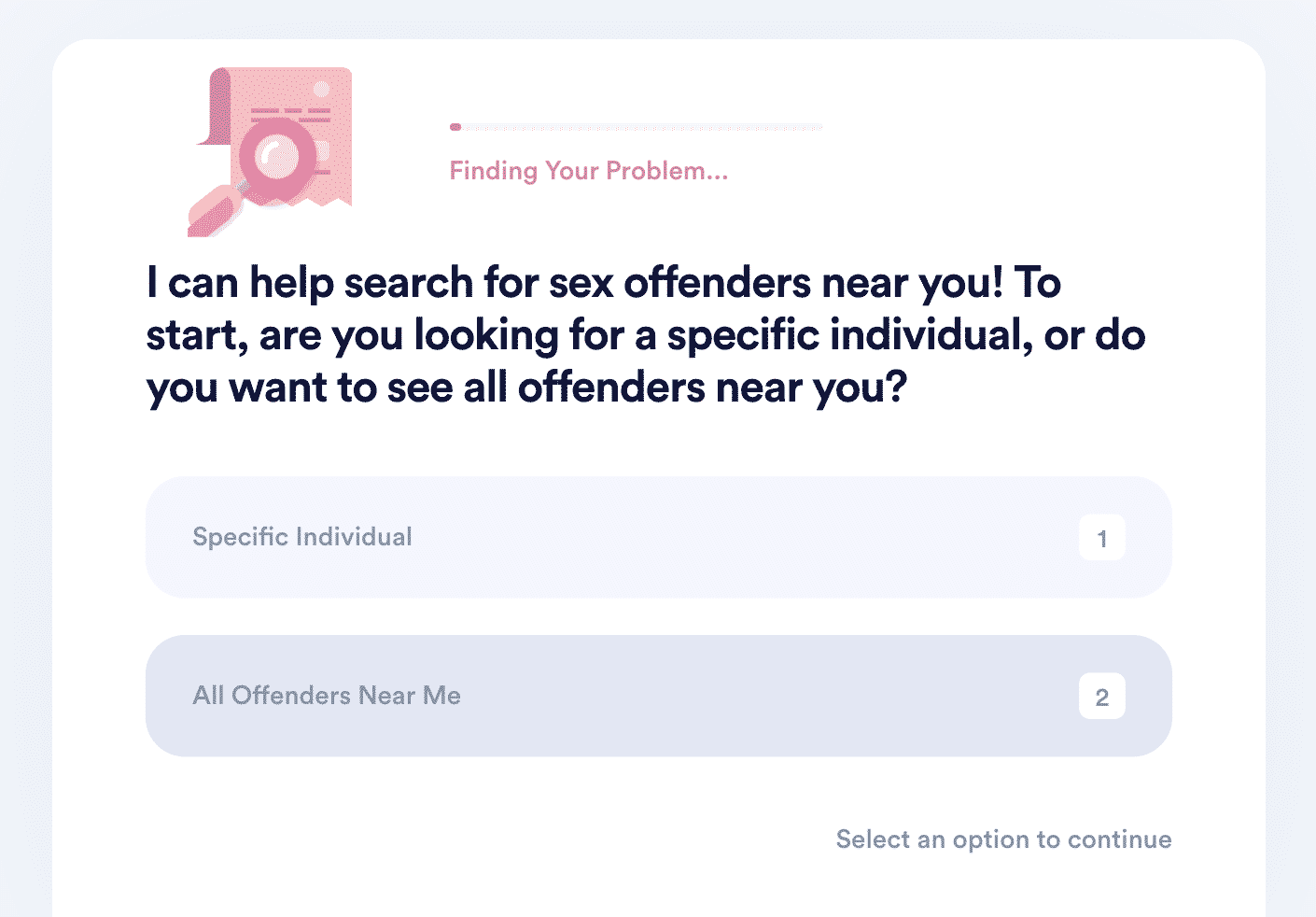 El Paso isn't the only county where DoNotPay can work its magic! We can also help you find registered sex offenders in:
Can I Share the El Paso Sex Offender Info?
You can, but you cannot use it for malicious purposes. Harassment, bullying, and discrimination are strictly forbidden in the state of Texas and can lead to legal consequences.
Share the info with your close friends and family in an attempt to keep them safe and warn them about potential danger.
DoNotPay Helps You Deal With Any Administrative Issues Effortlessly
Tedious administrative tasks are always headache-inducing, but they don't have to be if you use DoNotPay. With our AI-powered app, you will be able to:
Solve Any Issues Like a Pro With DoNotPay
DoNotPay is an AI assistant that is able to solve almost all issues you're facing. Whether that be your noisy neighbors, the annoying text and email spam you're receiving, or the frustrating robocalls that won't leave you alone. We'll even cancel your unneeded subscriptions and get you a few extra bucks you've been cheated out of.
The world's first robot lawyer app can help you get: