Search the Utah Sex Offender Registry the Easy Way!
Looking for a way to search the Utah sex offender registry quickly and efficiently? We offer you the perfect solution!
Don't waste hours trying to find registered sex offenders near you—we'll run the search for you and provide a full report in no time! We can even send weekly reports if you choose so to ensure you stay in the loop!
, and find out whether a registered sex offender lives in your neighborhood or building!
Registered Sex Offenders in Utah—Risk Levels
In Utah, sex offender crimes are categorized in three levels according to their severity:
Levels
Crimes
Level 1

Sexual battery of an adult victim
Intentionally exposing another person to AIDS
Sexual misconduct between an educator and a student

Level 2

Use of the internet to solicit images of a minor
The possession or production of child pornography
Human trafficking of a minor

Level 3

Forced or aggravated rape
Second-degree sexual battery
Kidnapping of a child
Incest involving sexual intercourse
Other violent sex offenses
By Utah law, each offender needs to register with the sheriff's department in the county they live in. Once the offender registers, the sheriff's office will notify:
The people who live with the offender (level 1 crimes)
Home, schools, and community groups in the offender's neighborhood and the offender's employers (level 2 crimes)
The people who live with the offender, as well as the homes, schools, community groups, and the offender's employer (level 3 crimes); additionally, the sheriff will send press releases to the local television stations and newspapers
What Restrictions Do Registered Sex Offenders in Utah Face?
If you're wondering what a registered sex offender isn't allowed to do or how far from a school an offender must live, we'll provide you with all the info.
Unlike most states, Utah doesn't impose residential restrictions on registered sex offenders. Certain restrictions that registered sex offenders in Utah face are:
Not being allowed to date or talk to anyone under 18 years old
Being prohibited from visiting places where children congregate (schools, daycare centers, public pools or playgrounds, and public parks)
As for the travel restrictions, the registered sex offenders are allowed to travel to any state, but they have to register upon arrival.
How To Search the Sex Offender Registry in Utah
The best way to keep yourself and your loved ones safe from registered sex offenders is to search the Utah sex offender registry. The info on the Utah sex offender registry search is public, and it's been made that way since the passing of Megan's Law. The registry maps out the whereabouts of the offenders, which allows you to check whether there is one near you.
You can perform a search by completing these steps:
Go to the Utah Department of Corrections website
Choose whether you want to search by name, area, or city
Provide the required information
Click on Search
Once you get the results, you'll be able to see the list of offenders, along with their photos and addresses. Although valid, navigating the Utah Department of Corrections can be confusing for some people. It can also prove problematic since a sex offender can move to your neighborhood at any time, and you wouldn't know it unless you performed the search every day. Don't fret! DoNotPay can help you avoid such issues.
DoNotPay Helps You Do the Utah Sex Offender Registry Search With Ease!
With DoNotPay, you won't have to worry about a sex offender lurking in the corner without you knowing. We can provide weekly updates and reports about the sex offenders near you!
The search process is super quick and simple! You don't have to waste time figuring out what to do—follow our three-step guide and perform the search in minutes:
and pick the Sex Offender Search feature
Say whether you want to look for a specific offender or need a list of all the registered ones near you
Set the search proximity radius (one, two, or three miles) and indicate if you want to get updated weekly reports from us
DoNotPay will perform the Utah sex offender search and provide you with a full report in no time!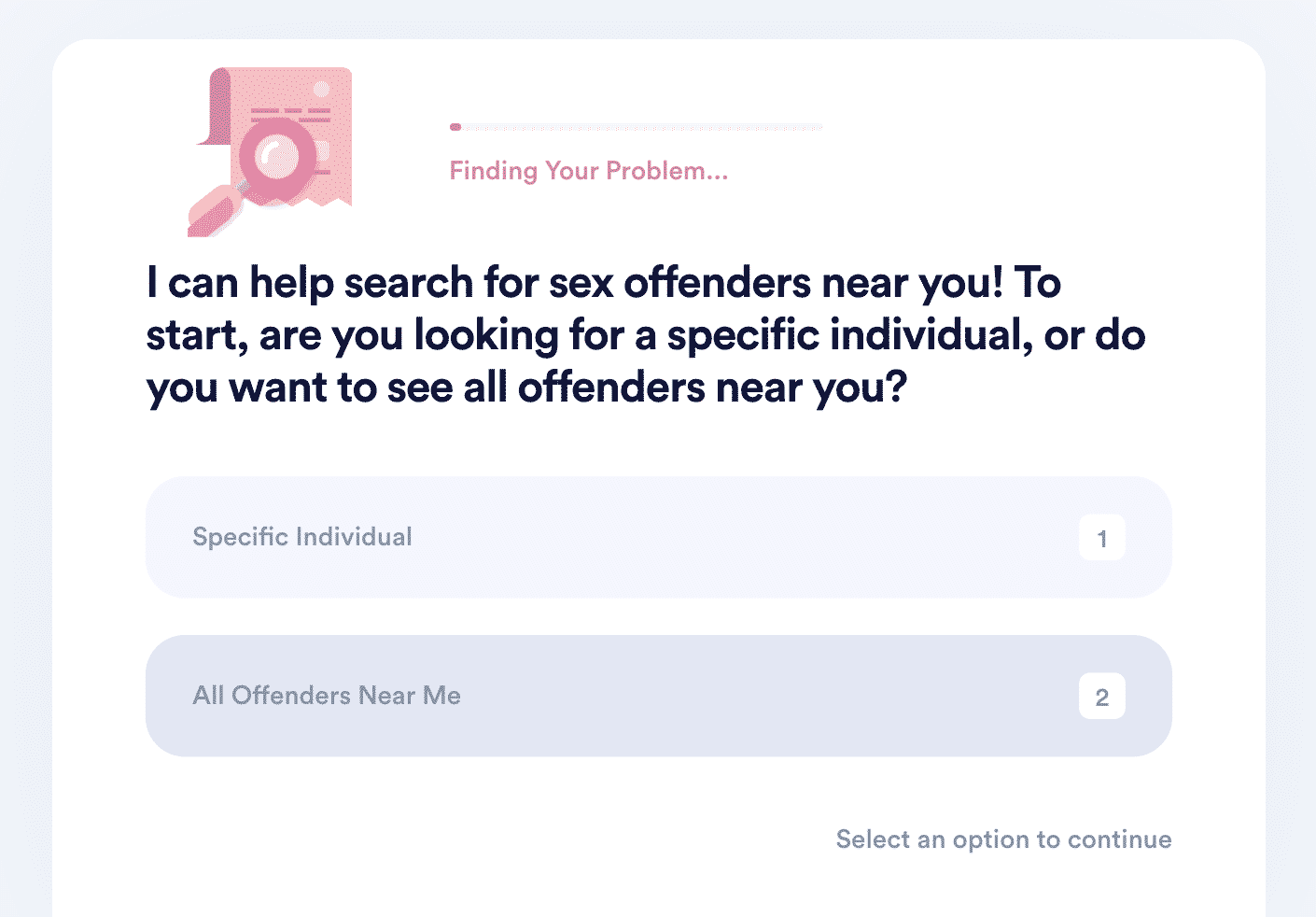 Ways To Stay Safe From the Registered Sex Offenders in Utah
Learning that there is a registered sex offender near you isn't pleasant, but it helps you keep you and your family stay safe. Check out the list below to see what you can do regarding a sex offender in your area:
Talk to your friends and family—You should tell your loved ones everything you know about the sex offenders close to you to ensure they are fully aware of the situation and ready to take precautions as well
Contact the authorities—If you see a sex offender doing something suspicious, you should inform the authorities in hopes that you can prevent a future crime. There could even be unregistered sex offenders lurking around, so make sure to contact a police officer and stay on the safe side
Come up with an escape plan—You can save yourself from panicking if you make a safety plan in advance. Figure out what to do, where to go, and how to act if you run into an offender
Subscribe to Various Services Hassle-Free With DoNotPay
Did you ever get charged by a subscription service after using their free trial? DoNotPay can put a stop to that once and for all! We can get you a virtual credit card or a burner phone number, which you can then use to subscribe to any service stress-free! When you want to cancel a subscription, turn to your virtual assistant for help, and we'll do it for you in seconds!
If the company is giving you a headache, we'll hook you up with their customer support or even sue them in small claims court. Possibilities with DoNotPay are endless!
DoNotPay can also turn mailing into a piece of cake and save your inbox from email and text spam!
Solve All of Your Bureaucratic Issues With DoNotPay
Do you need to file an insurance or warranty claim? Need help with setting up DMV appointments or appealing parking tickets around the U.S.? Don't worry because your AI-based helper can step in!
We can help you get professional powers of attorney and divorce agreements, so you don't have to waste money on expensive lawyers! Once we draw up these documents for you, we'll set you up with an online notary, and you can get them notarized in no time!