Get All the Info You Need About the Maryland Sex Offender Registry
With only 106 registered sex offenders per 100,000 inhabitants, Maryland ranks as one of the safest states in the nation.
Criminals can hide around every corner, though—so the better informed you are, the more you can protect yourself and your family from sex offenders.
DoNotpay has all the information you need on the Maryland sex offender registry—how it works, how you can check your neighborhood, and what you can do to keep safe.
What Is a Sex Offender Registry?
Under the terms of the Jacob Wetterling Act of 1994, every state has to maintain a registry of convicted sex offenders. In 1996, Megan's Law made it mandatory for each state to grant public access to the registry.
As a result, the details of every sex offender are in the public domain. This is an effort to:
How Does the MD Sex Offender Registry Work?
The state of Maryland sex offender registry is run by the MD Department of Public Safety and Correctional Services (DPSCS).
The registry contains around 6,500 entries of sex offenders convicted in the state. Among the information that Maryland authorities collect are offenders':
Names
Photos
Employers or schools
Vehicle information, including vehicle make and model, color, and license plate
A legal and a plain English description of the crimes committed
Convicted sex offenders are obligated to register themselves before being released from prison or as soon as they move into the state. If they fail to do so within three days, they are classified as unregistered sex offenders and face harsh extra punishment if caught.
How Long Do Criminals Stay on the Maryland Sex Offenders Registry?
MD sex offenders are classified according to the severity of the crime they have committed.
The classifications—known as tiers—are as follows:
Tier of Offense
Explanation
Tier I
Tier I offenses include:

Sexual contact between a 14 or 15-year-old and anyone more than four years older
Possession of child pornography
Sex trafficking by force or coercion
Travel for illegal sex

Tier II
Tier II crimes can involve:

Abduction of a minor for prostitution
Production or distribution of child pornography
Human trafficking, prostitution, or sale where the victim is under 18
Sexual acts between a 14 or 15-year-old victim and a perpetrator over 21

Tier III
Tier III crimes are the most serious and involve violence or sexual acts with a prepubescent minor, including:

Sexual assault
Rape
Incest
Murder with intent to rape
Sexual abuse of a minor
Sexual acts with anyone under 14
A sex offender's crime automatically moves up in classification if they have a previous conviction for a lower-tier act.
Offenders stay on the registry for the following periods:
Tier I—15 years
Tier II—25 years
Tier III—For life
They must update their registrations regularly, with quarterly updates required for Tier III criminals. Unregistered offenders face imprisonment of up to three years and the possibility of a $5,000 fine.
What Must Registered Sex Offenders Do in Maryland?
Registered sex offenders in Maryland face several restrictions for as long as they remain on the registry.
The restrictions are focused on:
Employment—Sex offenders in Maryland have to include their place of employment on the registry. They are also prohibited from entering any property that is used by children, which effectively means that they cannot be employed in any job which involves contact with minors
Travel—Registered MD offenders have to notify every local law enforcement authority visited when they travel within the state. Interstate travel is allowed, but offenders must notify local authorities in their home county if they plan to be away for more than seven consecutive days. Law enforcement officials may request copies of travel documents as proof
No restrictions are placed on where a registered sex offender can live in Maryland—the state cites evidence from other states that forced relocation can make tracking offenders' whereabouts more difficult.
How Can You Protect Yourself From MD Registered Sex Offenders?
Your best defense against sex offenders in Maryland is to know where they live.
You can check your neighborhood for registered sex offenders in Maryland and perform a name search if you are looking for a particular person.
This only gives you today's picture, though. Regular updates would ensure that you are kept in the loop when a sex offender moves into your vicinity.
This is where DoNotPay can help. We can if you choose!
DoNotPay Helps You Search the Maryland Sex Offender Registry Hassle-Free!

If you want peace of mind in Maryland, DoNotPay is here to help!
Our Sex Offender Search product can search for sex offenders by name or location and can even send you regular updates if you select this service.
Here's how the feature works:
in your web browser
Click on our Sex Offender Search feature
Type in the name of the offender or your address, and set the search parameters
Your report will be with you in an instant, and if you choose so, your updates will be sent weekly!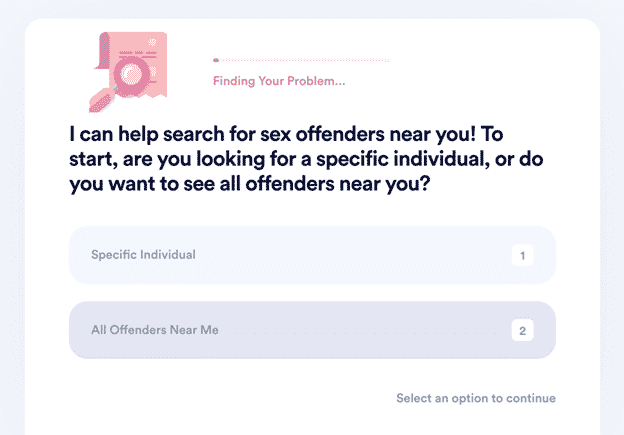 What About Sex Offenders in Other States?
If you are looking for information on how sex offender registries work in other states, DoNotPay has all the facts you need.
Here are a few examples of states we can help you with:
Drowning in Paperwork? DoNotPay Comes to the Rescue!
Dealing with administrative procedures is never a fun experience. Not only is it time-consuming, but it's also extremely inconvenient and impractical. Luckily, we have a practical solution!
Use DoNotPay to cut through the red tape and handle any bureaucratic issue that comes your way stress-free! Check out the list below to see a fragment of tasks you can tackle with our help:
Explore DoNotPay's Other Services
DoNotPay provides you with a ton of other services you can find useful when completing your everyday tasks.
You can contact customer service support without waiting for hours, request refunds from various companies, file a missing package claim, and get compensation for missed or delayed flights in a few clicks!
If you want to earn some money, we can help you with: