The California Law on Sex Offenders Bill 384—Updated Registry Info and Use
Until 2021, registered sex offenders in California needed to update their registration monthly and stay on the registry for a lifetime. The new California law on sex offenders (Bill 384) brought a much-needed change and is a step forward for the CA judicial system.
If you're wondering what the new bill entails, read all the details in DoNotPay's comprehensive guide. We can also help you perform a California sex offender registry search in less than five minutes. Sign up for our service and get weekly updates on sex offenders in your area!
The New California Law for Sex Offenders Explained
The new sex offender legislation, Bill 384, introduced by state Senator Scott Wiener and signed by California Governor Gavin Newsom, was passed in January 2021.
Bill 384 introduced a new three-tier system that categorizes sex offenders based on the severity of their crimes, which altered the sex offender registration requirements. Under the new law, the time spent on the registry is based on the tier of sex offenders, which reduces the penalties for less dangerous criminals.
Refer to the table below for more details on sex offender categories and their obligatory registration times:
Sex Offender Ranking
Crime Committed
Obligatory Registration Period
Tier I

Indecent exposure
Misdemeanor sexual assault
Sexual battery
Child pornography

Tier II

Lewd acts with minors
Non-forced sex crimes against minors

Tier III

Rape
Sex crimes against children younger than 10
Sex trafficking of minors
Felony sexual battery
Aggravated sex assault of minors
California's New Sex Offender Law Introduces Leniency Toward Certain Offenders
Bill 384 allows some of the offenders that have fulfilled their minimum registration requirements to file a petition for being removed from the registry. Tier I and tier II offenders can ask to be removed from the CA sex offender registry. They can file the request after being on the registry for 10 or 20 years.
They still have to respect the registration laws after submitting the appeal (until their request is approved). The deadline for the court's response to the petition is 60 days. If an offender hasn't committed any additional crimes and has respected the registry rules, the court will probably approve their request.
New Sex Offender Law in California—Registration Requirements
Under the Penal Code 290, California law requires convicts to place their names and other info on the sex offender registry:
Within five days of their birthday every year
Within five days of finding new employment, enrolling in college, or changing residence, name, or any other personal information
Every 30 days if they are homeless
Every 90 days if a person is diagnosed with a severe medical disorder
Each offender has to provide their DNA, fingerprints, a recent photograph, and the following information:
Current and former aliases and legal names
Physical description
Current address
Social media accounts and email addresses
Criminal record
Social Security and phone numbers
Professional and driver's licenses
Employment status and details
Vehicle info
Restrictions for Registered Sex Offenders in California
Unregistered sex offenders might have it easy, but those in the system face severe restrictions. The most prominent restrictions are those of a residential nature.
Registered sex offenders are not allowed to do the following:
Live near schools or other public spaces visited by children
Move freely (high-risk offenders are monitored via GPS)
Get off parole or probation early
Even though the restrictions for sex offenders are severe in California, they can still travel to other states freely, as long as they comply with the registration rules of the destination state.
How To Use the California Sex Offender Registry
Every state has an online sex offender registry that's made public under Megan's Law. To search the California sex offender registry and look for offenders by name, follow the instructions below:
Open the CA Megan's Law website
Enter the first and last name of the offender
Press Search
You can alternatively use the sex offenders map on the same website (located right below the name search). Enter the required details and the radius, and press Search.
Searching for sex offenders manually can be draining, especially if you want to stay updated at all times. DoNotPay has a solution for you!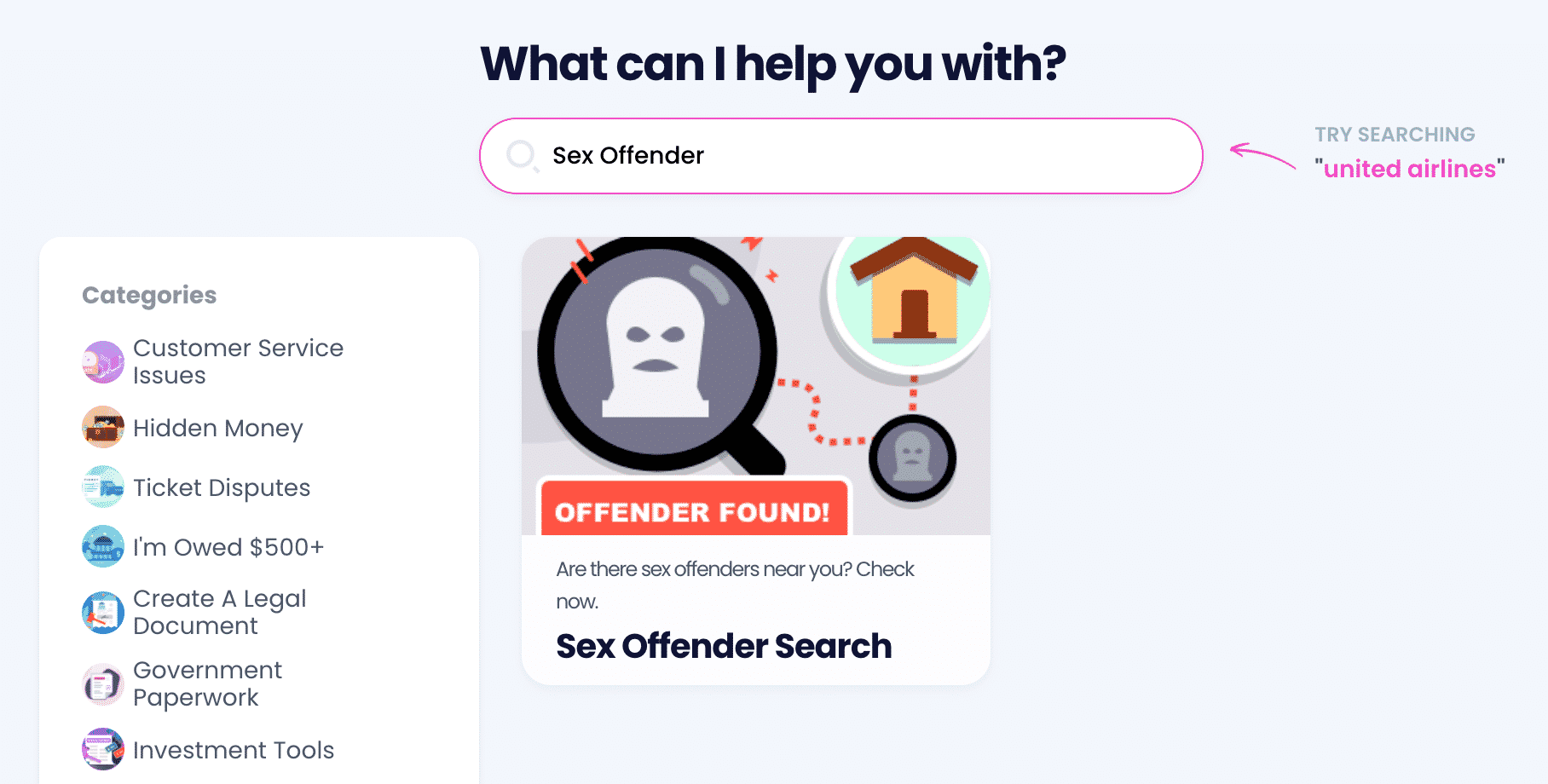 Use DoNotPay's Sex Offender Search for the Best Results
Keeping tabs on sex offenders can increase your family's safety drastically, but it isn't an easy task. That's why DoNotPay came up with a solution—a once-off sex offender search or an automated, weekly notification system that will help you stay informed about sex offenders in your area!
To use our product, you should:
Sign up for DoNotPay in your browser
Choose the Sex Offender Search feature
Enter the search parameters and enroll in the weekly notification system if you want to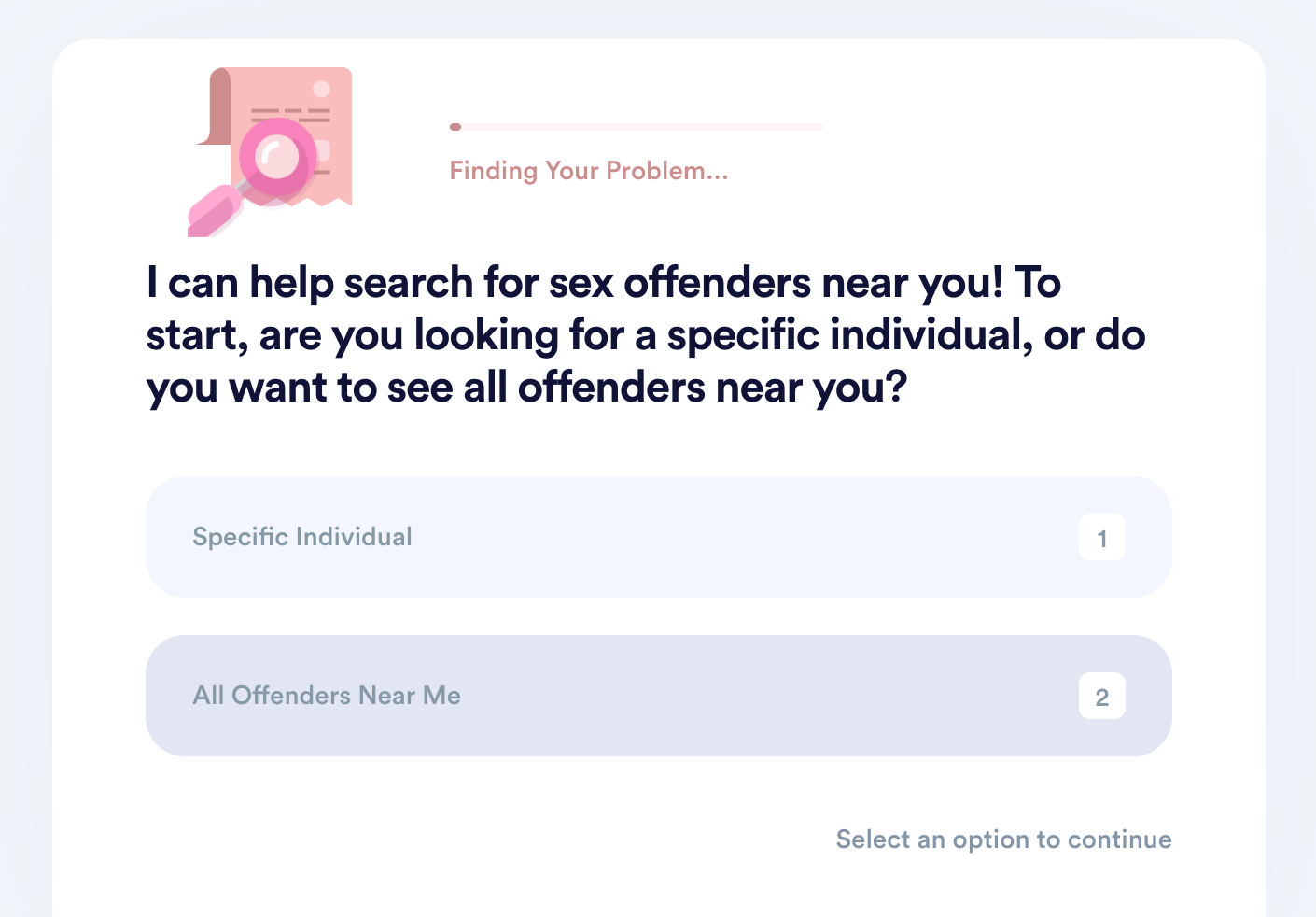 DoNotPay will search for offenders in the specified area and provide a full list of the criminals you should be aware of. The whole process will be done in minutes, and you can even choose to receive updates each week to stay in the loop and have peace of mind.
DoNotPay Is the Robot Lawyer You Need!
Dealing with the law and understanding legal protocols is difficult if you're not used to doing it on a daily basis. That's why DoNotPay comes to the rescue!
Assisting you in drafting legal documents, creating a neighbor complaint letter, and suing companies in small claims court is what we do best.
That's not all! With us, you can tackle any legal task head-on, no matter how big or small, including:
Deal With Companies Hassle-Free
If you love to shop and you want to make the experience as easy and enjoyable as possible, you're in the right place! DoNotPay provides you with various features that allow you to accomplish just that.
You don't have to struggle trying to reach customer support or figuring out how to claim a warranty or file an insurance claim by yourself. You can cancel any subscription, sign up for free trials, and discover how to use every last penny from your gift cards in minutes!
In case you made a purchase, but your package is missing, don't fret! Finding your missing parcel is only a few clicks away.