Sex Crime at Its Worst—What Is a Tier 3 Sex Offender?
Sexual offenses can range from mild to brutal.
Tier 3 is the category for the most heinous sex crimes in many states, meriting severe punishment and lifelong placement on the state's sex offender registry for the sex offender.
DoNotPay examines what it takes to be labeled a tier 3 sex offender and how you can protect yourself and your family!
What Are the Tiers of Sex Offenders?
Most states agree on the different grades of sexual offenses, even though some states call them levels rather than tiers.
The severity of sex crime is classified as follows:
Crime Category
Explanation
Tier 1
Tier 1 crimes are non-violent and non-penetrative, including such acts as:

Possession of illegal pornography
Unwanted sexual contact with an adult
Public indecency

Tier 2
This category includes all sex crimes involving minors aged 12–15, such as:

Distribution or production of child pornography featuring pubescent minors
Sexual acts with minors aged 12–15
Coercion or enticement of pubescent minors

Tier 3
Tier 3 crimes are the most serious and involve either violence, prepubescent minors, or both. Typical tier 3 offenses include:

Rape
Aggravated sexual abuse
Any sexual act with a minor aged below 12
What Do the Tiers Mean for Sex Offenders?
Punishments vary from state to state for the different tiers of offense, but tier 3 crimes universally carry a custodial sentence of up to 15 years.
When passing a sentence, courts take into account the type of crime in question as well as its severity. Sex offenses are subdivided into ones against:
Unrelated adults
Family members
Children
Nature or public decency
Prostitution statutes
The most severely punished crimes are those which involve children and are categorized as tier 3 offenses.
Punishment of sex offenders does not end with the conclusion of the sex offender's custodial sentence.
Once any penal servitude has been completed, sex offenders must place themselves on their state's sex offender registry.
What Is a Sex Offender Registry?
Each state maintains a database of convicted sex offenders known as a registry.
The registry contains details of each convicted offender's:
Name
Facial features
Home address
Work or school address
Criminal history
Some states add further details, such as:
Finger and palm prints
Driver's license
Car registration records
Social media profiles, aliases, and handles
Depending on the tier of their offense, sex criminals must stay on the registry for the following periods:
| | |
| --- | --- |
| Crime Tier | Time on Registry |
| Tier 1 | 15 years |
| Tier 2 | 25 years |
| Tier 3 | Until death |
Tier 1 offenders must update their registration every year, tier 2 criminals every 180 days, and tier 3 convicts every 90 days. Unregistered sex offenders or those who fail to keep their records updated face penalties of up to 30 years of additional incarceration.
What Effect Does Being on a Sex Offender Registry Have?
Each state's sex offender registry aims to enable law enforcement authorities to map the whereabouts of convicted sex criminals.
Registered offenders face stringent restrictions on their freedom as long as they are on the registry, including:
Residential regulations—Depending on the state, registered sex offenders must live between 500 and 3,000 feet away from any location frequented by children, such as schools, playgrounds, school bus stops, and daycare facilities. Regardless of whether their crime involved children, offenders may even be banned from entering areas within a designated radius of such facilities
Travel limitations—When traveling interstate, offenders may have to register in their destination state within a certain number of days. International travel may also become more difficult, as registered sex offenders receive a mark on their passports. Once the mark is identified, border officials are obliged to notify the offender's destination country—some countries routinely refuse entry to sex offenders
Employment constraints—Registered sex offenders are normally banned from holding any job that involves contact with children, whether or not their crime was child-related
Since Megan's Law was passed in 1996, the general public has had access to each state's sex offender registry.
This means that a sex offender's identity and criminal record can be searched and viewed by anybody. For tier 3 offenders, this often has far-reaching implications on their ability to:
Get a job
Secure a lease
Access credit
How Can You Protect Yourself From Tier 3 Sex Offenders?
Your state's sex offender registry is your best resource to make sure you are safe from tier 3 criminals.
You can search for registered sex offenders within a specified radius of your home, or—if you are looking for a specific person—check the national registry for the name of the offender.
Any results will provide you with a picture of offenders in your neighborhood, or the last known address of the particular person you are looking for.
Things can change overnight, though. A sex offender may move into your building from one day to the next, or they may move to your state without your knowledge.
DoNotPay has the solution. We can perform a search for you and send you weekly updates in case anything changes!
Sex Offender Registry Search Made Easy With DoNotPay!

DoNotPay is your friend when it comes to keeping your distance from tier 3 sex offenders!
Our Sex Offender Search product can perform a state or nationwide search and give you your results in a flash. If you choose, you can sign up for weekly updates to keep you up to date with any changes.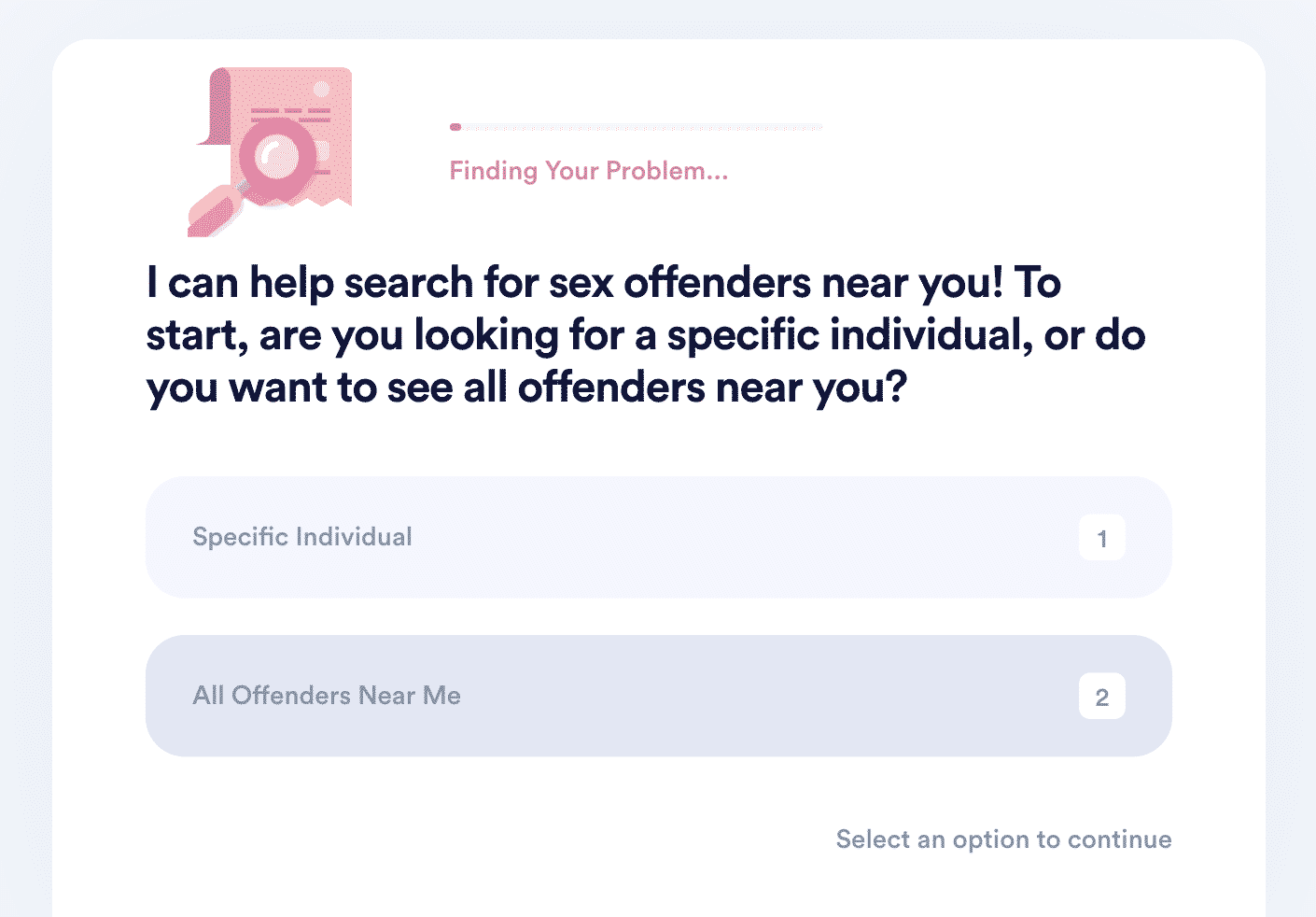 All you have to do to use our feature is:
Sign up with DoNotPay in your web browser
Click on our Sex Offender Search feature
Type in the name of the offender or your address, and set the search parameters
You will get your report in an instant, and our weekly update feature can give you an added level of security if you choose.
What Are the Different Laws in Each State?
DoNotPay can give you specific information on how the sex offender registry in each state works. Here are a few examples of the jurisdictions we cover:
Drowning in Paperwork? DoNotPay Comes to the Rescue!
Dealing with administrative procedures is never a fun experience. Not only is it time-consuming, but it's also extremely inconvenient and impractical. Luckily, we have a practical solution!
Use DoNotPay to cut through the red tape and handle any bureaucratic issue that comes your way stress-free! Check out the list below to see a fragment of tasks you can tackle with our help:
Explore DoNotPay's Other Services
DoNotPay provides you with a ton of other services you can find useful when completing your everyday tasks.
You can contact customer service support without waiting for hours, request refunds from various companies, file a missing package claim, and get compensation for missed or delayed flights in a few clicks!
If you want to earn some money, we can help you with: