Learn How To Search the South Dakota Sex Offender Registry in a Flash!
Are you looking for useful info about sex offender laws in South Dakota? Do you need a simple way to search the South Dakota sex offender registry? Are you wondering how to protect yourself and your loved ones from sex offenders? We provide you with answers to these and many more questions!
Sign up for DoNotPay, and find all the sex offender registry-related info in a snap!
South Dakota Sex Offender Laws
South Dakota sex offender registry law dictates that all sex offenders have to register with their state. Upon registering, sex offenders have to provide personal info, including their names, addresses, and photographs. They also have to do it within three days of coming to any SD county to:
Reside
Domicile for a certain period
Attend school
Work
Offenders should register with the chief of police. In case he or she isn't available, they can do it with the county sheriff.
SD Sex Offender Risk Levels
Sex offenders are divided into three tiers, according to the severity of crimes they committed and the level of risk they pose. Consult the table below for specifics:
Tiers
Crimes
Tier 1

Voyeurism
Public indecency
Sexual contact without the victim's consent
Possession of child porn

Tier 2

Transportation and solicitation of minors for sexual purposes
Bribery of a victim to engage in sexual activity
Intimidation to get a victim to engage in sexual activity
Sexual offenses that fall under the Tier I sex offenders group

Tier 3

The kidnapping of a minor
Aggravated sexual abuse
Sexual abuse
Abusive sexual contact with a minor
Human trafficking
How Often Do Offenders Need To Stay on the SD Sex Offenders List?
South Dakota sex offenders, depending on the severity of their crimes, have to stay registered for:
Ten years—Tier 1 offenders
25 years—Tier 2 offenders
Lifetime—Tier 3 offenders
What Restrictions Do SD Sex Offenders Face?
Some of the common restrictions that SD sex offenders face are:
| Restrictions | Explanation |
| --- | --- |
| Travel restrictions | Registered sex offenders in SD are allowed to travel to a different state, but they need to notify the law enforcement in their original state of residence. They also have to register with the authorities of the state they travel to upon arrival |
| Residential restrictions | Offenders aren't allowed to live in proximity of schools, parks, playgrounds, and similar places where children often congregate. According to recent changes, registered sex offenders in South Dakota have to keep a distance of at least 500 feet from such places |
| Employment restrictions | Jobs that include contact with children can't be given to sex offenders under any circumstances |
Since many offenders don't want to deal with the above-explained restrictions, they often try to avoid registration. Unregistered offenders risk getting fined or serving time in jail for failing to register with state authorities properly.
How To Search the South Dakota Sex Offender Registry
Megan's Law made the info about registered sex offenders accessible to the public. You can search the SD sex offender registry online by following the next steps:
Choose Text Search, Neighborhood Search, or Full Registry for Export
Provide the required info
Initiate the search
You'll gain access to a list of registered offenders near you, along with their names and addresses (including cities and ZIP codes). Note that online registries and sex offender maps aren't updated regularly—if a new offender moves to your area, these websites may not provide you with the most accurate info. If you want to get weekly updates about sex offenders residing in your vicinity, DoNotPay is a perfect choice!
Search the South Dakota Sex Offender Registry With DoNotPay Instantly!
With DoNotPay, you won't have to worry about following confusing instructions or not being informed about sex offenders lurking around the corner! We'll help you find the offenders near you in a snap and alert you about the new ones weekly! Here's how to get started once you register to DoNotPay:
Pick the Sex Offender Search tool
Clarify whether you want to search for a specific sex offender or get a report of all the registered ones in your area
Set the search proximity radius and say if you would like to get weekly reports from us
Once you're done with the above-listed instructions, DoNotPay will provide you with a full report of registered sex offenders near you!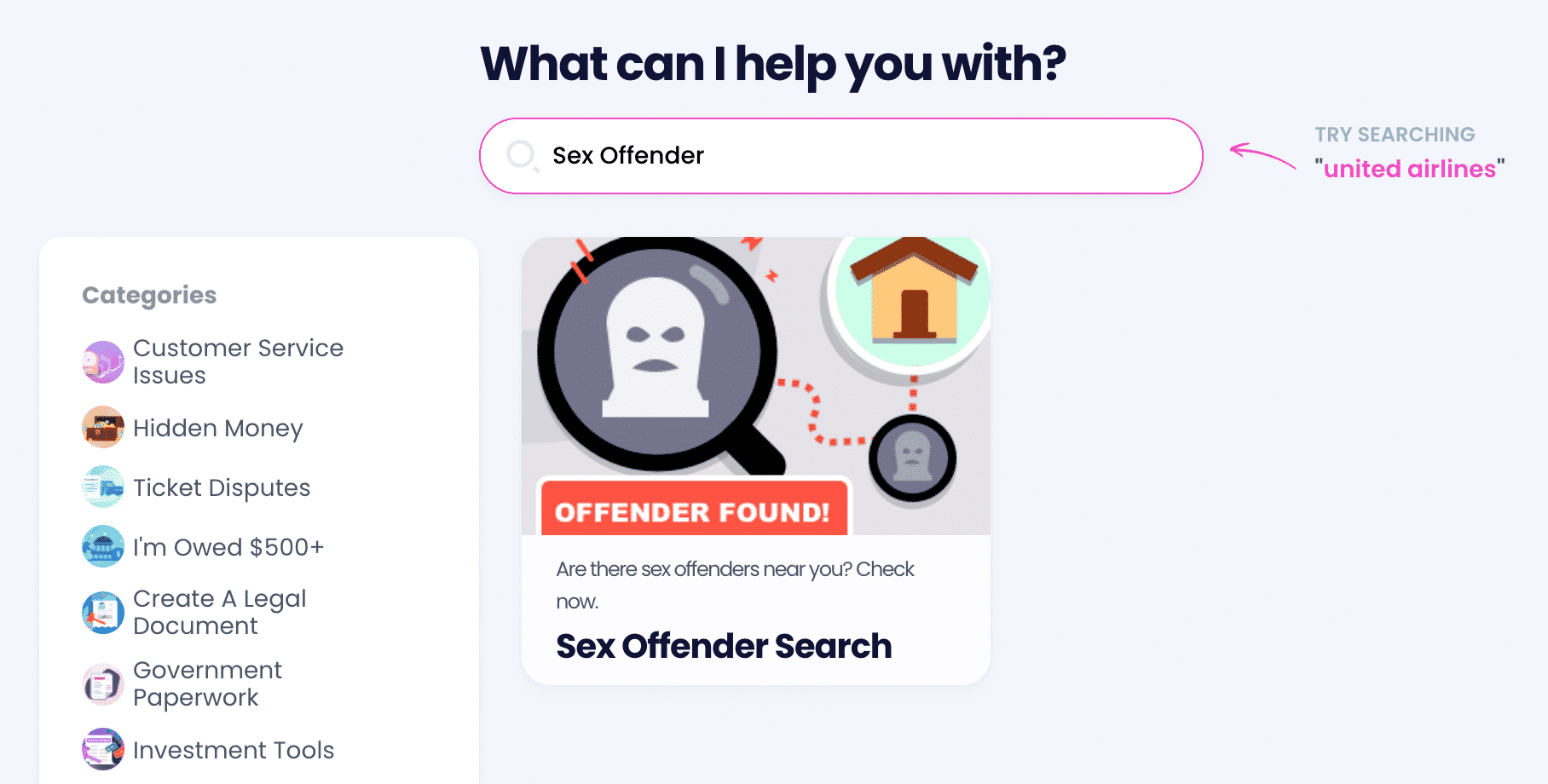 How Do I Stay Safe From South Dakota Sex Offenders?
Have you discovered a registered sex offender residing near you and aren't sure how to keep your family and friends safe? Follow these useful tips and learn how to stay protected:
Talk to your loved ones—Making sure your friends and family are well aware of the potential threat is important since it helps them stay vigilant and keep an eye out for the offender
Inform the police—Voice your concerns to the local authorities, especially if you see an offender doing something suspicious. You may be able to stop a future crime that way
Come up with a safety plan—Think about where you can go and what you can do in case you run into an offender. Having a plan may help you stay calm and act quickly in such situations
Subscribe to Various Services Hassle-Free With DoNotPay
Did you ever get charged by a subscription service after using their free trial? DoNotPay can put a stop to that once and for all! We can get you a virtual credit card or a burner phone number, which you can then use to subscribe to any service stress-free! When you want to cancel a subscription, turn to your virtual assistant for help, and we'll do it for you in seconds!
If the company is giving you a headache, we'll hook you up with their customer support or even sue them in small claims court. Possibilities with DoNotPay are endless!
DoNotPay can also turn mailing into a piece of cake and save your inbox from email and text spam!
Solve All of Your Bureaucratic Issues With DoNotPay
Do you need to file an insurance or warranty claim? Need help with setting up DMV appointments or appealing parking tickets around the U.S.? Don't worry because your AI-based helper can step in!
We can help you get professional powers of attorney and divorce agreements, so you don't have to waste money on expensive lawyers! Once we draw up these documents for you, we'll set you up with an online notary, and you can get them notarized in no time!