Arizona Sex Offender Registry—Protect Your Loved Ones With DoNotPay!
According to the Arizona Department of Public Safety, there are 14,192 registered sex offenders in the state. This is a reason for you to be concerned about the safety of your loved ones, but where do you start looking for information?
has you covered. In this guide, we will give you an insight into the Arizona sex offender registry laws and show you how to map out the perpetrators so you can keep yourself and your family safe.
What Are the Arizona Sex Offender Laws?
The Sex Offender Registry of Arizona has clear-cut rules that sex offenders have to abide by or face severe consequences. The table below covers the most important details about what sex offenders in AZ are and are not allowed to do:
Term
Arizona Rule
When should a sex offender register?
The offender has ten days after the conviction or adjudication date to register as a sex offender
Do all sex offenders need to register for life?
The sex offender needs to be registered for the rest of his/her life if he/she has a prior conviction or adjudication
How often should registration be updated?
Sex offenders must update their details every year. If the offender changes residence, he/she has 72 hours to update the address
What are the residential restrictions for a sex offender?
A level 3 sex offender is not allowed to live within 1,000 feet of the following:

Schools
Childcare facilities
Residences of former victims

What information about a sex offender is available to the public?
The following information on the sex offender is publically available:

Photo
Name
Address
Physical description
State of conviction
Type of offense

What if a sex offender from another state wants to travel to Arizona?
An offender from another state has ten days from entering Arizona to register with the sheriff
What if the sex offender doesn't follow the guidelines?
It is a crime if a sex offender doesn't abide by the guidelines. For example, an offender who doesn't register is committing a felony and will be punished by law
How Do I Search the Arizona Sex Offender Registry?
Megan's Law states that information on registered sex offenders should be made available to the public. To search for registered sex offenders in Arizona, you can go to the Department of Public Services offender search website. Depending on how you want to conduct your search, use either of the following steps:
Searching for perpetrators by area:

Select the In Your Area tab
Type in your address in the mandatory fields
Hit the Search button

Finding offenders by name:
Select the Name tab
Type in the first and last names
Hit the Search button
You can also choose to search for sex offenders in your city or generate a list of non-compliant offenders. If you'd like to receive email updates, click the Register for Email Alerts tab and type in your information.
Can I Share the Information Found on the Arizona Sex Offender Registry?
You can share the information found on the Arizona Sex Offender Registry if it's to protect your family, friends, and neighbors from becoming victims. The state of Arizona has a zero-tolerance policy on harassment or vigilantism of sex offenders as a result of ill-intentioned community notifications.
Stay Up to Date With Sexual Offenders Using DoNotPay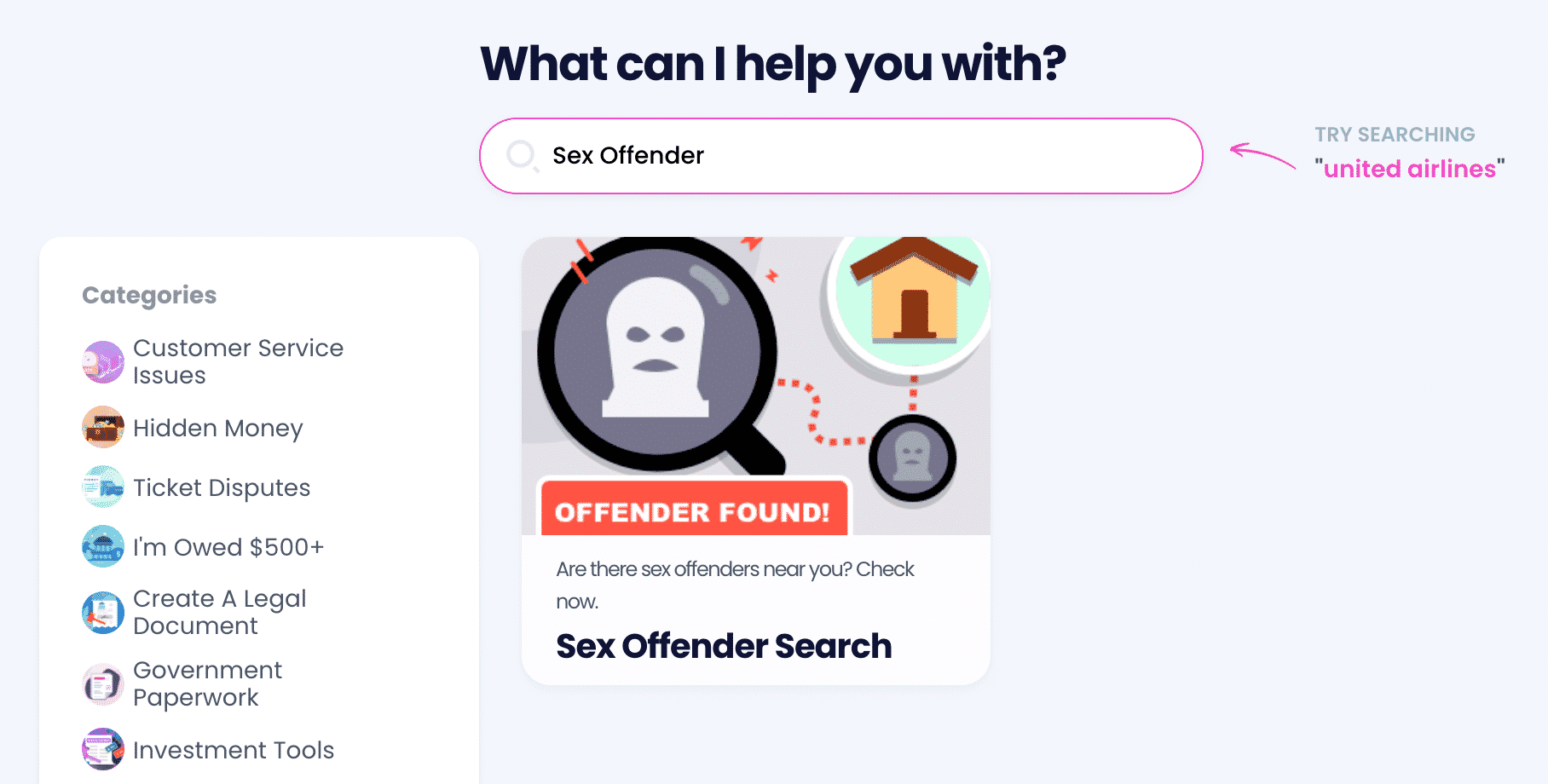 DoNotPay is your pocket assistant who will provide you with information on the sex offenders near you and your loved ones in a quick and organized manner. To use DoNotPay to search for offenders, you need to:
Type in Sex Offender in the search box
Specify the address and proximity (one, two, or three-mile radius of your address)
Select the weekly check option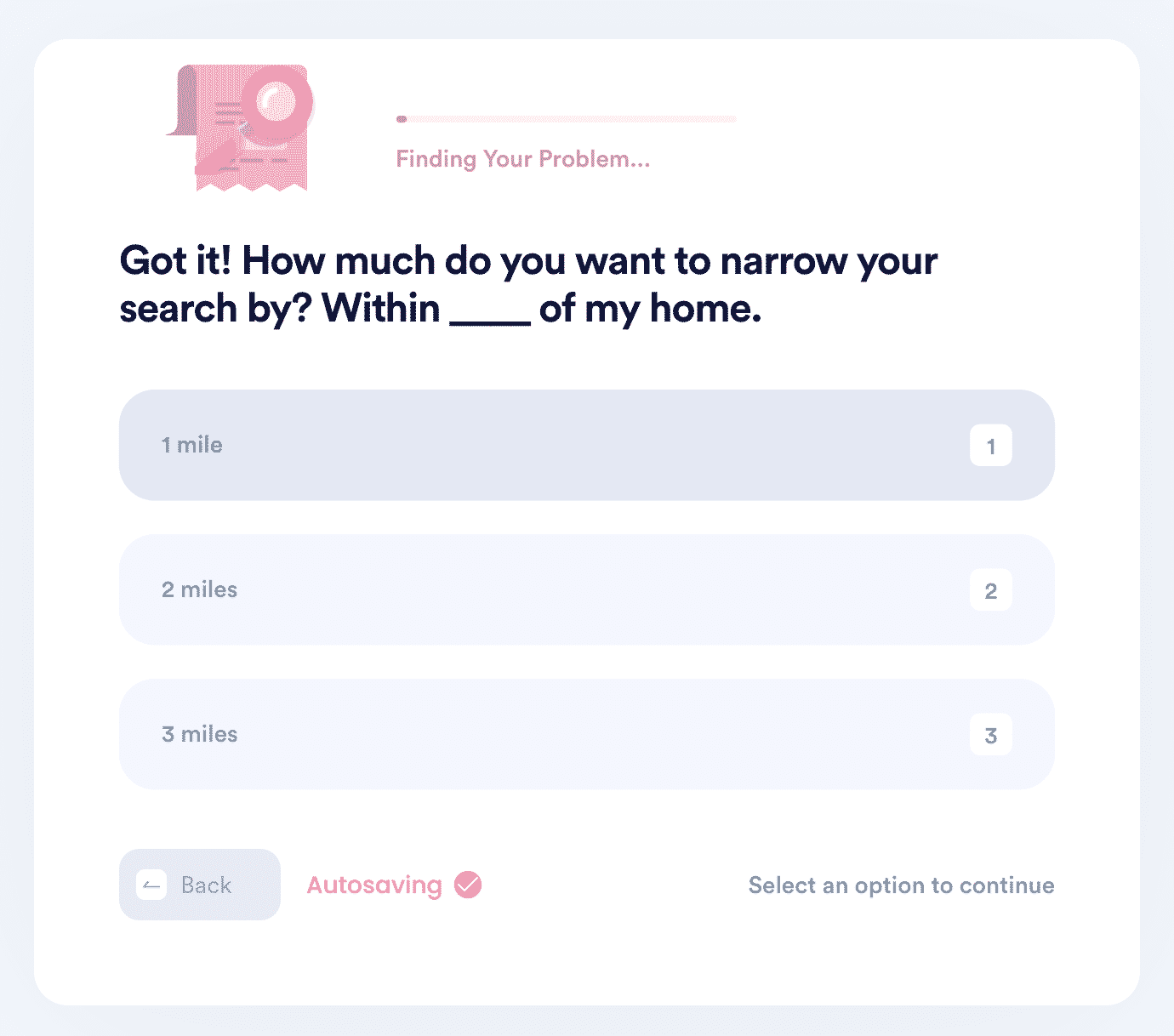 DoNotPay will search for sex offenders based on your parameters and generate a full report automatically. You can also choose to receive a comprehensive report every week, so you don't have to worry about conducting a new search again unless you want to change the provided details.
I Found a Sex Offender in My Neighborhood—Now What?
Your search has yielded positive results, and you are now are aware of the sex offenders who are close to you. To stay one step ahead of them, you need to follow a few precautionary measures:
Do not panic—you don't need to move or take drastic measures as not all convicted sex offenders repeat their crimes
Hold community meetings—alert the neighborhood and come up with a plan, such as to keep the sheriff in the loop and organize a neighborhood watch
Report any suspicious activity—you don't want to take any chances, and if you feel something is wrong, it probably is
Talk to your children—a few important points to tell them are:

Say 'No' to strangers
Play in well-lit areas
Don't keep any adult friends who mom and dad are not aware of
Listen to your instincts
Don't keep secrets
Need Legal Assistance? DoNotPay Got You Covered!
Forget about getting a migraine every time there is an administrative task to handle. DoNotPay makes it easy and stress-free to deal with any bureaucratic issue that comes your way.
Not only can we assist you in drafting a legal document and getting it notarized, but we also help you:
Reduce your property taxes
Finishing Your Daily Errands Has Never Been Easier!
Looking for help with running errands? You don't have to spend hours trying to make a DMV appointment or contacting a customer service rep! Completing your day-to-day tasks stops being a burden once DoNotPay gets involved.
There is no shortage of errands we'll help you run for a small subscription fee, including:
Sign up for DoNotPay and avoid spending hours on simple daily tasks that can be done in a jiffy!