DoNotPay Explains the Basics of the Delaware Sex Offender Registry
Delaware has 4,315 registered sex offenders living on its territory. It's important to know how to keep your family safe and where to look for the right information.
The good news is you don't have to search all over the web and read complicated legal jargon because DoNotPay has got you covered. Our guide will explain everything you need to know about restrictions for sex offenders and how you can search the Delaware sex offender registry to map out the ones near you.
We will also show you how to stay alert , which gives you results in seconds and an option to receive weekly automated alerts.
Registration Laws for Sex Offenders in Delaware
Sexual offenders in Delaware who have been convicted for sex offenses are required to register with the State Bureau of Identification. Those who are arrested but not convicted are not required to register.
The sex offender registration laws in Delaware are rigid, and unregistered sex offenders are charged with a Class G felony.
Both adult and juvenile sex offenders in Delaware need to register and are classified into tiers based on the risk of them committing the sex offense again:
| Tier | Risk |
| --- | --- |
| Tier I | Low |
| Tier II | Moderate |
| Tier III | High |
What Do Sex Offenders in Delaware Need To Register?
Delaware sex offenders need to register the following:
Legal name and previously used names
Social Security number
Age
Gender
Race
Physical description
Offense history
Address of residence, employment, and/or study
Vehicle registration details
Work/business license
Copies of the offender's passport
Email address
For How Long Do Sex Offenders Need To Update Their Registration?
The frequency of updates and duration of the registration period differ for sex offenders in Delaware depending on their tier:
| Tier | Duration | Update Frequency |
| --- | --- | --- |
| I | 15 years | Once a year |
| II | 25 years | Six months |
| III | Life | Three months |
Is Information About Sex Offenders in Delaware Publically Available?
According to Megan's Law, information about sex offenders in Delaware should be publically available to prevent further crimes. The Delaware state police state that the privacy of the sex offender is less important than the safety of other citizens.
The official Delaware sex offender registry website only includes information about Tier II and Tier III offenders.
Residence Restrictions for Delaware Sex Offenders
Sex offenders cannot reside within 2,500 feet of any school, park, or child care facility. If the offender establishes residence before the school, park, or child care facility is built, they do not have to move.
With every change of address, the sex offender needs to update their registration within three days of establishing a new residence.
Travel Restrictions for Sex Offenders in Delaware
There are no interstate travel restrictions for sex offenders in Delaware.
If a sex offender wants to travel out of the country, they need to inform the local authorities 21 days before the intended date of travel.
Search for Sex Offenders Using the Offical Registry
To search for sex offenders in Delaware, you can use the state registry by doing the following:
Open the Delaware Sex Offender Central Registry website
Use the search criteria that you know
Hit Search
You can also search by using a map in the Neighborhood Search tab or pull out lists of homeless and wanted offenders.
You may sign up to receive email alerts whenever there is a change or addition to the registry. Here's what you need to do:
Open the Delaware Information Subscription Service website
Sign up
Opt for the Sex Offender Notification
Search for Sex Offenders the Straightforward Way With DoNotPay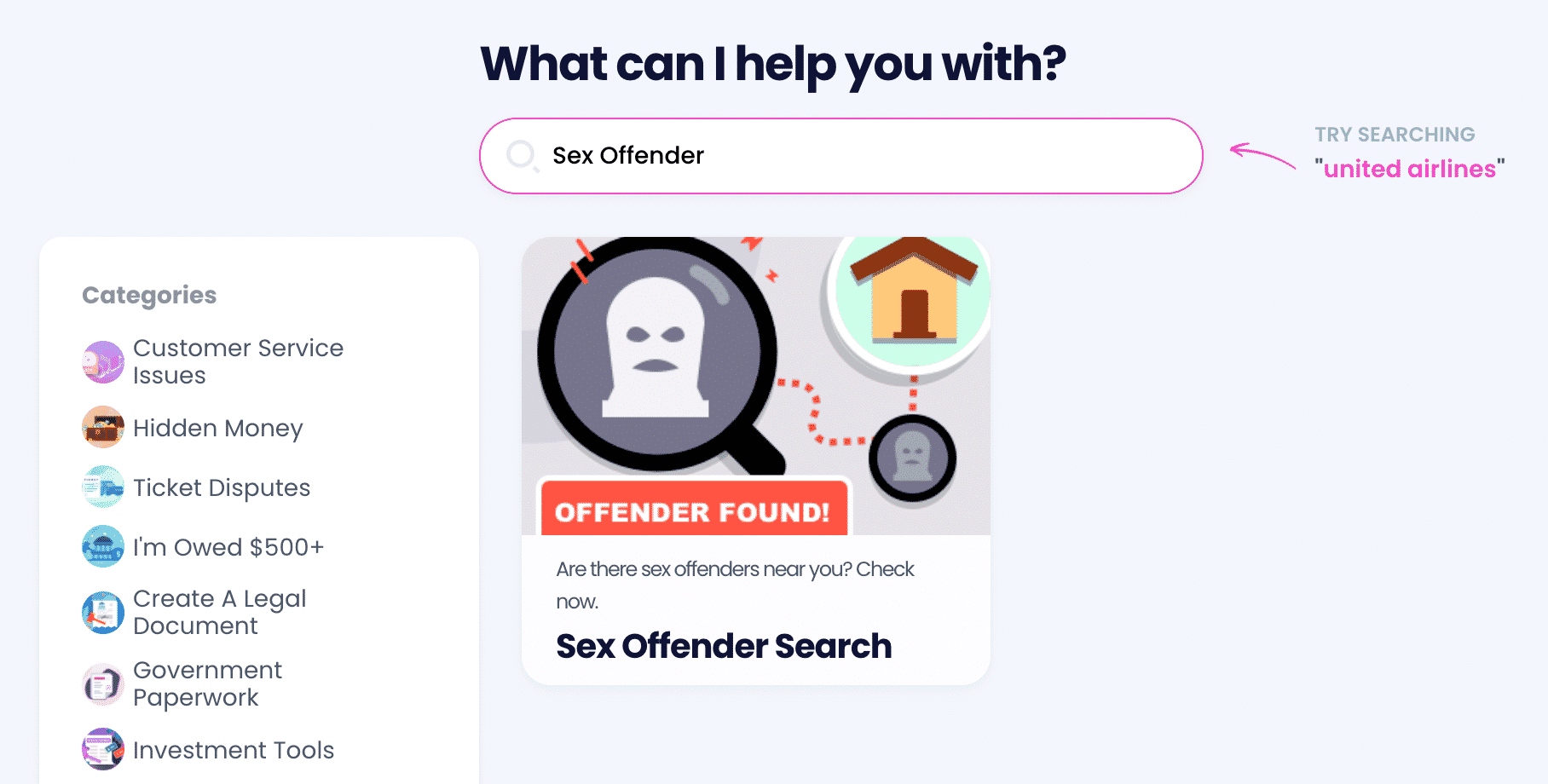 The Delaware Sex Offender Central Registry is far from perfect, and the search criteria can be confusing. DoNotPay can run searches on sex offenders, provide fast results, and give you organized up-to-date reports. To use DoNotPay to search for Delaware sex offenders in your vicinity, here's what you need to do:
Key in Sex Offender in the search box
Type in your address and specify the radius
Select the weekly check option
DoNotPay will automatically search for sex offenders and generate a full report. You can also receive weekly updates with information about newly registered sex offenders near you.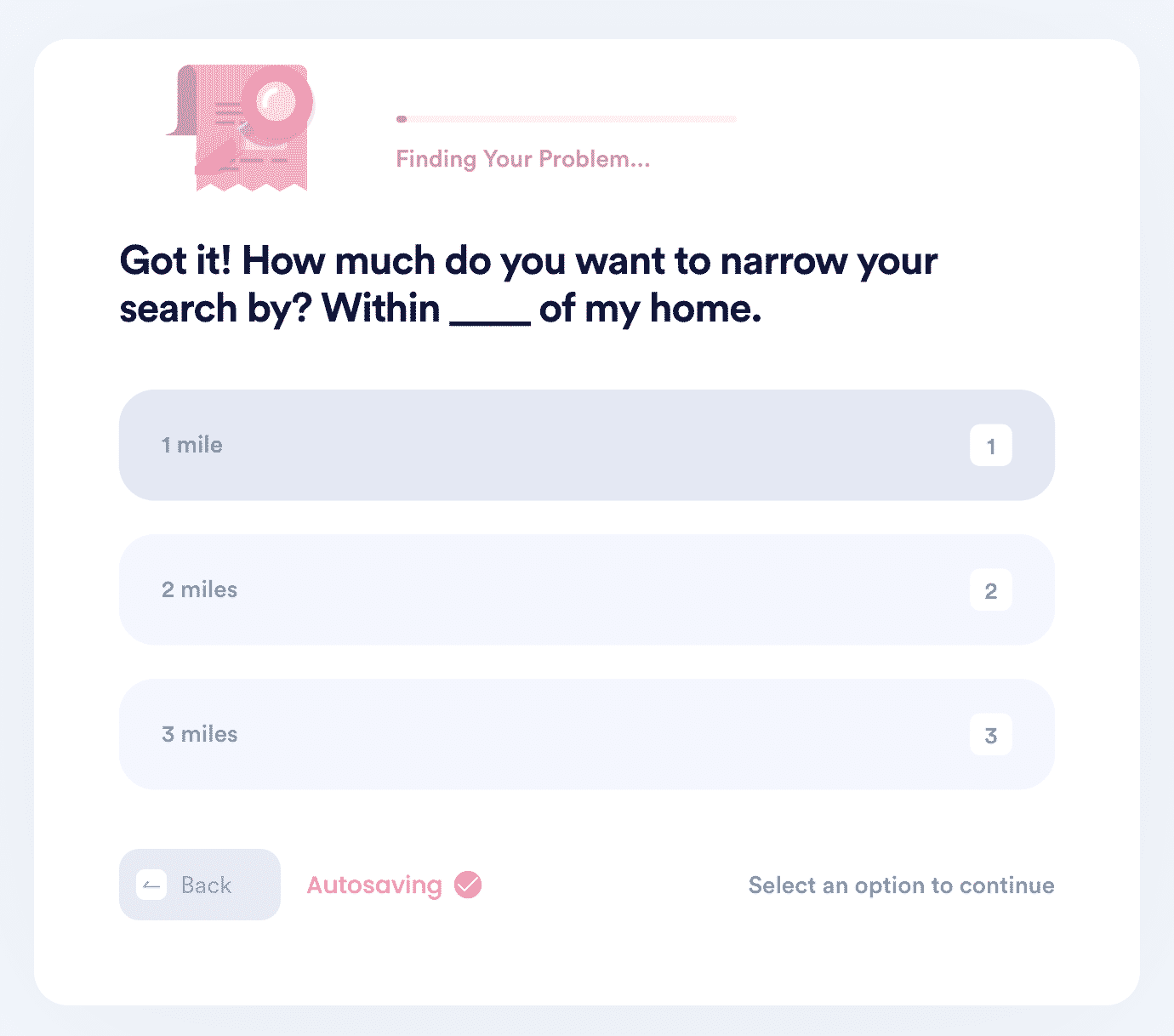 Do Sex Offenders in Delaware Have Rights?
Yes. Although convicted of a crime, any sex offender is still protected by the State of Delaware and possesses civil rights guaranteed by the United States Constitution. If you harass, threaten, or perform any act of violence against the offender, you can be prosecuted.
What Should I Do To Protect My Family From Sex Offenders?
To prevent the danger that may come from Delaware sex offenders, you should:
Be up to date with how you can find sex offenders who live near you in the most efficient way
Understand the laws they need to abide by
Have a game plan on how to handle having a sex offender living next to you
Only the Sky Is the Limit for DoNotPay
DoNotPay has an insane number of features that keeps growing. Our platform can help you:
Say Goodbye to Spam Mail With DoNotPay
DoNotPay has designed a feature that will put a stop to the flood of junk and spam mail into your inbox! We can help you join a class action against a spammer or take any person or company that's wronged you to small claims court!
Need a virtual credit card number or a fake phone number to protect yourself from scammers? We've got you covered! We can help you fight text spam or even assist you in sending mail without any chance of error.
Our users' safety is our number one concern, so we've developed a feature that will protect you from cyber stalking or harassment!