Types of Sex Offenders Under U.S. Federal and State Law
The range of crimes that qualify a criminal as a sex offender worthy of registration goes from non-violent indecency to full-blown rape and assault.
DoNotPay has all the info you need to understand the various types of sex offenders and what you can do to make sure you and your family are protected!
What Are the Different Types of Sex Crime?
The law on sex offenses is usually set at the state level with an overarching federal framework. Every state agrees that sex crime can be broken down into the following categories:
Type of Sex Offense
Explanation
Adult crime
This category includes any crime perpetrated against an unrelated adult, such as:
Family offense
This includes crimes committed against a relative or family member, the most common of which is incest. Some states categorize marital rape in this group
Sex crime against children
Crimes against children can include:

Possession, production, or distribution of child pornography
Child rape
Exploitation
Molestation
Kidnapping or abduction

Violations against nature
Crimes against nature include:

Voyeurism
Frotteurism
Acts of public indecency
Bestiality

Sodomy is still counted as a crime under this category in some states

Trade in sex
Any act involving prostitution or the sale of sex falls under this category
What Are the Levels of Sex Offense?
Within these categories, each state differentiates between crimes according to their severity, as follows:
Tier or level I
Tier or level II
Tier or Level I
Tier or level I offenses do not involve violence or minors and include:
Non-violent sexual contact without penetration
Possession of illegal pornography
Acts of public indecency
Voyeurism
Tier or Level II
The next level of severity covers sexual acts with pubescent minors, such as:
Distribution or production of child pornography
Sexual coercion or enticement
Tier or Level III
The most severe sex crimes involve violence or sexual acts with pre-pubescent minors, such as:
Rape
Sexual assault or abuse
Kidnapping
Child trafficking with a sexual intent
A convicted sex offender's sentence will be based on the category and severity of the crime.
How Can You Tell Between the Different Types of Sex Offenders?
Every offender convicted of a sex crime in the U.S. must place themselves on their state's sex offender registry. This is a result of Megan's Law, which insists that information about sex offenders is in the public domain.
The registry contains identifying information about the offender, including their:
Name
Most recent police photo
Home, work, and school address
Criminal history
The registry aims to create an up-to-date map of where sex offenders are. As a member of the public, you have a right to check your state registry at any time to search for sex offenders in your area or check on the whereabouts of a specific person.
Many states go further and collect information such as online aliases, car registration details, and driver's license copies.
If you find that a registered sex offender lives in your neighborhood, you will be able to check what type of crime they have committed by looking through their criminal records.
How Long Do Criminals Stay on the Sex Offender Registry?
Depending on the severity of their crime, sex offenders must register themselves for the following periods:
| | |
| --- | --- |
| Severity of Crime | Time on Registry |
| Tier or level I | 15 years |
| Tier or level II | 25 years |
| Tier or level III | Until death |
There is no remission for good behavior, and registered offenders face restrictions on:
Any sex offender that doesn't register or fails to keep their registration up-to-date faces severe penalties. These can include custodial sentences of up to 30 years.
Your state sex offender registry is a powerful tool to protect yourself and your family, but criminals can move fast, and you need to keep abreast of any changes that may affect you. DoNotPay has the solution—we can search for sex offenders in a flash and keep you updated for your safety!
DoNotPay Helps You Protect Yourself From Sex Offenders

We know how scary the thought of a sex offender in your neighborhood, street, or building can be!
That is why we make it easy for you to check the area around your home, search for a specific sex offender, and receive regular updates of any changes.
To get the information you need to stay safe, all you need to do is:
Sign up with DoNotPay in your web browser
Click on our Sex Offender Search feature
Choose whether you want to search for:

A particular person
Sex offenders in your vicinity
If you want us to, we can send you a weekly update on your search to ensure you stay safe.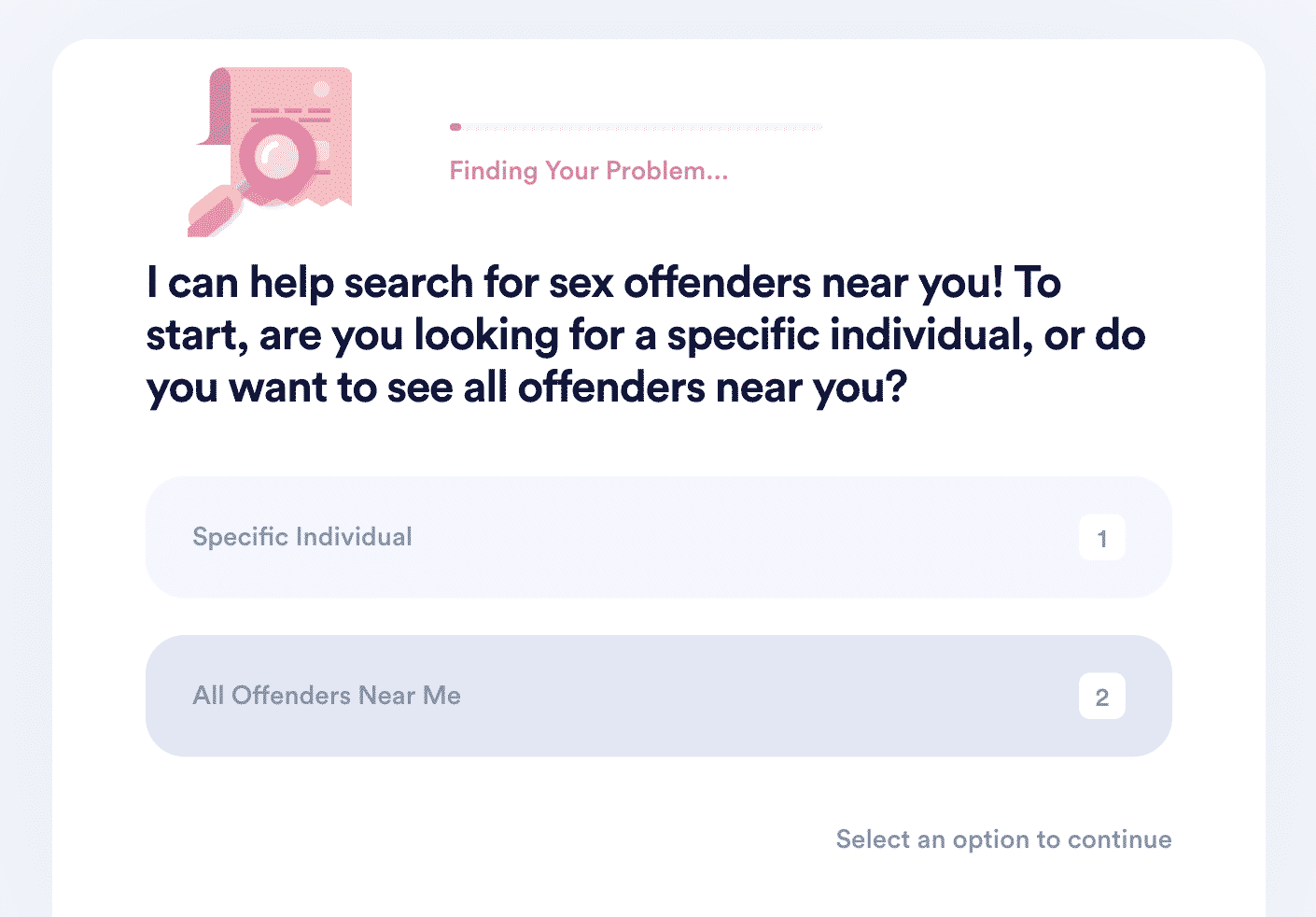 Specific State Information From DoNotPay
If you need information about the registry and the laws in your state, here are a few examples of the help we can give you:
Why Waste Money on Lawyers When You Have DoNotPay?
Although certain tasks require you to get a lawyer's assistance, you don't have to spend hundreds of dollars for their service. With DoNotPay, you can avoid figuring out the legal jargon and have peace of mind dealing with bureaucratic tasks the easy way.
Need help preparing for a small claims court appearance or composing a neighbor's complaint letter? Looking for an easy but efficient way to draft a power of attorney or divorce settlement agreement? Use DoNotPay's features to draft legal documents, sue companies, request refunds, claim warranties, and file insurance claims while still saving a pretty penny!
Communication Is the Key
The best way to resolve issues is through clear communication, but companies don't always make it easy to do so. That's why DoNotPay came up with various features that help make communicating and solving problems a piece of cake. Sign up for our app and forget about waiting in lines for hours to speak to a customer service rep!
Here's what you can do with our app: