Sex Offenders Map—Learn How To Search for Sex Offenders Quickly
Are you looking for an undemanding and quick way to locate registered sex offenders near you? We're here to help!
You don't have to struggle trying to figure out how to conduct the sex offender registry search! With DoNotPay, you can learn how to use a sex offenders map and search for registered sex offenders in your vicinity without breaking a sweat!
Sex Offender Registry Laws
All sex offenders (including tier 1, tier 2, and tier 3 ones) are required to register with local authorities and provide personal info once they're released from prison. Some of the details they need to provide upon registering are:
Names and aliases
Addresses
Photographs
If a sex offender doesn't register, they could face legal consequences (they could get fined or spend time in jail).
There are certain restrictions that registered sex offenders face, including:
Residential restrictions—Offenders are usually not allowed to live near schools, parks, playgrounds, and other places where children often gather
Travel restrictions—Although sex offenders are allowed to travel, they have to notify the authorities about it and register with the state where they travel to upon arrival
What Is a Map of Sex Offenders?
A sex offenders map is an online tool you can use to find registered sex offenders in your vicinity. Depending on the state where you live, you can search the internet and use various online registries to perform the sex offenders search. Megan's Law made all the information about registered sex offenders public, regardless of the severity of their crimes.
How To Find Sex Offenders in My Neighborhood
If you want to search for registered sex offenders in your area and map their whereabouts, you can do so using one of the options below:
The National Sex Offender Public Website (NSOPW)
Family Watchdog
Your state's sex offender registry
Note that all the above-listed options aren't ideal because these registries usually aren't updated regularly, which can be an issue because a sex offender can move to your neighborhood at any time. To stay on the safe side, your best option is to and get weekly reports from us.
Using the National Sex Offender Public Website To Search for Sex Offenders
NSOPW is a public safety resource that gives the public access to sex offender data nationwide.
Follow the instructions below to initiate the search:
Visit the NSOPW website
Choose whether you want to search by name or location
Provide the required info
Click on Name Search/Location Search
Once you initiate the search, you will get information about the sex offenders, including their names, ages, aliases, and addresses.
How To Find Sexual Offenders With Watchdog
Family Watchdog is an online tool that helps you map sex offenders near you. Here's how to use it:
Go to the Family Watchdog website
Type in your address, city/state, or ZIP code
Click on Search
Using the State Sex Offender Registry
Each state has its own platform where sex offenders should register after serving their sentence. You should visit the registry of the state you live in and follow their instructions to look for offenders close to you. DoNotPay has guides on numerous states' registries, including:
DoNotPay Makes Checking for Sex Offenders a Piece of Cake!
You don't have to bother navigating confusing online registries! Skip the hassle and use DoNotPay to find registered sex offenders near you in a jiffy. The best part is that we can also send you weekly reports about sex offenders in your area so you can stay in the loop if things change! All you need to do is follow these steps to get started:
Choose the Sex Offender Search feature
State whether you want to locate a specific offender or get a list of all the registered ones near you
Set the search proximity radius (one, two, or three miles) and choose if you would like to get updated weekly reports from us
We'll send you a full sex offenders report once you finish the above-listed instructions and keep updating you weekly if you choose so!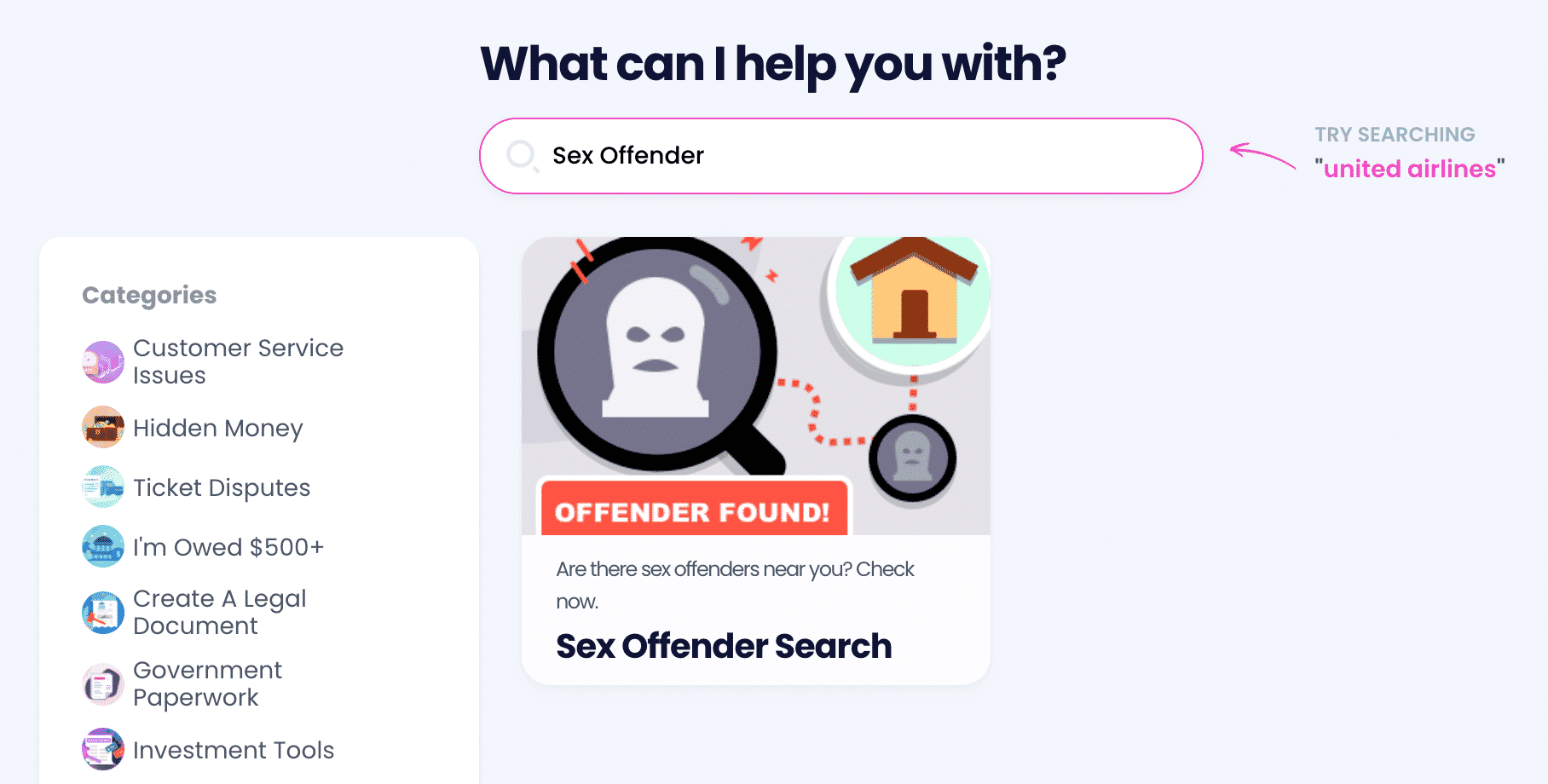 Am I Allowed To Share Info About Convicted Sex Offenders Near Me?
All the information about registered sex offenders is available to the public, so you are allowed to share it. You have to be careful with the way you do so, though.
If you use the info you find to harass or discriminate against registered sex offenders, they can take legal actions against you. The only way you are allowed to use the info is to inform your loved ones of what you found in an attempt to keep them safe.
You can tell your friends and family about sex offenders' whereabouts and show the photos (if you find any) to ensure they are aware and ready for a potential encounter with an offender.
How Can I Protect My Family if There Is a Sex Offender in My Area?
If there is a registered sex offender or a pedophile near you, take the following steps to ensure your and your family's safety:
| | |
| --- | --- |
| Steps | What To Do |
| Be aware of your surroundings | If you need to go somewhere where you're likely to run into the offender, make sure to stay vigilant. You should come up with a plan about what to do and where to go if you see the offender to avoid panicking in such situations |
| Call for help if you are being followed | In case you notice you are being followed, take your phone out quickly and dial 911. Keep walking normally and stay on the line while talking to the police and explaining where you are and what's happening |
| Talk to your children | It's important to establish ground rules about where your kids can play and make sure they know what to do in case a stranger approaches them |
DoNotPay Helps You Deal With Any Administrative Issues Effortlessly
Tedious administrative tasks are always headache-inducing, but they don't have to be if you use DoNotPay. With our AI-powered app, you will be able to:
Solve Any Issues Like a Pro With DoNotPay
DoNotPay is an AI assistant that is able to solve almost all issues you're facing. Whether that be your noisy neighbors, the annoying text and email spam you're receiving, or the frustrating robocalls that won't leave you alone. We'll even cancel your unneeded subscriptions and get you a few extra bucks you've been cheated out of.
The world's first robot lawyer app can help you get: