Washington State Sex Offender Registry—Can Offenders Slip Through the System?
While state sex offender registries were made public after the passing of Megan's Law, that never put an end to the heinous sex crimes in the U.S.
Going by a May 2021 report, the Washington State Sex Offender Registry has almost 6,800 entries—but this figure hardly reflects the actual number of sex offenders living in the state. Many sex offenders slip through the cracks in the system and move about undetected in seemingly safe neighborhoods.
The Washington Sex Offender Registry strives to be helpful, but it misses the mark when it comes to being efficient and reliable. DoNotPay cannot fix the flaws in the system, but we are committed to keeping you safe with our unfailing sex offender search and auto-alerts tool. If you want to get a report instantly, !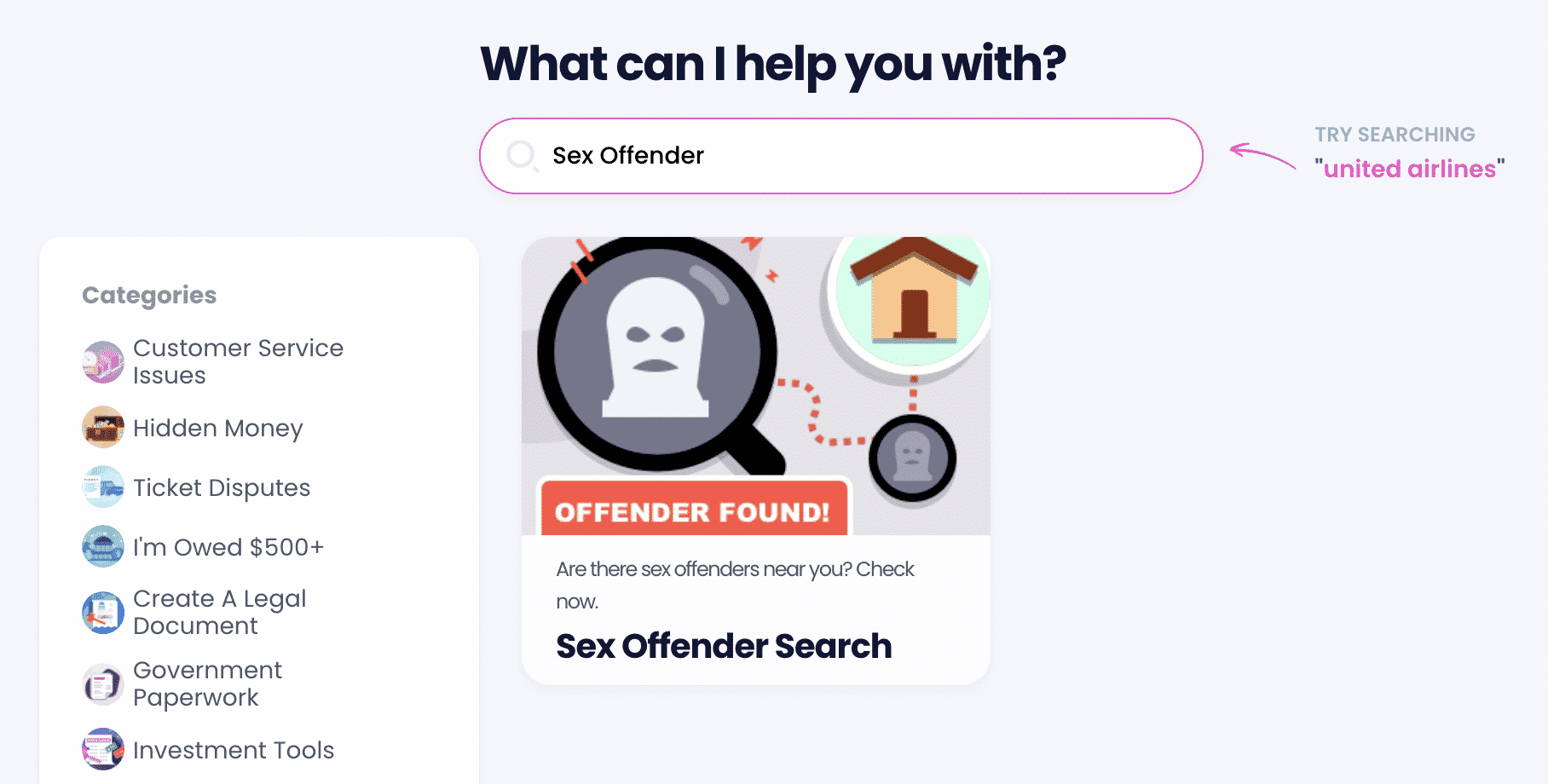 Washington State Sex Offender Search—How To Use the Registry Website
The Washington State Sex Offender Registry is maintained by the Washington Association of Sheriffs & Police Chiefs (WASPC). WASPC tries to update the records throughout the day so that the Registry shows real-time results and not stale data.
The Washington Sex Offender Registry restricts your search with a narrow set of parameters. Refer to this table to view the search options available to you:
Search Parameter
Details
In your area

You can use this to view a list of offenders within a specified radius of any location
You will need to provide your address, city, and ZIP code for this search to work
This will only show you the mappable offenders in an area

Name

Use this to search different types of sex offenders by first names, last names, or aliases
The search results may be messy as they will include all partial matches

City
This will give you a list of all offenders by city of residence
Non-compliant

This leads you to a list of all the non-compliant offenders in Washington State
The list currently contains over 1,400 records arranged in a painfully basic manner
The problem with the Registry's search results is that they can contain a massive amount of irrelevant data due to partial matches. You may need to scan past several record pages to find what you are looking for.
Sex Offender Registry WA—Community Notifications
You can subscribe to WASPC's community notification feature by signing up for their email alerts. Here are some limitations of the email alerts feature:
The alerts may be too concise and skipping the details you seek
You will be notified only when a Level II or Level III sex offender registers a new address within one mile of the address you provided to WASPC
The email alerts will be delayed if the Registry is yet to be updated
Individual address verification of the offender can take anywhere between two weeks to several months, which will delay the Registry update and alert accordingly
Sexual Offenders in Washington—Can I Share Their Info?
You can share the information you find on sex offenders within reason and not in a way that harms them. You can be prosecuted for criminal acts if you misuse the Registry database to:
Vandalize the offender's property
Intimidate the offender with verbal or written threats of harm
Use physical violence against the offender, their family, or employer
Why Are All WA State Sex Offenders Not on the Registry?
Do you know someone to be a sex offender but cannot find them on the Registry? There could be several reasons why a known sex offender is not on it:
You may be looking into a Level I unregistered sex offender—Washington State only publishes offenders of Level II and III and any non-compliant Level I ones
The offender may have moved out to another state
The registration period for the offender is over and done with
You can always reach out to local law enforcement if you believe the Registry data is missing information on someone.
Sex Offenders Registry Washington State—Registration Rules
Being aware of the basic sex offender registration laws can help you keep an eye out for non-compliant or absconding sexual predators in your neighborhood.
This table gives you the lowdown on Washington State's registry laws for offenders:
Issue
Registry Rule
What is the period of registration?
Duration of registration depends on original offense:

Class A Felony—For life until relieved by court upon petition
Class B Felony—15 years
Class C Felony—Ten years

What does the "level" of offenders mean?
In Washington State, the sex offenders are classified as Level I, Level II, or Level III based on their risk of recommitting another sex crime—with Level III being the most likely to reoffend
Are there any residency restrictions for registered sex offenders?

There is no strict residency restriction for sex offenders in Washington State
Law enforcement may enforce housing restrictions for offenders under supervision
Offenders who are no longer under supervision can live where they choose

What are sex offenders not allowed to do?
Offenders under supervision may have to follow one or more of the following restrictions:

Not being around minors
Not visiting places like malls or public parks
Staying away from alcohol or non-prescription drugs
Following a strict curfew
Having their internet and computer usage monitored, including the use of site-blocking software

Can offenders use social networking sites?
Yes, but you can report them on some sites, like Facebook
Use DoNotPay To Keep a Safe Distance From WA State Sexual Offenders
If you're living under the constant nagging fear of your loved ones bumping into a sexual predator or a child molester, we understand your anxiety. You don't have to spend hours hunting public registries every week to safeguard your family—DoNotPay offers you a more practical alternative with our time-saving Sex Offender Search feature!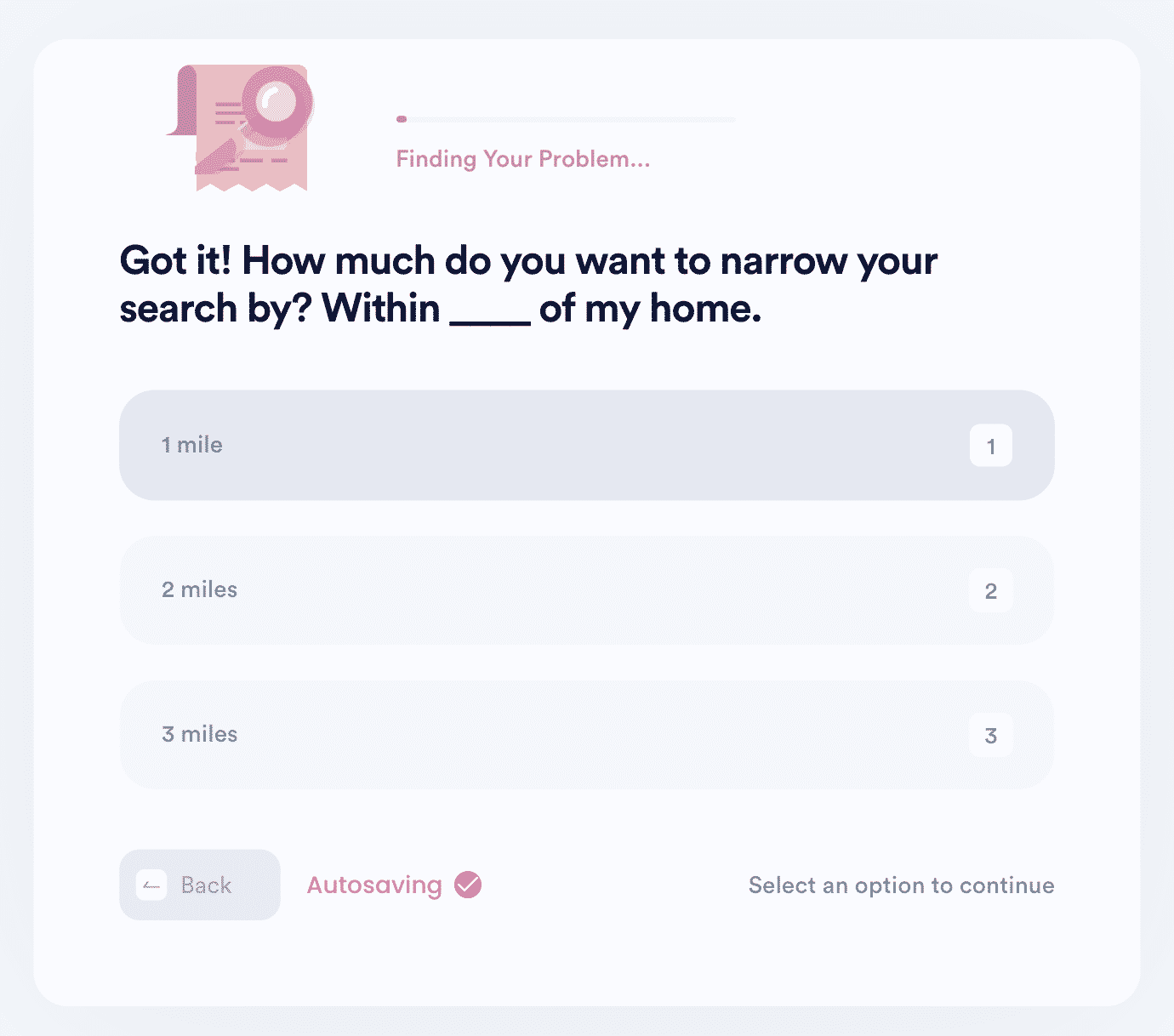 It will only take a couple of seconds for you to get your desired search result with DoNotPay. Here's what you need to do:
and select our Sex Offender Search feature
Tell us what you want—details on a specific offender or a comprehensive list of offenders in your area
Specify a radius between one and three miles to refine the search
Choose or reject the optional weekly scan feature before viewing your customized report
Our report uses up-to-date data from the Registry, so you don't have to stress about missing out on the crucial details of any offender. Our routine scan option is specially designed to automate your desired area scan every week. You will get an instant notification of DoNotPay's weekly search results without wasting another second on tedious public registries!
Use DoNotPay To Resolve Administrative Tasks in Minutes!
Tired of brainstorming the easiest way to deal with administrative issues? We know how you feel, and we're here to take the burden off your back!
Once you subscribe to our app, you'll be able to resolve an abundance of bureaucratic issues with ease.
Taking a valid passport photo, reporting workplace discrimination, reducing property taxes, preparing for a government test, applying for a college fee waiver, and appealing a parking ticket are some of the many tasks we assist you with.
In case you need a quick way to draft a legal document, such as a power of attorney, divorce settlement agreement, or a child travel consent form, DoNotPay will do it for you!
Learn How To File Claims the Easy Way
Are you dissatisfied with a certain company and/or its products? You don't have to stay quiet! Use DoNotPay to file your insurance, warranty, or missing/late parcel claim effortlessly! We'll also show you how to request an item return in a few steps.
If you want to cancel a subscription or request a refund or chargeback, you can do it with our assistance without breaking a sweat. Use one app to deal with countless issues!