Scrape the Maine Sex Offender Registry and Keep a Safe Distance From Sex Predators With DoNotPay
The number of registered sex offenders is constantly on the rise. Sex predators could be right around the corner, so you need to stay alert at all times if you want to feel safe.
The Maine Sex Offender Registry is updated regularly, but there's no way of you knowing about the newest entries if you don't scrape through the database manually. One missed record can seriously affect your and your family's safety. If you don't want to put your loved ones at risk, you can .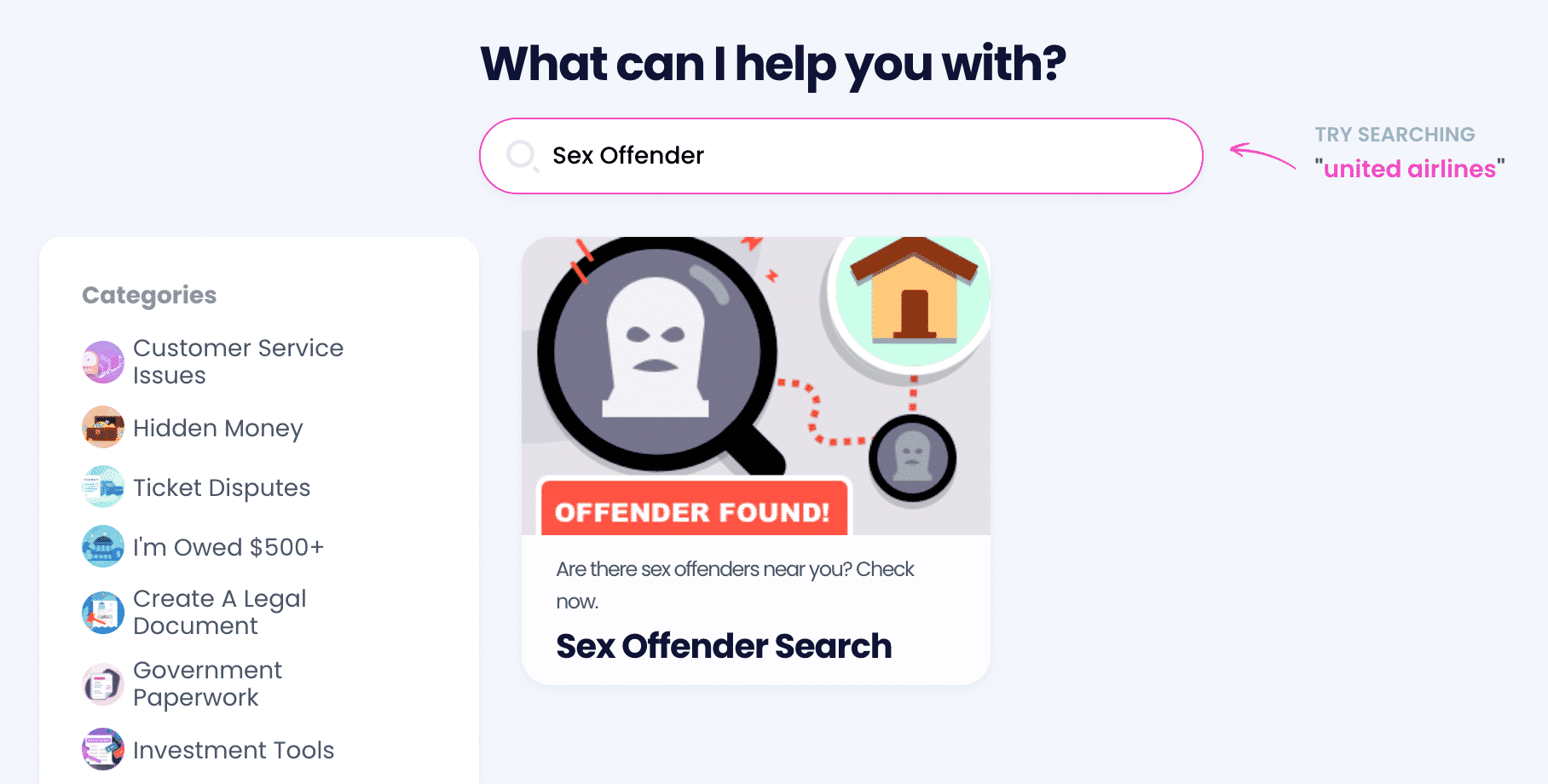 The Importance of the Maine Sex Offender Registry and How It Works
Megan's Law requires authorities to make information in each state's sex offender registry available to the public. Although the relatively low number of less than 300 sex offenders in the Maine Sex Offender Registry is comforting, most of the cases don't get reported, allowing sex offenders to go unregistered.
The Maine sex offender list is maintained by the State Bureau of Identifications and consists of information about the location of registered sex offenders. The info is updated daily, and you can see the date of the latest updates on each page. Registrants may fail to notify the State Bureau about possible address changes, so the Maine Sexual Offender Registry is not 100% accurate.
There are a lot of other sex offender websites publishing information about sex offenders in Maine. Note that the Maine Sex Offender Registry site is the official and most reliable source of information.
What Type of Information Regarding Sex Offenders Can I See in the Maine Sex Offender Registry?
If a registrant is governed by the Registration Act of 1999, you can see the following info:
Name
Birthdate
Current city/town of residence
Workplace
School
Statutory citation and crime name for which the registrant was convicted
Type of registrant (ten-year or lifetime)
Photograph (if available)
If the sex registrant is governed by the Registration Act of 2013, in addition to the above-mentioned information, you can also see their:
Known alias names
Status (Tier I, Tier II, or Tier III registrant)
Last date of verification
Address and map location
How Long Do Sex Offenders in Maine Have To Register?
All sex offenders are required to register by law. Maine sex offenders are classified by the seriousness of their conviction and the risk of reoffending.
If a sex predator committed the crime before January 1, 2013, they have to register:
For ten years, if they were convicted of a sex offense
For life, if they were charged with a sexually violent offense
Those who committed the crime after January 1, 2013, are classified in one of the three registration categories known as tiers. Depending on the tier they belong to, the registration time may vary, as shown in the table below.
| | |
| --- | --- |
| Tier of Offense | Registration Time |
| Tier I | Ten years |
| Tier II | 25 years |
| Tier III | For life |
If convicted sex offenders fail to register, they might face legal consequences according to any prior failures to do so:
| | | | |
| --- | --- | --- | --- |
| Failure | Crime Class | Fine | Jail or Prison Sentence |
| First registration failure | Class D misdemeanor | Up to $2,000 | Up to a year |
| Second registration failure | Class C felony | Up to $5,000 | Up to five years |
| Third registration failure | Class B felony | Up to $20,000 | Up to ten years |
How To Search the Maine Sex Offender Registry
When searching the Maine sex offenders list, you can filter the results by:
Personal information
Location
Area
The simplest approach is searching by personal information. If you know the offender's personal information, such as their first and last name, enter the information in the dedicated fields.
Another option you can try is to filter sex offenders by location. Note that searching by location gives you the broadest results.
Alternatively, you can try the area or map search. All you have to do is enter the ZIP code, and you can also set the radius—anything between zero and 30 miles.
You have to accept the agreement imposed by the Maine Sex Offender Registry website before you start searching the database. Upon accepting, you agree not to use the information provided to threaten, harass, or intimidate any of the registrants as it may result in criminal prosecution.
Does a Maine Registered Sex Offender Face Any Restrictions?
The restrictions that apply to sex offenders vary from state to state. If you're wondering what a sex offender in Maine is not allowed to do, or you need answers to the most common questions about sex abusers in Maine, check the table below.
Question
Answer
Which counties in Maine have the highest number of offenders?
Cumberland, Kennebec, Androscoggin, Penobscot, and York
Will I be notified if a sex offender moves into my neighborhood?
It depends on the law enforcement agency that has jurisdiction in the area where the offender resides
Can a registrant live near a school, daycare, or playground?
Yes, but some towns adopted ordinances that limit where a registered sex offender may live
Are all sex offenders listed on the Registry?
No, and there are a number of reasons they aren't, including:

The offender is still incarcerated
The registration period has expired
The registration is still in the process
The individual has been pardoned
The abuser may have relocated and is no longer living, working, or attending school in Maine

Can sex offenders travel to other states?
Yes, unless the offender's sentence includes probation and special conditions that limit their permission to travel
How often does a Maine sex offender have to verify their information?

Tier I registrants—every year for ten years
Tier II registrants—every six months for 25 years
Tier III registrants—every three months for life
Stay Safe in Maine With DoNotPay
If you don't want to miss out on crucial information regarding sex offenders in your area, rely on DoNotPay to keep you updated at all times. Our Sex Offender Search feature can find predators by name or location, and we will send out regular updates so that you know their whereabouts.
All you need to do to use our feature is:
Click on our Sex Offender Search product
Choose if you want to search for a particular person or see all the sex offenders in your area
You will receive your report quickly, and we'll continue to send out the latest information regarding sex offenders to make sure you're always safe.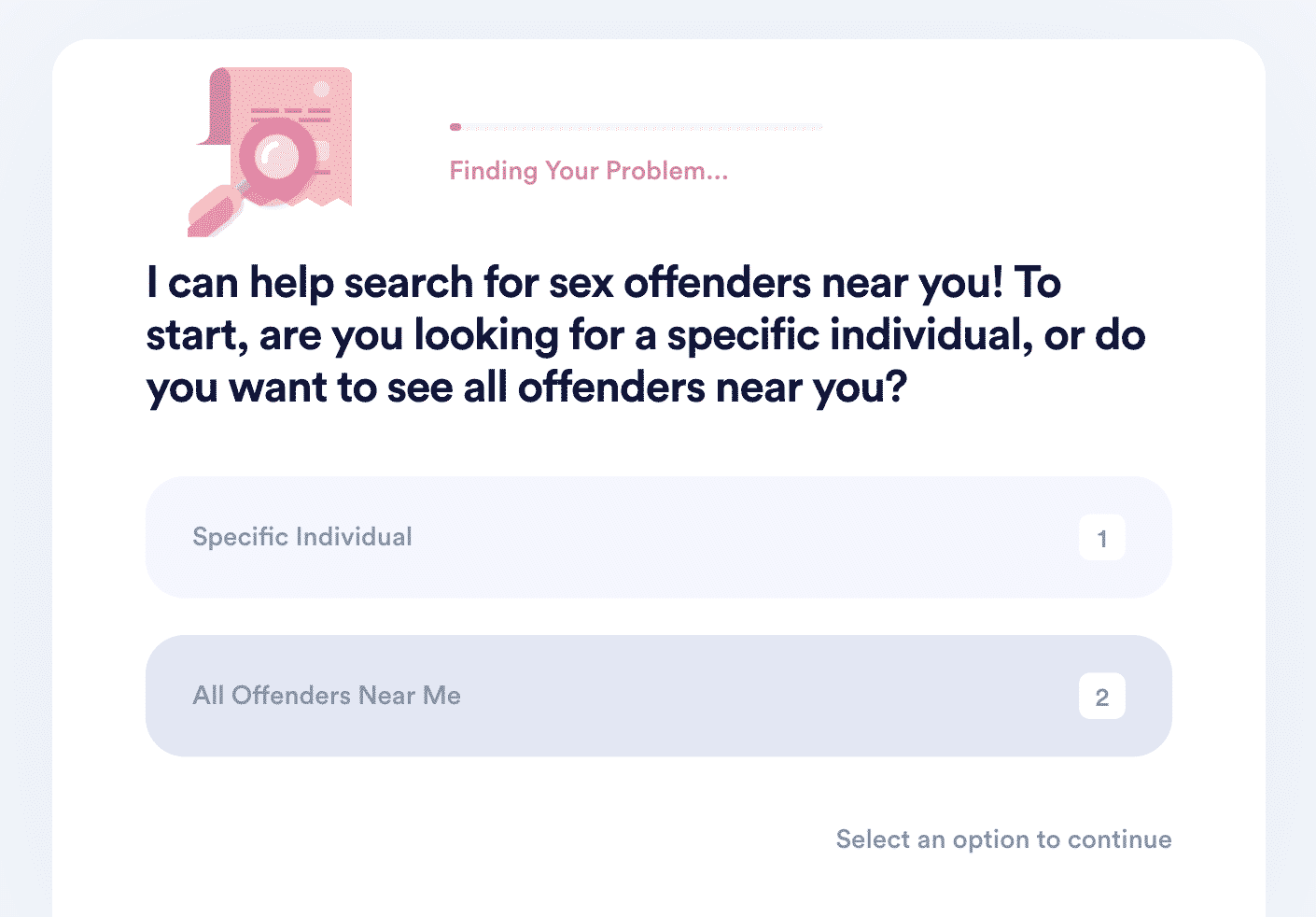 DoNotPay Makes Your Troubles Go Away
If you want an app that gets the job done, subscribe to DoNotPay! We have various features that can help you with almost anything—from canceling subscriptions and filing insurance claims to getting in touch with inmates!
It doesn't matter if you need help with bureaucracy issues or with everyday struggles because DoNotPay is your go-to app! We can help you:
Protect Your Customer Rights With DoNotPay
Have you been wronged by a company? Why not sue it in small claims court with our AI-based app? We can also help you claim any warranty or file an item return request in a few clicks! Trying to reach customer service representatives, but the phone keeps ringing? Your virtual assistant can help you jump the queue for any company in the blink of an eye!