Keep Up With the Sex Offender Registry, RI—Get Custom Notifications From DoNotPay
Are you worried that your neighborhood is not as safe from sex predators as you'd like it to be?
Megan's Law has approved access to the local sex offender registries for all citizens. Exercise your rights and get the details of the individuals listed on the Sex Offender Registry, RI.
Note that the info on the official Rhode Island sex offenders list changes quickly. to keep up with the sex offender movements within your area. Set up your parameters and get weekly automated reports.
RI Sex Offender Registration Laws
The local sex offender laws require all Rhode Island sex offenders to register, regardless of their offense level (i.e., the recidivism potential). The community must be informed when an offender is being released. If an ex-convict fails to register or disregards other rules and regulations, they face legal consequences and penalties.
RI Sex Offender Registry—Offender Levels and Community Notifications
According to Rhode Island's Sex Offender Registration and Community Registration Act, the local police departments must inform the public when a sex offender of any level is being released. What the assigned levels determine is how the community notification will be conducted.
Here are the rules, depending on the offender level:
Offender Level
Recidivism Potential
Community Notification Practices
Level 1
Low chance of re-offense
Informing

Victims upon their request
Witnesses upon their request

Level 2
Moderate chance of re-offense
Informing:

The same individuals as for Level 1 offenders
Schools and daycare centers
Other institutions the offender might visit

Level 3
High chance of re-offense
Informing:

The same persons and institutions as for Level 1 and 2 offenders
Individual community members the offender might encounter (notification flyers or news releases)
Data Registration Timeframes and General Limitations for RI Sex Offenders
After the first registration, all offenders must update and report their data to local law enforcement agencies. Here are the main registration and verification requirements:
Timeframe
Type of Data
Seven days
Absence from the reported address
Ten days
Any temporary change of address, and in this case, they need to provide:

Address of the temporary residence
Duration of the stay at the temporary residence

21 days
Traveling out of the U.S.
30 days
Reporting upon entering the state they are visiting (applies to the out-of-state sex offenders required to register under their home state laws)
If they fail to inform the authorities of the changes, offenders will be prosecuted for a felony and may be imprisoned for up to ten years.
The registrants can also be put on trial if they disregard the residential restrictions prohibiting them from living within 300 feet of a school. If this happens, they can get up to five years in prison.
Searching the Sex Offender Registry, RI
RI Sex Offender Registry offers several manual search methods. They are arranged in tabs as follows:
In your area—search based on the offender's addresses (the first four fields are required)

Address
City
State
ZIP
ZIP plus
Offender Address Type (Home Addresses checkbox)

Name—an offender's name or alias

First name
Last name

City
Non-compliant
You can also apply to receive email notifications via the official RI Sex Offender website. The details you need to provide to set up these notifications are:
Address
City
State
ZIP
Email
The manual search is time-consuming, and the website states that the email notifications might fail to reach you or can get lost in your Junk inbox easily.
Unlike many other states, Rhode Island Sex Offender Registry doesn't have an offender map feature that would pinpoint the locations of all the offenders in your area.
Cut Down on Browsing the Sex Offender Registry, RI—DoNotPay's Automated Alerts Give You All the Info You Need
Browsing the RI sex offender list manually isn't practical and can be inconvenient for a busy working parent, so DoNotPay has introduced a tool that makes gathering info about local predators fast and easy.
The advantages of the Sex Offender Search tool are:
Speed
Ease of use
Different search options—by an offender's name or your address
Adaptable search radius—you can set the scans of one, two, or three miles around your location
Automatic weekly alerts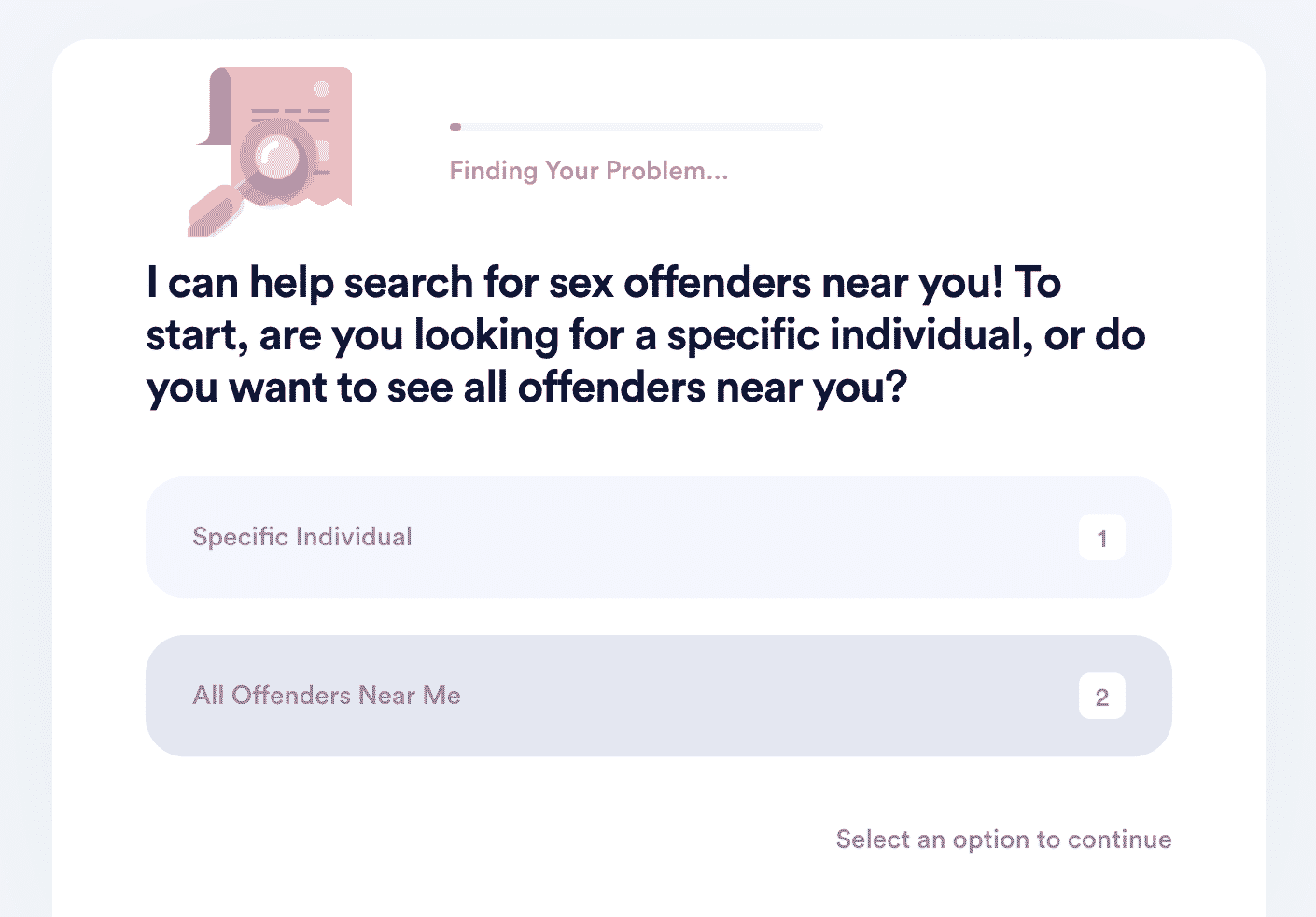 To start receiving your personalized reports, you should:
and find the Sex Offender Search feature
Pick to search by an offender's name or your address
Select the radius you want to scan (one, two, or three miles)
Sign up for weekly notifications about the new offenders moving near your home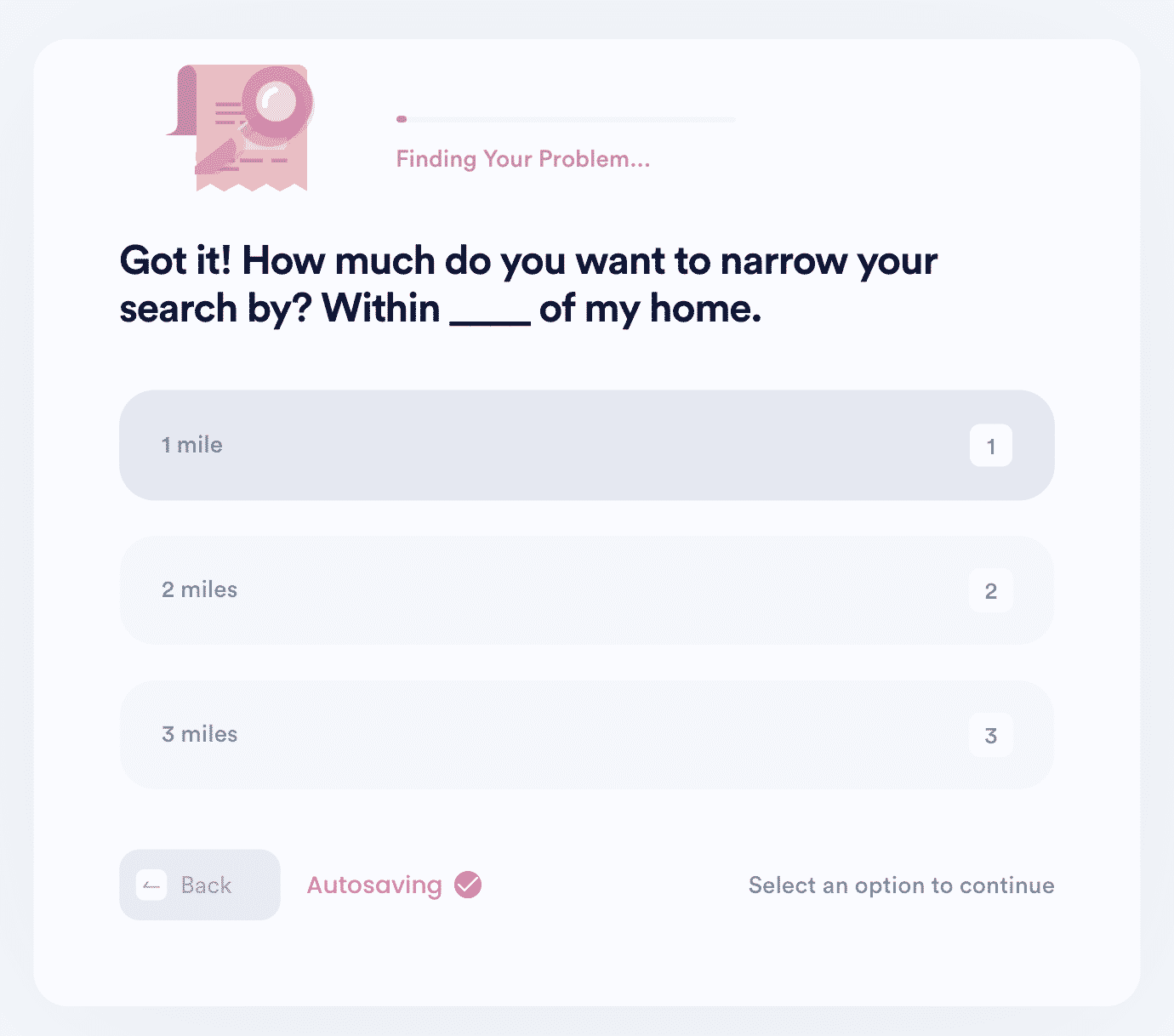 Our app needs you to enter your search criteria only once for all subsequent area scans. The weekly reports you get as a result will help you stay away from danger.
Why Waste Money on Lawyers When You Have DoNotPay?
Although certain tasks require you to get a lawyer's assistance, you don't have to spend hundreds of dollars for their service. With DoNotPay, you can avoid figuring out the legal jargon and have peace of mind dealing with bureaucratic tasks the easy way.
Need help preparing for a small claims court appearance or composing a neighbor's complaint letter? Looking for an easy but efficient way to draft a power of attorney or divorce settlement agreement? Use DoNotPay's features to draft legal documents, sue companies, request refunds, claim warranties, and file insurance claims while still saving a pretty penny!
Communication Is the Key
The best way to resolve issues is through clear communication, but companies don't always make it easy to do so. That's why DoNotPay came up with various features that help make communicating and solving problems a piece of cake. Sign up for our app and forget about waiting in lines for hours to speak to a customer service rep!
Here's what you can do with our app: