Stay Safe From Sex Offenders in Corpus Christi
With over 1,200 sex offenders in Corpus Christi, you never know how many of them could be living close to you. You want to keep yourself and your family safe, but where do you start? In this guide, DoNotPay will show you how to search for sex offenders using the official Texas registry. We will outline the registration laws sex offenders in Corpus Christi need to abide by. You will also learn how to search for sex offenders in a more accurate and organized way using DoNotPay.
Registration Laws for Sex Offenders in Corpus Christi
It's mandatory for sex offenders in Corpus Christi to register with the local law enforcement authority. Failure to register is a felony, and unregistered sex offenders will be labeled as absconded on the state sex offender registry.
Sex offenders need to register for ten years from the date of their discharge or court dismissal. If convicted of a sexually violent offense, they need to register for life.
The following table breaks down how often sex offenders need to update their registration based on their conviction:
| Classification | Registration Update |
| --- | --- |
| Sex offenders with a one-time offense | Once a year |
| Sex offenders with two or more sexually violent offenses | Every 90 days |
| Sexually violent predator | Every 30 days |
Residential Restrictions for Sex Offenders in Corpus Christi
In Texas, registered sex offenders are not allowed to live within designated child safety zones, which are the places where children congregate (e.g., schools, playgrounds, and daycare centers). Failure to comply with this rule will result in a citation or a revocation of a sex offender's probation.
A sex offender may also not reside on the higher education campus unless:
The offender is considered to be low-risk for the community
The campus approves the offender to stay
Travel Restrictions for Sex Offenders in Corpus Christi
Another restriction for Texas sex offenders is that they may travel to other states only to seek employment or a new residence. The offender's probation officer needs to obtain a permit request from the Offender Information Management System, which will allow out-of-state travel for up to 30 days.
Public Notifications About Sex Offenders in Corpus Christi
Megan's Law mandates that information on sex offenders is made available to the public. In Texas, the information can be found in the following ways:
Online—The local law enforcement authorities send information about sex offenders to the Texas Department of Public Safety (TXDPS), where the information is imported into the DPS Sex Offender Database. Residents can search the official registry and map out the Corpus Christi sex offenders in their neighborhood
In print—Texas sex offender law also permits the authorities to publish information in the newspaper or circular of the community that the sex offender lives in
By mail—If a sexually violent predator or a high-risk sex offender is moving into the community, the Texas Department of Public Safety (TXDPS) will send everyone in the community a postcard to notify them about it
At a local school—The local law enforcement agency may notify the superintendent of the public school or a private primary or secondary school if a sex offender is residing within the school district
Sex Offender Classification
In Texas, sex offenders are categorized by levels based on the likelihood that they might repeat a sex crime:
| Levels | Description |
| --- | --- |
| Level one | The risk of the offender repeating a sex crime is low |
| Level two | The offender is of moderate danger to the community but could still repeat a sexual offense |
| Level three | The person poses a great danger to the community and will likely engage in criminal sexual conduct again |
How To Search for Sex Offenders in Corpus Christi
To search for registered sex offenders in Corpus Christi, you need to do the following:
Open the Texas Department of Public Safety Sex Offender Registry website
Select Registry Search from the menu
Search using any of the following:
The offender's name
Address of the offender
Institute of Higher Education that the sex offender is attending
You can download the entire Texas sex offender list by selecting Download Registry from the menu. To do this, you will need to create a TxDPS Public Website Account.
A More Effective Way To Search for Sex Offenders in Corpus Christi—With DoNotPay
You can use DoNotPay to find information on sex offenders near you in a quick and organized way. Here is what you need to do:
Type in Sex Offender Search in the search box
Specify your desired address and the mile radius you'd like us to cover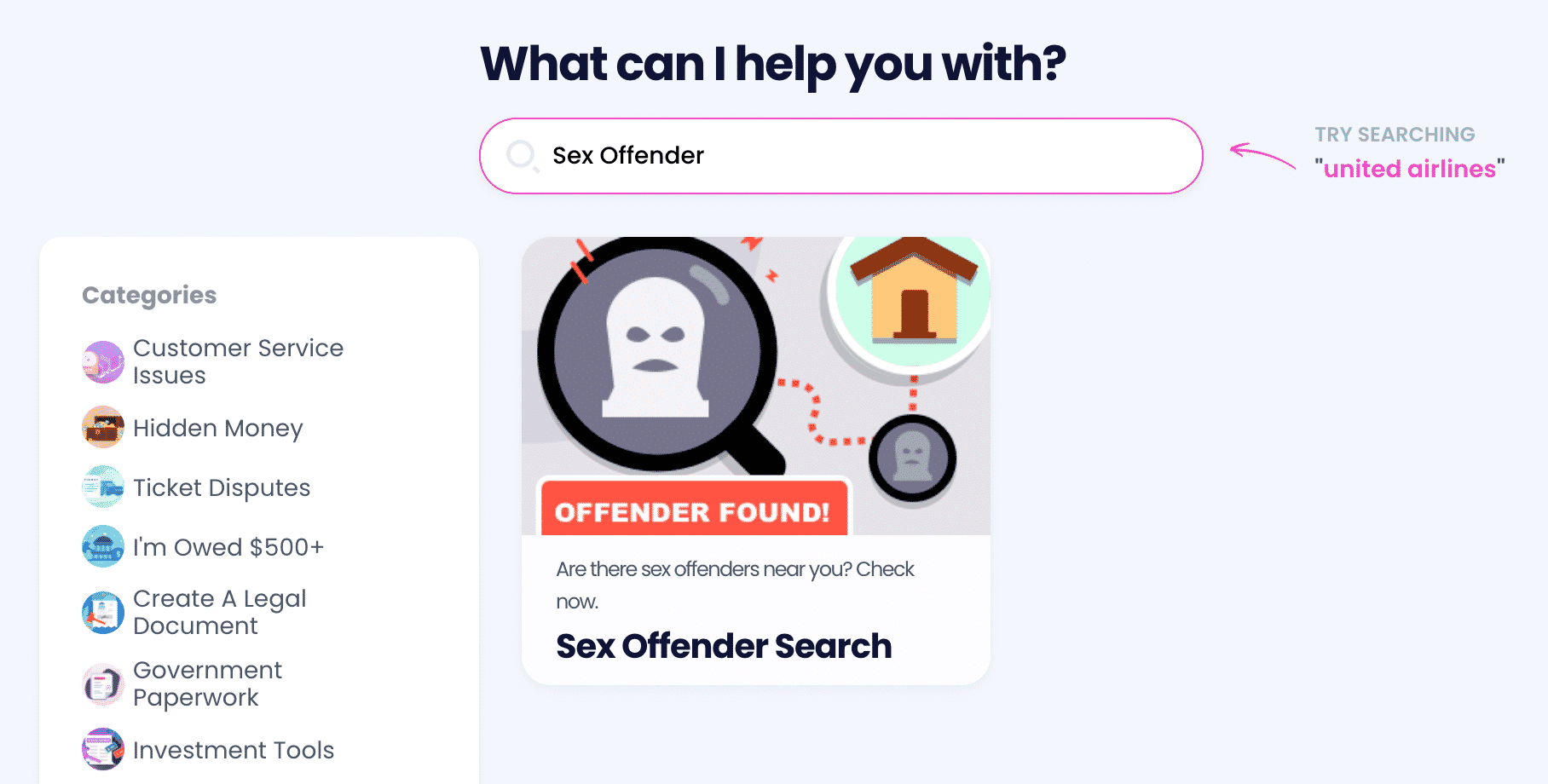 DoNotPay will search for sex offenders based on your input and generate a full report. You can choose to receive a comprehensive report every week.
We can also help you single out sex offenders in other places around Texas, such as:
Can I Share Information I Find on a Sex Offender in Corpus Christi?
You can share the information you find about a sex offender in Corpus Christi on a need-to-know basis. This could happen in the following instances:
Alerting the people in your neighborhood about the presence of a sex offender
Providing information to someone who is unknowingly involved with a sex offender
Notifying someone who is looking for a particular sex offender
You should be aware that sex offenders are protected by state law. You cannot harass, threaten, or perform any act of violence against them. If you do so, you will face criminal charges.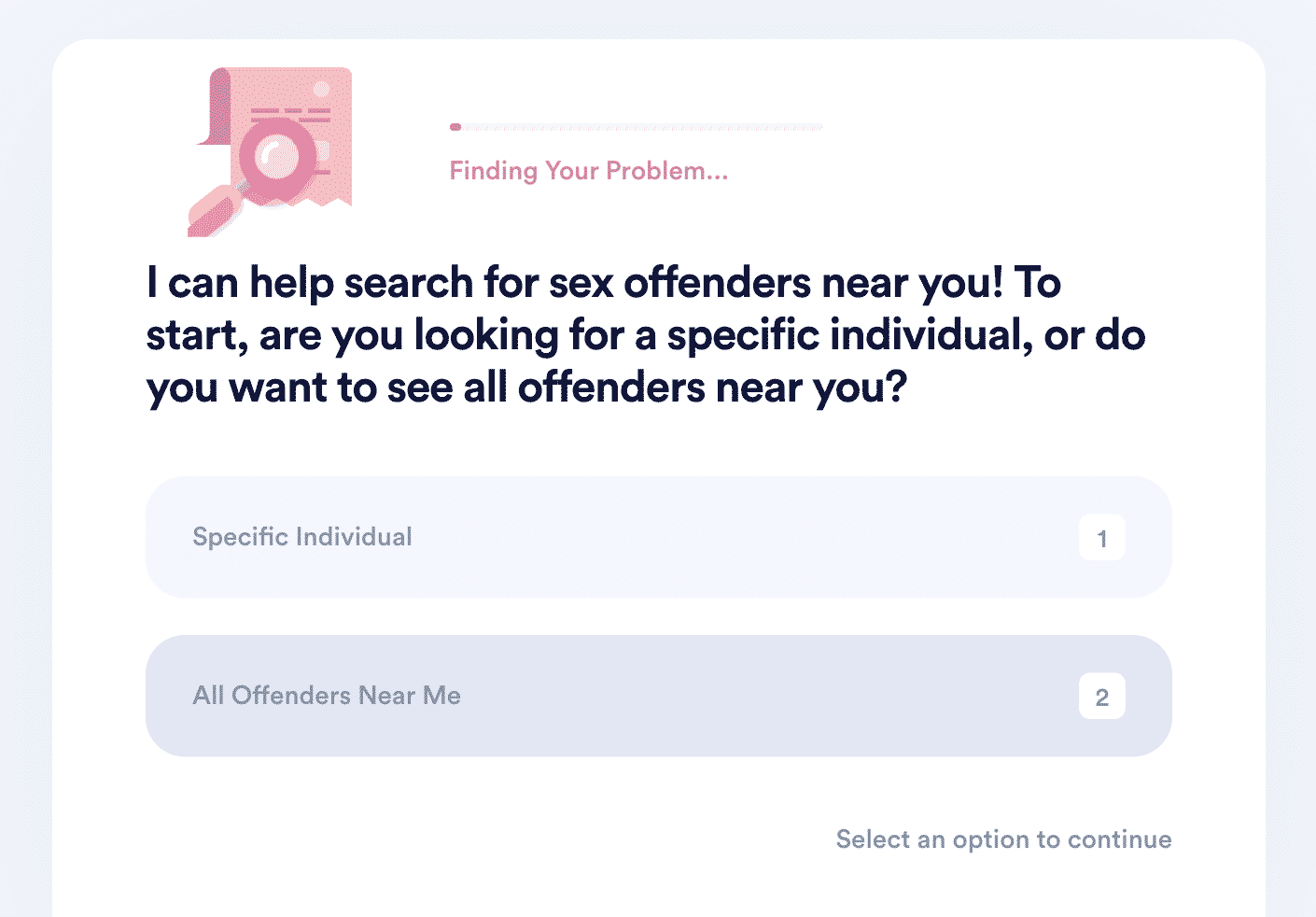 DoNotPay Goes the Extra Mile for You
We are dedicated to providing solutions to difficult and time-consuming tasks you may have on your to-do list. If you are struggling to reduce your monthly bills, contest parking tickets, or set DMV appointments, DoNotPay will help you do it in no time!
We have also created numerous easy-to-use features that can make the following procedures run smoothly:
Get Justice From Companies That Wronged You
Do you feel like you have been played by a company? Instead of wasting your time writing requests, demand a chargeback or refund or claim a warranty via DoNotPay! If the company doesn't seem too cooperative and keeps refusing to return your money, our app can assist you in suing it in small claims court.
To help you save some coins or regain what's yours, DoNotPay will also help you locate unclaimed funds, submit insurance claims, lower your property taxes, and cash out gift cards.