Kentucky Sex Offender Laws Clarified
Kentucky may categorize sex offenders' crimes differently from many other states, but the result is the same.
The Bluegrass State has a low number of sex offenders—201 per 100,000 inhabitants—and makes sure their whereabouts are well mapped.
Your safety is paramount, so DoNotPay has the most important info on Kentucky sex offender laws to make sure you can keep yourself and your family at a safe distance!
How Are the KY Sex Offender Laws Different?
Whereas federal law requires the classification of sex offenses in three tiers, Kentucky favors a two-step categorization system, meaning that some offenses are classified differently to other states.
The most serious sex crimes are defined in Kentucky as follows:
Crime
Degree
Explanation
Punishment
Rape or sodomy

First degree
Penetration of someone who can't consent due to:

Being disabled
Being under 12

Between ten and 20 years, unless the victim is injured or under 12, in which case the maximum sentence is 50 years or life imprisonment
Second degree
Intercourse by a perpetrator aged 18 or over with a victim younger than 14 or mentally incapacitated
Between five and ten years imprisonment
Third degree
Intercourse in which the victim must be younger than 16 and the criminal older than 21
Between one and five years of incarceration
Sexual abuse

First degree
Non-penetrative sexual contact with someone who is under 12, or 16 when the perpetrator is 21 or older
1–5 years in jail
Second degree
The perpetrator must be between 18 and 21 and forces a victim of 16 or younger into sexual contact
Up to 12 months in prison or a $500 fine
Third degree
Any uninvited or non-consensual sexual contact
Up to six months imprisonment
Sexual misconduct
Engaging in sexual contact without the victim's consent
Up to three months incarceration
Within Kentucky, this system of classification works effectively, but it can be difficult to blend into the federal tier system. Most tier or level III offenses are classified as first or second-degree cases in Kentucky.
How Does the Kentucky Sex Offender Registry Work?
Most states use the three-tier system to impose 15, 25, and lifetime registration requirements on sex offenders. Kentucky's sex offender registry works slightly differently.
Kentucky sex offenders rules and regulations allow for only two registration timeframes—20 years and lifelong. The result is that some crimes that would require lifetime registration in other states only merit 20 years in Kentucky. The most notable of these are:
Second- and third-degree rape or sodomy
First-degree sexual abuse
Incest
Under Kentucky registration law, sex offenders must place the following information on the state registry:
Name, aliases, and social media handles
Physical description
Home address
Offenses committed
Registration period
All registrants must update their details at least once a year and inform authorities of any address changes immediately. Failure to register or update the registry information is classed as a misdemeanor and then as a felony after the second infringement.
What Restrictions Do Registered Sex Offenders in Kentucky Face?
Depending on the level of their offense, convicted sex criminals in Kentucky are subject to the following sanctions:
Employment
Registered sex offenders are barred from performing any jobs that would bring them into contact with children.
Recent changes in Kentucky employment law allow employers to hire convicted criminals who have committed other crimes, but sex offenders remain taboo.
Residence
Kentucky sex offenders are not allowed to live within 1,000 feet of any facility where children congregate, such as:
Playgrounds
Sports facilities
Daycare centers
School bus stops
If a new facility opens within this distance, sex offenders are responsible for finding out about it and moving within 90 days.
Travel
Convicted sex offenders have to notify authorities of any intention to travel outside Kentucky or the U.S.
They need to provide full details of their travel arrangement, including:
Travel dates
Passport details
All destinations
Contact details at their destinations
Kentucky authorities normally require 21 days' notice to issue travel permits to sex offenders.
Social Media
Kentucky sex criminals are not prohibited from using social media, but they may not use it to gather information about minors if their crime involved underage sex or sexual contact.
How Can You Protect Yourself From Sex Offenders in Kentucky?
If you are worried about living near a sex offender or think that a criminal you know could be in your area, you can search the Kentucky sex offender registry.
Under Megan's Law, all sex offender information is in the public domain, so you are free to search for:
Registered criminals in a radius around your house
Specific names of sex offenders
You can then download the information and use it to inform your family and neighbors, as long as you don't attempt to harass or intimidate any of the criminals you find.
The danger is, though, that you could miss a sex criminal moving to your area—a one-off search only gives you a snapshot of the current status.
DoNotPay has the solution—we can if you choose!
DoNotPay Looks After Your Security in Kentucky!

We know how important it is for you to know whether a sex offender is living next door!
Our Sex Offender Search feature is designed to give you peace of mind—you can use it to check the safety of your neighborhood, search for a sex offender by name, and receive weekly updates to make sure you stay abreast of any changes.
Here's what you need to do to use the feature:
in your web browser
Click on our Sex Offender Search feature
Choose whether you want to search for:

A particular person
Sex offenders in your vicinity
Your report will arrive in a flash!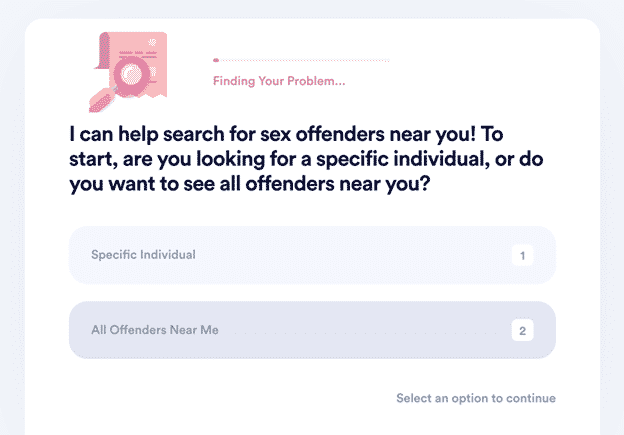 How Else Can DoNotPay Help?
If you need info on the sex offender registries in other states, DoNotPay is your top resource—here are a few examples of other jurisdictions we can help you with:
Drowning in Paperwork? DoNotPay Comes to the Rescue!
Dealing with administrative procedures is never a fun experience. Not only is it time-consuming, but it's also extremely inconvenient and impractical. Luckily, we have a practical solution!
Use DoNotPay to cut through the red tape and handle any bureaucratic issue that comes your way stress-free! Check out the list below to see a fragment of tasks you can tackle with our help:
Explore DoNotPay's Other Services
DoNotPay provides you with a ton of other services you can find useful when completing your everyday tasks.
You can contact customer service support without waiting for hours, request refunds from various companies, file a missing package claim, and get compensation for missed or delayed flights in a few clicks!
If you want to earn some money, we can help you with: