Sex Offender Registry MN—Ditch Rigid Scans & Use DoNotPay's Auto-Alerts
Minnesota is home to over 18,000 registered sex offenders who roam free in the community without too many restrictions. No wonder anxious Minnesota residents freak out whenever they find a dangerous sex offender living in their neighborhood.
The Sex Offender Registry MN claims to process about 30,000 updates every single year—which leaves its search system sluggish and overwhelmed.
Sly sex offenders will always be in plenty wherever you go, but relying on volatile sex offender registries for timely data is impractical in the given scenario. DoNotPay has developed a realistic sex offender search tool that helps you dodge the sexual predators in your vicinity without any stress. today to get automated alerts for your address!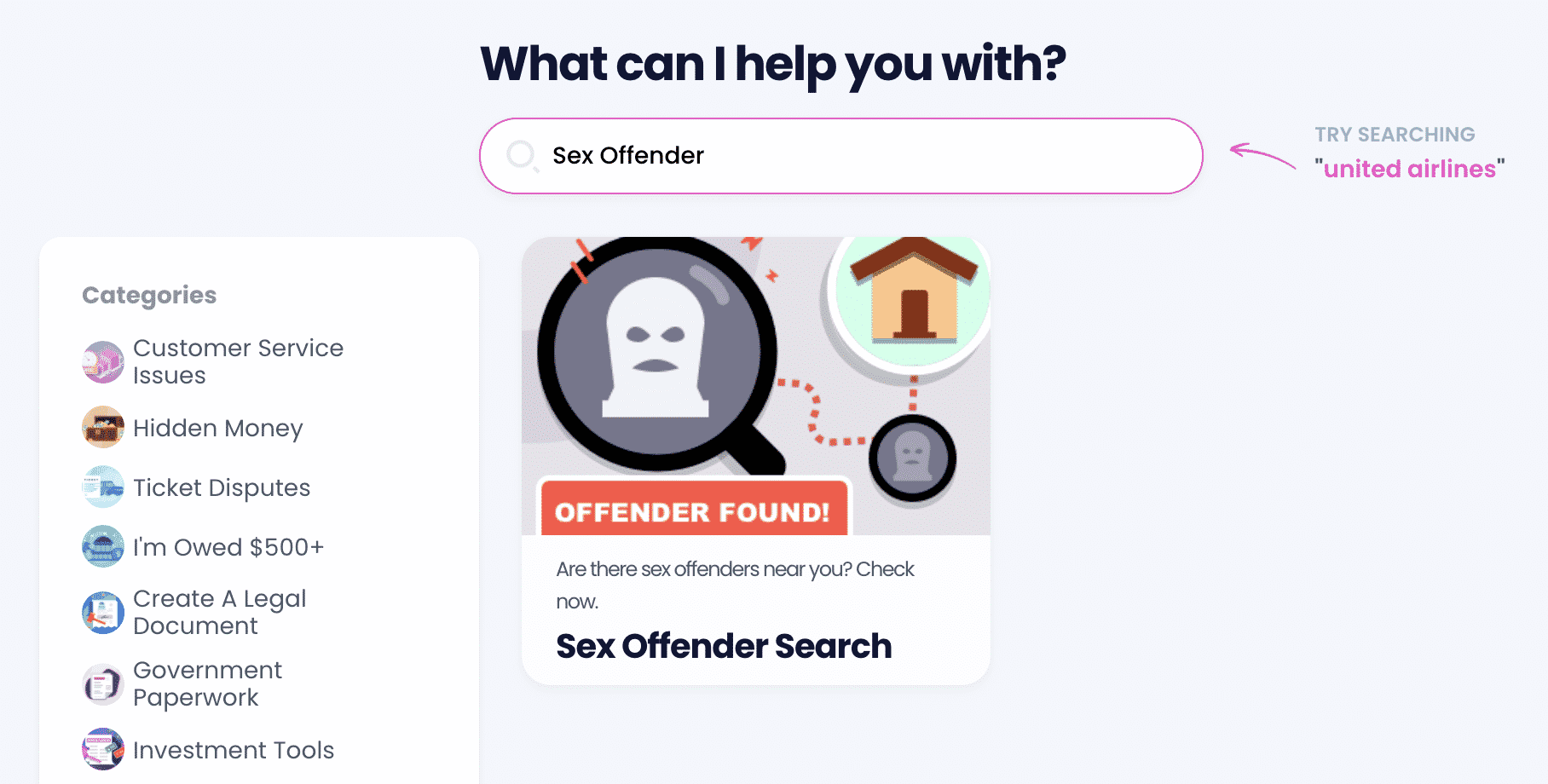 How To Search the Minnesota Sex Offender Registry
You can look into the Minnesota Sex Offender Registry via two government portals:
Minnesota Predatory Offender Search
Minnesota Public Registrant Search
The Drawbacks of the Minnesota Predatory Offender Search
The Predatory Offender Search portal lets you view the list of non-compliant predatory offenders by first name, last name, five-year age range, and location. The sex offenders with up-to-date registration details or the ones who are non-compliant for less than 30 days will not show up in the search results.
Minnesota Public Registrant Search Is Too Confusing
This portal is managed by the staff at the Department of Corrections (DOC), who add new information within 48 hours of receiving update authorization. You can access its database using the following search variants:
Search Variant
Details
Basic search
Use this to filter the search results by:

Name
City
County
ZIP code

Locator search
This will let you locate a mappable offender by:
You can also view three comprehensive lists on the portal:
List of active DOC fugitives
List of offenders sorted by the community of residence
Offenders who are currently untraceable
You may find this portal's user interface to be awkward and complicated, but its biggest flaw is the incoherent database. The portal maintains a database of sex offenders under four state statutes, so you may have to skim through an overload of details to get to the useful information.
Registered Sex Offenders MN—Community Notification
Local law enforcement in Minnesota will notify your community only when a Level 3 sex offender moves into your neighborhood.
Level 3 Sex Offenders MN Explained
Levels 1–3 indicate the risk and the likelihood to reoffend, with Level 3 being the most likely to commit a sex crime again. At present, only 75% of sex offenders in Minnesota have been assigned a risk level.
What Are the Registry Laws for Minnesota Sexual Offenders?
Minnesota laws make a clear distinction between registered and unregistered sex offenders. Currently, only the following offenses require registration in Minnesota's public Registry:
Criminal sexual conduct
Felony indecent exposure
Kidnapping
False imprisonment
Soliciting a minor to engage in sexual conduct or prostitution
Possession of child pornography
You can go through this table to understand the major sexual offender registration laws in Minnesota:
Issue
Registration Rule
What is the registration period for Minnesota sex offenders?

The general registration period is ten years or the period of registration, whichever is longer
Offenders of severe crimes may face lifetime registration
Failure to register can increase the duration by five years

Are there any residency restrictions for the offenders?
By default, no. Residency restrictions can be imposed as conditions for parole or probation on a case-to-case basis
What are sex offenders not allowed to do by registration laws?
Minnesota doesn't impose general restrictions, like avoiding contact with children or loitering around schools, unlike other states. Such restrictions are usually imposed through individual parole or probation agreement, which can vary for every offender
Should offenders traveling to Minnesota from other states register?
Yes, anyone visiting Minnesota for longer than 14 days must register
How do registrants become non-compliant?
An offender becomes non-compliant due to:

Failure to report crucial changes in registration details
Failure to submit the verification form
MN Sex Offender Search—Getting Authentic Data Is Tough
Sex offender registries were made accessible to the public way back in 1996 with the enforcement of Megan's Law, but it's still exhausting to extract records from most registries.
One deal-breaking issue with Minnesota's Sex Offender Registry is the existence of several duplicate non-government sites that use old data from the original Registry. You may end up on one of these sneaky fake websites unwittingly and be exposed to irrelevant data without realizing it.
The Minnesota Bureau of Criminal Apprehension (BCA)—which maintains the official predator Registry—warns the public against using deceiving databases. DoNotPay sources information directly from the official Registry, so you can trust our data to be reliable at all times.
Dispel Fears and Use DoNotPay To Access the Accurate MN Sex Offender List
Minnesota's public sex offender database either gives you too much or too little—there is no in-between. If fake websites, perplexing laws, and erratic records keep pushing your buttons, consider switching to DoNotPay's smooth Sex Offender Search services. Our unique AI tool pulls records from any updated sex offender registry in a matter of seconds!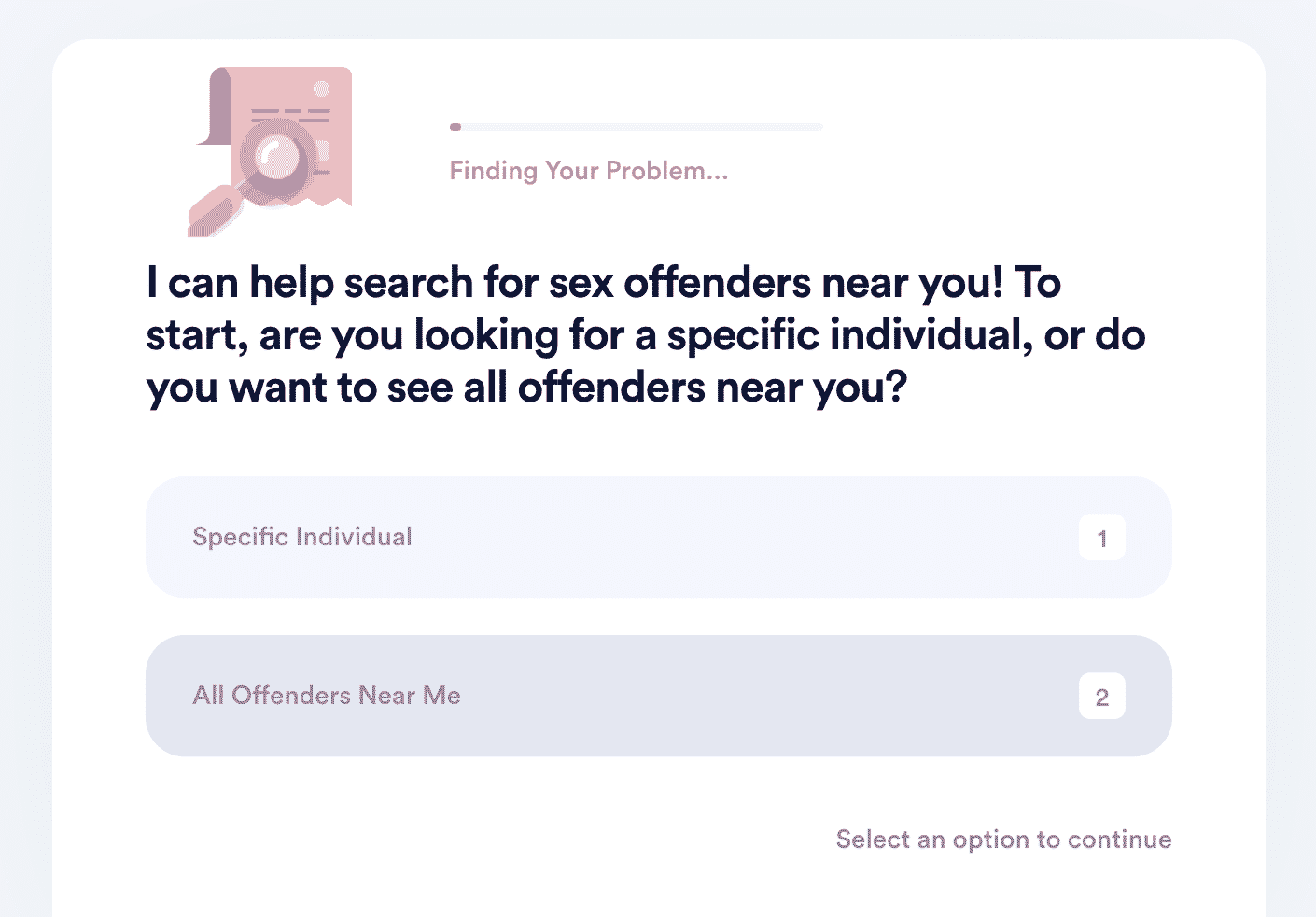 Follow these simple steps to steer clear of shady sex offenders in Minnesota:
and click on Sex Offender Search
Choose if you want details on a specific offender or a complete list of offenders in your area
Enter the proximity radius you want to check—i.e., one, two, or three miles
Tell us if you want to enroll in a weekly scan option
DoNotPay will instantly generate a full report based on your search criteria. You can browse through the offenders' recent mugshots and essential details to make informed decisions about your safety.
DoNotPay knows that safety is a continuous process. We can save your time by:
Running an automated scan on your chosen address every week
Dropping time-sensitive alerts to help you stay vigilant in the best way possible
How To Protect Your Family From the Sex Offenders in MN
If DoNotPay alerts you of a violent sexual predator or a pedophile in your neighborhood, avoid hitting that panic mode. The law stops you from intimidating, stalking, or harassing any sex offender. Instead, you should take these steps to safeguard your family:
Talk to your kids
Discuss the issue with your immediate community
Reach out to the offender's supervising officer to report anything suspicious
Need Legal Assistance? DoNotPay Got You Covered!
Forget about getting a migraine every time there is an administrative task to handle. DoNotPay makes it easy and stress-free to deal with any bureaucratic issue that comes your way.
Not only can we assist you in drafting a legal document and getting it notarized, but we also help you:
Finishing Your Daily Errands Has Never Been Easier!
Looking for help with running errands? You don't have to spend hours trying to make a DMV appointment or contacting a customer service rep! Completing your day-to-day tasks stops being a burden once DoNotPay gets involved.
There is no shortage of errands we'll help you run for a small subscription fee, including:
Sign up for DoNotPay and avoid spending hours on simple daily tasks that can be done in a jiffy!