Learn More About the Arkansas Sex Offender Registry With DoNotPay!
Do you know there was a total of 17,254 registered sex offenders in Arkansas in 2020? The numbers are steadily increasing every year, and it's important to stay safe. One way to do so is to search the Arkansas sex offender registry, which is available to the public thanks to Megan's Law and the Arkansas Sex Offender Registration Act of 1997.
Read our guide to learn everything about the registry, the restrictions for sex offenders, and a better alternative for keeping tabs on them!
If you , you can get weekly updates on predators instead of checking the sex offender registry all the time.
Sex Offender Registry Arkansas—Laws and Regulations
Every sex offender has to register in the Arkansas sex offender database if they were convicted of the following crimes:
Any sex offense against a minor
Kidnapping of children
Incest
Stalking
Sexual abuse or misconduct
Rape
Carnal abuse
Sexual solicitation of minors
Directing, production, or promoting of child pornography
Imprisonment of minors
Attempt, conspiracy, or solicitation to commit the above-mentioned crimes
Arkansas imposes the following sex offender registration laws:
Offenders have to register if they are on probation, parole, or incarcerated for the above-listed crimes
The deadline for registration when moving or returning to Arkansas is three business days from establishing residency
Convicted sex offenders are required to register and report possible changes of address and other information. If they don't, they will be found guilty of a Class C felony, which is punishable with up to 10 years in prison.
All Types of Sexual Offenders in Arkansas Explained
Sex offender types in Arkansas are determined based on how much threat the offenders pose to society. They are divided into the following risk level categories:
Level 1 (low-risk offenders)—They are in the sex offender registry, but their info is not available to the public. Their crimes include non-consensual sex acts without penetration, illegal possession of pornography, and public indecency
Level 2 (moderate-risk offenders)—Their info is available to the public if they were at least 18 at the time of the offense and the victim was 14 or younger. They are typically convicted for creating or distributing illegal porn, enticement of persons aged from 12 to 14, and sex acts with pubescent minors
Level 3 (high-risk offenders)—Their info is accessible to everyone. Offenders who fail to register are assigned this threat level automatically. The crimes of level 3 offenders involve violence and prepubescent minors
Level 4 (sexually violent predatory offenders)—The most brutal offenders who are publicly registered
Even though the registered offenders are far from harmless, they can be tracked and monitored.
An even bigger cause for concern is the number of delinquent offenders (over 1,400) and unregistered sex offenders (around 140) in Arkansas.
State Restrictions for Arkansas Sex Offenders
Arkansas is a state that imposes some of the strictest limitations for sex offenders. The state sex offender residential restrictions prevent offenders from living within 2,000 feet of areas frequented by children, such as:
Parks
Schools
School bus stops
Daycare centers
Playgrounds
Libraries
Traveling to other states and countries is not prohibited for sex offenders, but they have to comply with the registration laws of the state or country they're traveling to. If an offender travels internationally, the destination country has the right to prevent entry and deport the offender.
How To Search the Sex Offender Registry of Arkansas
If you want to search for sex offenders in Arkansas using the official Arkansas Crime Information Center sex offender registry, follow the instructions below:
Open the Arkansas Department of Public Safety website
Read the terms of the agreement
Hit I Agree
Enter the offender's details to the dedicated fields
Click on Search Area to use the sex offenders map
The website also offers to show you sex offender Notifications and Non-Mappable Offenders. Although this registry might be a good place to start, it's not enough to give you peace of mind. Manual sex offender scans take up a lot of time, and the notifications aren't consistent. DoNotPay has a more refined solution that will help relieve your sex offender nightmares!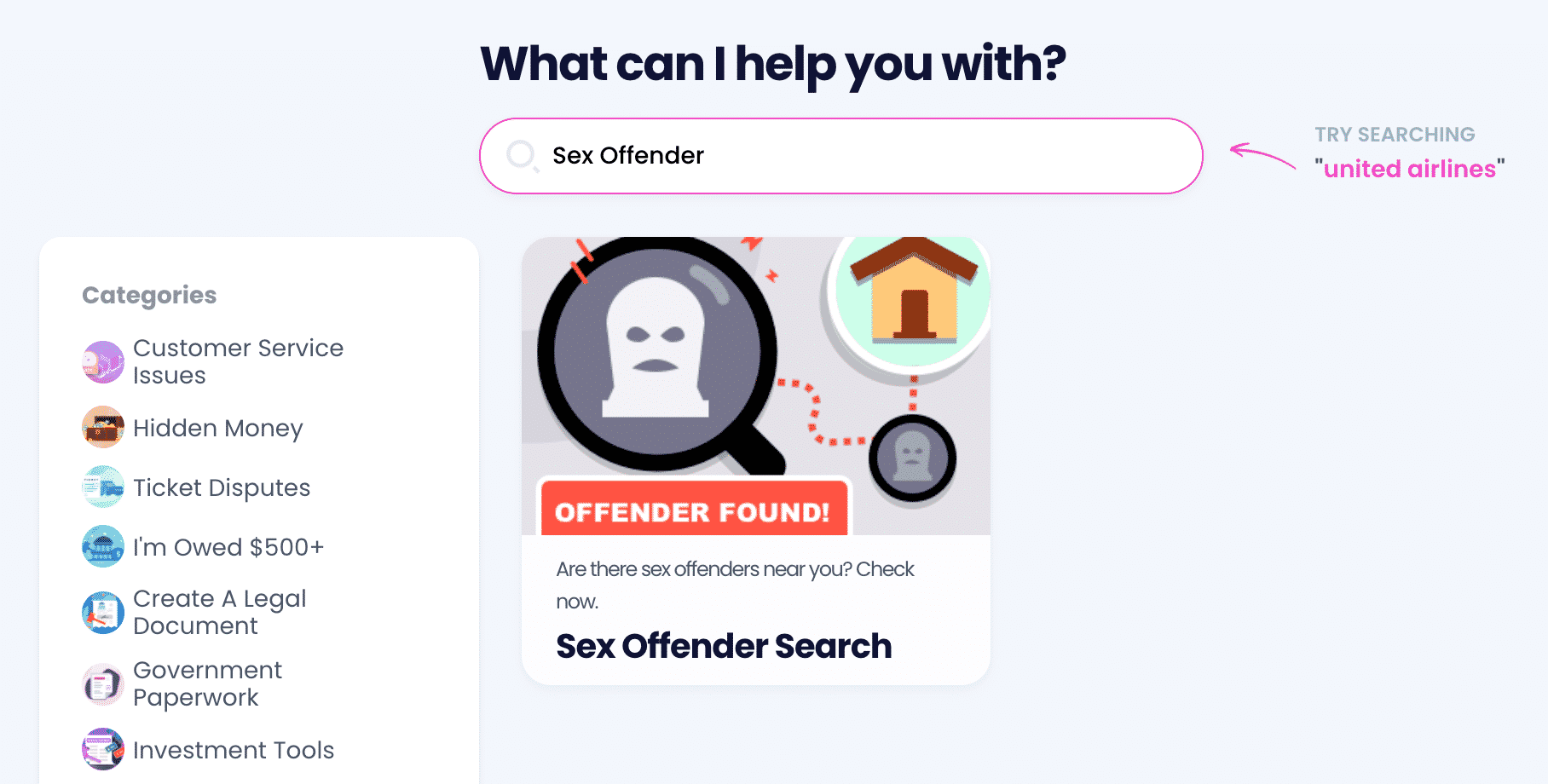 Get Weekly Alerts and Find Any Arkansas Sex Offender With DoNotPay
Living in an area populated with so many sex offenders can be truly scary. Even if you know the characteristics of a pedophile, it's hard to guess if your neighbor is one. That's why registries exist, but who has the time to look through them regularly?
DoNotPay is the first line of defense against predators! It provides you with a one-time search option or weekly updates on sex offenders' presence in the area. Stay safe from local sex offenders without much effort by following the instructions:
Look for the Sex Offender Search feature on our website
Enter the desired search radius
Choose whether you need a one-time search or weekly updates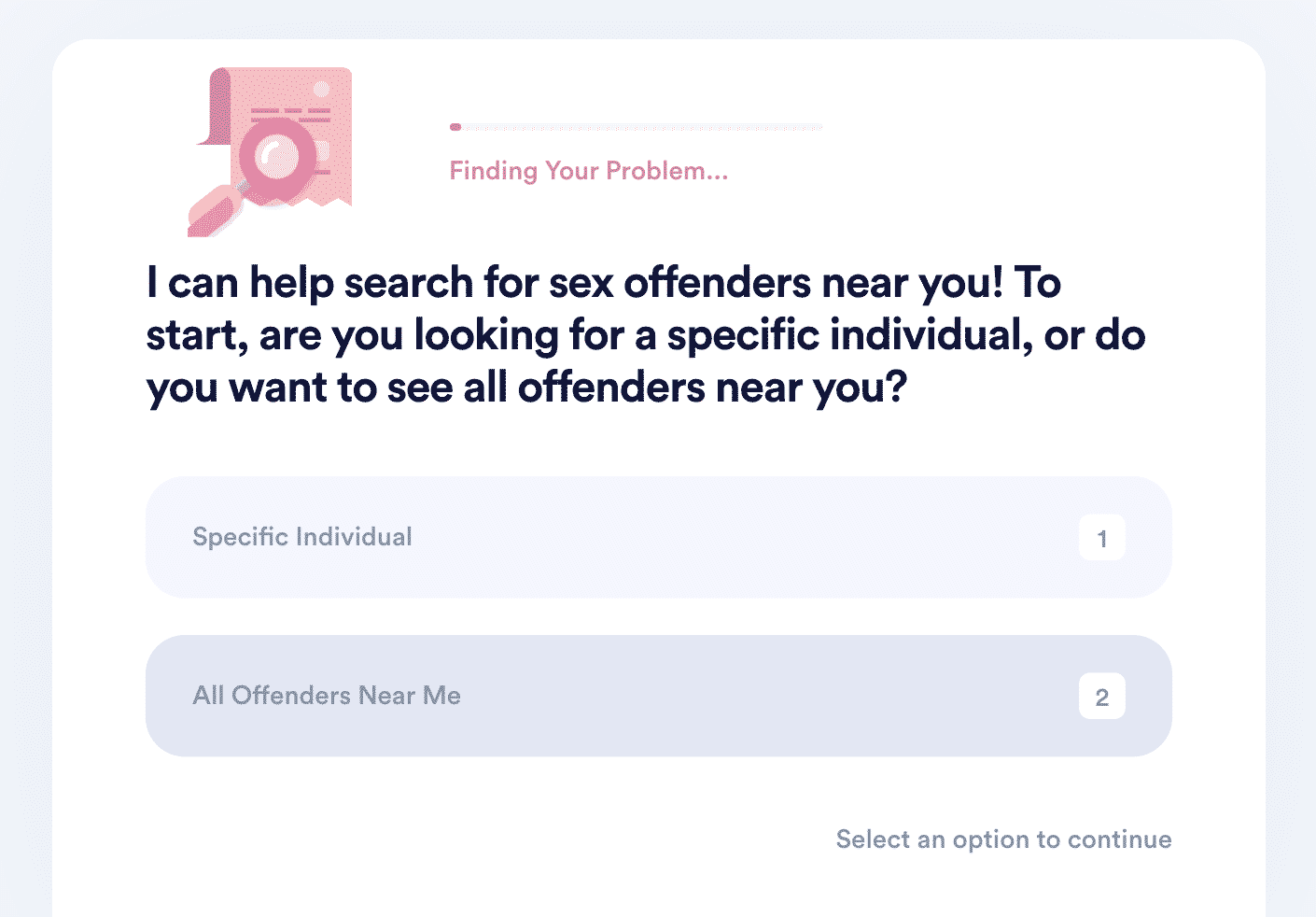 How To Keep Your Family Safe if There Is a Sex Offender Lurking Around
Once you confirm there is a sex offender nearby, it's best to remain calm and let your loved ones know. Here are some of the most important measures to take:
| Precautions | Brief Explanation |
| --- | --- |
| Warn the children and teens around you | They are the most vulnerable and need to understand the potential risks of being near the offenders |
| Organize a neighborhood watch | The community should stick together in defense of those who are vulnerable |
| Report suspicious activity to law enforcement | Never tackle a criminal on your own. It's best to inform the authorities about anything unusual |
Tackle Any Legal Task With Our Lawyer App Like a Pro!
Why bother with tedious legal tasks on your own when you can let DoNotPay cut your work in half? No more worrying about how to draft legal documents or sue a company in small claims court—we'll guide you through it effortlessly!
There is no shortage of tasks our Al-powered app can help you with. Once you sign up, you'll learn how to:
Fight Scammers in a Few Clicks!
Is your phone buzzing incessantly, and you can't take it any longer? Use DoNotPay to stop annoying robocalls and fight scammers with ease!
Having a company spam you with unwanted emails about their products isn't uncommon, but that doesn't mean you have to put up with it. DoNotPay helps you create a burner phone number, fight email spam, and stop spam text messages in a snap!
You can also find our features super useful when requesting a refund, filing insurance claims, and locating your missing USPS, UPS, or other parcels.