Get a Grip on Safety—Use DoNotPay To Scrape WV Sex Offender Registry
Going by a study from May 2021, West Virginia has 346 sex offenders for every 100,000 residents, which is way higher than the national average of 279!
The WV Sex Offender Registry maintains public records of the state's offenders under Megan's Law, but managing predators and child molesters is easier said than done. Recent surprise checks revealed several violations caused by non-compliant offenders who move about undetected among unsuspecting residents.
DoNotPay's Sex Offender Search feature offers you a practical way to monitor the sex offenders in your WV neighborhood. Don't neglect your safety— to get automated preventive alerts on sex offenders near you!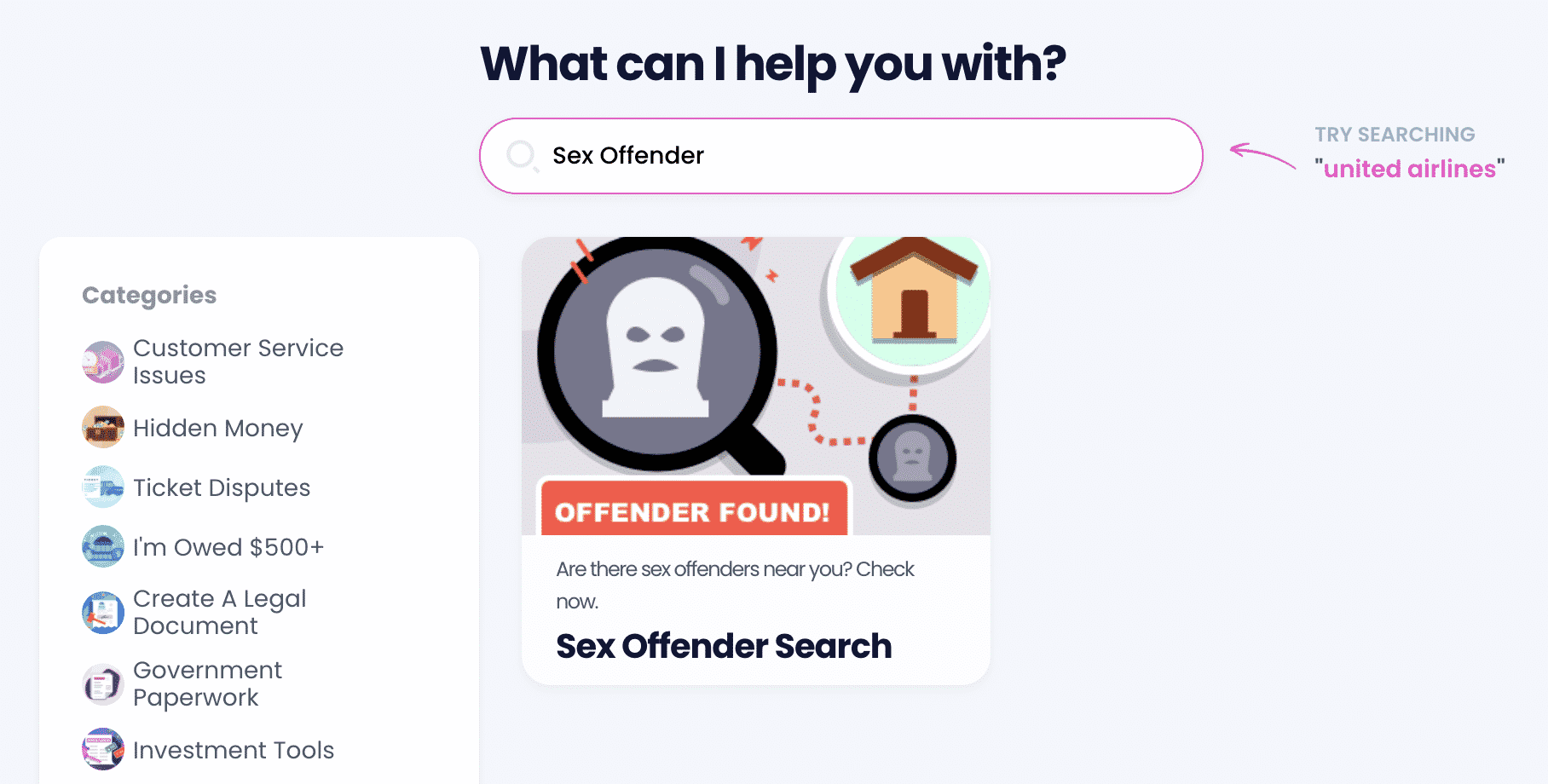 West Virginia State Police Sex Offender Registry List
You can find a list of all the registered sex offenders in West Virginia on the state's Registry, but the authorities caution you against using the database to harass registrants. The information on the Registry website is regulatory but not penal. You cannot misuse the database to:
Stalk, intimidate, or retaliate against sex offenders and their families
Disrupt neighborhoods and cause public hysteria
How To Run a WV Sex Offender Search
WV Sex Offender Registry's website is unsystematic when it comes to existing search parameters. Unlike most sex offender registries, West Virginia won't even let you conduct a search by name!
Use this table to understand how the website search works:
Search Type
When To Use
Basic
Use this to search an offender by:

Last name
Street
City
County

Advanced
Advanced search is essentially the basic search with the search results filtered by two options:

Wanted offenders
Sexually violent predators

Internet
Use this to find an offender by email address or username
WV Registered Sex Offenders List—Search Drawbacks
WV State Police collect a variety of information during an offender's registration—like nicknames, aliases, phone numbers, vehicle details, and physical descriptions—but the majority of the data is not available to the public.
Many users get frustrated because the search comes with nil results due to insufficient inputs. For the search instances that are successful, you will only receive a concise report with the following data:
Name
Race
Sex
Address
City
You will receive no photographs or location mapping details of registrants, which are two crucial elements of sex offender vigilance. Not being aware of their convictions, tiers, or risk levels can also make it hard for you to watch out for pedophiles, third-degree offenders, and other predators.
WV State Police Sex Offender List—Why Can't I Find a Record?
Many of the data fields turn up as blank in search results. If you can't find what you're looking for despite punching in the right search input, the reason could be:
Missing data due to sneaky non-compliant or unregistered sex offenders
Update lags
Registration exemption or completion for certain offenders
If you believe a known offender has been left out of the database, you can email your concerns to the Registry at registry@wvsp.gov or alert them by phone at (304) 746-2133.
WV State Police Sex Offender—Registry Laws Explained
West Virginia statutes require a person to register if he or she is found guilty of committing sexual crimes like:
Sexual assault
Sexual abuse of minors
Incest
Prostitution
Indecent exposure
Child pornography
Solicitation of a minor via the internet
Rules That Bind West Virginia Sexual Offenders
If you are looking to get an in-depth insight into West Virginia's sex offender registration laws, browse through our compact info table below:
Issue
Registry Rule
Duration of registration
Varies as per the type of offender:

Sexually violent predators—lifetime with quarterly verification
Others—ten years with annual verification

Time limit for registration
Employment and residential restrictions

Sexually violent predators cannot live or work within 1,000 feet of a school or childcare facility
Other offenders are free to live and work where they please unless court orders against it

Other restrictions
A registered sex offender may have to live with multiple limitations and conditions based on the terms of probation or supervised release—like:

Compulsory counseling
Internet and social media monitoring
Ban from contacting minors

Violations
Depending on whether the violation is a misdemeanor or a felony, the offender could face:

Penalties
Imprisonment
Additional supervision for up to 50 years
Sidestep Sexual Offenders in WV With DoNotPay's Automated Alerts
West Virginia laws make it difficult for you to know which offenders are likely to reoffend, so you need to keep an eye on every offender in your vicinity to avoid any threat.
For any foolproof safety plan, you are looking at spending hours every month just to stay up-to-date with the state Registry, which is ridiculously unproductive.
DoNotPay cuts your time commitment down to a couple of minutes with our Sex Offender Search tool. Our app extracts raw data from any public registry within seconds, and we can automate this process for you every week!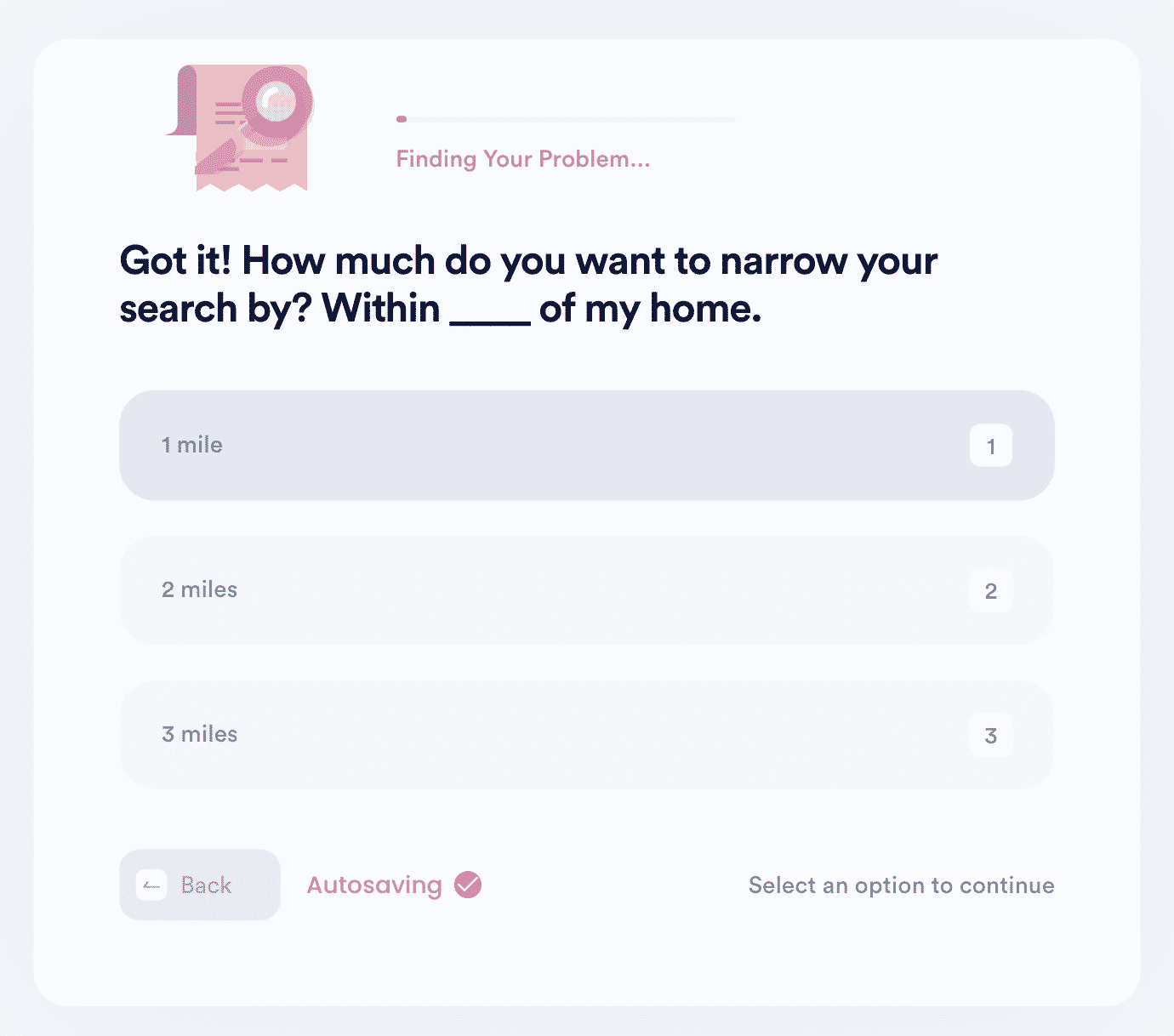 Follow these steps to get your report today:
and click on Sex Offender Search
Pick a report type—i.e., a single-offender report or an all-inclusive report about every sex offender near an address
Tell us about the proximity radius we should scan—one, two, or three miles
Let us know if you want to opt for our weekly scans
DoNotPay's report will contain the latest mugshots and personal details of the offenders—if maintained by the Registry. Our weekly scan searches your address for new offenders automatically and alerts you on time.
DoNotPay's comprehensive reports will help you see if anything is amiss or if you need to upgrade the safety measures for you and your loved ones.
To Sue or Not To Sue?
Hiring a lawyer to help you sue a company can be helpful, but it can also cost you an arm and a leg. Luckily, you can avoid wasting hundreds of dollars and use our robot lawyer to sue any company in small claims court instead!
DoNotPay offers you a variety of other features you will find quite useful when dealing with bureaucratic issues. Check out the list below to see what else our app can help you with:
Shopping Without Dropping
Whoever said you should shop until you drop didn't have access to DoNotPay's various features. With our app, you can make your shopping experience smooth sailing and stress-free!
Here's a fragment of what you can accomplish by using our neat features: