Wisconsin Sex Offender Law Deciphered
There are around 25,847 registered sex offenders in Wisconsin, but don't fret! We're here to break down the Wisconsin sex offender law and explain the crime tiers, sex offender residency restrictions, and more!
, and find out how to check whether a sex offender is living near you.
Wisconsin Sex Offender Law—How Severely Are the Offenders Punished?
The punishment that WI sex offenders get depends on the severity of their crimes. Check out the table below for specifics:
Crime Degree
Maximum Punishment
First-degree sexual assault
Second-degree sexual assault

40 years in prison
$100,000 fine

Third-degree sexual assault

10 years in prison
$25,000 fine

Fourth-degree sexual assault

Nine months in prison
$10,000 fine
What Are the Rules for Registered Sex Offenders in Wisconsin?
By law, every person who commits a sexual offense must register with state authorities as soon as they finish serving their sentence. When registering, they have to provide their personal information, including names, aliases, addresses, and photos.
Registered sex offenders in Wisconsin are classified into three categories (tiers). The classification is based on the severity of their offenses. The table below contains all the details:
Tiers
Crimes
Tier 1

False imprisonment of a minor
Receipt or possession of child pornography
Public indecency (voyeurism)

Tier 2

Prostitution or enticement of minors
Sexual contact with pubescent minors
Production or distribution of child porn

Tier 3

Non-parental kidnapping of a minor
Rape
Use of any force or coercion to commit sexual acts
Sexual acts with minors aged under 12
If a sex offender is convicted of repeated or aggravated sexual offenses, he or she will be labeled as a sexually violent predator.
How Long Do Offenders Need To Stay Registered in Wisconsin?
Registered sex offenders in Wisconsin have to stay registered for either 15 years or for life, depending on the nature of their crimes. The tier 1 and 2 offenders usually stay registered for 15 years, while tier 3 offenders and the offenders labeled as sexually violent predators have to stay registered for life.
The offenders also have to update their registration if they move or change jobs. If they fail to update their info or try to avoid registering altogether, they can face serious legal consequences.
What Are the Wisconsin Sex Offender Residency and Living Restrictions?
Registered sex offenders in Wisconsin can face certain restrictions, such as:
Residential restrictions—In Wisconsin, sex offenders aren't allowed to live within 1,500 feet of schools, playgrounds, or other places where children congregate
Employment restrictions—No matter what crimes offenders committed, they most likely won't be able to get a job that would bring them into close contact with children
Travel restrictions—While registered sex offenders can travel to another state, they normally have to register upon arrival within approximately five days
How To Perform Wisconsin Sex Offender Registry Search
Before Megan's Law, the offenders only needed to register with local authorities. Now, the info is automatically shared with the public in an attempt to protect everyone.
You can search the Internet and find a sex offenders map to locate one near you, or you can follow the next steps:
Agree to terms and conditions and prove you're not a robot
Choose if you want to search for an offender by name or do a geographical search
Provide the necessary details
Select Search
This will give you access to the information about registered sex offenders near you, including their addresses, names, and aliases.
The main issue is that you might not be aware of the new sex offenders who move to your area. Luckily, DoNotPay can provide weekly updates and keep you informed!
Use DoNotPay To Search for Wisconsin Sex Offenders Easily!
Forget about getting frustrated with confusing online instructions! Use DoNotPay to find sex offenders in WI without breaking a sweat and stay updated about newly registered ones!
We made sure the process is streamlined to a tee. You will get all the info with almost no effort. Complete these steps to get a full sex offender report in a snap:
Pick the Sex Offender Search feature
Tell us if you want to search for an offender by name or get a list of all registered ones
Set the search proximity radius and say whether you want to get weekly reports from us
That's all it takes on your part! We'll perform the search and provide you with all the details promptly!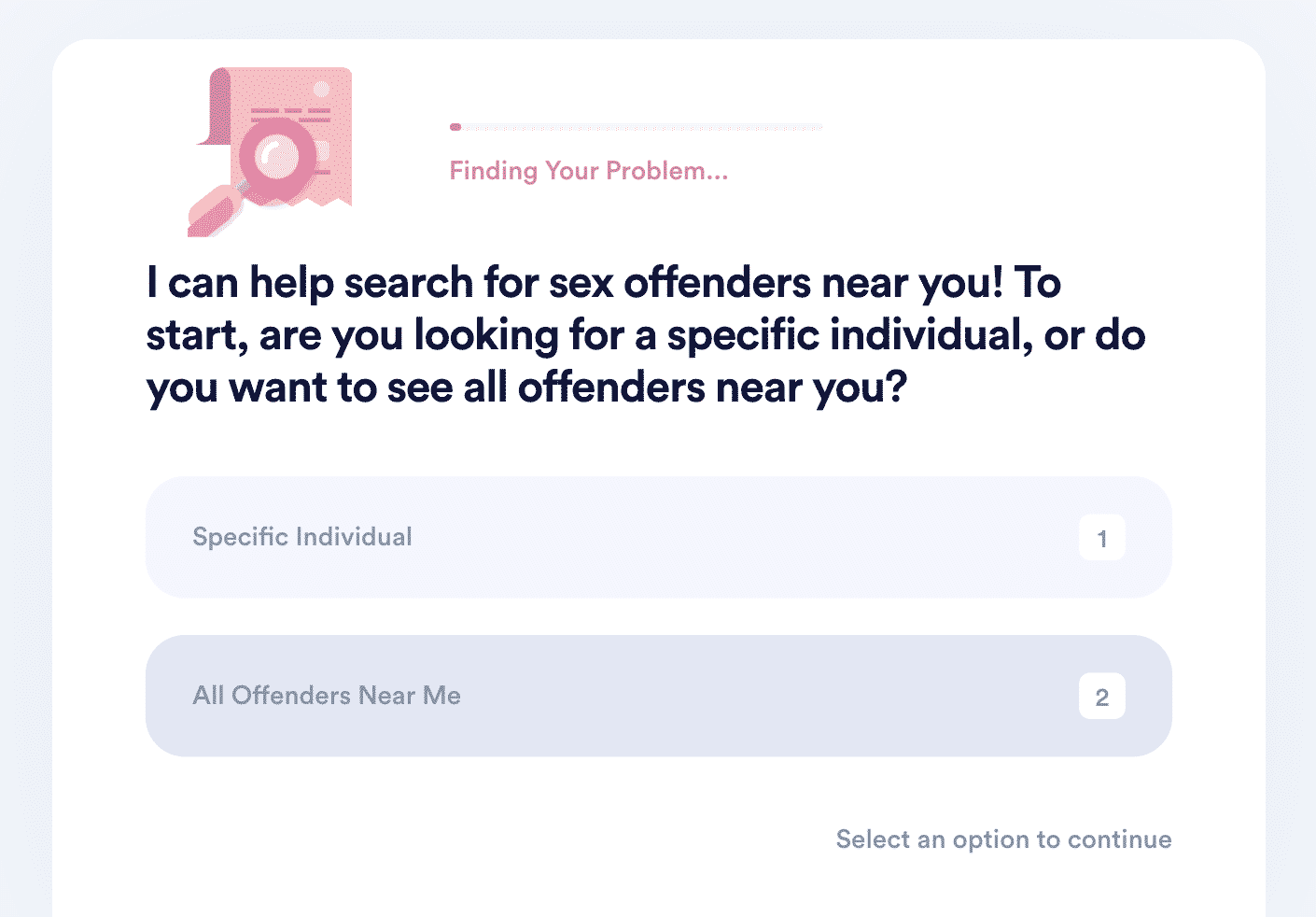 Can I Share the Info About Offenders According to Wisconsin Sex Offender Law?
Although you are allowed to share the info you find, you should make sure to share it in a way that won't hurt anyone. You can't bully or harass the offenders—you can only use the info about them to inform your loved ones about the potential danger and help keep everyone safe.
Want To Save Money on Lawyers? Use DoNotPay
Most people spend big bucks on expensive lawyers to overcome their bureaucratic obstacles. Don't waste your money on unnecessary fees—use DoNotPay and take care of any legal matter in a few easy clicks! Check out some of the issues the world's first robot lawyer can help you with:
DoNotPay Turns Your Everyday Hurdles Into a Piece of Cake
Did you receive a faulty or damaged item? Why not return it with your virtual assistant? We can also help you get a late delivery refund and jump the queue if the customer service phone keeps ringing to no avail. The list of handy DoNotPay features that make your everyday life easier goes on.
By subscribing to our platform, you won't have to worry about your tedious neighbors or parking tickets. We can do it all!